7+ Reasons Why a Crab Steamer is Essential for Your Next Seafood Feast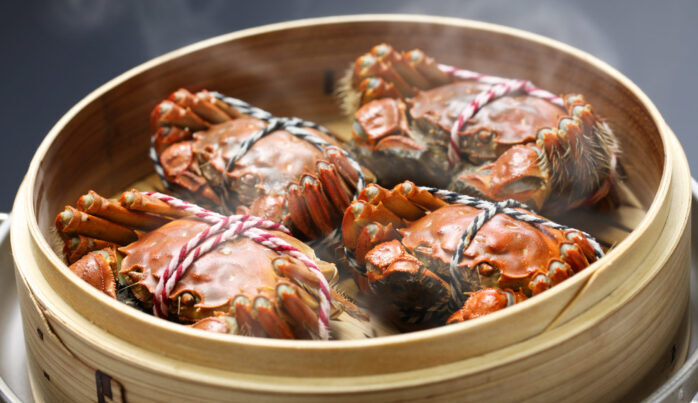 A seafood feast is an enjoyable way to celebrate with family and friends. You can include different seafood dishes to ensure everyone's tummies are filled. But a crab steamer is a must-have if you want it to be truly memorable.
The crab steamer can make your seafood feast more fun and exciting due to its versatility. It is also an essential tool to avoid any mess and hassle when cooking. It can also make it easier to produce delicious and succulent dishes.
Read on to discover the top reasons why a crab steamer is essential for your next seafood feast.
Disclosure: As an Amazon Associate, this site earns from qualifying purchases. Thank you!
Quick Sidenote – check out our shop for a curated selection of the best meats, cuts, sausages, and more. Open our shop in a new tab and explore!
Time-saving
A crab steamer can save you a lot of time when preparing and cooking your seafood feast.
You can quickly steam the crabs in minutes, allowing you to return to enjoying the festivities. If you have a large group of people to cook for, you can use two steamers and double up on the efficiency.
Versatility
A crab steamer is highly versatile, which can allow you to cook different types of seafood and other food items. Whether it's crabs, lobsters, shrimp or fish, a steamer can handle it. You can also use it to steam vegetables, tamales and potatoes.
You can also introduce the steamer in various ways, such as steaming in a broth or adding different herbs and spices to the boiling liquid. However, if you want to keep it simple, you can steam the seafood and season it afterwards.
Healthy
Steaming your seafood is the healthiest way to cook it. It can preserve the original flavour and texture of the seafood while keeping its nutritional value intact. That's why it's a great way to enjoy seafood while reaping its health benefits.
A crab steamer can help maintain various food nutrients such as Omega-3 fatty acids, protein, and Vitamin B12. All these can help promote heart health and lower cholesterol levels, preventing diseases such as stroke and heart attack.
Easy to Use
A crab steamer is very easy to use, even for those unfamiliar with cooking. You just need to fill it up with water and place the seafood or other ingredients in the basket. After that, you can set the timer and let the steamer do its job.
You can add different herbs and spices to the boiling liquid if you desire added taste.
Cost-Efficient
Owning a crab steamer is very cost-efficient as you can use it for various purposes. It is also a one-time investment that can last for years to come, giving you more value for your money in the long run. However, it can be damaged if not handled properly.
Mess-Free
A crab steamer can help you avoid any mess and hassle when cooking. It can eliminate the need for foil, oils or butter while trapping the steam inside the pot. That way, you don't have to worry about oil splatters and cleanup afterwards.
The steamer can also reduce the odour when cooking compared to other traditional methods.
Easy to Clean
Cleaning a crab steamer is straightforward. All you have to do is hand wash it or place it in the dishwasher. However, you can ensure you clean the pot thoroughly to prevent any residue from building up inside, which could affect its performance in the future.
Cooking a meal can be daunting, and so many questions come to mind. Here are some FAQs that can help you make the most out of your crab steamer:
How do you steam crab without a steamer?
You can use a metal colander placed over a pot of boiling water to steam your crabs. Place the crabs in the colander, cover them with a lid and wait for the water to boil. You can also use a bamboo steamer basket placed over boiling water.
How long do I steam-cooked crab?
It can take up to 10 minutes to steam cooked crabs. You will need to steam for live crabs for about 20 minutes. However, the efficiency of the steamer can affect cooking time.
How to steam a crab?
To steam a crab, you will need to fill the pot with water and set it to a boil. Next, place your crabs in the steamer basket and place the basket in the pot. Cover it with a lid, set the timer and wait for it to cook. Once done, remove from the heat and enjoy your meal.
What's the best way to steam crab legs?
Crab legs can be steamed by adding 2 cups of water, lemon wedges and 1 tablespoon of salt to the water before boiling. It can help infuse the crab with more flavor. After boiling the water, cover your crab legs in the steamer basket with a lid. Let it steam for about 8-10 minutes before serving.
Amazon Bestsellers
Bestseller No. 1
Drasry Crab Trap Bait Lobster Crawfish Shrimp Portable Folded Cast Net Collapsible Fishing Traps Nets Fishing Accessories Black 23.6in x 11.8in (60cm x 30cm) (1 PCS)
MAterial: The galvanized 0.16 in steel wire is used as a circular spring cage, and the mesh of the polyethylene mesh is hand-processed to provide stability and durability and convenience. Suitable for salwater and fresh water
DESIGN: 7.1in (18cm) network entrance and 0.39in/1cm mesh design to help you catch more prey you want to catch
ADVANTAGE: The special openable design makes it easier to take out the captured prey. Avoid being bitten by prey during operation. Package: 1* Fishing Trap, 2 * 32 Feet(10Meter) Hand Ropes, 1 * Bait Bags, 1* Trap Bag
EASY TO CARRY: Size: 11.8 in x 23.6 in (30cm x 60cm), foldable design, easy to carry up without taking up space. It is the first choice for most outdoor recreational fishing.
APPLICATION: It can be used to catch crabs, baits, lobsters, crayfish, shrimps, reptiles, etc. Simply place the bait in the bait bag, then hang the bait bag into the middle of the net, place the cage in the water, and wait for the prey to enter the cage from both sides of the entrance
Bestseller No. 2
Maryland Blue Crab Pot Trap, PVC Coated Wire mesh, Heavy Duty, Two T.E.D. (Turtle Excluder Device), Two Escape Rings, Float, Rope, Ready for use. Come with Crab & Lobster Measure Gauge. Made in USA
Maryland Atlantic blue crab, heavy duty, two escape ring, two TED(Turtle Excluder Device) meet regulation
This trap is built for Maryland State Regulation. Different states may need to check with local wildlife regulation before you purchase.
Eco-Friendly Bio-Degradable 6" EVA float will not absorb water
Catch your own fresh delicious crab for fun and save money
Easy to operate and store
Bestseller No. 3
Bestseller No. 4