So, you're headed to Louisiana for vacation and are looking for ideas about things to do during your stay. Well, why not take a crabbing trip?
This southern state is known for its vast wetlands and abundant waterways, making it the perfect place to catch some of the freshest and most delicious blue crabs. But that's not the only reason why crabbing in Louisiana should be on your bucket list.
In this article, we'll explore four compelling reasons why this activity is a must-do for anyone who loves seafood, nature, and a good challenge. From the breathtaking scenery to the cultural significance of crabbing in Louisiana, there's something for everyone when you embark on this exciting adventure.
Experience the Real Louisiana
While everyone immediately thinks of Bourbon Street in New Orleans or New Orleans in general, when they think of Louisiana, the state has so much more to offer, especially concerning wildlife and outdoor adventure.
Fortunately, when it comes to crabbing in Louisiana, you can get the full Louisiana wildlife experience. You'll find crabbing spots from bridges and piers to wildlife sanctuaries like the Creole Nature Trail.
At the Creole Nature Trail just south of Lake Charles, you'll find over 26 miles of shoreline and trails through three national wildlife refuges, where you can spot various birds, fish, shells, and an abundance of other native wildlife.
Enjoy a Unique Experience with the Family
Instead of going to the typical Louisiana hotspots for an unforgettable experience, like New Orleans, you can experience something entirely new with a crabbing trip. On a crabbing trip, you can experience lesser-known parts of Louisiana for a truly unique experience.
How many people can say they've been crabbing in a national wildlife refuge in Louisiana? Probably not too many ordinary families. Plus, crabbing is the perfect opportunity to get the family out, and active and poses many opportunities to teach and learn about nature.
Have a Day in the Sun
From the coastline to national wildlife refuges, it doesn't matter where you end up crabbing in Louisiana to enjoy a day in the sun with your family and friends.
Crabbing lets you have a peaceful day in the sun and in nature to relax and rejoice when you catch a few of those buggers scurrying about. You can even make an entire day out of it to explore wildlife and soak up as much sun as possible.
Catch a Creole Dinner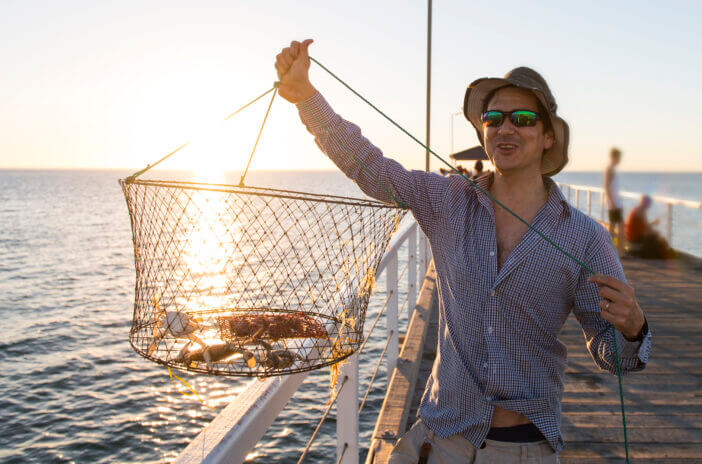 While crabbing is a fun excursion in and of itself, what comes after is even more desirable. There's nothing quite like catching and preparing your own dinner and that's exactly what you can do with the spoils of your crabbing adventure.
Better than simply preparing and eating your crabs, you can spice it up in honor of Louisiana's creole cuisine. Give your crabs that authentic creole flavor and serve them up low country boil style with seasonings, corn, and potatoes.
Plus, preparing a dinner that you and your family caught yourselves in is a rewarding and memorable experience. Not to mention, food always tastes better after a hard day's work for some reason.
Do you need a license to go crabbing in Louisiana?
According to Louisiana State law, recreational crabbers must have either a "Hook and Line Fishing License or a Basic Fishing License if above the freshwater/saltwater line," if they want to crab in the state.
his license is required for anyone over the age of 16 who is using any legal crab trap or other devices to take crabs recreationally. The license can be purchased online through the Louisiana Department of Wildlife and Fisheries or from licensed vendors throughout the state.
What is the best time to go crabbing in Louisiana?
When heading to Louisiana for crabbing, you'll do your best to plan your trip any time between May and September. Planning your trip any other time may result in poor weather or a lack of crabs, which defeats the purpose of the trip, doesn't it?
Where can I crab in Louisiana?
There's an abundance of crabbing spots in Louisiana, including boat landings, public piers, shorelines, and bridges. However, one of the best ways to find a spot for crabbing is along the Creole Nature Trail, where people have been crabbing for decades.
Is crabbing season open in Louisiana?
While the prime crabbing season in Louisiana is between May and September, the state is open for crabbing all year round. So, if you can't make it down during the height of the season, you don't need to worry. However, you should keep an eye out for any state-mandated closures.