6+ Best Outdoor Griddles for a Delicious Outdoor Cookout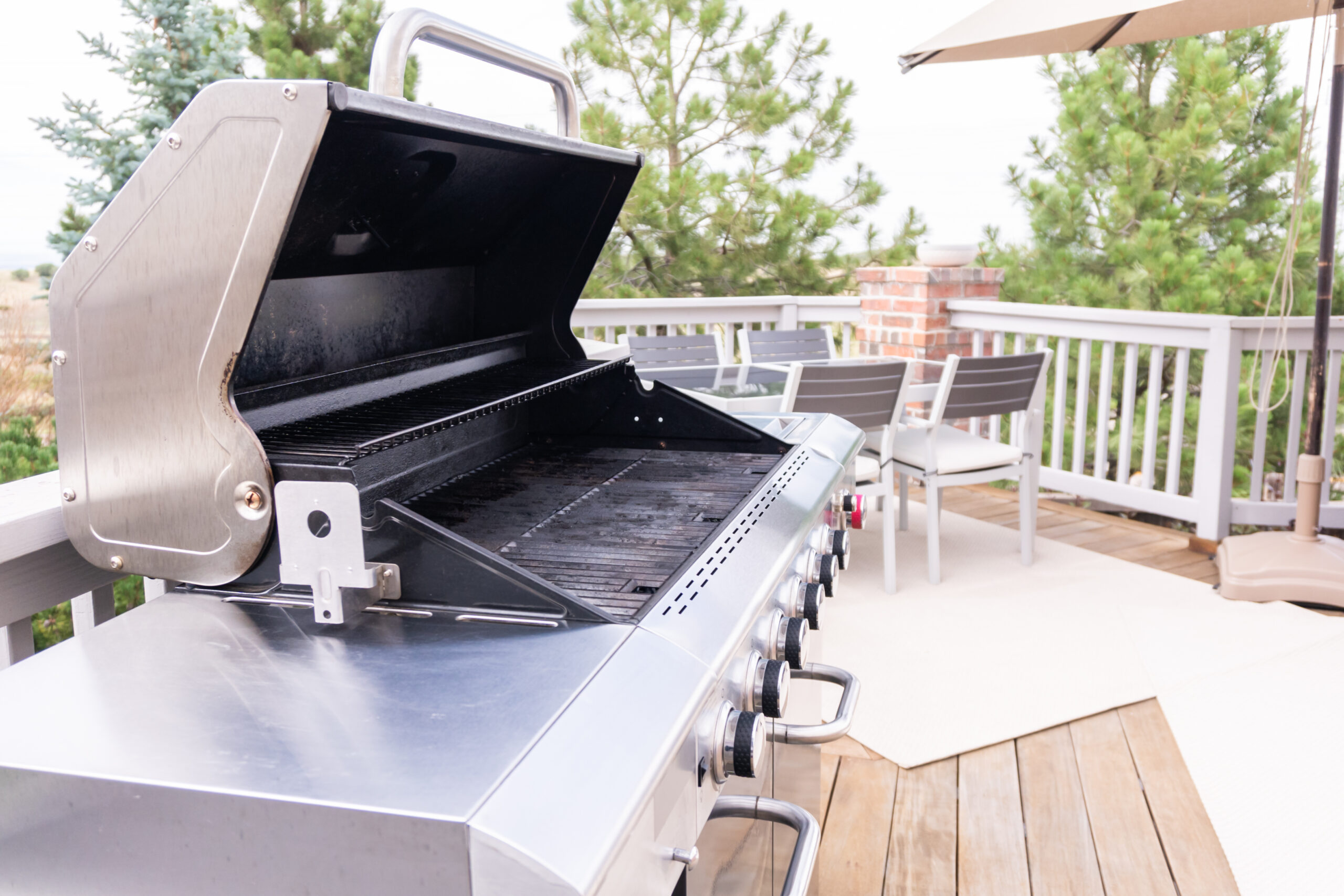 While the traditional grill is the first thing many people think of when it comes to cookouts, a griddle has many advantages. Griddles, which you may also know as flat-top grills, are a staple in greasy spoon diners across America; you can find plenty of use for one in your home.
So, what are the best outdoor griddles for a delicious outdoor cookout, and what makes one of these products a worthwhile investment? We will answer all that and more, so you can find the perfect device to entertain friends and family at your next cookout.
We tested several outdoor griddles and found these to be the best models today. We factored in the price, quality, portability, and more to help narrow down the best appliances.
Disclosure: As an Amazon Associate, this site earns from qualifying purchases. Thank you!
Quick Sidenote – check out our shop for a curated selection of the best meats, cuts, sausages, and more. Open our shop in a new tab and explore!
1. Blackstone 36-Inch Outdoor Griddle
This griddle is the best model we tested. Blackstone is the top dog regarding these appliances, so it shouldn't surprise anyone that one of its models captures our top spot. This flat-top grill has everything you need for entertaining an entire party, and it made the best food of all the models we tested.
Blackstone's griddle has four separate burners; you can adjust each burner's temperature separately to control your cooking. Blackstone gave the burners a stainless steel finish, so you should not worry about them rusting any time soon.
Griddles, like grills, have cold and hot spots due to the method of heating. We found this model to have the easiest-to-find cold spots along the side, meaning you can place finished food to the side while completing the rest of the dishes.
With this model, you get 36 inches of cooking space, which is more than enough for preparing food for an entire party. You can work out multiple dishes at the same time and adjust temperatures on the fly to help prepare everything at the same time.
What sets this Blackstone griddle apart from the competitors is the grease drain.
The company designed the flat-top grill to drain grease while cooking. The grease will pool in a removable container you can detach and easily clean.
Speaking of cleaning, maintaining this grill is a chore. Blackstone did not make the cooking surface with stainless steel. The product behaves like a cast iron skillet.
You need to season the top with oil and clean it thoroughly without soap after use. If you do not maintain the surface, it will quickly rust and become unusable.
You have two side trays on the model to hold spare ingredients. While the trays are convenient, they make this already bulky product even larger.
Pros
The best cooktop on the market
Spacious
Easy-to-find hot and cold spots
Cons
Hard to maneuver
Time-consuming maintenance
2. Blackstone Tabletop Grill
We have another excellent offering from Blackstone with this portable and micro-sized version of the brand's signature cooktop. If you have a few people over for your outdoor cookout or need a griddle that works in tandem with another appliance, this tabletop grill is a perfect choice. You could also take it camping with you.
You might be surprised that this model has an electric starter, which makes it safer than other models and easier to use.
Blackstone gave the cooking area a stainless-steel finish for this tabletop flat-top grill. Not only does stainless steel give the grill resistance to corrosion, but it also makes it simpler to clean than the standard outdoor griddle.
You might think a small griddle like this model would have low heat output. You would be incorrect in that assumption, as this griddle can put out 12,000 BTUs. That BTU count is enough to cook most dishes rapidly. However, the heating implement design does limit the cooking area, as the edges will not heat up quickly on this model.
Of course, since this griddle is from Blackstone, you know it comes with all the bells and whistles. You have an easy-to-clean grease drain and a surface that will last for years.
Pros
Portable
Stainless steel cooking surface
12,000 BTUs
Cons
Cold edges
Not suitable for large parties
3. Pit Boss 4-Burner Griddle
If you are okay with something a bit pricey, this model from Pit Boss has almost everything you could want from a griddle. While Pit Boss has brand recognition different from Blackstone, the company still produces excellent outdoor griddles.
This griddle is more portable than similar models from Blackstone, and you can easily fold down the side trays and remove the grill from the base. This portability allows you to take this grill to a tailgate party or birthday bash. We found this model one of the most portable four-burner griddles we tested.
Pit Boss ships these griddles pre-seasoned, though it is always advisable to do some seasoning before hosting an outdoor cookout. However, if you are not confident in your ability to season a grill, this is an option to avoid that step.
So, how is cooking on this griddle? Excellent. The recipes we tested on this flat-top grill were as good as the Blackstone model. We found the heat distribution quite even, so you do not have to worry about random hotspots burning food.
If you are worried about this product's durability, Pit Boss aims to put your fears to rest. This model has a five-year warranty, far above anything else on the market.
Regarding negatives, this model is more expensive than our top pick from Blackstone. While it may excel in some areas compared to Blackstone's flagship four-burner griddle, we think the Blackstone model is a better value.
The grease drain is also a pain on this model. We had grease leak out, and cleanup was a pain.
Pros
Transportable
Heat distribution
Warranty
Cons
4. Razor 4-Burner Griddle
If you want a four-burner griddle that is a bit more compact, you should keep an eye on this model from Razor. There are no side trays, meaning you can fit this flat-top grill in more compact areas.
The product will be easier to take with you on the go, as well. Of course, losing the side trays means you do have a place to store food until you're ready for it.
We found cooking on the Razor to be simple, and it made excellent food. The heat distribution was even on this model, though we noticed a few hotspots strewn around the surface. You have a lot of surface area to work with on this model, and we estimate you could fit just under 60 burgers on this griddle.
The grease drain has a similar design to the Pit Boss model. While it served us admirably, we still noticed some grease leaking, so be careful during cleanup. You can also purchase disposable liners for the grease cup to make cleanup simpler.
Like most griddles, you need to take special care of the cooking surface. The Razor four-burner does not have a stainless steel cooking area, meaning it will rust if you do not take care of it.
Though there were a few negatives, no list of best outdoor griddles is complete without this model from Razor.
Pros
Cooking area
Compact
Mostly even heating
Cons
Grease drain
The cooking surface is not stainless steel
5. Royal Gourmet 4-Burner Flat Top
Royal Gourmet jumped into the market with an affordable option for a four-burner flat-top grill. This model does not break the bank but has most of the features you expect from the best outdoor griddles.
The cooking surface is similar to the Blackstone griddle, and we got a nice even cook during testing. The heat output could be better than other models, but most home chefs will not notice the difference. However, look elsewhere if you plan to make dishes like fried rice that require very high heat.
The grease drain is capable on this model, and you will not have any trouble cleaning up after a day of cooking. Royal Gourmet aped from the Blackstone griddles when coming up with the grease drain design, which makes it just as good.
You can fold down the side trays if you do not want them, which makes this product easier to transport. You have a decent amount of storage space under the grill, so you should be able to cook without the side trays.
Pros
Compact
Price
Cooking surface
Grease trap
Cons
Lower heat output
Not as good as Blackstone griddles
6. Royal Gourmet Gas Grill and Griddle Combo
Having more options is always preferable, and this model from Royal Gourmet increases the styles of cuisine you can prepare. Royal Gourmet gives you both a griddle and grill, and you can cook with both simultaneously.
Food tastes different when prepared on a grill versus a griddle. Some foods are not adaptable on a grill, such as eggs or pancakes, while griddles make foods like hamburgers unhealthier. Having the option to tailor how you prepare different foods is excellent for pleasing everyone.
While having both a griddle and grill is useful, we should note that neither part of this product stands out as stellar.
You will need to assemble this model yourself, and it took us a while to get it all set up. This model is also heavy, so you probably will not want to transport it too often.
Pros
Flexibility
Tailor recipes to guest's tastes
Plenty of workspace and storage
Cons
Heavy and difficult to transport
You must assemble the model yourself
Outdoor Griddle Buying Guide
Now that you know some of our favorite products, we have a short guide on what makes the best outdoor griddle.
Number of Burners
Having more burners is always better, as it allows you to cook more food at one time. Having several burners with different heat controls means you can make several dishes at once. Of course, this adds to the price.
Size
Outdoor griddles are not huge, but they eat up space quickly; try to find a model that fits your outdoor kitchen area. And check for portability if you plan on taking it to a tailgate party.
Price
Flat-top grills can be expensive; try to find a model that fits your budget. Remember, you will likely get many years of service out of your purchase.
Construction
Look for a model the manufacturer builds to last; you want strong materials like metal and wood. Also, keep in mind the material the company makes the cooking surface with.
Included Accessories
Some models come with a bench scraper, side trays, or metal spatulas; any add-ons can help you save money down the road.
Are Outdoor Griddles Worth It?
Yes! Outdoor griddles make cooking for people fun and easy; you can prepare several courses at a time, and griddles are more malleable than grills. For instance, you cannot cook scrambled eggs on a grill. These products are also easier to clean and maintain, and you do not need to worry about flare-ups or drippings getting caught below the grates.
Frequently Asked Questions
We will look at a few common questions people have about outdoor griddles.
What is the best brand of griddles?
Blackstone is the leader in the industry, though Pit Boss, Razor, and Royal Gourmet have fans.
Why are Blackstone griddles so popular?
Blackstone provides the best value for your money, and the quality of the products is second-to-none.
Is a flat-top grill worth it?
Flat-top grills are perfect for cooking multiple dishes simultaneously; you can also cook many dishes outdoors that you cannot make on a grill, such as eggs or pancakes.
What is a good flat-top grill?
Our favorite model is the Blackstone 36-inch outdoor griddle, though any of the products on our list will serve most cookout hosts well.
Final Thoughts
Outdoor flat-top grills are some of the best appliances when it comes to entertaining a party. Some people only associate griddles with breakfast food, but you can make nearly anything on a flat-top grill.
We hope you enjoyed our list of the best outdoor griddles; if one of these appliances appeals to you, consider following the link and buying one for your next cookout.