11+ Yakitori Grill Recipes That Will Leave You Craving for More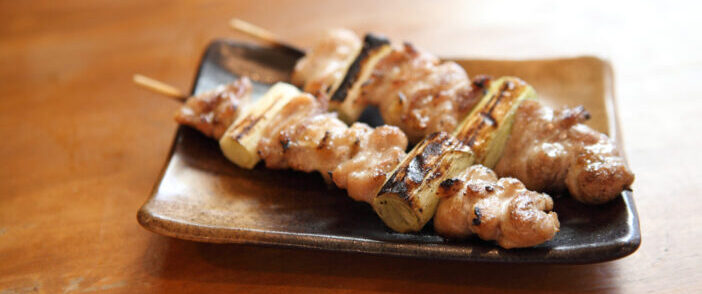 Have you ever tried cooking with a Yakitori grill? If you haven't, you're missing out on some of the most delicious and unique grilled dishes.
Yakitori grills are a type of charcoal grill used in Japan. Designed for cooking skewered meats, a yakitori grill is a great way to BBQ at home.
From classic chicken yakitori to vegan sweet potato wedges, we found eleven delicious dishes you can make with a Yakitori grill.
Disclosure: As an Amazon Associate, this site earns from qualifying purchases. Thank you!
Quick Sidenote – check out our shop for a curated selection of the best meats, cuts, sausages, and more. Open our shop in a new tab and explore!
Delicious Dishes You Can Make With a Yakitori Grill
Whether you're a seasoned grill master or a beginner, these recipes will impress your friends and family at your next barbecue. So, let's fire up the Yakitori grill and get cooking!
1. Jidori Tsukune
Jidori Tsukune is a Japanese-style chicken meatball skewer made with high-quality ground chicken and a variety of seasonings such as soy sauce, sake, mirin, green onions, and ginger.
The meatballs are tender, juicy, and bursting with umami flavor. You serve the meatballs with a sweet and savory tare sauce made from soy sauce, sake, mirin, sugar, and ginger, which adds a delicious caramelized flavor to the dish. This skewer is a must-try for anyone who loves the taste of grilled chicken and savory Japanese cuisine.
2. Negima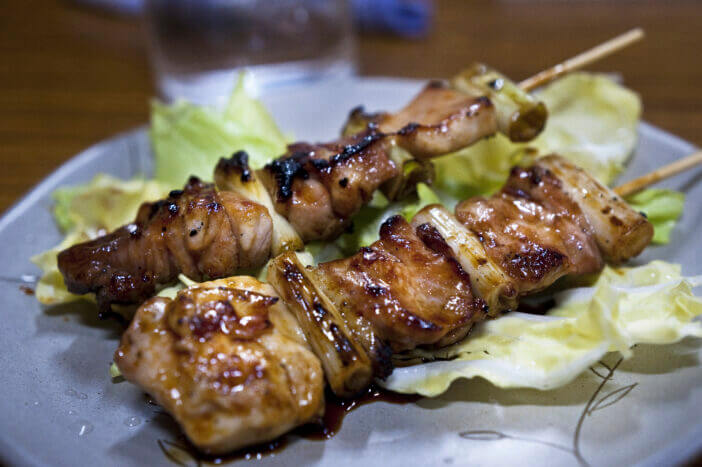 Negima is bite-sized pieces of chicken thigh skewered with scallions.
Marinated in soy sauce, mirin, sake, and sugar, each bite gives you a burst of sweet and savory flavor. The grilled scallions add a slightly sweet and smoky taste to the dish and give it a crispy texture.
3. Ton Negima
Instead of chicken, you can use pork belly. Ton Negima uses the same marinate as Negima.
The chef cooks the pork belly until it's crispy on the outside. Inside, the pork stays tender. Mouthwatering, Ton Negima will quickly be one of your favorite yakitori grill dishes.
4. Miso-Marinated Salmon
Delicious and healthy, you can grill salmon on your yakitori grill.
First, marinate the salmon in miso paste, mirin, sake, soy sauce, and sugar. Then skewer the salmon and grill on the yakitori grill until the outside of the salmon is crispy.
5. Ginger and Garlic Marinated Half Chicken
You don't have to skewer everything you cook on a yakitori grill.
Marinade the chicken in ginger, garlic, soy sauce, and mirin. The marinade adds depth of flavor to the chicken, making it a perfect pairing with the smoky and slightly charred taste that comes from grilling over a Yakitori grill
Slow cook the chicken until the thickest part near the bone reaches 165 F. Once ready, you'll have crispy skin on the outside and tender and juicy chicken inside.
6. Grilled Shiitake with Ponzu Dressing
Grilled shitake mushrooms taste great.
Ponzu dressing adds more flavor and tang to the dish. Grill the mushrooms slowly until they are golden brown. Once ready, coat the grilled shiitake mushrooms with the Ponzu dressing.
To make the dressing combine ponzu sauce, soy sauce, citrus juice, and vinegar.
7. Shrimp and Pineapple Skewer with Soy and Ginger Glaze
Shrimp is perfect for grilling. They cook quickly and taste great.
This recipe uses pineapples, soy sauce, and ginger to create sweet and savory flavors.
Ready in minutes, simply BBQ the shrimp until they turn pink and get a slight char from the grill.
8. Grilled Sweet Potato Wedges with Paprika and Cumin
Vegans can enjoy the yakitori grill as well. This dish is simple to prepare but tastes amazing.
Coat the potatoes with paprika, cumin, salt, and pepper. Grill the wedges until they get nice and crispy.
The combination of spices adds a delightful complexity to the dish, giving it a spicy kick that balances perfectly with the natural sweetness of the sweet potatoes.
9. Grilled Corn on the Cob with Chili Butter
You'll quickly fall in love with this yakitori-style grilled corn on the cob.
Grill the corn until the kernels slightly char. This adds smoky flavors to the sweet corn.
To make the chili butter, combine melted butter with chili powder, lime juice, and salt. Coat the grilled corn with the butter and enjoy a burst of flavor in each bite.
10. Yakitori Don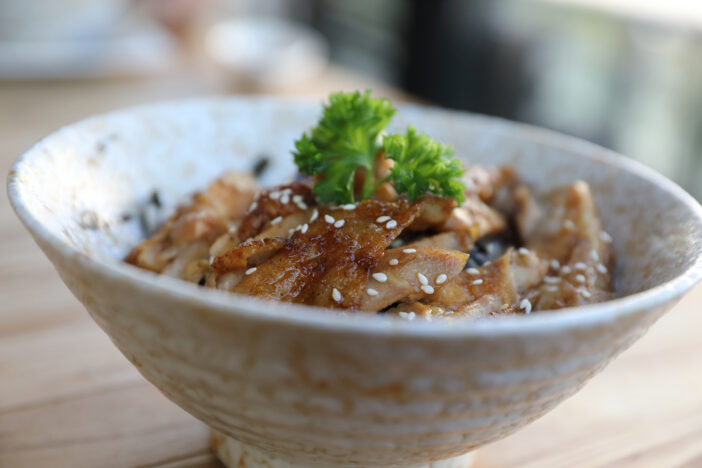 Yakitori Don is a popular traditional Japanese dish. It features bite-sized pieces of chicken on skewers. Most restaurants serve Yakitori Don with steamed rice and sauces.
Marinate the chicken in soy sauce, sake, mirin, and sugar. This amplifies the unique umami flavor of the dish. We suggest letting the chicken marinate for 2-4 hours to get the most flavor from the skewers.
11. Sakana No Shioyaki
If you're a fan of fresh fish, you can try Sakana No Shioyaki.
Take your favorite fish and lightly coat it with salt. Grill the fish over the yakitori grill until it's crispy on the outside. The salt enhances the flavor of the fish while giving the exterior its crispy texture.
When choosing a fish, you should look for firm and mild-flavored fish. Sea bass, trout, and mackerel are popular options for Sakana No Shioyaki.
FAQs
Here are some frequently asked questions about yakitori grills.
What is special about the yakitori grill?
Yakitori grills cook small, skewered pieces of meat and vegetables over high heat, resulting in delicious, juicy, and tender dishes.
The grill lets the meat slowly cook and gives the meat a crispy exterior and tender interior.
What kind of grill is used for yakitori?
Traditionally, a charcoal grill known as a konro or a binchotan grill was used for cooking yakitori. Today, you can find modern alternatives that use gas or electricity to grill.
What makes yakitori grill different?
Yakitori grills feature a smaller design than most traditional American-style BBQs.
They are purposely designed to cook small, skewered pieces of meat and vegetables over high heat, resulting in delicious, juicy, and tender dishes with a smoky taste.
The grill's compact size and narrow cooking surface make it ideal for cooking Yakitori-style dishes quickly and evenly.
What is a binchotan grill?
A Binchotan grill is a type of smaller charcoal grill that uses high-quality, white charcoal made from Japanese oak. The charcoal burns hotter and cleaner than regular charcoal and produces less smoke and ash.
Binchotan grills are often used in Japanese cuisine for grilling Yakitori, seafood, and vegetables due to the charcoal's ability to create a unique flavor and aroma in the food.