Are you wondering about the easiest, fastest, and most effective way to make succulent and buttery pork chops? Well, look no further!
We have researched for you to find out a few easy steps to smoke perfect pork chops every single time. From the best cuts to smoke, ideal temperatures, and smoking times, we cover all basis for smoking pork chops. So even if you have never smoked meat before, everything is covered.
Keep reading to find out why everyone loves pork chops and the simple steps needed to smoke pork chops for an upcoming family party, weekly dinner, or special lunch just for you!
What are Pork Chops?
Pork chops are usually from the pig's loin that runs from the hip to the shoulder, perpendicular to the spine. This tender and moist cut of meat is commonly used due to its intense flavor and lean fat content.
The most common methods of cooking pork chops include roasting, frying, stuffed, or grilling. We recommend that chefs ensure the minimum cooking temperature inside of the meat is 145 degrees to prevent any foodborne illnesses.
Before you cook the pork chop, there are a few things to keep in mind:
First, go thicker — Use a thicker cut that is easier to cook for the first time. Thicker pork chops are better if they are between 1.5-2" to help prevent over or undercooking.
Brine — Brining the pork chop before you smoke them adds another dimension of flavor and can also help keep it moist and juicy.
Avoid overcooking — If you overcook the pork chops, this can lead to dry and brittle meat. Instead, ensure you take the pork chops off the heat before the internal temperature rises above 160 degrees Fahrenheit.
Try bone-in pork chops — Bone-in pork chops help keep some of the fatty and juicier flavor.
Breaded — Although it is not standard to use a breaded chop in smoking, but if you are using a breaded recipe to make smoked pork chops, consider using a thinner boneless loin chop at around 1-1.5" thick. However, if you are a beginner or making stuffed pork chops find meat that is between 1.5" to 2" thick.
Choosing the Right Cut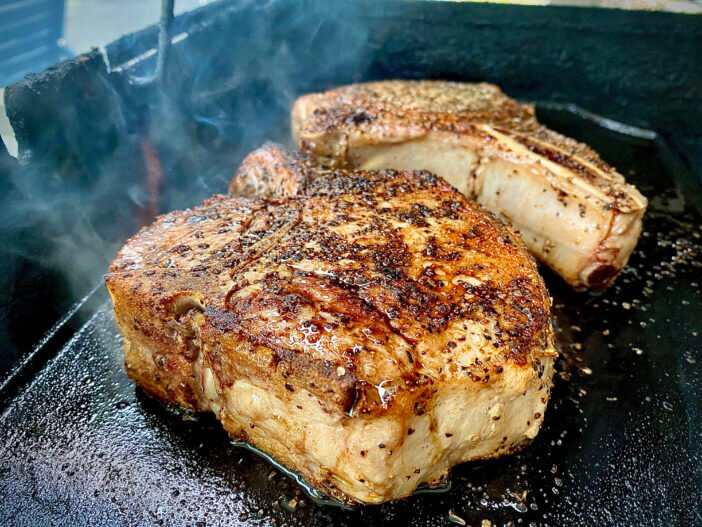 Another tip to remember when smoking pork chops is to choose the right cut for your wants. There are different types of pork chops that you can make:
Loin chops — Loin chops, or Porterhouse chops, is meat with a T-shaped bone that makes it suitable for grilling or broiling.
New York pork chops — New York pork chops, also known as center-cut pork chops, are boneless chops that work well for frying or stuffing.
Sirloin chops — Sirloin is a cost-friendly cut of meat that is good for slow braising or smoking.
Rib chops — Rib chops have a grilled bone on one side, making them ideal for pan frying or grilling.
Choosing bone-in pork chops (preferably rib chops or loin chops) can be the best method for those who want to try smoking their pork chops.
Steps to Smoking Pork Chops
There are a few steps to smoking pork chops to get succulent and savory meat that is perfect for a stand-alone dish or a sandwich!
For this recipe, you will need the following ingredients:
1 ½ tbsp salt
1 tbsp black pepper
1 tbsp onion powder
1 tbsp paprika
½ tbsp garlic powder
4×2" pork chops, cut of your choice
Olive oil
Once you have the required ingredients, you can begin smoking the pork chops.
Preheat the outdoor smoker to 250 degrees.
The best chips to use for pork chops are applewood. But any fruit woods or maple and pecan can work well too. Soak them in water for 30 minutes before placing them in the smoker.
Mix the salt, onion powder, garlic powder, paprika, and pepper in a small bowl.
Rub the pork chops with olive oil on all sides so the chop is fully coated.
Season the pork chops with the spices, ensuring you rub the spice mixture on all sides.
Turn the skillet to high heat (>7 on a 1-10 scale).
Quickly sear the pork chops on both sides to form a blackened crust on the edges of the meat.
Place the now-seared pork chops on the outdoor smoker.
Close the lid to the smoker.
Smoke the pork chops until the internal temperature of the meat reaches 145 degrees Fahrenheit.
Keep an eye on the clock while smoking the meat — this temperature typically takes around 60-90 minutes to reach but will depend on the thickness of the pork chop.
Remove the pork chop and let the meat rest for approximately 10 minutes before serving.
Serve the pork chops to your guests!
Frequently Asked Questions
These are a few commonly asked questions before making or serving smoked pork chops.
How long does it take to smoke pork chops at 225 degrees?
If you decide to preheat the outdoor smoker to 225 degrees Fahrenheit, the typical time frame for cooking smoked pork chops ranges between 30-90 minutes based on the type of cooker and the desired chop cut. The best way to understand how long it takes to cook the pork chops is to wait until the internal temperature is at least 130 degrees Fahrenheit.
How long does it take to smoke pork chops?
The average time it takes to smoke pork chops usually ranges between 30 minutes and 90 minutes, depending on the type of smoker and the thickness level of the meat.
How long does it take to smoke 1-inch pork chops in a smoker?
A 1" cut of pork chops is much thinner than you would typically use for cooking pork chops in a smoker. For this thickness, it takes around 45 minutes to 1 hour to cook these pork chops in a smoker set to 225 degrees Fahrenheit. It can take 1 hour and 30 minutes for thicker pork chops to cook through.
We recommend checking the internal temperature before removing it from the smoker. The internal temperature of the 1" pork chop should be at least 130-145 degrees Fahrenheit.
How long does it take to smoke pork chops at 250 degrees?
Smoking pork chops at 250 degrees can add the charge faster and lead to a quicker cooking time. The general time frame for cooking pork chops at 250 degrees is 30-60 minutes.