How to Cook Hot Dogs in the Oven: 3+ Easy Steps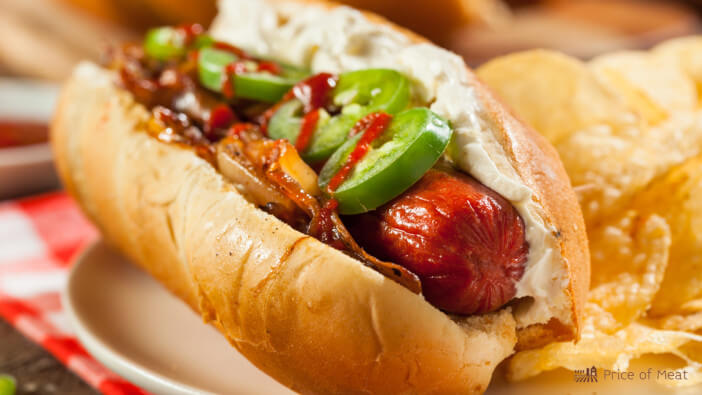 Are you sick of cooking hot dogs the traditional way? Do you no longer want to boil or grill hot dogs? If that is you, you're in luck!
We will provide you with the most straightforward steps of perfecting the perfect oven hot dog recipe.
At the end of the article, you will find the answers to some of the most common questions about making hot dogs.
Disclosure: As an Amazon Associate, this site earns from qualifying purchases. Thank you!
Quick Sidenote – check out our shop for a curated selection of the best meats, cuts, sausages, and more. Open our shop in a new tab and explore!
Can You Cook a Hot Dog in the Oven?
Absolutely! Most people resort to the traditional methods of cooking hot dogs, using boiling and frying methods. The oven can make delicious hot dogs at about the same time.
You can cook many hot dogs at once using an oven. Unlike pans or pots, ovens provide plenty of room for cooking quantities of food.
Ovens are perfect if you're having a party, have a big family, or need to cook for many people at once. Most people might not realize the difference between the methods.
If you have never tried oven dogs, you should!
Do You Bake or Broil Hot Dogs in the Oven?
You might want to use both if you cook hot dogs in the oven. We recommend starting with baking to cook the hot dogs thoroughly. Baking hot dogs will give them a similar result as boiling.
Your hot dogs will be slightly darker than boiled dogs. The casing of the hot dog should appear somewhat brown with a bit of crispiness, but not too much.
It would help if you considered broiling them for a couple of minutes after your hot dogs cook for about 12 minutes in the oven. Broiling will help crisp them up, such as if you're using a grill.
Turn on the broiler and watch your hot dogs as they turn darker. You might want to rotate them every 30 seconds to achieve an even broil.
Depending on what you prefer, you should give each of the techniques a try.
Steps To Make the Perfect Oven Hot Dog
Making oven-hot dogs isn't a difficult task at all. You won't need many ingredients or cooking utensils. Follow these steps if you'd like to make the perfect oven hot dog at home:
Step 1 – Prepare the Oven
You can prepare hot dogs in the oven or microwave oven as long as the temperature is adjustable to 400 degrees.
Remove all dishes from the oven.
Turn the oven to baking.
Turn up the temperature to 400 degrees.
Wait for the oven to warm up (you should hear a beep).
Step 2 – Prepare Your Hot Dogs
You'll need to place your hot dogs on a flat tray or dish. You can use a baking tray or a casserole dish. It would help if you had a knife handy for the best cooking results.
Open the package of hot dogs and spread them out on the dish.
Slice each hot dog about ¼ of the way through.
Align the tray with aluminum foil for easy cleanup.
Step 3 – Cook the Dogs
Now the real action will take place. You'll cook the hot dogs using the baking method.
Place the hot dogs inside the oven on the middle rack.
You might want to consider flipping the hot dog one time to cook them evenly. (Flip them after 6-7 minutes).
Allow the hot dogs to bake for 12-13 minutes.
You can turn on the broiler and broil them for 2-3 more minutes to achieve a more crispy texture.
Be extra cautious and watch the hot dogs as the broiler can overcook and burn your hot dogs quickly.
Step 4 – Hot, Ready, & Serve
Remove the hot dogs from the oven using oven mitts.
Allow the hot dogs to cool for 2-3 minutes before serving.
Now you can serve them up fresh, hot, and juicy.
Frequently Asked Questions
Below are some of the most commonly asked questions about cooking hot dogs.
Are hot dogs better in the oven?
Baking hot dogs can bring out the flavors and make them tastier. There is no one answer to whether they taste better in an oven. It is a personal opinion. Many people prefer to boil them, while others crave a hot dog fresh off the grill.
Cooking your hot dogs in the oven will mimic a similar style of outdoor grilling. This could be a great cooking alternative if you don't have a grill.
Can you cook hot dogs at 425?
You don't want to cook hot dogs at too high a temperature. Setting the oven to 425 will bake your hot dogs too fast. Doing so could dry them out and burn them quickly.
Set the oven to 400 for the best baking temperature.
What are other ways to cook hot dogs?
You can cook hot dogs in a variety of ways. Some great cooking methods include air fryers, deep fryers, smokers, and microwaves.
What should I put on my hot dog?
Start with the traditional toppings of ketchup, mustard, and relish. If you want to try something more exotic, consider dressing the hot dogs with onions, tomatoes, cucumbers, pickles, barbeque sauce, or mayonnaise.
Don't be afraid of putting new toppings on your hot dog. That's the art of creating the perfect dog!