7+ Delicious Ways to Enjoy Nurnberger Sausages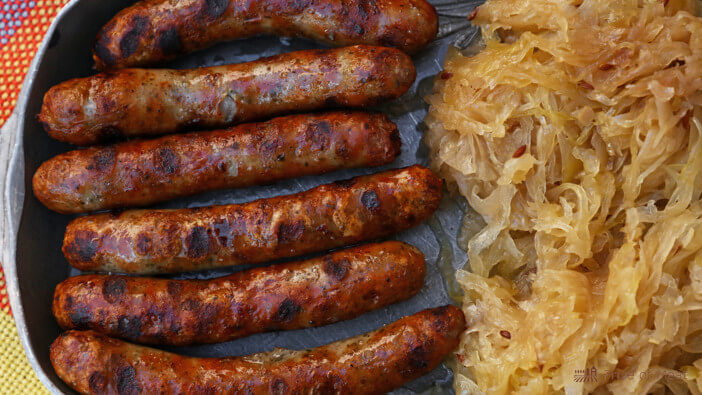 Nurnberger sausages are originally from Germany, often made from pork. The sausage is a popular delicacy not only in Germany but also across the world due to its history and the incredible variety of recipes available for enjoying the Nurnberger sausage.
The delicacy is over 600 years old, and finding delicious ways to eat it is the best way to savor it. The Nurnberger sausage has held protected status since the late 1980s. The Nuremberg Sausage Protection Association ensures that the delicacy's quality stays consistent.
The Nurnberger sausage is thin and small, making it a healthier alternative to other sausage varieties. Finding the right way to enjoy this snack is not easy. Luckily, we have developed seven ways you can enjoy Nurnberger sausages.
Disclosure: As an Amazon Associate, this site earns from qualifying purchases. Thank you!
Quick Sidenote – check out our shop for a curated selection of the best meats, cuts, sausages, and more. Open our shop in a new tab and explore!
1. Nurnberger Sausages With Potato Salad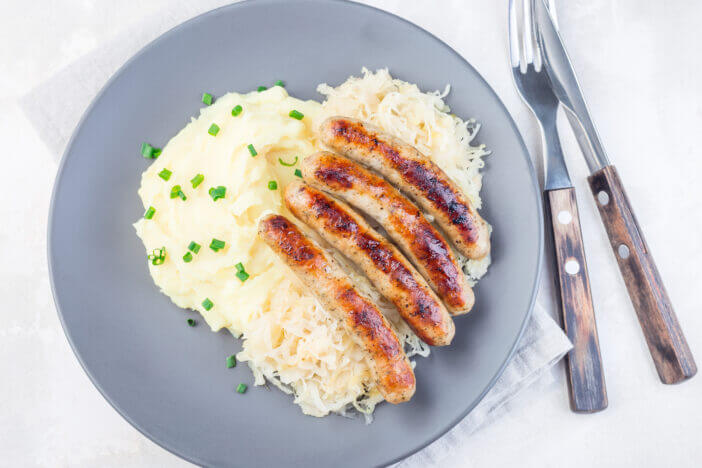 Enjoy Nurnberger sausages with some potato salad you can easily prepare at home. Potato salad can make Nurnberger sausages a heavier snack if you are really hungry. The best method to prepare potato salad is as follows:
Boil potatoes in salted water until they are well-cooked
Mix some Dijon mustard, apple cider vinegar, and mayonnaise in a bowl
After the potatoes are tender, take the dressing and pour it onto the potatoes, then season with some salt
Stir the salad to ensure everything mixes well and the dressing has been coated evenly
You can then add Nurnberger sausages to the salad and enjoy it as a snack, light lunch, or whichever you like. Preparing it takes approximately 30-40 minutes, and the result won't disappoint your taste buds.
2. Nurnberger Sausages With a Bun
One of the most popular ways to enjoy Nurnberger sausages is to eat them with a bun. The dish requires only three ingredients: sausages, buns, bread rolls, and mustard. The preparation usually involves the following steps:
Grill 3 Nurnberger sausages for about 5 minutes
Cut your buns or bread rolls but not all the way
Apply mustard in between the buns
Place the 3 Nurnberger sausages in between the buns and enjoy
Nurnberger sausages with buns are popularly known as "3 im Weggla" in Germany. The snack is delicious and easy to make, taking only 5 or 20 minutes.
3. Nurnberger Sausages With Coleslaw and Mustard Seeds
Eating Nurnberger sausages with coleslaw and mustard seeds is perfect if you are looking for a light snack. You can prepare coleslaw using the recipe below:
Shred some cabbage and grate some carrots in a bowl
Mix apple cider vinegar, mayonnaise, Dijon mustard, and honey in a different bowl
Pour the above dressing over the cabbage and carrot and mix everything
Set aside the mixture for about 30 minutes in the refrigerator
Prepare your Nurnberger sausages in a pan or skillet and serve with the coleslaw. Mix it up by sprinkling some mustard seeds on the mixture, and enjoy.
4. Nurnberger Sausages With Sauerkraut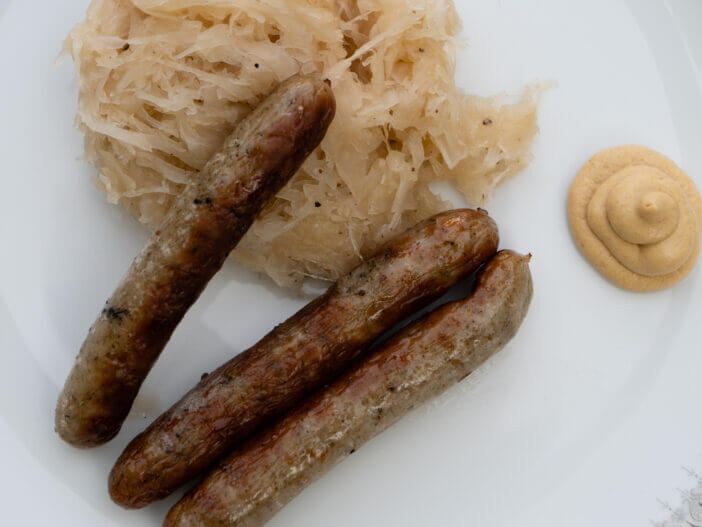 Nurnberger sausages served with Sauerkraut is another popular way of eating this German delicacy. The dish is easy to prepare once you already have your Sauerkraut. Sauerkraut is cabbage allowed to ferment, filling it with probiotics and giving it a sour taste.
Preparing Sauerkraut takes about 3 to 4 weeks. So it's easier to purchase it from your grocery store. Fry 3 or 4 Nurnberger sausages in a pan, then add Sauerkraut after the sausages have turned brown.
Enjoy the dish with some mustard on the side. This snack takes about ten minutes to prepare, and you can have as many as 4 or 5 sausages, depending on your appetite.
5. Nurnberger Sausages With Roasted or Mashed Potatoes
Another delicious way of enjoying Nurnberger sausages is with roasted or mashed potatoes. How you prepare it will differ based on whether you prefer mashed or roasted potatoes. Mashed potatoes take a longer time to prepare, and you can use the following recipe:
Boil potatoes in a pot and add some salt to the water
Let the potatoes boil until tender. You can test the tenderness with a fork
Add some milk and butter to the potatoes, then mash them together
Fry your Nurnberger sausages in a pan and serve them with roasted or mashed potatoes once ready. You can add Sauerkraut or mustard on the side to make the snack more delicious.
6. Nurnberger Sausages With Lentil Stew
Although unconventional, lentil stew and Nurnberger sausages make a very delicious snack. Prepare lentil stew with onions, celery, and carrots in a pot. The preparation should take about 30 to 40 minutes, and you'll know when the lentils are tender.
Prepare the Nurnberger sausages separately and then add them to the lentil stew. Alternatively, you can add the Nurnberger sausages to the lentil stew while it cooks. You can serve the dish with some bread on the side.
7. Nurnberger Sausages With Mushroom Risotto
Mushroom risotto makes for an exciting side dish that can be enjoyed with Nurnberger sausages. The easiest way to prepare mushroom risotto involves the following steps:
Heat some butter and olive oil in a saucepan, then add onions and mushrooms
Add rice to the pan and stir the mixture, then add vegetable broth
Wait until the rice gets cooked, then add Nurnberger sausages and wait until they are evenly heated
You can season the mushroom risotto with Parmesan cheese, pepper, or salt. Enjoy the dish while it's still hot to appreciate the flavors and enjoy the taste fully.
What is a Nurnberger Sausage?
A Nurnberger sausage is a thin, partially boiled sausage from Nuremberg, Germany.
What are Nuremberg Sausages made of?
Nuremberg sausages are made of pork, and the main ingredients that go into making this type of sausage are pork, marjoram, pepper, and salt.
How do you eat Nuremberg Sausage?
The most common way to eat a Nuremberg sausage is with a bun. You can serve three Nurnberger sausages in a bun with mustard.
What is the best Sausage in Germany?
The best sausage in Germany is Bratwurst, made of pork, beef, or veal. The Nurnberger sausage is also one of the best sausages in the country, with a longstanding history.