5+ Delicious Reasons to Grill with Kingsford Flavored Charcoal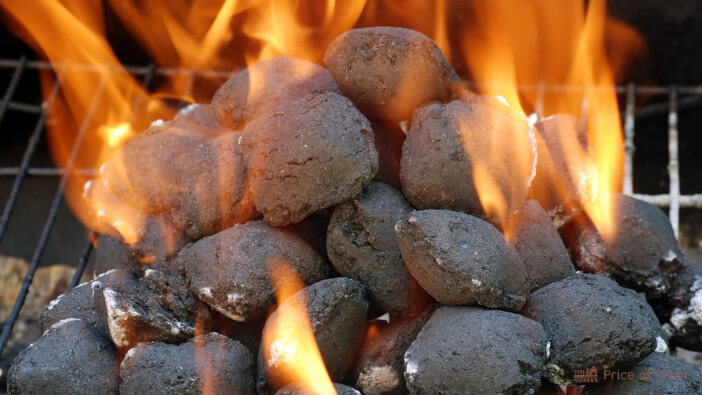 There is nothing quite as great as a warm night and a deliciously cooked meal hot off the grill. Am I right? We both know I am right.
Did you know there is a way to make the food you grill even better? I am serious! Okay, you convinced me, I will let you in on the secret to making your meal the best you have ever taken off the BBQ. Kingsford Flavored Charcoal.
Kingsford Flavored Charcoal! Using this product will make you the Grilling Royalty of any get-together.
The name speaks for itself, but here are five delicious reasons you should be grilling with Kingsford Flavored Charcoal.
Quick Sidenote – check out our shop for a curated selection of the best meats, cuts, sausages, and more. Open our shop in a new tab and explore!
Disclosure: As an Amazon Associate, this site earns from qualifying purchases. Thank you!
1. No Sacrifice to Taste
Sometimes, no matter how much seasoning you put on something, the flavor of what you are grilling can be overpowered by the grill.
The high heat and smoke have a way of drowning out flavors. This is not the case when you use Kingsford Charcoal. Kingsford designed their charcoal to add flavor to your grilled food, not to ruin that flavor.
This is especially true with their flavored charcoal. Kingsford Charcoal allows you to get that famous grilled taste without sacrificing flavor.
2. Choose Your Flavor!
In addition to keeping the flavor of whatever spices you put on your food, you can enhance your meals with Kingsford Flavored Charcoal. Kingsford offers many options of flavored charcoal, so many that you may have a hard time choosing!
Psst- try them all!
They have flavors like:
To name a few. Do not worry, my mouth is watering, too! Infuse your food with the flavor of your choice!
3. Get that Smoked Flavor without the Smoker
Using a Smoker takes hours to infuse that smokey taste into your food.
Using Kingsford Charcoal infuses that flavor into your food while grilling it. Forget spending hours smoking food to perfection. You can achieve that flavor in just minutes with Kingsford Flavored Charcoal.
Kingsford creates their charcoal using different types of wood, so choose your favorite! Convince your guests that you have spent hours over a hot flame, I won't tell your secret!
4. Charcoal Makes Food Better
This is science, my friends. Charcoal grilling produces more flavor due to the charcoal itself, the drippings from the food you are cooking, and the smoke released.
Charcoal is made from different types of wood that release unique flavors when heated up to high temperatures. The flavor changes depending on what you are cooking, what you have seasoned the food with, and what charcoal is flavored or seasoned with.
Using Kingsford Flavored Charcoal enhances all the goodness, without the hassle of seasoning the charcoal to perfection to get the best flavor. Kingsford has done the hard work for you!
All these factors will give you unique flavors every single time you grill. Leaving all your friends to ask, "What is your secret?"
5. Kingsford Flavored Charcoal is Easy to Use
As I mentioned before, Kingsford has done all the hard work for you when it comes to perfecting seasoning and creating premium charcoal.
Other charcoal, also known as briquettes, can be difficult to light. Kingsford has created a briquette that lights easily and stays lit. This heat consistency is essential for cooking safely on the grill and getting your food done just right.
As well as being difficult to light, other briquettes can ruin the taste of your food. Depending on what they are made from, the smoke released from charcoal can create a bitter flavor. I do not need to tell you that ruins the entire meal. Kingsford is careful about which products they use to make their charcoal, ensuring you get the best flavor.
The flavor infusions in Kingsford Flavored Charcoal are also a time saver. No more will you have to spend time seasoning your briquettes trying to achieve a drool-worthy flavor. Kingsford has done it for you!
Can you buy flavored charcoal?
Absolutely! Kingsford offers a large selection of flavored charcoal. They also release new flavors consistently, so you can keep trying new flavors!
What flavors does Kingsford Charcoal have?
Whether you want something sweet, something spicy, or a combination of the two, Kingsford offers many different flavors of charcoal.
Basil, Sage, & Thyme
Memphis BBQ
Bourbon BBQ
Garlic Onion Paprika
Cumin Chili
Hickory
As well as different types of wood charcoal, like cherrywood and applewood.
Do Kingsford Flavor Boosters work?
Flavor Boosters 100% do work. But you don't have to take my word for it! Kingsford Flavor Boosters have an abundance of positive reviews. See for yourself what others are saying about Kingsford Flavor Boosters!
How do you use flavored charcoal?
Using flavored charcoal is simple.