Bacon is a staple in households and cuisines all around the world, but sometimes, even that delicious cured pork can get tiresome. Enter: Johnsonville Sausage Strips, a culinary innovation that will change everything you thought you knew about cured meat.
Whether you're new to the sausage strip world or are old hat at it, this article is for you. We've tested out 10 stellar recipes that take you beyond the standard sausage strip fare, and our results are listed below. Read on to find out how to put your strips to use!
What are Johnsonville sausage strips?
First, a primer for the uninitiated.
Johnsonville Sausage Strips are exactly what they sound like. Sold by the meat manufacturer Johnsonville, the product is a pressed form of sausage that can be cooked in the same way as bacon. The real difference comes in the flavor profile, which brings all the fattiness and smokiness you get from bacon, but with the herbal and spiced flavors of sausages.
Now that you're up to speed, it's time to dive into the best sausage strip recipes out there.
Nota bene: with some exceptions, the recipes listed call for bacon instead of sausage strips. However, sausage strips work the same way except for their different final flavor.
Our first recipe comes from Johnsonville itself. This sandwich swaps out the bacon in a BLT and instead uses crisp, succulent sausage strips, blending the flavors of a German brat with the cool crispness of a BLT.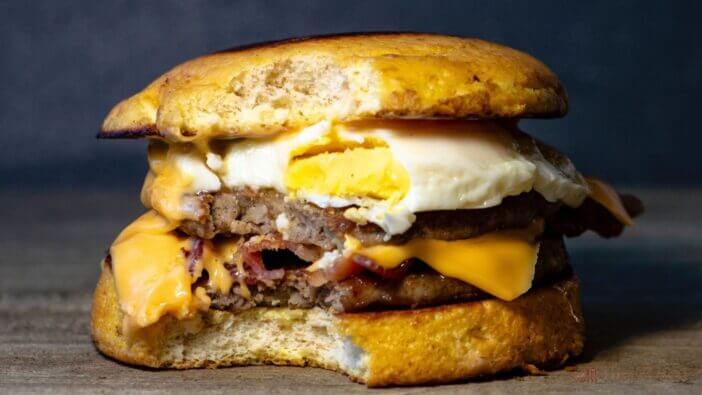 Next up on our list is a sausage strip omelet. To cook up one of these eggy, smoky, spicy marvels, cook your sausage strips to your preferred crispiness. Then, use the grease in the pan to cook an omelet, crumbling and adding the strips before flipping.
The next recipe on our list adapts the classic Southern dish of stewed collards–a smoky, salty, and slightly bitter vegetable dish enjoyed in soul restaurants everywhere–with sausage strips. To make the recipe, swap out the slab of bacon for several sausage strips. The result will be a complex dish that is sure to wow even the most traditionalist southern grandma.
Need finger food for a party? Just want to treat yourself? Use this low-maintenance recipe to make tater tots wrapped in sausage. While the version with bacon has touches of sweetness, this one brings a more savory flavor that pairs well with barbecue sauce.
If you want your sausages to take you to the rolling hills of Italy, this recipe is for you.
The dish, a rendition of pasta e fagioli perfected by veteran chef Carla Lalli Music, calls for the traditional ingredient of ham hock. However, you can spin the dish by using strips of sausage to add fat bursts of flavor.
How do you make delicious clams even better? With bacon, of course. And how do you make that even better? With sausage strips, of course!
Clam casino is a classic Northeastern dish that adds savory bacon breadcrumbs to half-shelled clams. To add a special flair, use sausage strip crumbs instead of bacon.
Do you have leftover clams after the previous recipe? Take care of that wonderful problem with this pasta dish, a medley of tomatoes, clams, and sausage strips that creates a burst of savory-and-herbal delight in the pan.
Once you're finished, add an ever-so-slight squeeze of lemon to bring out the tomato's sweetness, the sausage's smokiness, and the clams' brininess.
If you're ready to impress at your next backyard cookout, give this recipe a spin. The dish is already distinctive in that it serves up juicy burgers and fried onions on toasted white sandwich bread, but you can supercharge it with a crispy sausage topping.
Let's face it, bacon-wrapped treats can be a bit overdone. But sausage-wrapped dates with almonds? That's a game-changer.
This recipe pairs stellar Mediterranean flavors with the less common pairing of sausage. But if you try it, you're in for a special treat. The full-bodied sweetness of the dates finds a perfect complement to the sausage's smoky depth and the goat cheese's sharp undercurrent.
While most of the items on this list have been drawn from American and Italian cuisine, our final item is inspired by East Asian ingredients. It starts with a simple scrambled egg-and-crisped sausage procedure, but by adding cooked rice, Shaoxing wine, and chicken stock, you can whip up delicious and savory fried rice in minutes.
If you want to offset the heavy flavors of the sausage strips, try tossing in some steamed broccoli, carrots, or fennel.