10+ Essential Sausage Making Supplies to Make Delicious Meals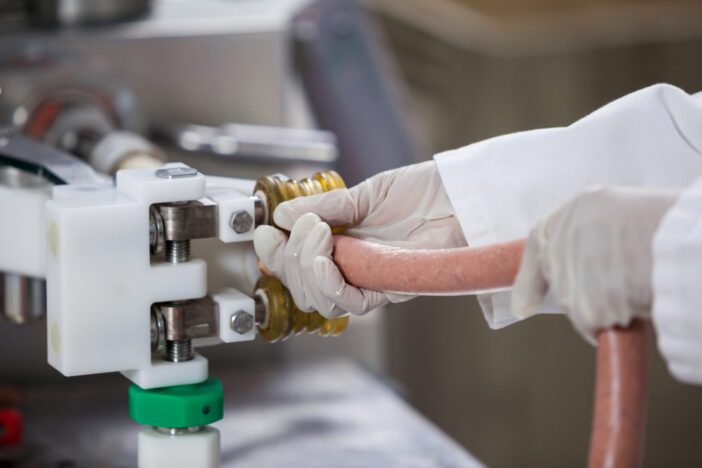 Are you hoping to find a way to make delicious, salty sausages at home? Whether you like ground red meat, poultry, or both, all you need is meat, fat, water, and binding agents to get started – and a few essential tools!
In this article, I'll provide an overview of the essential sausage-making supplies necessary for creating tasty bangers.
I've made homemade sausages for over a decade, and I'm confident my suggestions will help you make delicious ones easily.
After reading this article, you'll have all the tools and knowledge needed to create wonderful dishes that your family and friends can enjoy. So let's get into it!
Quick Sidenote – check out our shop for a curated selection of the best meats, cuts, sausages, and more. Open our shop in a new tab and explore!
Here are the ten essential sausage-making supplies to make delicious meals
Disclosure: As an Amazon Associate, this site earns from qualifying purchases. Thank you!
1. A Digital Scale to Weigh Your Meat
A digital scale might not have been your first thought when considering making sausages at home, but trust me, it helps a lot!
A digital scale ensures that you have the right proportions of meat and fat in your sausage mixture, thus creating the desired texture, flavour, and juiciness.
The scale also ensures that your finished sausage has the desired consistency and will not fall apart when you cook it.
Using a digital scale also makes it easier to measure spices or other add-ins evenly, resulting in more flavorful sausages.
Finally, having an accurate measurement allows you to replicate recipes easily so you can make consistently delicious sausage every time! I told you it's important!
2. The Right Knives for the Job
You need the right knives to properly cut and prep sausage meat. Investing in a good quality sharp knife will make your sausage-making process much smoother.
I recommend getting a boning knife for cutting around the bone and ligaments and a sturdy chef's knife to cut through thick chunks of meat before putting the chunks in the grinder.
Additionally, it may be helpful to invest in a knife sharpener if you plan to continue making sausage (or other meals) long-term.
3. A Tub or Mixing Bowls to Combine Flavors
After cutting your sausage meat, you'll need to mix it with all of your spices, herbs, and other ingredients to get the right sausage consistency and desired flavour.
I suggest using a large plastic tub (or several smaller mixing bowls) to compound all the sausage ingredients before you grind. I tend to prefer one large bowl for ease.
Plastic or metal work well because it's easier to see the stickiness of the ingredients – based on how they are sticking to these materials – so you'll know when everything is mixed well enough.
4. An Electric or Table-Top Meat Grinder to Grind the Meat
Once your sausage mix is ready, it's time to grind!
Electric meat grinders are powerful enough to break down chunks of meat, and you can even get attachments to grind sausage into your preferred shape.
If you are making a large batch of sausage and want the convenience of an electric grinder, this is a great option.
Alternatively, you can get manual, "old-school," table-top sausage grinders ideal for smaller sausage batches. You can even mount some of them on your countertop or table for easy sausage grinding!
You can also get your meat pre-ground from the butcher, but where's the fun in that?
5. Sausage Casings to Shape Things Up
Sausage casings are must-have sausage-making supplies! These are what give the sausage its shape and also provide protection against overcooking.
Traditional sausage casings are made out of animal intestines, and while this might sound a bit off-putting, it's safe, natural, and delicious.
This type of sausage casing will give your sausage links or patties the perfect texture and shape.
6. Sausage Stuffer to Stuff With Ease
Once you have your casings, you'll want the help of a sausage stuffer to efficiently and quickly stuff the meat into them!
You can get sausage stuffers in manual or electric models, and both will make sausage stuffing easier. The electric models are the most convenient, making sausage stuffing a breeze!
There are also modern machines that combine the grinding and stuffing job into one – but they can be costly and, in my opinion, less efficient at each job. I recommend getting them individually.
7. Sausage-Focused Cookbooks to Get Inspired
If you're new to sausage-making, you may want to grab a sausage-focused cookbook for recipes and tips.
There are many out there, and each offers different flavours and techniques to help you make the sausage-based meals that'll suit your fancy!
8. A Digital Thermometer to Make Sure You Don't Overcook
One of the most forgotten sausage-making supplies you need is a digital thermometer. You should cook sausage until it reaches an internal temperature of 165 degrees Fahrenheit.
Investing in a digital thermometer will help ensure that your sausage is cooked to the proper temperature and not a bit overdone.
For safety and taste reasons, it's an essential tool that every sausage-maker should have in their arsenal!
9. A Sausage Pricker to Feel Fancy
A sausage pricker is another underrated sausage-making tool, and perhaps for a good reason.
The point of a sausage pricker is to poke holes in the sausage and release air pockets that might be in it.
Of course, you could certainly just use a fork for this task, but not only does a sausage pricker poke more precise holes that are the perfect size, but they'll also make you feel like a true sausage connoisseur.
10. Groceries to Make Incredible Meals!
Of course, the number one thing for sausage making is the food!
You'll need whichever meat(s) you want to make sausage with, as well as spices to mix the meat with and accompaniments to go with it.
Here are some top-notch choices for your sausage meat:
Pork shoulder
Veal shoulder
Beef chuck
Venison
Turkey
Don't forget to buy some herbs and spices for flavour, such as:
garlic powder
onion powder
mustard powder
caraway seeds
nutmeg
thyme
ginger
sugar
salt
And then, you'll want to buy some classic sausage accompaniments like:
Spicy brown mustard
Sauerkraut
Ketchup
Relish
Potato rolls
Cheese
There are tons of other groceries you might want, depending on what type of sausage meals you're making, but these are the key items that you'll likely want straight away!