Are you interested in the vegan lifestyle, or have you recently converted to veganism but don't know where to start with cooking? A beneficial way to learn new and exciting cooking methods is to join a class. There are excellent vegan cooking classes that will make you a kitchen master.
Several vegan cooking classes are available online, such as Veecoco, Forks Over Knives, Rouxbe, The Happy Pear, Wicked Healthy, and Brownble. These are the best options that cover a variety of professional vegan cooking learning experiences to boost your kitchen skills.
With the many vegan cooking classes available online, you need to know which ones are worth it, what they offer, and why you should try them.
The 6 Best Online Vegan Cooking Classes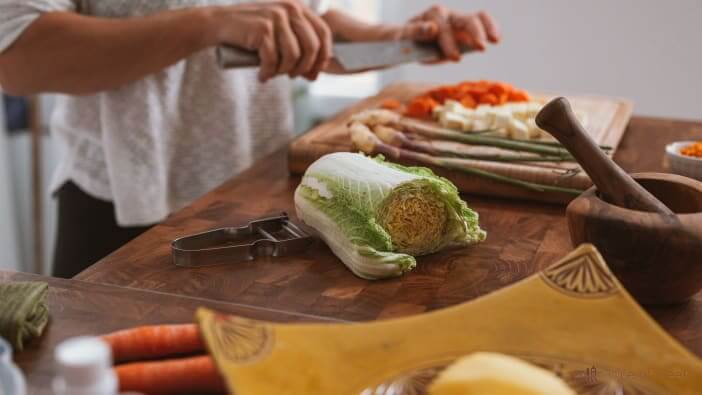 Figuring out which online classes to learn and understand veganism better can be confusing. Having a guide on some of the best options and what they offer is helpful. Below is a list of 6 vegan cooking online classes that will turn you into a master chef:
Veecoco
Veecoco is an online vegan cooking school with an ever-growing library of multiple vegan cooking courses. It offers 100% plant-based cooking, a group of professional and diverse instructors, and engaging content.
They offer a range of cuisines and meal types like Sushi, Italian, Ramen, Desserts, and raw food essentials. A different vegan chef accompanies each course. Doing various lessons means learning from different skilled mentors with unique specialties.
Veecoco offers a one-year membership with a one-off or monthly payment option. They have a seven-day free trial that gives you access to the entire library of 500 lessons.
Forks Over Knives
Forks Over Knives is the ideal course if you are new to the vegan world. It helps you dive into the lifestyle and stay committed while keeping things fun and exciting. The course provides a detailed syllabus with instructor support.
The course is offered in two levels with 20 hours of essential, foundational plant-based information, including lifestyle, nutrition, pantry setup, and basic cooking skills. The other level, the ultimate course, is 55 hours. It covers everything from the basic level with more units, more lessons, more than 100 recipes, and support and feedback from mentors.
The best part about Forks Over Knives is that you get 30 American Culinary Federation credits. This is a great option if you plan to pursue your culinary career.
Rouxbe
Rouxbe plant-based certification school is the course you want to complete to achieve your vegan cooking goals and stay committed. The American Culinary Federation Education Foundation recognizes the course.
There are a few training programs in the Rouxbe cooking course. A six-month professional training program, a 90-day essential vegan desserts course, and more. There is something for everyone to choose from.
Rouxbe offers world-class vegan chef instructors and former culinary school executives to mentor students who join their programs worldwide.
The Happy Pear
The Happy Pear is the ultimate vegan course. It is delivered by two professional vegan chefs with over 20 years of experience. The course teaches you how to cook an array of plant-based recipes and helps you incorporate healthy habits while giving you the skills to run a kitchen like a chef.
This course benefits anyone who may not be the biggest fan of cooking. It is easy to follow and provides delicious recipes, naturally forcing you to love and enjoy cooking. You can go from not having any confidence in the kitchen to becoming a master in plant-based cooking.
Wicked Healthy
Wicked Healthy is a fantastic online vegan cooking course if you want self-paced lessons to help you cook and eat more plant-based foods. There are featured course bundles like Wicked Party Food, Wicked Healthy Kids, and a combination.
The course allows you to learn to cook yummy vegan recipes and learn new skills and techniques while working from the comfort of your home kitchen. They offer their Kids cooking classes free, encouraging people of all ages to incorporate more plants in meals.
Brownble
Brownble is an online vegan cooking school that was created to teach you how to cook delicious vegan recipes. The course helps students improve their relationship with food and cooking. It gives you confidence in the kitchen and provides skills that will make you wonder if you should join Masterchef.
It is 100% plant-based cooking, and they offer a range of courses. The My Brownble membership program has over 450 lessons and new content every week. There are also other courses like The Roadmap, which teaches you how and when to go vegan. Melt teaches you how to make vegan cheese, and so many other options are available.
Why Should You Take An Online Vegan Cooking Course?
Besides learning how to cook plant-based food, there are several reasons joining an online vegan cooking class can benefit you.
You can do an online class from the comfort of your own home.
You can study and practice in your own time.
A vegan class will give you a better understanding of veganism and its ethics.
It teaches you how to stock your pantry and what are vegan staple items.
The courses will teach you what are great food alternatives and substitute ingredients to use.
You learn what ingredients go together and how to be creative and experiment with new foods.
You can learn different cooking skills and expand your knowledge of cooking.
The vegan cooking course will help you become a better vegan cook and overall chef.
How Do I Become A Good Vegan Cook?
Whether you are vegan or not, learning better vegan cooking will be beneficial. If you are already a chef but want to expand your skills with plant-based cuisine, there are steps you can take to achieve that.
Eat more vegan foods.
Attend a vegan cooking class.
Join an online vegan course.
Get creative, and don't be afraid to experiment.
Try more vegan foods by other talented chefs.
Frequently Asked Questions
Can You Be A Chef And Be Vegan?
Becoming a chef does not depend on your diet choice. Culinary school is open for everyone with a passion and interest in cooking, including vegans.
Are Vegan Chefs In Demand?
The demand for plant-based chefs is rising as a sustainable role in the service industry. People worldwide are looking for more vegan options, and talented vegan chefs are needed to make plant-based food more available.
Are Any Chefs Vegan?
There are several notable vegan chefs. A few of them namely:
Chloe Coscarelli
Isa Chandra Moskowitz
Tal Roman
Bryant Terry
Gaz Oakley
Conclusion
With the mentioned best list of online vegan cooking classes, you can choose what best works for you and learn new vegan cooking skills to become a kitchen master.