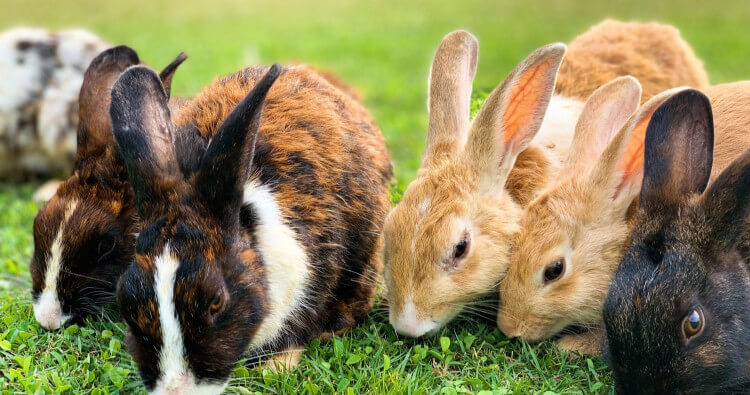 Look anywhere in the world besides Antarctica, and you'll find a constant presence: Rabbits! Whether wild or domesticated, the Oryctolagus cuniculus has become an integral part of human culture, as clothing, pet, artistic inspiration, and yes — food.
Rabbits have been such an important source of meat for humans, in fact, that there's a whole named branch of agriculture for their breeding: Cuniculture.
Today, we'll be taking a closer look at rabbits in the context of food, going over what rabbit meat tastes like, what breeds of rabbit are most commonly used for meat, how to cook rabbit meat to get the best flavor out of it, and where to buy rabbit meat to try in your home kitchen.
What Does Rabbit Meat Taste Like?
To really get a taste for rabbit, you'll have to make an important distinction: Is the meat from a wild rabbit, or a farm raised one?
Farm-raised rabbit meat will have a nice balance of fat and lean muscle, giving it a juicier texture and a clean, light flavor. In many ways, it tastes similar to organic chicken, but with a richer and sweeter flavor. This comes from the rabbit's constantly-active lifestyle, and their muscular thighs.
Wild rabbit meat, like that from any wild-caught animal, will be leaner and "gamier" in flavor. This also means that it will be drier, and require more careful cooking methods to avoid making it unappetizing (more on that in a moment).
Meat Rabbit Breeds
Not just any of the 305 registered breeds of domestic rabbits is fit for eating, though. According to Mother Earth News, the following breeds of rabbit are recognized as great meat producers in a farm or homestead / domestic rabbit setting:
Chinchilla Rabbit
Flemish Giant
New Zealand White
Each rabbit breed has one thing in common with the others: They're among the largest breeds of rabbits. A rabbit producer can get a lot of quality cuts at butchering. Other smaller breeds, like the Netherland Dwarf or Angora, are meant as pets or sources of wool, respectively, rather than rabbit meat production.
How to Cook Rabbit Meat
Even though it's widely consumed across much of the world, most American diners aren't familiar with eating rabbit meat. But look to Italy or France, and you'll find rabbit meat consumption on restaurant plates in almost the exact same place chicken holds on American plates.
Why is this? Well, the similarities between rabbit meat and chicken are threefold. Both animals are:
Easy to raise on small homesteads
A good source of lean protein
Similarly sized
Which is to say: The best way to cook rabbit meat is to treat it the same way you would treat chicken.
If you're planning on roasting or baking it, bone-in meat is best. This will help keep more moisture in the meat, preventing it from drying out to an unpalatable consistency.
That lean meat is why you'll more often find rabbit meat being used in slow-cooked preparations, like rich sauces and stews. You can easily replace the beef in your classic Italian ragu with shredded rabbit meat, where its mild flavors are given a boost by hearty spices, garlic, and onions.
French rabbit preparations favor creamy and pungent flavors, all the better to showcase the clean taste of rabbit meat. Sauces of heavy cream, white wine, and whole grain mustard are used to slowly braise whole rabbits, sealing in their natural juices at the same time the sauce is reduced and made savory.
But perhaps one of the most delicious rabbit recipes is one of unclear origins: Brunswick Stew. Variously claimed by Virginia, North Carolina, Georgia, and even Northern Germany, it is a tomato-based stew that uses a bevy of local vegetables and chunks of rabbit meat, slow-simmered for hours to develop its signature intense flavor. Southern Living has a fantastic article on the origins of Brunswick stew, and a recipe for an easier-to-make version that uses chicken and beef in place of rabbit. Check out their one pot dinner Brunswick stew here:
Where to Buy Rabbit Meat
For most people who eat rabbit meat, it comes either from their own home-raised / family farm stock or from a wild hare caught during hunting season. If you're not keen on killing your own rabbits for meat, though, thankfully there are other domesticated rabbit meat options.
If you live in a major metro area, chances are an upscale butcher will be able to source rabbit for you. Big name grocery stores in the U.S. rarely if ever have rabbit in stock, so check with smaller businesses first for your best chance at scoring fresh rabbit meat.
But if you're not lucky enough to live near an excellent butcher, ordering your rabbit online is the way to go. Our partners over at Farmfoods Market have got you covered, with free-range heritage rabbits that are sustainably raised and hormone free. Their whole heritage rabbit is a great deal for the price, and will allow you to try cooking rabbit in any of the meals listed above.