14+ Mouthwatering Ground Bison Meat Recipes to Try Today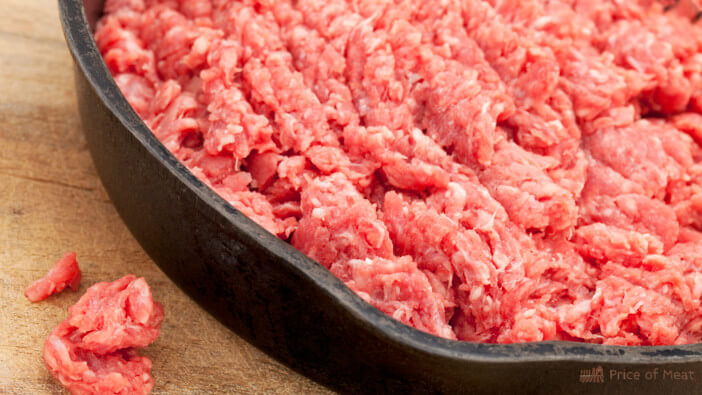 Are you wondering what to make with ground bison meat? We've got you covered! If you're fortunate enough to have a freezer full of ground bison meat, you're in a delicious situation.
Bison meat comes from the American buffalo, and you can use it similarly to beef. Because bison meat is leaner than beef, there are some specific ways to cook it so that it turns out just as flavorful and juicy as beef. In addition to having fewer calories, bison also has more protein and nearly half the fat of beef.
Are you ready for some yummy but simple ground bison recipes? Let's go!
Disclosure: As an Amazon Associate, this site earns from qualifying purchases. Thank you!
Quick Sidenote – check out our shop for a curated selection of the best meats, cuts, sausages, and more. Open our shop in a new tab and explore!
1. Ground Bison Stroganoff
Beef stroganoff is an absolutely decadent recipe, so why not try making this dish with ground bison? This recipe is quick and easy to pull together and served over a bed of buttery egg noodles, it's completely satisfying.
You don't have to know how to make a fancy stroganoff sauce, either. For this bison stroganoff, you use cream of mushroom soup. Fresh mushrooms make this dish extra special.
2. Bison Paleo Chili with Sweet Potatoes
A saucy chili is the perfect recipe to make with ground bison. This recipe is perfect for low-carb lifestyles such as Whole30, paleo, and keto. This chili is even more special because it's loaded with nutrient-dense sweet potatoes.
For this chili, you can use ghee instead of olive oil. This recipe calls for two types of canned tomatoes: roasted tomatoes and diced tomatoes, along with tomato paste.
The secret ingredient in this bison chili is cinnamon. Other spices are cumin, cayenne pepper, bay leaves, and chili powder.
3. Bison Cajun Dirty Rice
Cajun food is uniquely American and southern, and one of the most well-known Cajun dishes is dirty rice. When you make it with ground bison, you've got a leaner version of the Cajun classic.
Cajun dirty rice usually has chicken livers in it, and you can add those. However, this recipe is made without chicken livers, so it's an easier version. The flavor comes from Worcestershire sauce, a bay leaf, and Cajun seasoning.
4. Black Pepper Bison-Stuffed Biscuits
Bison doesn't have to be your main dish. With this recipe, you can make tasty and addictive meaty biscuits that are the perfect accompaniment to a hearty breakfast.
Best of all, these bison biscuits are made with alternative flour, such as coconut flour and arrowroot flour. The filling is loaded with flavor thanks to the chopped onion and jalapeno pepper.
5. Bison Sweet Potato Hash
For a different kind of brunch or breakfast meal, try this bison hash that's made with sweet potatoes instead of white potatoes. This meal is loaded with nutrients, including tons of protein from eggs and bison.
Avocado slices add some healthy fat to the meal. Spices include sea salt, black pepper, garlic powder, and cumin.
6. Ground Bison and Rice Stuffed Bell Peppers
If you're eating leaner meat to live a healthier lifestyle, it's also super easy to make the swap for brown rice (instead of white rice). Bell peppers are so nutritious, so this meal is a winner.
Just keep in mind that brown rice takes longer to cook, so you'll need to adjust your recipes somewhat to allow for a longer cooking time. These stuffed peppers include parmesan cheese, mozzarella cheese, and tomato sauce.
7. Bison Black Bean Chili
Who doesn't love a big steaming bowl of chili? This recipe is made with ground bison meat and black beans, so it's practically a super-food. Corn also adds a hint of sweetness and even more nutrition.
With ingredients such as ancho chile powder, bulgur, instant coffee, and dry red wine, there is a lot of uniqueness to this recipe.
8. Bison Picadillo
With bison picadillo, you can add Cuban flavor to your family's table. This picadillo recipe is loaded with veggies, including potatoes, garlic, tomatoes, and carrots.
The spices include chili powder, cumin, black pepper, and dried oregano. Serve your picadillo with brown rice or fluffy basmati rice for a full meal.
9. Bison Salisbury Steak
For pure comfort food, nothing beats Salisbury steak with creamy brown mushroom gravy, mashed potatoes, and thick slices of Texas toast (for sopping up the gravy!). For this recipe, you can use gluten-free flour instead of all-purpose flour.
The flavor pops thanks to the onion, garlic, and all of the spices, including garlic powder, dried parsley flakes, and black pepper.
10. Ground Bison Mac 'n Cheese
How does a creamy and addictive macaroni and cheese dish sound? This is like Hamburger Helper, but it's homemade and so much healthier. If you want to make this recipe even healthier, you can make it with whole-wheat macaroni.
There is a unique ingredient in this recipe: tomato bouillon. You can find it in the Mexican food section at most grocery stores. It's worth having some on hand.
The recipe calls for apple-smoked cheddar cheese, but you can use whatever cheese you like.
11. Bison Meatloaf
Meatloaf is a beloved American tradition, and when you make your meatloaf with bison, you won't have a hunk of meat sitting in a pool of grease.
For this meatloaf, you need a balsamic tomato glaze that's made with balsamic vinegar, brown sugar, and ketchup.
The ingredients in the meatloaf include beef broth, parmesan cheese, Worcestershire sauce, and a surprise ingredient — sage.
12. Mexican Bison Bake Casserole
Are you ready for some Mexican or Tex-Mex flavor? This Mexican casserole makes it easy to make the most of your ground bison.
The casserole is loaded with tender penne pasta, garlic, and traditional Mexican spices such as cumin, oregano, and chili powder.
The veggies make this casserole a one-dish meal with tomatoes, black beans, and salsa. Be sure to top this Mexican bake with some shredded cheddar cheese and the cilantro lime sour cream.
13. Healthy and Juicy Bison Burgers
Ground bison burgers are practically an American tradition, and you can even buy them at some restaurants. What makes a bison burger even more delicious? The creamy, smoky aioli sauce that's included in this recipe.
The secret to making juicy bison burgers is olive oil and Dijon mustard. Bison is lean meat, so it doesn't have the grease that ground beef has. The olive oil helps with flavor and holds all of the ingredients together (also try leaving it loose for a Midwestern take).
14. Bacon-Wrapped Bison Meatballs
If you believe that a little bit of bacon makes everything better, these bite-sized bison meatballs will be right up your alley. These meatballs make the perfect party appetizer, or they can serve as a light meal.
Don't skip the homemade citrus BBQ sauce. It may just be the best part of this recipe, and it's made with store-bought BBQ sauce and concentrated orange juice.
FAQs about What To Make with Ground Bison Meat
Below, we answer some of the most frequently asked questions about ground bison meat.
What is ground bison good for?
You can use ground bison as a substitute for any recipe that calls for ground beef. Because bison is leaner than ground beef, you can reduce the calories and fat for a healthier entree.
Is ground bison healthier than ground beef?
Bison has less saturated fat than ground beef, so it may be a much better red meat option if you're trying to cut calories, eat a more balanced diet, and manage cholesterol levels.
While bison has about one-third fewer calories than beef, it offers up slightly more protein. Additionally, bison has almost half the fat of beef and fully half of the saturated fat.
What goes good with bison?
Whatever side dishes you would serve with the equivalent ground beef recipe are also delicious with bison. For example, if you like French fries with your ground beef hamburger, you can also serve French fries with your bison burger. If you're making ground bison tacos, go ahead and serve them with salsa, sour cream, and heart-healthy guacamole.
How do you eat ground bison?
Ground bison is leaner than ground beef, so it is particularly delicious in saucy recipes. This lean meat is also perfect for a healthier hamburger.