14+ Best Vegan Sausage Brands for Tasty Meals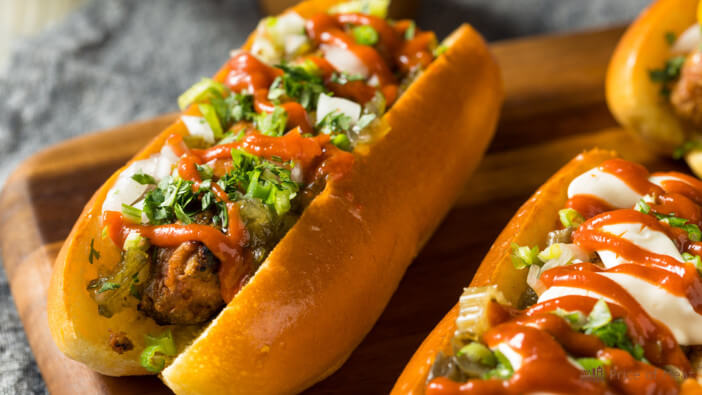 Sausage is a versatile food. It makes for a tasty breakfast, adds a kick to soups and pasta, makes a delicious pizza topping, and can even be eaten alone or on a bun.
But if you have a pork allergy or are trying to live a vegetarian or vegan lifestyle, you might feel you're missing out on fish, chicken, pork, and beef.
Fortunately, many companies are making vegan and plant-based sausage alternatives nowadays. They are made from all kinds of ingredients, including tofu and beans.
In addition, top brands work diligently to give you a product that looks, tastes, and smells as close to the real thing. So without further ado, here are some of the best vegan sausage brands around.
Quick Sidenote – check out our shop for a curated selection of the best meats, cuts, sausages, and more. Open our shop in a new tab and explore!
Disclosure: As an Amazon Associate, this site earns from qualifying purchases. Thank you!
1. Impossible Sausage
The Impossible brand is a popular vegan meat substitute. This ground sausage alternative is a great way to spice up a meal and get the meaty flavor without the disadvantages.
There is no cholesterol, 30% fewer calories, and 45% less fat when compared to other sausage brands. And since it is ground sausage, you can make it into patties or crumble it into your favorite dishes.
2. Abbot's Spanish Smoked Chorizo
If you want to add some spice to your breakfast or taco night, Abbot's Spanish Smoked Chorizo will do it.
This sausage substitute has the added flavor of garlic, chipotle peppers, and paprika. It will add the perfect amount of flavor to all of your dishes.
3. Pure Farmland Breakfast Patties
If you like having sausage patties with your breakfast, this vegan sausage brand will let you satisfy that craving.
Made with all-natural ingredients, Pure Farmland is lower in fat and calories while also being keto friendly. A hint of maple flavor will make them a welcome addition to your breakfast table.
4. Field Roast Pepperoni
Are you looking for a vegan alternative to your favorite pizza toppings? It is possible to make a great pizza using all plant-based ingredients that taste just as good, if not better, than the real thing.
Field Roast pepperonis are crafted with all the herbs and spices you expect. That will take your vegan pizza up a notch.
5. Birds Eye
The Green Cuisine line of meat-free sausages made by Birds Eye might satisfy your sausage cravings.
Made with a blend of peas, wheat, and potatoes, they are seasoned with herbs and spices to give them that familiar sausage flavor. The casing gives it that snap you look for when biting into a great sausage.
6. Beyond Meat
Burger King and McDonald's have both teamed up with Beyond Meat to provide plant-based alternatives to some of their menu items.
But Beyond Meat creates a variety of vegan meat alternatives. For instance, if you love grilling bratwurst in the summer, you still can.
Beyond meat makes Beyond Sausage, including several flavors of bratwurst. You don't have to stop the hotdog cookouts just because you gave up meat.
7. Lightlife
Gimme Lean Sausage from Lightlife is not only plant-based, but it is healthy. Many vegan sausage brands will add a lot of fats to their product to make them taste better.
Lightlife has enough flavor to do it without adding things that make it less healthy. With only 80 calories per serving, it is one of the healthiest vegan sausages.
8. Sweet Earth
Get ready to put some grill marks on another plant-based sausage. When you try the green chile cheddar sausages from Sweet Earth, you'll wonder why you didn't try vegan long ago.
Each package comes with four links perfect for grilling. Or, saute them and mix them in with the pasta to add a hearty bite.
9. Frieda's Soyrizo
If Mexican chorizo is what you crave, this soy alternative will bring back the flavor you have been missing. Pre-cooked in a blend of spices that gives it an authentic flavor.
Frieda's is plant-based, gluten-free, and has no preservatives. Mix it with your eggs, fill your burritos, and make a great cheese dip with this vegan sausage alternative.
10. Meatless Farm
Get ready for Octoberfest with a delicious plant-based bratwurst. Meatless Farms has a frozen bratwurst ready to be the star of your party.
With no cholesterol and bursting with protein, these vegan-friendly sausages are packed with herbs and spices and are a good source of fiber.
11. Tofurky
One of the most famous brands of plant-based meat substitutes is Tofurky. They have been making tofu-based meat products for a long time.
And because of their experience and dedication, they have gotten the flavor closer than most companies dream of.
They have several kinds of bratwurst that are just waiting for you to add to a bun with some sauerkraut and mustard.
12. Whole Foods 365
Whole Foods is known for its organic foods. They have breakfast sausage patties ready to cook straight from the store. Just pull them out and cook them in your skillet to add a vegan-friendly alternative to a breakfast staple.
13. Plant Boss
Plant Boss organic Italian Plant Sausage is a pack of meatless crumbles that make it easy for you to add a meat alternative to your dishes. They are already cooked and ready for you to add to your pasta, pizza, or anything else.
14. Duke's Hatch Green Chile
If you want to add some heat to your dishes, these smoked sausages from Duke's will do it.
They are great for toppings, breakfast, or just to have as a snack. These tiny sausages have a satisfying snap and will make a welcome healthy addition.
15. Hilary's
Hilary's has a variety of meatless sausage alternatives. With flavors like Apple Maple and Spicy Veggie, you will find a flavor that will complement any meal in your day. And they are free of 12 common food allergens such as gluten, soy, corn, and nuts.
Frequently Asked Questions about Vegan Sausage
If you have never eaten a plant-based sausage before, you probably have some more questions. Here are a few of the most frequently asked questions about vegan sausage brands.
What sausages can vegans eat?
Vegans do not eat anything made from animal products. So any plant-based meat alternative that is not cooked with any proteins from animals will be acceptable in their diet.
What is a good plant-based sausage?
All of the sausages mentioned above are good if you are trying to get away from eating meat. However, Beyond Sausage and Impossible Sausage are probably the two most recognizable and trusted vegan sausage brands.
Is vegan sausage plant-based?
All vegan sausage is plant-based. Most of them have a base made from peas, wheat, and eggs.
Are veggie breakfast sausages healthy?
Some veggie sausages are very healthy. However, some brands try to add flavor to their product by putting in things that make them more fattening, like coconut oil. They may still have fewer calories and fat than regular sausage, but you should pay attention to the label when buying them.
Conclusion
If you love the taste of sausages for breakfast, pepperoni on your pizza, or bratwurst right off the grill, you do not have to give them up just because you switched to a vegetarian or vegan lifestyle. There are a lot of vegan sausage brands that are just as tasty.