8+ Best Vegan Ham Brands for a Tasty Dinner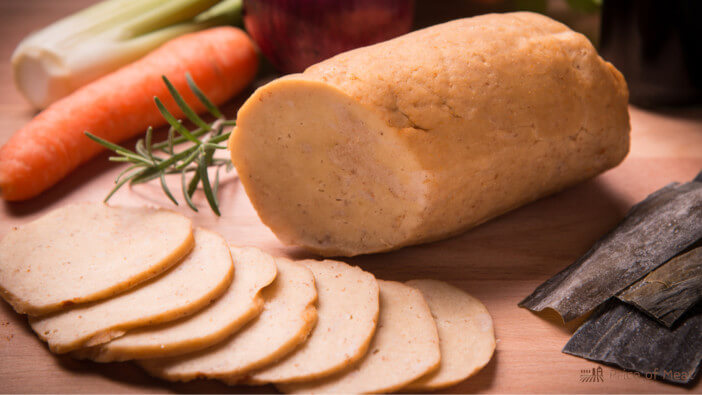 It wasn't that long ago vegans struggled to find good meat alternatives to chicken, fish, sausages, and beef. Most stores only carried tofu and maybe some frozen veggie patties.
Those days are long gone. There is now a wide variety of meatless alternatives, including vegan ham!
Vegan ham is a relatively new vegan meatless alternative. However, several vegan ham brands make outstanding products available online or at your grocery store.
Check out this list of vegan ham brands before your next trip to the store.
Quick Sidenote – check out our shop for a curated selection of the best meats, cuts, sausages, and more. Open our shop in a new tab and explore!
Disclosure: As an Amazon Associate, this site earns from qualifying purchases. Thank you!
Yves Veggie Ham Slices
Yves vegan ham deli slices are a good option for those looking for a flavor similar to traditional deli ham.
Yves makes its vegan ham with wheat gluten and soy protein. Yves also smokes the slices, drastically improving both the flavor and the texture of the slices. It even makes them smell like actual ham deli slices.
This vegan ham is a versatile product; you can use the slices on sandwiches, salads, or eggs.
Yves prides itself in producing high-quality vegan slices, and this item is low fat, cholesterol free, and has no artificial preservatives, colors, or flavors.
Tofurky Slow-smoked Tender Plant-based Deli Slices
Tofurky is one of the original producers of plant-based meat alternatives. They are well known in the vegan community for their high-quality products, and their Slow-smoked plant-based deli slices do not disappoint.
The smoking gives these deli slices an authentic taste and texture. Tofurky deli slices are also vegan, kosher, and non-GMO. Tofurky makes this product from a combination of soy and wheat gluten.
Lightlife Smart Deli Meatless Veggie Ham Slices
Lightlife is one of the best began ham brands on the market. Their Smart Deli Plant-based deli slices are the perfect substitute for honey ham.
Most of the other vegan ham brands focused on savory options, but honey ham is undoubtedly one of the best deli meats, and Lightlife hit a home run with this product.
This product is vegan, contains no cholesterol, and has 25% less sodium than traditional honey ham.
Lightlife Smart Deli slices are also an excellent source of protein. Each serving has a whopping 13 grams of protein.
Sweet Earth Applewood Smoked Flavor Ham Deli Slices
Applewood smoked ham is one of the most delicious and satisfying types of sliced ham. Sweet Earth did an incredible job creating a meatless alternative that tastes and feels almost identical.
This product is vegan and soy-free. The applewood smoked flavor comes from the natural blend of hickory smoke, apple juice, and spices.
Sweet Earth vegan ham has outstanding nutrition facts. It has low amounts of added sugars and sodium and has 15 grams of protein per slice. It will fill you up without slowing you down.
Quorn Vegan Ham Free Slices
Quorn vegan ham free slices hit a unique niche in the vegan community. This vegan ham brand is gluten-free and soy-free. Quorn is one of the few brands that has achieved both while still producing a delicious vegan ham.
This product is high in protein and fiber and low in fat. It's also an excellent source of iron.
Vegetarian Plus Vegan Ham Roll
It is hard to have a Thanksgiving or Christmas meal without a roast. Thankfully, Vegetarian Plus makes a vegan ham roll that looks, tastes, and cuts like the real thing.
This vegan ham is made from a blend of non-GMO Soy protein and has no cholesterol. When it comes out of the oven, the roast is tender, moist, and, most importantly, has the right texture.
Loving Hut "Cheerful Log" Vegan Ham Loaf
The Loving Hut vegan ham loaf will put a smile on your face this holiday season. The Cheerful Log is so good that even meat eaters will not notice they are eating a plant-based ham roast.
The Loving Hut makes its vegan ham loaf with organic ingredients. It has no cholesterol and is low in sodium. The quality of the Cheerful Log easily propels Loving Hut into competition with the best began ham brands.
Field Roast Celebration Roast
Field Roast is one of the upcoming ham brands, and they have outdone themselves with their celebration roast. This plant-based roast is delicious and well seasoned. They also make a good vegan pepperoni.
Field Roast makes its celebration roast from wheat gluten, vegan vegetables, and spices. It has a savory taste with a hint of sweetness.
The sage and garlic season takes this vegan roast to the next level. The porcini mushroom gravy is no joke, either. It goes well with most ham sides.
Verisoy Veggie Deli Slices
Vegan ham is so flexible – it may be used in sandwiches, salads, and even on pizza. Verisoy uses organic tofu to create its vegan ham.
In addition to being plant-based, Verisoy's deli slices are low-fat, cholesterol-free, and a great source of protein.
Verisoy Veggie Deli slices are ready to eat and are perfect for a sandwich or a quick snack. They also are the ideal addition to a vegan quesadilla.
These deli slices come in a variety of different flavors. Original and maple bacon are the two options for this plant-based meat substitute.
May Wah Vegan Ham
May Wah takes a different approach to vegan ham. Instead of doing a roast or pre-cut slices, May Wah makes a vegan ham log. It looks exactly like what you would see in a traditional meat deli.
May Wah's vegan ham is made from a blend of textured vegetable protein and spices. It is non-GMO, cholesterol-free, and has no trans fats.
May Wah's vegan ham is the perfect choice for someone who wants to control the size and shape of their meat alternative. May Wah vegan ham is the ideal product for vegan chefs who like to try new things in the kitchen.
Plant Provisions Deli Slices
While most vegan ham brands tried to replicate the flavor and texture of ham, Plant Provisions went another direction. Plant Provisions specializes in delicious and unique flavors of vegan deli slices.
Smokehouse, Chipotle Chili, Tuscan, and Wild Truffle are some of the most popular. These vegan deli slices are great for adding to salads, charcuterie boards, or eating on their own as a quick snack.
Plant Provisions only uses the highest quality ingredients to make these delicious slices, and you can taste the commitment to quality in each bite. These deli slices are so good that you might have your meat-eating friends turn another leaf.
Wrap Up
There you have it, the best vegan ham brands on the market. Each of these brands makes a unique product. The vegan deli slices and roasts are so good that you won't miss the real thing.
Whether you are looking for a sandwich fix or want to veganize your holiday dinner, one of these vegan ham brands will have the perfect product for you.
What is your favorite vegan ham brand? Let us know in the comments below.
Frequently Asked Questions About Vegan Ham
These are some commonly asked questions about vegan ham.
What can I use instead of ham vegan?
There are many meatless alternatives to vegan ham, like meatless copies of ground beef, bacon, sausage, and chicken. Vegan brands are constantly adding new options.
Is there a vegetarian ham?
Yes, there are vegetarian hams. All of the brands on this list make vegetarian ham slices or roasts.
Are there vegan cold cuts?
Yes, there are vegan cold cuts. Many brands on this list make vegan deli slices perfect for sandwiches or wraps.
Are vegan deli meats healthy?
Yes, vegan deli meats are usually healthy. They are almost always lower in calories, fat, and sodium than traditional deli meats. Vegan deli meats are also typically high in protein and fiber.
More FAQs
What ham can vegans eat?
Vegans can eat ham alternatives such as Hickory-Smoked Tofurky Deli Slices, Verisoy Veggie Deli Slices, Yves Veggie Ham, Lightlife Smart Deli Ham, and Vegetarian Plus Vegan Ham Roll.
What is the most vegan meat?
The most vegan meat is tofu, which has been a staple source of nutrition in Asia for centuries. Other alternatives include soy protein, tempeh, seitan/wheat protein, lupin protein, green spelt, oat flakes, and black beans. These options are all affordable and easy to prepare.
Is Tofurky ham vegan?
Tofurky ham is a plant-based, vegan/vegetarian option that can be enjoyed on special occasions. It offers a tender, smoky taste and is accompanied by a delightful sweet and tangy glaze. You can roast, slice, and serve it alongside your preferred side dishes.
What is the vegan meat called?
The vegan meat is known as faux, fake, mock, meat analogs, or plant proteins. These products imitate certain characteristics of animal-based meat, including textures, flavor, and appearance. They are created using a variety of ingredients such as soy, textured vegetable protein, or wheat gluten, among others.
Is there a vegan substitute for ham?
There is a vegan substitute for ham that closely resembles the appearance, texture, and flavor of traditional pork. This plant-based alternative is available in various forms, including sliced options and roast hams suitable for holiday meals. These alternatives are typically made from ingredients such as seitan, tofu, beans, and other plant-based components.
What can I replace ham with?
You can replace ham with BBQ chicken without skin, canned tuna or salmon, boiled eggs, hummus, cheese, leftover home-cooked meat like slices of roast, and home-cooked rissoles.
What are the best meat substitutes for vegans?
The best meat substitutes for vegans include jackfruit, which is versatile and affordable, and can be easily stored in cans. Aquafaba, seitan, milk substitutes, alternative cheeses, alternative creams and yogurts, cheat or mock meats, and tofu and tempeh are also great options.
Is vegan ham processed?
The base of plant-based meats, such as vegan ham, undergoes a significant amount of processing. Typically made from soybeans, peas, and/or wheat, these ingredients are heavily processed to create high-protein, low-fiber powders. These powders are then combined with preservatives, oils, natural or artificial coloring, gums, and seasonings.
What is the best vegetarian ham?
The best vegetarian ham is Quorn Yorkshire Ham, which has been highly praised for its delicious taste and quality. Additionally, other notable options include Wicked meat-free crumbed ham style slices, Squeaky Bean Applewood smoked ham, Vbites plant-based ham, and Wheaty vegan smoked ham slices.
What is the best substitute for ham?
The best substitute for ham is BBQ chicken without the skin, canned tuna or salmon, boiled eggs, hummus, cheese, leftover home-cooked meat like slices of roast, and home-cooked rissoles.
What is vegan ham made from?
Vegan ham is made from a combination of tofu and wheat gluten, resulting in a flavorful and savory seitan ham that can be enjoyed as a centerpiece for holiday roasts or in delicious ham sandwiches.
What is the best vegan meat?
The best vegan meat includes Field Roast's apple maple breakfast sausages, Tofurky's deli slices, Upton's Naturals bacon seitan, Gardein's crispy tenders, Impossible Foods & Beyond Meat Vegan Ground Beef, Gardein's Meatless Meatballs, Ray's Wheat Meat, and Gardein's Chick'n Scallopini.
Is veggie ham healthy?
Veggie ham can be considered healthy as it generally contains lower amounts of saturated fat compared to animal meat. Additionally, plant-based meats provide a good source of protein and may also contain fiber.
What is a vegan substitute for prosciutto?
A vegan substitute for prosciutto is toasted nuts, such as almonds and walnuts, which can be prepared to have a strong savory flavor similar to prosciutto. Other excellent alternatives include mushrooms, specifically shiitake and portobello.
What is a popular vegetarian meat substitute?
A popular vegetarian meat substitute is tofu, which has been a staple source of nutrition in Asia for centuries. It is highly regarded for its versatility, as it readily absorbs flavors from spices and marinades. Additionally, tofu is valued for being a low-calorie protein option.
What are the best meat substitutes?
The best meat substitutes are natural vegetarian foods that are high in protein and minimally processed. Excellent options for healthy meat substitutes include beans, tempeh, lentils, jackfruit, mushrooms, nuts, and seeds.
What is Quorn ham like?
Quorn ham is a delicious meat-free alternative that can be enjoyed by the whole family. Whether you're working from home or packing a lunch for school, you can't go wrong with a classic wafer-thin ham sandwich made with Quorn Finely Sliced Ham. This succulent vegan ham is not only high in protein but also low in saturated fat.
What is a vegan substitute for Christmas ham?
A vegan substitute for Christmas ham is seitan, which is made from soy beans and has a firmer and more chewy texture than tofu, making it a suitable alternative for Christmas. Additionally, Oumph!, jackfruit, and Linda McCartney Beef Roast are also options to consider.
What is the vegan version of Spam?
The vegan version of Spam is available in various brands, such as Upton's Naturals and Vegan Spam. Upton's Naturals offers a seitan-based alternative to Spam, which can be found in select stores and online.