6+ Best Swiss Cookware Brands for Designer Kitchens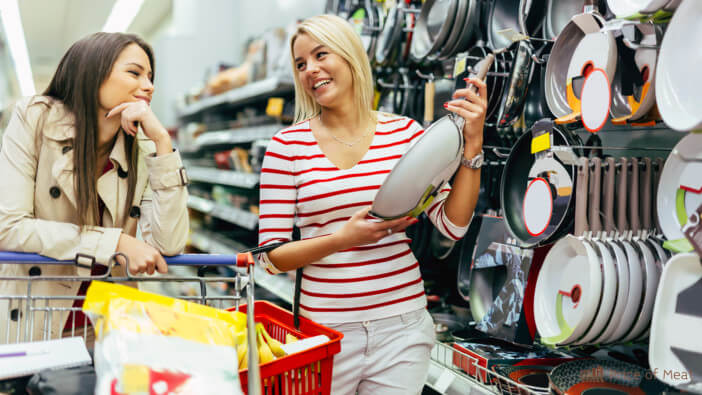 From delicious chocolate to excellent cookware, the Swiss are well-known for their creative and culinary process. When putting together your kitchen inventory, you should consider some of these brands for superior quality.
Read on to learn about the seven best Swiss cookware brands for designer kitchens. We will also cover some essential qualities that contribute to great cookware and answer some common questions related to Swiss cookware brands.
Disclosure: As an Amazon Associate, this site earns from qualifying purchases. Thank you!
1. Swiss Diamond
Quick Sidenote – check out our shop for a curated selection of the best meats, cuts, sausages, and more. Open our shop in a new tab and explore!
Swiss Diamond cookware is one of the best cookware brands in the world. The name is no joke, as all Swiss Diamond cookware uses actual diamonds in the innovative coating that its products have. Diamond crystals are mixed in with aluminum to create a nonstick coating.
The reason for the inclusion of diamonds in the brand's coating? Swiss Diamond gives three reasons: diamonds are naturally nonstick, diamonds are an excellent heat conductor, and diamonds are durable.
2. Kuhn Rikon
Kuhn Rikon is a Swiss brand that offers a variety of products, such as pots, pans, and appliances. The brand is most well-known for its Duromatic Pressure Cooker line. Because of this, the name "Duromatic" or "Duro" is often used in place of the word for a pressure cooker because the brand has become synonymous with the appliance.
Kuhn Rikon uses quality materials and constructs its products at an incredibly high standard. In addition, the company implemented construction protocols focusing on reducing energy usage for the company's factory and users at home.
3. Apenta
Apenta is one of the upscale Swiss brands that show off the innovation found in the region. The brand offers pots with vacuum steaming technology.
Once you close the lid, the pot is vacuum-tight, and you can steam and cook without the abrasiveness of a pressure cooker.
The brand's cookware is made with five layers, an acid-resistant chrome steel inner layer, three aluminum layers, and an outer layer of magnetic chrome steel which works with induction-style cooktops. The five-layer construction helps the cookware heat up quickly and safely, so you can reduce energy usage.
4. LADINA
LADINA offers a wholly unique product, true nonstick stainless steel cookware. This may sound like a cruel joke for any cook who spent the better part of an afternoon scraping burnt food off the bottom of a stainless steel pan. But LADINA uses ultra-high-quality materials that make this dream a beautiful reality.
In addition to its primary swiss line, the brand offers a luxury line of cookware. The luxury cookware uses 24 karat gold handles and knob lids, so you're sure to impress your next guest. LADINA offers a luxury counterpart to each pot and pan in their primary swiss line.
5. Swiss Pro+
Swiss Pro+ is much more than just a cookware brand. Although their cookware is likely what they're best known for, the brand has a wide range of products on offer, including appliances like stand mixers and air fryers, as well as the brand's Kraft Pro+ line of tools and power tools.
The common thread for all of the products offered by Swiss Pro+ is the combination of quality and style. When putting together a kitchen inventory, your personal style isn't always the first thing in mind (a pot is a pot, right?). But the variety offered by Swiss Pro+ lets you have a say in the style of your kitchen cookware.
6. SWISSBRAND
Similar to Swiss Pro+, SWISSBRAND is not limited to kitchenware. The brand offers outdoor products, luggage, footwear, and even perfumes. The brand focuses on providing quality products no matter where you take them.
That's why this brand is so popular with outdoorsy people, who often want to improve their camp meals past the classic can of beans over a fire.
All of the cookware products from SWISSBRAND are rust-proof, stain-resistant, immune to acid, and durable. Whether you're cooking in your home kitchen or on a luxury outdoor retreat, you can expect quality from these products.
Top Qualities of Excellent Swiss Cookware
Three main factors contribute to excellent Swiss cookware: material, construction, and quality.
Material
The material used in the cookware is arguably the most important factor because the material that works best for you may be different than another cook.
For many people, stainless steel is king when it comes to cookware. However, innovation over the years has led to better aluminum, cast iron, and carbon options for cookware.
Similarly, stainless steel is an excellent material, but its nonstick properties are quite low, so you can expect a bit more cleanup. However, brands like LADINA, as stated above, have managed to create real nonstick stainless steel cookware, but it comes at a price.
In the end, the material is very important, but which material works best for you may depend on your own cooking. Look out for raw materials processed in-factory, as this generally leads to the best results.
Construction
Shoddy construction can ruin otherwise perfect construction even if the material is excellent. Wobbly handles and lids that don't fit right are the best indicators of shoddy construction when it comes to cookware.
One of the best ways to ensure great construction is to look at the brand behind the cookware. Great brands often have automated assembly of their cookware, but a real person comes in to do the final tests and clear the product for packaging.
Quality
Quality primarily deals with the brand itself. We've listed some excellent Swiss brands here that all have excellent reviews and customer satisfaction, but there are other ways to tell whether a brand is quality.
Brands with decades behind them are often quite trusted, but new brands may be just as good if you look up reviews and satisfaction rates.
When questioning whether a brand is quality, you can check out both its website and unbiased review sites to see what people think of the brand after using its products.
Frequently Asked Questions About Swiss Cookware Brands
Here are some frequently asked questions regarding the best Swiss cookware brands for designer kitchens.
Where is Swiss Diamond cookware made?
All Swiss Diamond cookware with the innovative diamond coating, which is all cookware except the Premium Steel collection, is made in Sierre, Switzerland. The company's other products, including the Premium Steel collection, knives, and cutlery, are designed in Switzerland but manufactured in the People's Republic of China.
How long does Swiss Diamond cookware last?
The Swiss Diamond company claims that if the user follows the care and use instructions, its cookware should last a lifetime. According to users, this claim is generally true as the nonstick coating lasts longer than classic Teflon pans.
What is a good brand of cookware?
Some of the most highly-rated cookware brands are:
Cook's Essentials
Made In
All-Clad
Caraway
Le Creuset
Although there are many other popular and great cookware brands, these are generally the most popular modern brands you'll find online and in stores. Good cookware brands focus on quality materials and excellent construction of their products. Be sure to read our companion post on Italian cookware.
Is Swiss Diamond premium steel cookware safe?
Yes, the Swiss Diamond premium steel cookware is safe. The premium steel collection is one of the brand's lower-cost options, but it still uses a nonstick coating that is free of harmful chemicals and metals.
More FAQs
What cookware is made in Switzerland?
Swiss Diamond is the brand of cookware that is made in Switzerland, known for being the #1 rated Nonstick Cookware.
What is the oldest cookware brand?
The oldest cookware brand is Lodge. Established in 1896 by Joseph Lodge, Lodge Manufacturing has been one of America's longest-running cookware companies. It remains under the ownership and management of the Lodge family's descendants.
What is the safest cookware in the world?
The safest cookware in the world includes non-stick pans and pots such as cast iron, stainless steel, ceramic, glass, and enamel-coated cast iron, as they do not contain any Teflon coating, ensuring their safety for use.
What is the healthiest cookware made of?
The healthiest cookware is made of stainless steel, ceramic, glass, and cast-iron pots and pans, which are considered safe alternatives to avoid the risk of ingredients seeping into your food.
What is the best brand name for cookware?
The best brand name for cookware is Hestan, known for its durability. Cuisinart is the most reliable cookware brand. De Buyer offers the best food-specific cookware. Mauviel is the top choice for copper cookware. Staub is the best brand for baking cookware. FINEX is renowned for its cast iron cookware. For low and slow cooking, the best brand is yet to be determined. The best enameled cast iron cookware can be found from various brands.
Who is the largest cookware manufacturer?
The largest cookware manufacturer in the world is Meyer.
What are 5 types of cookware?
There are five types of cookware: aluminum, carbon steel, cast iron, ceramic, and porcelain. Aluminum is widely used and popular in cookware due to its versatility. Carbon steel can be found in both high-end and budget-friendly cookware options. Cast iron is known for its durability and heavy-duty nature. Ceramic and porcelain are also commonly used materials in cookware.
Is Le Creuset a good brand?
Le Creuset is indeed a reputable brand, having been in existence for nearly a century. Throughout their long history, they have consistently manufactured top-notch cookware. Their product range includes cast iron skillets, Dutch ovens, and various other high-performance items. This cookware is highly regarded for its exceptional performance, long-lasting nature, convenience, and numerous other commendable qualities.
What is the best cookware that will last a lifetime?
The best cookware that will last a lifetime is the All-Clad Stainless Steel Nonstick Roasting Pan With Rack. This cookware is made from a combination of stainless steel and aluminum, ensuring even cooking, easy cleaning, and resistance to tarnishing or warping. All-Clad stands behind the quality of their products with a lifetime warranty for all cookware and bakeware.
What is the longest lasting type of cookware?
The longest lasting type of cookware is uncoated stainless steel, which is durable and easy to care for. It is a classic choice for browning and braising, and is often sold in sets. Stainless cookware can handle a variety of cooking tasks, from pickling to pasta sauce, and it does not react with foods.
Do more expensive non stick pans last longer?
More expensive nonstick pans do not necessarily last longer, but nonstick pans with hard anodized and ceramic-based coatings generally have more durable cooking surfaces.
What is the most non reactive cookware?
The most non-reactive cookware is typically stainless steel. Cast iron pots with an enamel finish are also non-reactive, unless there are any chips or cracks in the enamel. Reactive cookware includes aluminum, non-enameled iron, and copper.
Does stainless steel cookware last longer?
Stainless steel cookware lasts longer because it is highly durable and can withstand high temperatures without warping. With proper care, it can last for generations, and it is recommended to let the pans cool completely before washing them.
Where is Swiss Diamond stainless steel cookware made?
Swiss Diamond stainless steel cookware is manufactured in Sierre, Switzerland, at our factory. We are dedicated to producing the finest nonstick cookware globally, adhering to strict European health and safety regulations. Our cookware is free from any harmful substances such as lead, cadmium, or mercury, ensuring a non-toxic cooking experience.
Are Swiss Diamond good pans?
Swiss Diamond pans are considered excellent cookware due to their exceptional durability. With regular use and proper care, these pots and pans can last up to 5 years, surpassing the lifespan of most other nonstick competitors.
Why is my Swiss Diamond pan sticking?
Your Swiss Diamond pan may be sticking because it is not being thoroughly cleaned after each use, which can result in the buildup of carbonized food particles on the surface.
What is the difference between Swiss Diamond XD and HD?
The difference between Swiss Diamond XD and HD lies in the enhanced seal between the cooking surface and the aluminum base, resulting in a more durable and corrosion-resistant layer. XD offers a 40% increase in durability compared to HD, along with 40% better food release.
Is Swiss Diamond coating safe?
Swiss Diamond cookware is safe as it is committed to providing high-quality non-stick cookware without the presence of Teflon, PFOA, lead, cadmium, or mercury throughout its entire production process.
Where is Greenpan made?
Greenpan products are made in our own factories located in Italy and China.
Does Swiss Diamond contain PFOA?
Swiss Diamond does not contain PFOA due to the high temperatures involved in the production process of the nano-composite with real Diamond Crystals. These temperatures effectively eliminate any traces of PFOA that may have been present in the PTFE, ensuring that Swiss Diamond products are free from PFOA.
What is the Rolls Royce of non stick pans?
The Rolls Royce of non-stick pans is Swiss Diamond, which has been referred to as such by the Wall Street Journal. It has also been recognized as the best non-stick cookware by a leading U.S. consumer ratings organization and is endorsed by the Cooking Club of America.