15+ Best Portuguese Sausage Brands for an Iberian Taste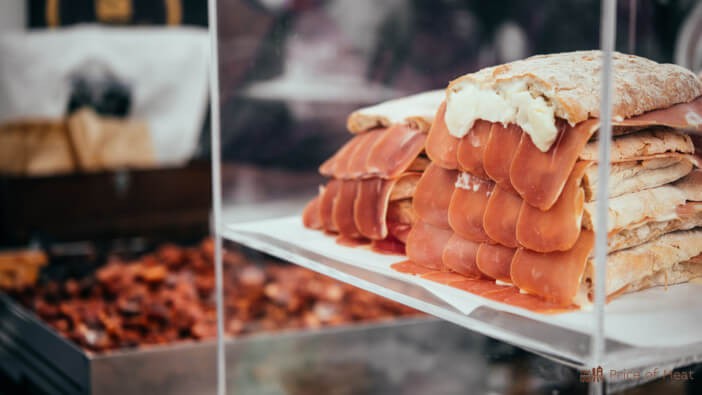 Are you searching for the best Portuguese sausage brands? Look no further because we have the answers for you.
From smoky, slow-roasted sausages to spicy Hawaiian links, there's a variety of Portuguese sausages to satisfy every tastebud. The brands we've selected are ideal for weekend cookouts, quick lunches, or traditional Portuguese dishes.
These companies are easy to order and use healthy and traditional recipes that you'll love. Read on to discover our picks for the best Portuguese sausage brands today!
Disclosure: As an Amazon Associate, this site earns from qualifying purchases. Thank you!
Quick Sidenote – check out our shop for a curated selection of the best meats, cuts, sausages, and more. Open our shop in a new tab and explore!
Best Brands of Portuguese Sausage
Check out these Portuguese sausage brands and find the perfect variety for your cooking needs.
1. Portugalia Marketplace
Portugalia Marketplace is among the best Portuguese sausage brands. The shop is a quick and easy way to order all your favorite Portuguese sausages, and you can choose from different varieties.
They make the meats locally and use fresh, healthy ingredients with Iberian flavors. Try the Hot Chourico for a spicy flair, or go for the Alheira with garlic.
2. Cortes
Cortes makes traditional Portuguese sausages with Brazillian variations. Order a package of Transmontano Chourico, an Iberian specialty. We also recommend the Linguica Toscana sausages, which are great for grilling.
3. Hawaiian Brand
Hawaiian Brand makes Portuguese sausages with a mild blend of spices. The meat pairs well with a side of Portuguese red rice and steamed peppers.
4. Redondo's
Redondo's is a Hawaiian-based company that sells some of the best Portuguese sausages on the market. Try their protein-packed Portuguese links with mild flavors or the Hot Lisboa sausage.
All sausages have local Hawaiian pork meat and a traditional spice blend.
5. Mo Ono
Mo Ono makes Portuguese sausage with sweet flavors. You'll love the savory links, and they're perfect for a hearty breakfast with eggs and toast. You can order from Foodland or your favorite Hawaiian retailer.
6. Goulart's
Don't miss Goulart's, a tasty sausage with many different seasoning options. You can make a rustic Portuguese bean soup with the hot Smoked Linguica or try a hamburger-style meal with the Portuguese patties. For breakfast, Goulart's makes delicious Iberian bacon.
7. Silva Sausage
Silva Sausage is a family-owned company with ingredients of the highest quality. It's a tried and true business that's been around since 1967, and you'll love the classic recipes and traditional flavors. We recommend the Linguica Portuguese Sausage with 10 grams of protein per serving.
8. Mr. Tango
Mr. Tango makes tasty sausages with a Latin flair. The company makes pork links free from fillers, GMOs, and MSG, and the 60-day shelf life will make storage easy and safe.
9. Bristol Farms
Check out Bristol Farms, a gourmet organic produce market with delicious Portuguese sausage. Their sausage is sweet and succulent with Iberian spices.
10. Gouvea's
Gouvea's is one of the oldest Portuguese sausage makers in Hawaii. It's a brand you can trust, and the mouthwatering recipe has mild flavors with hints of garlic and paprika.
11. Fumadinho
Fumadinho is one of our top picks for the best Portuguese sausage brands. It's a smoked sausage with spicy flavors that are great for your favorite Hawaiian soup dish.
12. Mello's Finest Chourico
If you're looking for a Portuguese wurst with an old-fashioned, traditional recipe, you might enjoy Mello's Finest Chourico.
They use chunks of lean pork to make a delicious sausage perfect for pasta, rice bowls, soup, and more. Also, check out their Chourico franks, which are great for your next barbeque cookout.
13. Purity
Purity is a Hawaiian brand with global influences. Their Portuguese sausage has a mild flavor with a small amount of chili powder, and the variety is gluten-free and made in the USA.
This moderately flavorful sausage is delicious and will satisfy kids and adults alike, and you can buy it in bulk to store extra links in the freezer for later.
14. Neto's
Neto's is a gourmet sausage company with authentic Portuguese Linguica sausage. It's a California business that's been around for decades, and the traditional techniques and old-fashioned flavor blends have won this company global fame.
Check out this family-founded business and enjoy fully cooked genuine Linguica sausage with hot or mild tastes.
15. Blackbox Meats
Blackbox Meats supports local communities with sales of their fresh meats. They make fresh Portuguese sausage daily, and you can order right to your doorstep.
This brand is distinct because they use a blend of local beef and pork instead of the typical pork-only recipe.
16. Portuguese Brand Sausage
Portuguese Brand Sausage is wildly popular in Hawaii, and we recommend it as a tasty addition to any plate.
Order it straight from the Hawaiian Islands to enjoy in your home, and try a classic Hawaiian breakfast with Portuguese sausage, rice, and fried eggs with soy sauce.
17. Pacific Sausage
Pacific Sausage is a Hawaiian-based brand with fantastic Portuguese sausage. The mild links are Linguica style, and we recommend serving them with a traditional Portuguese bean soup.
18. North Country Smokehouse
North Country Smokehouse crafts American-made sausages with classic Portuguese flavors. Their Linguica sausage has hints of paprika and pepper, and the links are gluten-free and non-MSG. With 100% lean pork meat, you can feel good about eating this tasty sausage.
19. Gaspar's
Gaspar's features Portuguese brand sausages with extra spicy varieties. The recipe uses milk for a succulent texture, and the meat is perfect for breakfast or dinner.
You can order a pound of ground Chourico and make homemade wursts, or go for a package of sandwich-sliced Portuguese sausage.
What Makes Portuguese Sausage Good?
If you're looking for the best Portuguese sausage, you'll need to know what makes it delicious. We recommend searching for a firm, pre-cooked sausage for the best texture.
You'll also want to buy a link with an authentic blend of spices. Look for fresh ingredients like paprika, chili pepper, and garlic.
Spice level also influences what makes Portuguese sausage tasty. You can consider your flavor preferences and look for a high-spice Chourico (like the French andouille) or a mild link.
FAQs About Portuguese Sausage
Read on to discover commonly asked questions about Portuguese sausage.
What is another name for Portuguese sausage?
Portuguese sausage is also called Linguica. It comes from the Latin word Lucanica and means long, spiced sausage (similar to Longanisa from Spain / Philippines).
What kind of Portuguese sausage does McDonald's use?
McDonald's uses Pacific Sausage in their restaurants. The brand is a mildly spiced Hawaiian-style Portuguese sausage, and you can buy it at your local Sam's Club or order it online.
What sausage is similar to Portuguese sausage?
Spanish sausage is very similar to Portuguese sausage. Both recipes come from Europe's Iberian peninsula and have warm, savory spices like garlic and paprika. Both links are from pork, but Spanish sausage is usually spicier.
What makes Portuguese sausage different?
Portuguese sausage is different from other varieties because it consists of a simple combination of pork and spices.
It is fattier than most other sausages and contains a blend of garlic, paprika, and salt. The meat often contains chili pepper and can be spicier than many sausages.
Is Portuguese sausage the same as chorizo?
Portuguese sausage and chorizo are two different varieties of sausage. Chorizo is a Spanish dish you can find in Spain, Mexico, Caribbean, and South America.
It's easy to confuse Portuguese Chourico with Spanish Chorizo. Portuguese Chourico is a slow-smoked, ready-to-eat dish, while Spanish Chorizo is typically fresh.