7+ Best Pickled Sausage Brands for a Twist on Pork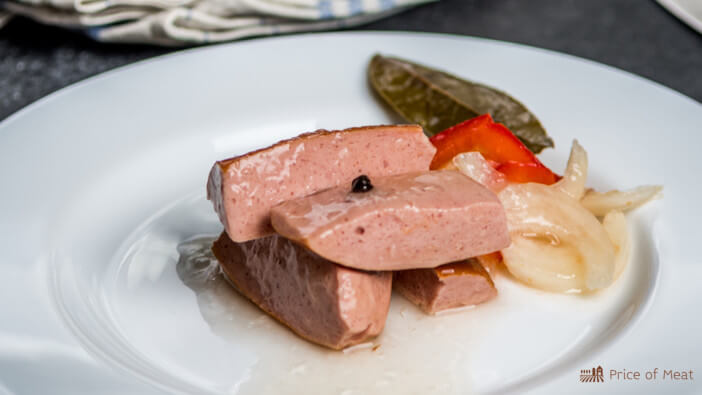 Pickles are deli mainstays. Many sandwich fans would feel robbed if they didn't receive a pickle spear on the side of their Reuben.
While we primarily associate the "pickle" with cucumbers, the word is a verb as well as a noun. Pickling is a preservation process using vinegar brine to prolong a food's life.
Prague saw the infinite possibilities in brining and pickling and applied them to sausages. The resulting snack is a delicious and unusual flavor combination, fusing sweetness with heat and saltiness.
We've collected the best pickled sausage brands for a twist on pork you may not expect. These brands craft non-perishable meat snacks you can enjoy all year long.
Quick Sidenote – check out our shop for a curated selection of the best meats, cuts, sausages, and more. Open our shop in a new tab and explore!
Disclosure: As an Amazon Associate, this site earns from qualifying purchases. Thank you!
1. Penrose Pickled Sausage
Penrose makes one thing, and it makes it well. The company claims the number-one pickled sausage spot in the public's heart.
Conagra owns Penrose, marketing the snack widely to grocery stores. The brand blends chicken, pork, and beef into its signature sausage. Penrose pickles the meat in a vinegar brine, lending a tangy flavor to the treat.
Penrose crafts three varieties of pickled sausage:
Big Mama Pickled Sausage
Tijuana Mama Pickled Sausage
Fire Cracker Pickled Sausage
Penrose pickled sausages have a little kick to them, so those who prefer milder snacks may want to steer clear. The snack comes individually packaged and ready to eat.
2. Big John's Pickled Sausage
Big John's started innocently enough with a pickled egg. Stephen and David Foster bought Red Smith in 1973, seeing potential in the picking company. Five years later, Red Smith purchased Big John's, a local competing brand.
The newly fused company tinkered with Big John's recipe, and soon the revamped line eclipsed the popularity of Red Smith's name brand offerings.
The company remains in the Foster family, propelled by a desire to pickle every part of the pig.
Big John's makes its pickled sausage from a blend of chicken and pork. The snack owes its delicious flavor to a carefully curated mix of seasonings. The treat is particularly beloved throughout the southeastern United States.
3. Bay View Gourmet Hot Pickled Polish Sausage
The Liebner brothers- Walter, William, and Bruno-founded Bay View Packing in 1923. The company's aim was simple; make delicious, pickled food that doesn't require refrigeration.
The Liebners have kept the company in the family, continuing to sell Bay View's signature pickled products.
Bay View makes its pickled polish sausage from pork and beef. The brand brines the meat in a carefully curated blend of spices and vinegar, imparting a spicy flavor that doesn't burn eaters' mouths.
Though Bay View is located in Milwaukee, Wisconsin, its products aren't limited to the midwest. The company ships its pickled products throughout the United States.
4. Fischer's Pickled Red Hots
Fischer's started life as a meat-packing company in 1904. The Louisville, Kentucky-based company.
Fischer's grew its humble beginning into a widely celebrated cured-meat brand. The company makes a wide range of meat products, but its hot pickled sausages are the piece de resistance.
As the name suggests, the red hot packs a spicy punch.
Fischer's blends chicken, beef, turkey, and pork into a well-seasoned, spicy snack.
Fischer's pickled red hots are only available in 16 American states, but motivated buyers can order the treats from Amazon.
5. Long John Pickled Sausage
Kubisch Sausage Company began producing high-quality meat products in 1936. The company entered the scene using recipes brought over from Europe.
The brand still uses those same recipes now, though it uses modern technology to manufacture its products.
Kubisch releases its pickled sausages through the Long John Snacks branch of the company.
The brand makes its snacks from beef and pork. Long John's pickled sausages come in a variety of flavors:
Blazin' Hot Pickled Sausage
Habanero Pickled Sausage
Mexican Brand Pickled Sausage
Polish Pickled Sausage
Red Hot Pickled Sausage
Sizzlin Pickled Sausage
All of Long John's pickled sausages are spicy. The Polish variety is the mildest for those with lower heat tolerance.
Long John promises customers only to use real, organ-free meat.
6. Werner Spicy Pickled Sausage
Ken and Karla Werner turned a love of beef jerky into a thriving, family-run snack empire. The couple began crafting their jerky in their Oregon garage in 1994.
The Werner's business was a labor of love; the pair drove the jerky around themselves, selling it to local businesses and shops.
Ken and Karla enlisted their family in their snack-making scheme and expanded beyond simply dried meats.
Werner makes its spicy pickled sausage sticks from pork and beef. The company pickles the meat in vinegar, soy sauce, garlic, paprika, and sugar. The resulting snack satisfies those who enjoy a little sweetness with their spicy.
7. Herb's Pickled Sausage
The Wagner family launched Herb's snacks to incredible and enduring success. Herbold Wagner, Senior started pickling sausage while still living in Germany. He brought his skills to Philadelphia in 1937 and created Wagner Provisions Company in 1939.
Herbold passed his knowledge onto his son, who passed it on to his children, keeping the recipe in the family.
The Wagner family uses beef, chicken, and soy to make their sausage. Herb's seasons its meat to a perfect, spicy finish. The pickled sausage is ideal for fans who like their snacks hot; Herb's comes in three flavors:
The brand sells its sausages in individual packages or gallon containers.
FAQs about Pickled Sausage
Do you still have questions about pickled sausages? We have the answers!
Does Penrose still make pickled sausage?
Penrose is the first name of pickled sausage. The brand has inspired copycat recipes and has an impassioned fanbase.
The Conagra brand owns Penrose, and while the company did stop selling the pickled sausages in jars, Penrose still produces the treat in individual packages.
Penrose's pickled sausage fans can purchase the three available flavors in select stores or order the treat online through Amazon.
Is pickled sausage healthy?
Like most foods, pickled sausage is best enjoyed in moderation. Pork and beef products take a while to digest, and pork is high in sodium.
However, pickled sausage is better for you than you might initially think. The pickling redeems the meat. The brine contains valuable probiotics and helpful bacteria – these ingredients aid digestion, keeping a snacker's gut healthy and happy.
Additionally, pickled sausages provide healthy doses of Vitamin K and A. The protein-rich food may not be on par with broccoli, but it has valuable health benefits.
Why is pickled sausage so good?
Pickled sausages, please, nearly every taste. The snack's seasoning adds a punch of heat to the rich meat flavor. The brine is sweet and salty, rounding out the sausage's taste profile (similar to bacon or jerky).
Pickled sausages are versatile and complement a variety of other snacks.
What are pickled sausages made of?
Different companies use different meat blends to produce their pickled sausages. The most common, however, is some ratio of pork and beef. Brands have used chicken and turkey in their sausage blends as well.
The meat is fully cooked before the brining, which is why pickled sausages don't require refrigeration.
Most companies use vinegar as the base for the pickling brine. Vinegar is an excellent preservative that blocks out the growth of pathogens and harmful bacteria. Individual manufacturers season their brines differently, but most use some quantity of sugar, salt, and garlic.
Many pickled sausage brands (especially Chinese) prioritize heat, using cayenne pepper to create a pleasant, spicy burn.
Conclusion
Pickling sausage may seem like an odd fusion of two worlds, but the result is unique and delicious. These seven pickled sausage brands make pork and beef fused snacks to delight all palates.
If you're looking to dip your toe in the flavorful world of pickled sausages, this article provides you with the best places to start.
More FAQs
What is the most popular pickled sausage?
The most popular pickled sausage is Penrose. Penrose pickled sausages are the top brand, known for their quality ingredients and convenient ready-to-eat nature. You can find them in your local grocery or convenience store, offering three delicious signature flavors to satisfy your cravings for a succulent snack.
What is Big Mama pickled sausage made of?
Big Mama pickled sausage is made of mechanically separated chicken, pork, soy protein concentrate, salt, flavoring, less than 2% of corn syrup solids, beef, paprika, sodium erythorbate, sodium nitrite, red 40, and is pickled in vinegar, water, salt, red 40, and sodium erythorbate.
What are the best sausages to pickle?
The best sausages to pickle are any fully cooked sausages, with smoked sausages offering the most flavorful option. Consider smaller kielbasa sausages, lit'l smokies, and beef sticks as excellent choices.
What do you eat pickled sausage with?
The pickled sausage can be enjoyed with various accompaniments such as rice, 5 bean salad, other pickled meats, on a cheese tray, in a casserole or one pot meal, and even in jambalaya.
What are the ingredients in Big John's pickled sausage?
The ingredients in Big John's pickled sausage include mechanically separated chicken, pork, pork hearts, water, soy protein concentrate, salt, flavorings, sodium phosphate, sodium erythorbate, paprika, and sodium nitrite.
What are the really small sausages called?
The really small sausages are commonly known as little smokies, cocktail wieners, cocktail franks, lil smokies, or as my grandma refers to them as "baby wursts." These small smoked sausages can be found in 12- to 14-ounce packages in the deli section of the store.
What are the ingredients in Big Mama pickled sausage?
The ingredients in Big Mama pickled sausage include mechanically separated chicken, pork, soy protein concentrate, salt, flavoring, less than 2% of corn syrup solids, beef, paprika, sodium erythorbate, sodium nitrite, red 40, and a pickling solution made of vinegar, water, salt, red 40, and sodium erythorbate.
What are the little canned sausages called?
The little canned sausages are called Vienna sausages, which were introduced to North America by European immigrants. Over time, the term "Vienna sausage" specifically referred to smaller and shorter smoked and canned wieners, rather than link sausage, starting around 1903. It is important to note that Vienna sausages do not have a federal standard of identity.