12+ Best Pâté Brands for a Delicate Dinner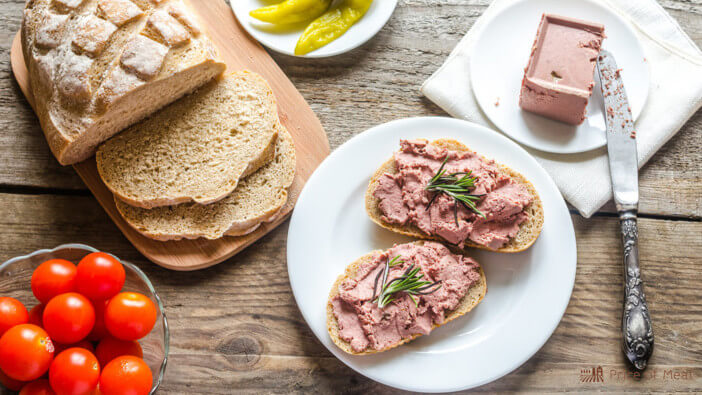 Pâté is a dish served in many regions throughout the world. Originating in France, Belgium, and Vietnam, the ingredients vary from region to region.
Pâté is a paste made from different kinds of meat, including beef, poultry, pork, and fish. Herbs and vegetables are added for spice and flavor, and it is usually served with bread or crackers.
When pâté is added to a menu, it can add class to the event or dinner party. Pâté is an elegant dish for a refined palate. Fortunately, many companies have made it available to the general public in gourmet shops and supermarkets.
As a result, its accessibility has evolved, with many variations added to the market. Here are some of the best pâté brands available today.
Quick Sidenote – check out our shop for a curated selection of the best meats, cuts, sausages, and more. Open our shop in a new tab and explore!
Disclosure: As an Amazon Associate, this site earns from qualifying purchases. Thank you!
1. Flower
Pâté is available to homes around the world thanks to Flower. This pâté brand is one of the most popular because of its mild flavor, easy-to-open can, and wide market. Made in Canada, you can find Flower pâté brand in supermarkets throughout the United States as well.
2. Jose
Jose brings flavor to your dinner party with its three flavors of pâté. Available in spiced mackerel, spiced sardine, and tuna, this pâté brand makes an average supper in a soiree.
3. Henaff
Pâté is made differently in different regions of the world. When one company can incorporate more than one of those flavors, it brings variety to the choices you have for your table.
Henaff is a pâté brand with an assortment of flavors from France. Their liver confit with black peppercorn, which is slow-cooked, also pairs wonderfully with cheese and wine.
4. Argeta
Dietary and religious restrictions can be limiting when you try different foods. Argeta pâté brand takes that into account when making their spreads.
They offer chicken and turkey pâté with differing amounts of spice. They have Halal versions of their pâté as well.
5. Granovita
Vegetarians do not spend much time thinking about pâté since its base ingredient is meat. However, some pâté brands are vegan and vegetarian friendly.
Your dinner guests will appreciate an appetizer made with this mushroom-based pâté from Granovita that they can enjoy.
6. Podravka Jetrena Pasteta
Produced in Croatia, this liver pâté brand is made with the highest standards and freshest ingredients. Among the least expensive brands we have discussed, at under $2 each, this pâté makes it easy to bring a taste of culture to your table.
Paired with crackers and cheese, this will be a wonderful snack for your dinner guests to whet their appetites or for your children to have as a healthy after-school snack.
7. Les Trois Petits Cochons
Whole Foods is well-known for bringing foods from all over the world to the US. This pâté brand is great for people who want to taste the dish but try to keep their diet as organic as possible.
Les Trois Petits Cochons (The Three Little Pigs) is available in chicken and pork. It is not canned as some of our other pâté brands are.
This product is refrigerated and should be consumed after opening, but the flavor will make that an easy accomplishment.
8. Dona Maria Gourmet
The sign of a pâté brand that cares about its product offers a wide variety. If you want to try pâté, you will find a flavor with Dona Maria Gourmet that you will enjoy. Mackerel, tuna, and sardine versions are available.
They are all made with tomatoes, onions, and other spices. If you want to try them all, you can get a variety pack with 12 cans.
9. La Rustichella
If you want to spend a little extra money and impress your guests, black truffle pâté from La Rustichella is what you want.
Black truffles have a pleasant aroma and taste and go well with almost any dish. This pâté will bring elegance and conversation to your party.
10. Tartex
Another delicious addition for vegetarians is Tartex organic mushroom pâté. It comes in a tube, making it easy to prepare with crackers ahead of time.
The resealable container means you can use as much or as little as you would like, and feel free to add a bit to recipes as well. Tartex also makes a herb and garlic version if you would like to add more flavor.
11. Vigne Vecchie
Made with Leccina and Cellina black olives, this pâté has a mild flavor. The garlic aroma brings a lot of flavors and will be a welcome addition to your party.
Another vegetarian option on our list, this pâté brand is made with extra virgin olive oil, black olives, garlic, parsley, and salt.
12. Rougie
This pâté brand has been creating the dish for over a century in France. Rougie pâté is made in Canada and shipped throughout the world.
Made from duck and pork, Rougie adds the flavors of oranges to give this tasty food its distinct flavor. It pairs well with a glass of chardonnay and crackers.
Frequently Asked Questions about Pâté Brands
Many people who try pâté for the first time have a lot of questions. Here are some of the things that are asked most often about it.
What is the most common type of pâté?
Foie gras is the most popular pâté dish available. It is made from the fattened livers of geese or ducks. The meat is blended with eggs and pork and made into a spreadable form. It has a mild flavor that can be enhanced by adding spices and salt.
How many types of pâté are there?
The number of pâté versions available around the world is seemingly endless. Since pâté can be made from almost any kind of meat depending on the region, the availability of ingredients, and religious restrictions, it is a versatile dish.
Many people like the traditional liver pâté from France, while others prefer a mild flavor made from chicken. There are also many vegetarian versions available made from mushrooms, black olives, and truffles.
What is coarse pâté called?
Pâté de campagne is much more coarse than traditional pâté. It is usually made with less expensive cuts of meat and makes a heartier dish that can be made into a meal more easily than the creamier traditional kind.
What type of food is pâté?
Pâté is traditionally a meat dish with a chopped or smooth texture. It is usually spreadable and served with bread or crackers as a snack or an appetizer (similar to caviar). It pairs well with cheese and wine to make a small meal (or charcuterie board).
In recent years, the growing popularity of vegan and vegetarian lifestyles has led to many pâté brands creating plant-based alternatives. These are usually made with mushrooms, black olives, or truffles.
Next Steps
Having pâté on your table when guests arrive will immediately bring a sense of sophistication to your party. If your guests have never had it, you may want to make a display with a variety of flavors to allow them to try them all.
A charcuterie with several plant-based versions of pâté may be a welcome addition as well. Your vegetarian guests will appreciate it.
Any type of pâté will bring an air of elegance to your home while keeping your guests satisfied.