Best Meatless Burgers for Grilling: Our Top Picks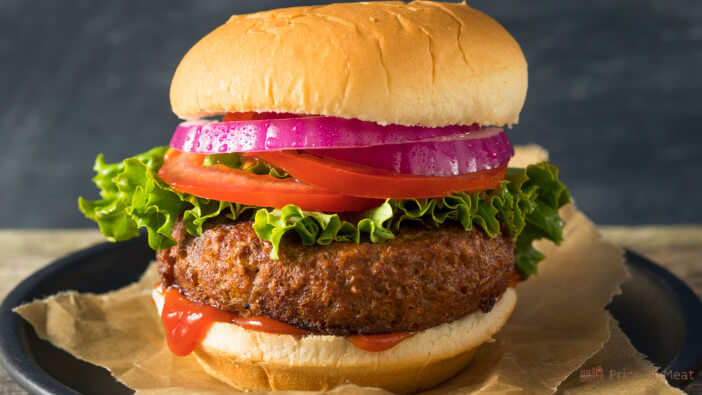 Nothing is better than a warm summer evening where you have a couple of friends over and fire up the grill for a great meal and conversation. For vegetarians and vegans, this experience is made possible by meatless burger brands.
With the rise in vegetarian and vegan dieters, the need for meatless products has also risen. At first, a soy burger was the only solution. However, after meatless burgers (and chicken) went on the market, the want for meat-like burgers rose. Consumers wanted the same flavor, texture, and taste as a real beef burger in their meatless burger.
Thankfully, the market has capitalized on the rise in interest in meatless burgers. Check out the list of the eight best meatless burger brands for great grilling!
Disclosure: As an Amazon Associate, this site earns from qualifying purchases. Thank you!
Quick Sidenote – check out our shop for a curated selection of the best meats, cuts, sausages, and more. Open our shop in a new tab and explore!
Beyond Burger Cookout Classic
Bring summertime to your backyard with one of the most well-known meatless burger brands! Consumers of the Beyond Burger Cookout Classic stated that they could not tell the difference between a Beyond Burger and a burger made out of ground beef.
The signature meaty, juicy burger allows vegans and vegetarians to enjoy a night full of grilling. In addition, the Beyond Burger Cookout Classic packs 19 grams of protein into each patty, so you won't miss out on key nutrients!
Beyond Burger Cookout Classic patties do not contain soy, GMOs, or gluten. It is made from plant-based protein and is kosher. Pea protein gives Beyond Burger Cookout Classics the protein needed for an active lifestyle.
Impossible Burger
Impossible Burger changed the game when it comes to meatless burgers. The name gives it away. People thought it couldn't be true that Impossible meat products weren't meat! All of the Impossible products are meat-free and entirely plant-based.
Made with ingredients like soy protein and coconut oil, Impossible Burger gives you the protein needed when you cut out meat. Each Impossible burger provides essential nutrients like zinc gluconate, niacin, and vitamins B1, B6, B2, and B12.
Substitute Impossible Burger with any recipe that calls for ground beef for a plant-based, meat-free version! Whether that is chili or grilling burgers on the patio, Impossible burgers will have you wondering why you ever ate ground beef in the first place!
Akua Kelp Burger
Most plant-based, meatless burgers use a soy base for their products. However, Akua Kelp Burger took a chance and made a kelp-based burger. I am glad they did! These delicious burgers have the salty, savory flavor you want when grilling.
These burgers are soy-free, gluten-free, non-GMO, and 100% plant-based. They are made from ocean-farmed kelp, mushrooms, and other superfoods for a delicious burger you won't want to stop eating.
Each patty provides 12 grams of protein and other essential nutrients like calcium, potassium, iron, and vitamins A, C, K, and B6. Akua Kelp Burger is the superfood you didn't know you were missing in your vegetarian diet!
Hungry Planet Beef Patties
Hungry Planet takes pride in providing plant-based meat products that are chef-crafted. Just because someone eats a vegetarian or vegan diet doesn't mean they should have to miss out on so many great dishes!
Hungry Planet not only offers beef patty alternatives but also offers plant-based chicken and pork products. However, since we are talking about meatless burgers for grilling, I will focus on their beef patties!
The beef patties match the hearty taste and texture of regular lean beef. Meat-lovers and vegetarians alike have raved over the taste and texture of Hungry Planet beef patties. They are packed with protein and fiber to give you the nutrients your diet needs. In addition, they have fewer calories and less fat than their meaty counterparts.
Dr. Praeger's Perfect Turk'y Burgers
If you want to get away from the beef mimics, try Dr. Praeger's Perfect Turk'y Burgers! These turkey burgers are made from pure plant protein to give you that turkey flavor without the turkey.
Dr. Praeger's Perfect Turk'y Burgers are certified gluten-free, kosher, vegan, and non-GMO. Each patty packs 20 grams of plant protein that will fill you up.
Carrots, sweet potatoes, and butternut squash are spiced to make the new best plant-based burger on the market. Pea protein packs in the protein, while sea salt, onion powder, and garlic powder give the savory turkey burger flavor that everyone loves during the grilling season.
OZO Smokehouse Beef Burger
OZO Smokehouse Beef Burger uses real applewood to smoke their plant-based burgers for that grilling taste everyone loves! However, their hearty taste and juicy texture will have you questioning if it is plant-based or made from actual ground beef!
Each burger packs in 19 grams of plant-based protein from pea protein. They are gluten-free, non-GMO, and soy-free. Shiitake mushrooms and chickpea flour give these burgers the taste and texture needed in a plant-based burger.
Each burger provides an adequate amount of calcium, iron, and potassium. These burgers are fewer in fat and calories than a traditional beef burger. Grab some OZO Smokehouse Beef Burgers for your next cookout!
Good & Gather Meatless Beef-Style Patties
These vegan meatless burgers are great for any cookout! Each Good & Gather Meatless Beef-Style patty contains 16 grams of protein and only 150 calories. They don't have any artificial flavors or preservatives. They are the perfect meal for when you are craving a hearty hamburger.
These meatless grillers are made with soy and wheat. They are prepared and just have to be heated and served! They are quick and easy and make a meal that will satisfy your hunger. Find these frozen meatless burgers in the freezer section in Target.
Hilary's Super Cauliflower Veggie Burgers
Hilary's Super Cauliflower Veggie Burgers put a new meaning to meatless burgers. These grillers are non-GMO, gluten-free, vegan, kosher, allergy-friendly, and grain-free. They are made with lentils, cauliflower, fava bean protein, red peppers, peas, carrots, and garlic.
This vegetable powerhouse burger will hit the spot when you need a savory meal and provide you with all the nutrients you need! Each patty offers 5 grams of dietary fiber and 8 grams of plant-based protein. Essential nutrients like calcium, iron, potassium, and magnesium are all provided in these burgers.
Frequently Asked Questions about Meatless Burger Brands
Still not sure what meatless burger to choose this grilling season? Check out what other people are asking, so you are sure to find the best meatless burger brands to grill.
Who has the best meatless burger?
Impossible Burger takes the trophy for the best meatless burger in 2022. Their hearty flavor and meat-like texture have been a favorite in the plant-based burger world since they first came out in 2016. They transformed the veggie burger world, providing the best meat-like products on the market.
What companies make meatless burgers?
Many companies make meatless burgers. These companies include Hungry Planet, Beyond Meat, Tofurkey, Simple Truth Emerge, UNCUT, The Meatless Farm Co., Morningstar Farms, and Field Roast.
What is the most popular veggie burger?
The most popular veggie burger is the Beyond Meat Beyond Burger plant-based burger patties. Their hearty flavor, great texture, and affordable price make them the most popular veggie burger.
What is the new meatless burger?
The Impossible Burger is one of the newer meatless burgers that has taken the market by storm in the last few years. Fast food restaurants like Burger King and Starbucks took Impossible Meat products and put them on their menu, boosting Impossible meats' sales by storm.
What are the best vegan burgers?
Trader Joe's Masala Burger, MorningStar Farms Garden Veggie Burger, and Dr. Praeger's Asian Veggie Burger are 3 of the top vegan burgers on the market (excluding many tofu brands).
Are vegan burgers healthy?
Yes, vegan burgers are healthy. They provide sufficient protein and have fewer calories and fat than regular beef patties. Every person's dietary needs are different, so it depends on your personal needs if a vegan burger or a traditional beef burger is more healthy. Vegan burgers do provide an adequate amount of nutrients in vegetable form.