Canned tuna is a staple in many kitchens (and lunches). In recent years, there has been a big push in the fishing industry to create sustainable and environmentally friendly ways to farm tuna.
Line caught is a fishing method that promotes sustainability, responsibility, and eco-friendly fishing techniques. It also produces healthier and better-tasting canned tuna.
Each brand on our list strives to maintain sustainable fishing practices and ethical seafood farming. Let's review the seven best line caught tuna brands for ethical seafood.
Best Line Caught Tuna Brands
Which brands of line caught tuna are the best? We've tested different tuna brands and found these seven to be the best line-caught brands on the market.
1. Conservas Ortiz
Conservas Ortiz is an artisan tuna product caught through traditional fishing techniques. The Ortiz family began their fishing journey in 1891 as founder Bernardo Ortiz de Zárate set up his new business in Castille.
Since these humble beginnings, Conservas Ortiz grew into one of the best and most respected canned fishing lines. They offer premium line-caught and prepared tuna farmed from sustainable waters.
2. Wild Planet
Wild Planet is a premium pole and line caught tuna brand. The team at Wild Planet prides themselves on their 100% sustainable pole & line caught techniques and their hand-packed cans.
Wild Planet's fishermen only target specific species, and all their practices stop waste and damage to the environment. This practice protects juvenile fish and improves the sustainability of each fishing location.
3. American Tuna
American Tuna is a group of American fishing families. They utilize traditional pole and line fishing techniques to harvest each fish.
American Tuna is MSC (Marine Stewardship Council) certified. This means each fish caught comes from sustainable fishing locations and is traceable. You can trace each can of tuna back to the vessel that caught the fish.
Every tuna fish from American Tuna undergoes stringent testing to ensure mercury levels are below the United States and international food safety standards.
4. Tonnino
Off the coast of Costa Rica a tight knight fishing community crafts premium canned tuna. Tonnino is a pole and line, MSC-certified sustainable fishing company. Since 1973, these fishermen have provided the healthiest, best tasting, and most sustainable fishing products on the market (even competing with the Alaska pollock harvest).
While all the brands on this list are line-caught, Tonnio goes a step forward and practices FAD-free fishing. Fishing aggregating devices (FAD) attract fish to a boat. Unfortunately, it attracts all types of fish, sharks, and turtles. Tonnino does not use FAD equipment on any fishing vessel.
5. Bela
Bela is a family-owned seafood brand based in Portugal. The company started as a small sardine producer but gradually added a wide range of other fish products, including tuna and mackerel to its product line.
Bela specializes in pole and line caught skipjack tuna caught off the European coastline. Each fish is individually caught and then hand carved before packaging. Packed as filets, Bela tuna has a distinct flavor thanks to packing in premium extra virgin olive oil or organic Piri-Piri (be sure to think about sides to pair).
6. Safe Catch
Safe Catch is an MSC-certified seafood company based in California. All of the Safe Catch's fishing practices ensure fish stocks are sustainable and cause minimal impact on the environment.
Every tuna caught by Safe Catch is 100% sustainable and traceable to an individual fishing boat.
If you are concerned about mercury, Safe Catch employs stringent testing on every fish. Their standards for elite wild tuna are ten times stricter than FDA guidelines.
7. Pole & Line Caught Tuna
Pole & Line Caught sources all their tuna from American and Maldivian fishermen. They individually catch and source every tuna they sell. Every fish is 100% responsibly caught and traceable back to an MSC-certified fishing vessel.
Pole & Line Caught is a member of the World Wise Foods Group. The group preserves ocean diversity, improves sustainability, and improves local fishing communities.
From one-by-one catching methods to fishery management, the World Wise Food Group is helping improve our oceans and waters.
How To Choose the Best Line Caught Tuna Brand
Now that you know more about the best sustainable line-caught tuna brands, it's time to pick a type and flavor of fish.
Light Tuna or White Tuna
Light tuna traditionally comes from skipjack or yellowfin tuna. It is darker in color and often pinkish. The fish has a soft texture and more flavor. It is lower in fat than albacore but has fewer Omega-3s.
White tuna is albacore. It is whiter in color, has a firm texture, and has a mild flavor.
Oil or Water Packed Tuna
When choosing a tuna, you'll notice several packing options.
Oil-packed tuna has a softer texture and more robust flavor.
Water-packed tuna is more nutritious and has a subtle flavor.
What About Mercury in Tuna?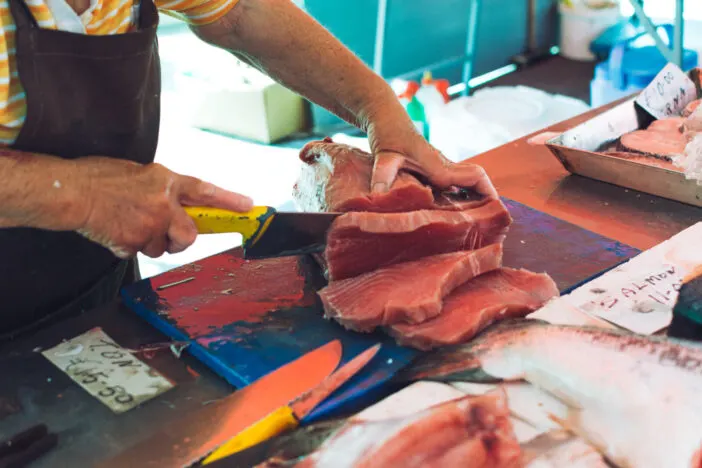 Almost all seafood has traces of mercury. While consuming too much mercury is dangerous, the threat is overblown.
According to the U.S. Food and Drug Administration (FDA), canned light tuna is the best choice for consumers that want to avoid mercury.
Yellowfin, albacore, and white tuna are good choices but have slightly more mercury. Still, no tuna options fall within the highest mercury level fish that you should avoid.
As for pole and line caught tuna, premium brands employ sustainable fishing techniques that lead to harvesting fish lower in Mercury. Every brand mentioned in our article follows strict FDA guidelines concerning mercury and often maintains strict guidelines.
What Makes Line Caught Tuna Better?
Tuna is one of the most popular fish on the market. Over the years, massive shipping fleets would over fish waters and threaten the fish stock. This means less fish every year and can cause irreversible environmental damage.
Line-caught tuna is a sustainable method of fishing.
The fishermen kill fewer dolphins, sharks, whales, and turtles
Line caught fishing improves local fishing employment and communities.
FAQ on Line Caught Tuna Brands
Buying line-caught tuna is one of the best ways to ensure safe and sustainable fishing practices. The brands above are leaders in the industry. Do you still have more questions about line-caught tuna brands? Below are some of the most common questions we encounter concerning line-caught tuna.
Which tuna are pole and line caught?
There are several major commercial tuna species, including albacore, Atlantic bluefin, Pacific bluefin, bigeye, yellowfin, and skipjack.
However, yellowfin, skipjack, and albacore are the most common line caught tuna. These species have healthy stocks and are sustainable.
Which brand of tuna is ethical?
Every brand mentioned in this article practices sustainable and ethical fishing practices. They strive to maintain healthy fishing waters while improving local fishing communities. They also employ ethical sourcing and hiring practices that improve human rights.
Which tuna is lowest in mercury?
According to the FDA, canned light tuna has the lowest mercury levels. Every tuna brand mentioned in our article practices stringent mercury testing, and their products exceed the FDA's requirements.
Is line caught tuna better?
Line caught tuna is the only eco-friendly way to farm tuna. Line caught tuna greatly reduces the environmental impact of fishing and improves sustainability. It also reduces the danger to other animals, including dolphins, sharks, and whales.
From catching the fish to packaging, extra care is taken throughout the fishing process. Pole-and-line caught companies to deliver a premium product that is healthier and tastes better (and pairs well with seasonings) than mass-produced tuna products.