7+ Best Korean BBQ Sauce Brands for Great Meals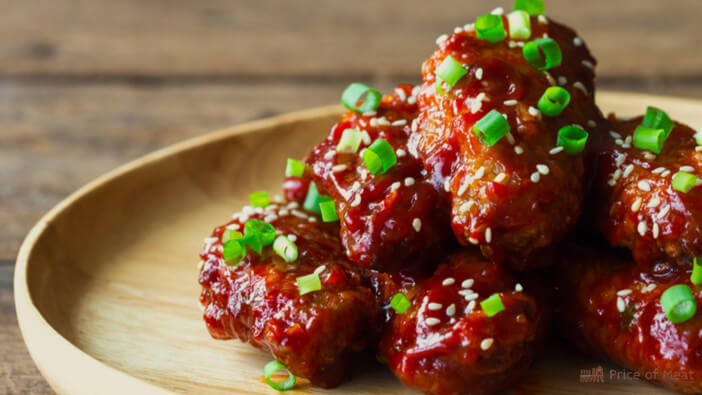 The meat you can order at authentic Korean BBQ restaurants is decadent and rich in flavor.
But how can you replicate this delicious flavor at home? The answer is to buy your very own bottle of Korean BBQ sauce!
There are many Korean BBQ sauce brands (plus Gochujang!) to choose from, so it can be hard to decide on one.
Disclosure: As an Amazon Associate, this site earns from qualifying purchases. Thank you!
Quick Sidenote – check out our shop for a curated selection of the best meats, cuts, sausages, and more. Open our shop in a new tab and explore!
The Best Korean BBQ Sauce Brands
If you want to keep a delicious Korean BBQ sauce on hand at all times, find a brand you love!
Below are the eight best Korean BBQ sauce brands to consider making a staple in your pantry. Some are spicy, while others are mild and sweet.
Check out the details of each to see which one speaks to your tastebuds.
Bibigo
Bibigo gets the number one spot on this list because the flavor is out of this world. Your mouth will start watering just from the smell of this rich sauce.
This Korean BBQ sauce is made with pear and apple puree, making it slightly sweet with earthy flavors (making it also vegan). But it still has a zippy flavor with strong notes of pepper that perfectly complement your favorite cut of meat.
The company offers a mild original sauce or a hot and spicy version that will clear your sinuses and create vibrant, spicy dishes.
Lee Kum Kee
If you want an authentic and traditional Korean BBQ sauce, look no further than Lee Kum Kee's sauce. This soy-based sauce features onion, garlic, and sesame for the classic Korean BBQ flavor you know and love.
Other sauces on this list cater to common allergies like gluten and soy, but this recipe doesn't skip any of the traditional bulgogi ingredients. But with the Lee Kum Kee BBQ sauce, you can make genuine Korean BBQ that will wow your tastebuds.
Kogi
Kogi is an Asian food brand developed by the successful Chef Roy Choi. This sauce uses a traditional Korean bulgogi recipe, delivering familiar and warm flavors that enhance any meat dish. A bit of molasses and a splash of orange juice bring the sesame flavors to life.
This sauce is anything but bland, so you can expect this sauce to be the star of any meal you make. The only downside, if you see it as a downside, is that Chef Roy Choi's Korean BBQ sauce is only available for sale in large quantities of half a gallon.
Sutter Buttes
If you want a fancy Korean BBQ sauce brand, shop the sauce from the Sutter Buttes! Sutter Buttes is a company that makes and sells natural and artisan foods, with a focus on high-end olive oil.
Their bulgogi sauce has a sweet and complex taste, featuring familiar Korean flavors with a twist. It has a slight kick from red chili flakes, but the taste evens out with the pears and ginger puree.
In 2020, this sauce won the Scovie Award, recognizing top barbecue, savory, and spicy food products from around the world.
KFire
Korean BBQ sauces aren't typically super spicy, but if you live a little fire, try KFire'sSpicy Korean BBQ Sauce. The sauce is packed with flavor, so it doesn't need to sit for long to act as a phenomenal marinade on your meat.
This sauce has a stronger tomato flavor when compared to other options on this list, making it more versatile and sweet. The combination of sweet and spicy makes for a sophisticated flavor that can elevate any meal.
Kevin's Natural Foods
Kevin's Natural Foods is a wonderful company for people who want to shop conscientiously. Kevin's Korean BBQ sauce is paleo-certified, keto-certified, gluten-free, non-GMO, soy-free, and dairy-free!
The sauce contains coconut nectar, sea salt, coconut sugar, vinegar, an array of spices, and garlic. One of the more unique ingredients is lemongrass puree, giving the sauce herby notes. It's definitely not low sodium.
Kevin's recipe differs slightly from traditional bulgogi sauce, so it's a great choice if you want to try something out of the norm.
We Love You
We Love You makes an array of delicious sauces and dry rubs for you to craft the most delicious BBQ ever. The company's Korean BBQ Bulgogi sauce has a tart sweetness balanced with loads of garlic.
This version is not spicy, offering a mild flavor, but if you want something with a bit of heat, We Love You also makes a spicy bulgogi sauce! The toasted sesame flavor comes through prominently in this sauce, delivering a rich umami flavor.
Ocean's Halo
Ocean's Halo is another brand that focuses on eliminating allergens so everyone can enjoy this delectable sauce. The Ocean's Halo Korean BBQ sauce is organic, vegan, non-GMO, gluten-free, soy-free, and made with sustainably farmed ingredients.
The taste is a departure from the classic Korean BBQ flavor but delivers the same level of umami and finger-licking goodness. The sauce has red jalapenos and tahini in it, giving it a moderate level of heat and a thick, gooey consistency ideal for marinating meat!
What Is Korean BBQ Sauce and What Is It For?
Korean BBQ sauce, also called bulgogi sauce, is a popular Asian sauce used to marinate meats for grilling. It's a super sticky sauce that has layers of sweet, savory, and spicy flavors, similar to teriyaki, but with more umami.
It's traditionally made with soy sauce, ginger, rice vinegar, garlic, and a sweetener like sugar. This thick, dark caramel-colored sauce has become popular for more than meats, as people now use it on pizza or as a dipping sauce.
Now that you know what the sauce is, let's discuss the best ways to utilize this yummy ingredient!
BBQ
Korean BBQ sauce is excellent for BBQ food, of course. One of the best ways to use these Korean BBQ sauces is to marinate your favorite meat or protein in them, whether it's beef, pork, chicken, shrimp, or fish.
You can slather it on your chicken wings after you cook them, or let your beef marinate in the sauce for hours to create a rich, complex flavor.
Dipping or Dressing
A simpler way to use this yummy sauce is as a dip or dressing. You can dress an Asian salad with a tablespoon of this sauce, or spread a layer on your sandwich for added flavor.
It's very popular to use the sauce as a dip for chicken fingers or other finger foods, like french fries! Whatever you can dip, it probably goes well with this versatile BBQ sauce.
Stir-Fry
Finally, a bottle of Korean BBQ sauce can make stir-fry night a lot easier. Instead of combining an array of Asian ingredients to achieve the perfect flavor, add a spoonful or two of your favorite Korean BBQ sauce. It can give practically any meal an Asian twist to bring the flavors to life.
Frequently Asked Questions
Check out the commonly asked questions about Korean BBQ sauce brands if you have more questions.
What sauce is used for Korean BBQ?
Bulgogi, ssamjang, teriyaki, and Gojuchang are common sauces used in Korean BBQ.
Is Bibigo Korean BBQ sauce the same as bulgogi?
Yes, Bibigo is the number one global Korean cuisine brand, and its Korean BBQ sauce is the same as bulgogi sauce.
Is Korean-style BBQ spicy?
Usually, Korean BBQ has a bit of spice but is not too overwhelming. However, you can use extra spicy sauces to kick the heat level up a notch (it's still spicier than, say, Kansas City style).
How do you use Korean BBQ bottle sauce?
It's hard to find the wrong way to use Korean BBQ bottle sauce. You can use it as a marinade, dip, dressing, or condiment to enhance any dish.
Amazon Bestsellers
Bestseller No. 2
Bestseller No. 3
bibigo Korean BBQ Marinade and Sauce - Original, Sweet & Savory Flavor, Perfect for Bulgogi, Galbi, Wings, 1.05 lb (Pack of 6)
MARINADE, CONDIMENT, DIPPING SAUCE ALL IN ONE: Perfect for pairing for any beef, chicken, pork, or seafood dish, there are endless ways to enjoy our BBQ sauce. Get creative while cooking at home!
EASY TO USE: Simply apply our sauce on any dish, when grilling, sautéing, or on stir-frying. When marinating, soak for 30 minutes or longer to taste the fresh and rich flavors of the sauce.
PERFECT BLEND OF QUALITY INGREDIENTS: With ginger and roasted sesame in the recipe, our sauce is made with authentic and delicious ingredients that have 0g saturated fat and 0mg cholesterol per serving.
SWEET & SAVORY: Sweetened with apple and pear purees that help to tenderize the meat. Our Korean BBQ sauce makes eating galbi, bulgogi, or any meat dish at home easy and delicious.
TASTE OF BIBIGO: CJ bibigo Korean BBQ sauce has been Korea's favorite for over 30 years. Rooted in Korean culinary traditions, bibigo brings the authentic flavors alive that are definitely worth sharing!
Bestseller No. 4
Bestseller No. 5
We Love You Original Korean BBQ Bulgogi Sauce Marinade, Non GMO, Gluten Free, No MSG, 43 ounce (Pack of 1)
Gluten Free, Non GMO, OU Kosher, Vegan
NO MSG, NO High Fructose Corn Syrup
Marinade, Cooking Sauce and BBQ Sauce
Delicious on Beef, Steak, Chicken Wings, Ribs, Pork Chops, Fish, Tofu and Veggies
Made in the USA
Bestseller No. 6
Bestseller No. 7
Wang Galbi Marinade, Simple and Easy to Cook, Savory, Sweet and Smoky, Korean BBQ Sauce, Kalbi Marinade, 16.93 Ounce
Classic Korean galbi marinade
Sweet and slightly smoky Korean barbeque sauce
Quickest recipe for Korean barbeque
Versatile as a marinade, glaze, dipping, finishing sauce
Made in Korea, No MSG added
Bestseller No. 8
More FAQs
Which Korean BBQ sauce is best?
The best Korean BBQ sauce is Ssamjang, which is the undisputed king of Korean BBQ sauces. It combines fermented soybean paste (doenjang), spicy gochujang, sesame oil, garlic, and green onions, resulting in an addictive sauce that packs a punch. Its rich, savory umami flavor enhances the smoky goodness of grilled meats.
What is the most famous Korean sauce?
The most famous Korean sauce is gochujang sauce, known for its irresistible sweet, spicy umami flavor that adds a delightful touch to any dish. Its unique taste is incomparable, making gochujang sauce a must-have in Korean recipes and a perfect drizzle for all your culinary creations.
What is one of the best barbecue sauces?
One of the best barbecue sauces is Smoke Kitchen Sweet BBQ Sauce, Lillie's Q Smoky Barbeque Sauce, Sweet Baby Ray's Barbecue Sauce, Blues Hog Original BBQ Sauce, Lillie's Q Ivory Barbeque Sauce, Smoke Kitchen Mustard BBQ Sauce, Kosmos Q Cherry Habanero BBQ Sauce, and Lillie's Q – Carolina Barbeque Sauce.
What is the most popular flavor of barbecue sauce?
The most popular flavor of barbecue sauce is typically the tomato-based sauce, with the tomato usually being in the form of ketchup.
Is Japanese BBQ sauce the same as Korean BBQ sauce?
Japanese BBQ sauce is not the same as Korean BBQ sauce. Korean BBQ sauce enhances the flavor of meat by marinating it, resulting in a well-seasoned and more flavorful dish. On the other hand, Japanese BBQ sauce focuses on the natural taste of the meat and incorporates various dipping sauces like garlic, mirin, and soy sauce to add flavor to non-marinaded meat.
Is Korean BBQ sauce like teriyaki sauce?
Korean BBQ sauce is similar to teriyaki sauce and can be used as a substitute. It can be used as a glaze for meats, in stir-fry, and in rice dishes. Since it has a soy sauce base, it will provide a familiar Asian flavor like teriyaki sauce. You can use it in a 1:1 substitution in most recipes if you have Korean BBQ sauce at home.
What is the closest thing to bulgogi sauce?
The closest thing to bulgogi sauce is teriyaki sauce, BBQ sauce, hoisin sauce, sweet and sour sauce, or kalbi or galbi sauce.
What is Korean sauce called?
Korean sauce is commonly known as gochujang sauce, which is frequently used in Korean recipes. Its delightful combination of sweet, spicy, and umami flavors makes it a versatile condiment that can enhance the taste of various dishes. Whether you're a cooking enthusiast or a vegan, gochujang sauce is a must-have ingredient in your kitchen. Its unique flavor profile sets it apart from other sauces, making it a favorite among many.
What is the famous Korean sauce?
The famous Korean sauce is gochujang, which is widely known for its fiery red appearance and versatile use in marinades, stew bases, and samgyeopsal. Despite its intimidating look, this condiment also offers a delightful touch of sweetness.
What are the three main Korean sauces?
The three main Korean sauces are doenjang, ganjang, and gochujang, which are known as the foundational jangs in Korean cuisine. Similar to the French "mother sauces," these three jangs are used to create various other sauces and marinades that are essential in Korean cooking.
What is the Korean sauce that starts with K?
The Korean sauce that starts with K is K-Mama, which is the bottled version of our family recipe. It is filled with gochujang flavor and has the perfect level of spice for the younger generation. My mom always kept a container of this sauce, which we used for various purposes like stir-frying, dipping, and marinating.
What is the difference between Korean BBQ sauce and regular BBQ sauce?
The difference between Korean BBQ sauce and regular BBQ sauce lies in the primary ingredients used. While regular BBQ sauce is typically tomato-based, Korean BBQ sauce is made with soy sauce, ginger, garlic, and rice vinegar. However, both sauces share similarities such as tanginess, acidity, umami, saltiness, and a touch of sweetness.
What is Korean BBQ marinade made of?
Korean BBQ marinade is typically made with a combination of soy sauce, sugar, ginger, garlic, pepper, sesame oil, and scallions. The specific ingredients may vary depending on the region, but these are the most common components. When it comes to Bulgogi, the marinade is predominantly soy sauce-based, while other variations may incorporate fruits like pear and pineapple.
Is Korean BBQ Sauce spicy & hot?
Korean BBQ Sauce is a sticky type sauce that has a slightly sweet and spicy flavor, similar to teriyaki sauce.