Top 5 Keto Bacon Brands for Delicious Primal Pork Taste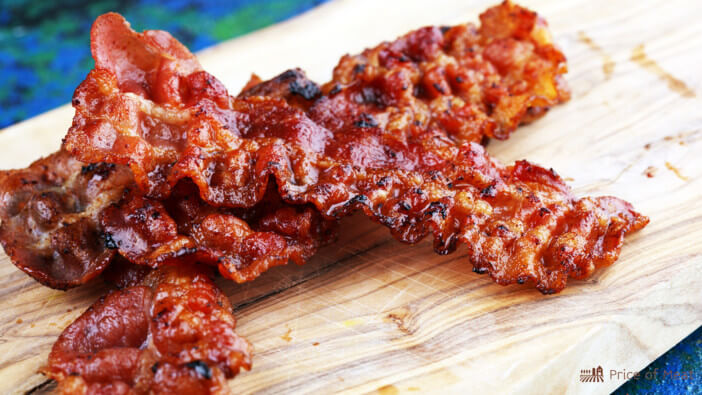 It's no secret that the Keto diet, with its low carb, high fat structure, is a popular choice of diet plan. The goal is to help your body achieve the metabolic state of ketosis, so you burn fat for energy.
Whether considering the Keto diet for health and blood sugar concerns or a diet choice, finding quality products that fit into your lifestyle can be difficult.
You don't have to settle for the boring stuff when it comes to Keto bacon. You can find delicious and satisfying keto bacon that doesn't undergo curing with sugar (so no candy bacon…).
This article will look at the best keto bacon brands on the market today. We'll explain the characteristics of these products so that you know what to look for when making your purchase.
Quick Sidenote – check out our shop for a curated selection of the best meats, cuts, sausages, and more. Open our shop in a new tab and explore!
Disclosure: As an Amazon Associate, this site earns from qualifying purchases. Thank you!
Best Keto Bacon Brands
Bacon is among the most delicious foods on the planet. However, it's also one of the most dangerous. Nitrates and added sugars are two of the biggest health hazards associated with bacon.
Nitrates are linked to breast and prostate cancer, while sugars are unsuitable for your weight loss journey.
The best brands for Keto bacon (or vegan bacon / tempeh bacon) are those that use only natural ingredients and do not contain any of these additives.
Below are the best bacon brands that are fit for a low carbohydrate meal plan:
Burgers' Smokehouse Cured Country Bacon
If you're looking for a Keto bacon brand that is not only satisfying but also super healthy and low in carbs, look no further than Burgers' Smokehouse Cured Country Bacon.
This cured pork is 100% pork with no added sugar or carbs, so it's completely Paleo and Keto-friendly. And because it's dry-cured, it's got zero preservatives and no artificial ingredients. It only contains pure, natural flavors like hickory smoke and maple syrup.
Not only that, but each package contains 50 calories, 4 grams of protein, and 3 grams of fat per slice. That means that with just one piece per serving (or 1/2 ounce), you'll get all the satiation you need to keep going strong on your Keto diet plan.
And with 120 milligrams of sodium per slice, this product is designed to meet the needs of those following a low-sodium diet plan.
Pederson's Natural Farms Hickory Smoked Bacon
If you're looking for low-carb bacon that still delivers a robust flavor, try Pederson's Natural Farms Sugar-Free Bacon. Forget the sugar and artificial flavors and get a delicious, natural taste in your belly.
These bacon slices are made with no sugar or carbs, making them safe for anyone on an Atkins or Ketogenic diet.
The Pederson's sugar-free bacon comes from 100% humanely raised pigs in the USA, and it's also gluten-free and lactose-free.
And it's not just great for Keto dieters; it's also Paleo and Whole30 approved.
This hickory bacon is smoked over natural wood chippings and contains 30g of calories, 2g of fat, and 230 mg of sodium.
Applegate Naturals Bacon
Applegate Naturals No Sugar Bacon is an excellent option for anyone looking to add a little bacon flavor to their diet.
Applegate has been making high-quality uncured bacon for years and uses only the finest ingredients. Applegate sources its products from humanely raised animals, and the bacon products are free of antibiotics and hormones and contain no artificial ingredients.
Their bacon does not marinate in sauce and has no sugar, so it's a simple piece of uncured, nitrite-free bacon that comes at 8 ounces.
The protein content is 5 grams per serving, and the sodium content is 320 milligrams per serving. The fat content is 6 grams per serving, which makes it pretty low in calories, and the entire slice has about 70 calories.
With a delicious, savory taste and an array of protein-packed ingredients, this is one of the best keto-friendly bacon powders on the market. It's humanely raised meat from free-range pigs, so it's safe for those looking to lose weight or maintain muscle mass.
Epic Uncured Hickory Bacon Bits
If you're looking for the best Keto bacon brands on the market, look no further than Epic Uncured Hickory Bacon Bits. These hickory-smoked bacon bits are perfect for those who want a primal pork taste without all the fat and calories.
They're also gluten-free and zero net carbs, which means you can enjoy them even if you're following a Keto diet, Paleo diet, or Whole30 plan.
They contain no nitrates or nitrites, so you don't have to worry about those pesky chemicals in your food.
And if you're worried about sodium levels? Don't be. These tasty treats contain only 110 mg of sodium per serving, which is less than half of what other brands have.
Epic Uncured Hickory Bacon Bits come in a wide variety of flavors, including original and smoked, so there's something for everyone.
Naked Bacon's Chipotle Bacon
Naked Bacon's No Sugar Added Chipotle Bacon is the perfect replacement for your favorite carb-loaded breakfast or lunch.
Naked Bacon's No Sugar Added Chipotle Bacon has just 60 calories per 2 slices, 7 grams of protein, 3 grams of fat, and 246 milligrams of sodium – all with no sugar added.
It's prepared by hand in small batches using dry-cured pork belly meat, giving it a unique smoky flavor you won't find anywhere else. It also contains no preservatives or artificial ingredients.
It might not be as crispy as some other brands of bacon, but what it lacks in crunchiness, it more than makes up for in taste.
The brand has a variety of meat products, but you won't get enough of their chipotle bacon. It's perfect for everything from breakfast sandwiches to salads to dinner parties.
What Makes a Keto Bacon Brand Good?
The first thing that makes good keto-friendly bacon is the carb count. Carbohydrates should be low to prevent fat storage and insulin spikes. The right brand should have low carbs, no added sugars, Low fats, less sodium concentration, be organic, human bred, and free from nitrates, nitrites, phosphate, and other chemicals.
Calories per serving is another crucial factor when choosing a good keto-friendly brand of bacon. The right Keto bacon brands have very few calories per serving.
You can eat good keto bacon as a meal replacement without negatively affecting your weight loss goals.
FAQs about Keto Bacon
Let's look at some frequently asked questions about bacon and the Keto diet plan.
What kind of bacon is OK on Keto?
The brand should have a low-carb emphasis and fewer calories, with no artificial sweeteners or sugar alcohols. The bacon should be organic and free from nitrites, phosphates, or other chemicals.
Is all bacon Keto-friendly?
Most bacon slices are keto-friendly because they are low in carbs/calories and high in protein. However, a few bacon brands are not Keto-friendly because they have added sugars and other artificial ingredients.
Is uncured bacon OK on keto?
Yes, it is. Uncured bacon is one of the most convenient forms of bacon to use on the Keto diet. It has zero carbs since it doesn't undergo the curing process that regular bacon undergoes. This process uses artificial ingredients that can add sugars and chemicals to the final product.
Which is better for keto, bacon or turkey bacon?
Bacon is better than turkey. The former is high in protein and low in carbs, which makes it an excellent source of protein for those on a low-carb diet. In addition to being low carb, bacon also provides heart-healthy omega-3 fatty acids. These compounds can help reduce inflammation and promote heart health.
Final Thoughts
When making food choices on the Keto diet plan, you don't want to sacrifice taste and flavor. These five best Keto bacon brands pack a primal pork taste with less sugar and nitrates to help you adhere to your diet and achieve results.
More FAQs
Which bacon on keto?
The best bacon brands for keto are Tender Belly No-Sugar Signature Dry-Rub Uncured Bacon, Applegate Naturals No Sugar Uncured Bacon, Pederson's Organic No Sugar Added Uncured Smoked Bacon, and Coleman Naturals Sugar-Free Applewood Smoked Uncured Bacon.
Which bacon has the least sugar?
The bacon with the least amount of sugar is the Applegate Natural No Sugar Uncured Bacon – 8oz from Applegate Farms. Another option is the Applegate Natural Hickory Smoked Uncured Turkey Bacon – 8oz, also from Applegate Farms. Good & Gather offers the Uncured No Sugar Bacon – 12oz. Additionally, the North Country Smokehouse USDA Sugar Free Uncured Certified Humane Bacon – 12oz is a good choice. Lastly, there is the Oscar Mayer Bacon – 16oz.
Can you eat bacon or ham on keto diet?
Bacon and ham can be consumed on a keto diet, as they are among the approved meats that can be included in a keto-friendly fridge and pantry. Other permissible food items include seafood, dairy, eggs, nuts, fats and oils, and certain above-ground vegetables. Meats such as chicken, pork, steak, ground beef, lamb, turkey, and sausage can also be enjoyed in limited quantities.
Will bacon kick you out of ketosis?
Bacon will not kick you out of ketosis. Most types of bacon are suitable for a keto diet because they are low in carbs and high in protein and fat. This makes bacon a great option for snacking or adding flavor to your meals, such as mixing it into your chicken dinner dish.
Is it OK to eat 2 slices of bacon everyday?
It is not recommended to consume 2 slices of bacon every day as it can increase the overall risk of colon cancer for a healthy person from approximately 5% to 6%. Consuming bacon on a daily basis is not considered a healthy choice and is not advised.
What brand of bacon is not cured with sugar?
The brand of bacon that is not cured with sugar is Pederson's Farms, which offers Organic Pork Bacon that is Whole30 compliant. It comes in a 4 pack, each weighing 8oz, and is free from added sugar, uncured, and suitable for the Keto and Paleo diets. Additionally, it does not contain any nitrites or nitrates and is proudly made in the USA.
Does fake bacon have carbs?
Fake bacon does have carbs. One strip of vegetarian bacon contains 0.3g of total carbs, 0.2g of net carbs, 1.5g of fat, 0.5g of protein, and 16 calories.
Does sugar cured bacon have carbs?
Sugar cured bacon does not have any carbs. For example, one slice of Kroger Thick Cut Sugar Cured Smoked Bacon contains 0g total carbs, 0g net carbs, 5g fat, 4g protein, and 60 calories.
Is maple bacon high in carbs?
Maple bacon is not high in carbs. Great Value Maple Flavoured Smoked Bacon (2 slices) has a total of 1g carbs, 1g net carbs, 26g fat, 8g protein, and 270 calories.
How many carbs are in maple cured bacon?
The amount of carbs in maple cured bacon is 0.1g total carbs and 0.1g net carbs per rasher. Additionally, it contains 1.6g fat, 1.5g protein, and provides 21 calories.
How many carbs are in honey cured bacon?
The amount of carbs in honey cured bacon can be found in Dearborn Hardwood Smoked Honey Cured Bacon (2 slices), which has 0g total carbs, 0g net carbs, 6g fat, 6g protein, and 80 calories.
What is the difference between bacon and cured bacon?
The difference between bacon and cured bacon lies in the method of preservation and the use of additives. Cured bacon undergoes a process where it is treated with salt and nitrites to maintain its flavor, color, and prevent bacterial growth. On the other hand, uncured bacon is also preserved, but it relies on naturally occurring nitrites, such as celery juice powder, instead of added chemicals.
Does maple bacon have sugar?
Maple bacon does contain sugar. The nutritional information states that it is cured with water, sugar, salt, sodium phosphates, sodium ascorbate, sodium nitrite, and artificial maple flavor.
Is sugar-free bacon keto?
Sugar-free bacon is keto-friendly. It can be enjoyed frequently on a ketogenic diet due to its low carbohydrate content. It is important to choose bacon without any added sugar whenever available.
What brand of bacon does not have sugar?
The brand of bacon that does not contain sugar is Pederson's Farms. Their Organic Pork Bacon is Whole30 compliant and comes in a 4 pack of 8oz packages. It is free from added sugar, uncured, and suitable for the Keto and Paleo diets. Additionally, it does not contain nitrites or nitrates and is proudly made in the USA.
Can I eat bacon on a no sugar diet?
You can eat bacon on a no sugar diet as long as you choose a brand that does not add sugar during the manufacturing or curing process. While bacon in its natural unprocessed form (pork belly) does not contain sugar, some companies may include sugar in the brine. It is important to check the ingredient list to ensure that no sugar has been added.
Is Oscar Mayer bacon sugar free?
Oscar Mayer bacon is not sugar free.
Is bacon and eggs OK on keto diet?
Bacon and eggs are indeed suitable for a keto diet. This classic breakfast recipe is ideal for those following a low-carb, high-fat eating plan as it provides the necessary protein and energy to kickstart your morning.