7+ Best Kansas City BBQ Sauce Brands for Classic Taste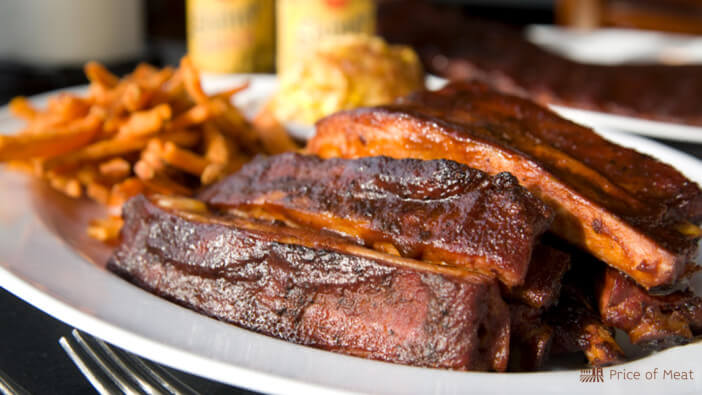 In the world of competitive barbecue, Kansas City stands out as the Midwestern king. Classic flavors combine with slow-cooked burnt ends, pulled pork, and smoked poultry for mouthwatering meals any time of year.
As with any BBQ, the appeal is only half due to the cuts of quality meat. The other factor in delicious taste is the sauce you pair with it. Whether marinated, slathered on top, or used as a dipping option, the right sauce can make all the difference to your BBQ plate.
Read on to learn about the traditions that make Kansas City sauces one of the finest in the nation. Then, check out our list of store-bought options to elevate your barbecue, regardless of where in the country you may enjoy it.
Disclosure: As an Amazon Associate, this site earns from qualifying purchases. Thank you!
Quick Sidenote – check out our shop for a curated selection of the best meats, cuts, sausages, and more. Open our shop in a new tab and explore!
Best Kansas City BBQ Sauce Brands
So, if you're hunting for conventional taste in one of the country's prime BBQ locations, where do you look? Here's our list of where to find the best BBQ sauce brands from KC.
Joe's Kansas City
This well-loved establishment is as unassuming as it gets. The current restaurant sits inside of an old-school gas station adjacent to the Missouri/Kansas state line, with working pumps right outside the retail store.
On evenings and weekends you can often see lines stretching out and around the building as eager Kansas Citians as well as out-of-town guests wait to order.
Joe's flavors are some of the most famous in the region. Dip in one forkful of slow-roasted meat, and it's clear why people are willing to line up at the gas station!
Bonus: Joe's also makes a French Fry Seasoning you can shake onto any BBQ side for an extra dash of KC personality.
Arthur Bryant's
This operation is synonymous with the Kansas City tradition. Founded in the mid-20th century, Arthur Bryant was known as the "King of Ribs," and boasted several U.S. presidents as his dine-in patrons.
The sauce comes in three flavors: Original, Rich & Spicy, and Sweet Heat. The vinegar base and gritty texture are old-school, refusing to adopt the sophisticated creaminess of newer brands. Bottles sit on supermarket shelves all over the metro area but are also widely available online.
Gates
Another legacy KC restaurant, Gates' history is closely intertwined with the downtown area. In the era of Midwestern stockyards and the cattle boom surrounding the city, the bustle drew in pitmasters from all over the country to try their hand at the next big barbecue flavor.
Gates' sauce is a baseline smooth tomato that isn't as sweet as its local competitors. A variety of garden seasonings, such as celery and garlic, go into the bottle for a balanced and herb-forward taste (it's also vegan friendly). 
Fiorella's Jack Stack
With two locations in the metro area, Jack Stack is another regional favorite. The initial building went up in 1957, and the business continued as a father/son operation for the next three decades. In 1974 they opened a second location which thrives to this day.
Their Original sauce is a tried-and-true recipe, with the best elements of sweetness and just a hint of spicy. Reliable but delicious, it pairs with any smoked meats for a bottle that's worth keeping as a cupboard or refrigerator staple.
Jones
Since the 1970s, Jones has been a principal player in the Kansas City barbecue game. Run by two sisters, it features a huge outdoor smoker that lends a smoky aesthetic to the family-owned enterprise.
The Sweet and Tangy sauce is as close to classic as a bottle can get (not salty at all). However, if you want to branch out a little, the Coconut Pineapple is an exciting twist.
Cowtown
As interesting as it is fun, this cartoony brand has ascended the ranks of KC diners in recent years. Its quirky, artistic bottle labels reflect the personality within, as molasses and mustard jump out of the sauce's texture for a lively bite.
A perfect blend of traditional and contemporary, Cowtown's bottles are worth checking out even if you're a KC purist. For a peppery option, try Night of the Living Barbecue.
Q39
This restaurant is popular among the bougie Kansas City set. Featuring an inventive menu with elevated classic options, it offers a sophisticated twist on down-home KC barbecue traditions.
Though many of their offerings have a modern twist, Q39 also has a Classic sauce. The bottle is a blend of all the good things, like an apricot-tinted tomato base, pepper finish, and just a hint of brown sugar sweetness. Even better is that it works well as a pour over any meat dish you can concoct.
What Kind of BBQ Sauce is Kansas City Known For?
There are regional variations in BBQ sauces that aficionados will say makes each one stand out. Even if your supper is the same cut of protein in Memphis or Houston, it may be a different meal according to which sauce you add to the meat.
So, what is special about Kansas City? As opposed to Tennessee BBQ sauce which centers around savory dry rubs, or spicy Texas BBQ sauce with its fatty meat drippings, Kansas City prefers its sauces to be thick and sweet (never spicy like a Korean sauce).
The local Missouri flavor begins with a rich tomato base, then layers with a hint of spiciness for a complex, savory depth. Often, KC chefs incorporate molasses or brown sugar to accent the sweetness of locally-grown tomatoes.
What Is Traditional Kansas City BBQ?
There are a few restaurants in the metro area that have been in operation for decades. These business staples contribute to the long, rich history of BBQ on the Missouri-Kansas line.
Urban joints in the city boast long-standing favor from residents and tourists alike. Often, these restaurants serve as a museum as well as a restaurant, offering visitors the complete history of the operation to peruse as they eat.
In Kansas City, burnt ends reign as king. This unique, slow-roasted portion of meat from the brisket is juicy and slightly charred, making for a succulent bite that takes on any famous local sauce. The brown sugar and molasses combined with ripe tomatoes are the classic flavor, though many places have taken on other elements of heat or spice to create their distinct recipes.
FAQs about Kansas City BBQ
Below are the most frequently asked questions about the best Kansas City BBQ sauce brands.
What Is Special About Kansas City Barbecue Sauce?
The tomatoey, sweet concoction that you find ladled over KC meat cuts is as mouth-watering as it gets. For those diners who want a spicier experience, most local bottles have a hot version to satisfy. But for the most part, KC sauces focus on the sugary elements for their appeal.
Where Can I Find Kansas City Barbecue Sauce?
Many BBQ producers make their items available online for simple and fast ordering. Though some may charge a shipping and handling fee, it still beats an airline ticket to visit Missouri.
There's also The Kansas City BBQ Store website, which claims to be the biggest warehouse for any local sauces you might want to try.
Final Thoughts
It's no secret that Kansas Citians are proud of their barbecue. Though it's a fantastic experience to visit one of Kansas City's classic BBQ operations, you don't have to leave the comfort of your home to enjoy a good KC flavor.
Many of the best places in town bottle and ship their sauces so you can add that smoky-sweet goodness to any meal you like, right in your home kitchen. Bon appetit!
More FAQs
What kind of BBQ sauce is Kansas City known for?
Kansas City is known for its BBQ sauce that strikes a perfect balance between sweetness and tanginess. This sauce is made rich with molasses, enhanced with the acidity of tomatoes and vinegar, and has a delightful kick of heat from chili powder. It is a classic, ketchup-based BBQ sauce that is an essential accompaniment for chicken, ribs, and various other dishes.
What is the most famous piece of Kansas City BBQ?
The most famous piece of Kansas City BBQ is the burnt ends, which gained their popularity at Arthur Bryant's. Cooks at this establishment would generously offer the "burnt ends" of brisket slabs for free, eventually making them a staple on every menu in town.
What food is Kansas City known for?
Kansas City is known for its wide variety of barbecue styles, making it the world capital of barbecue. Some of the most renowned dishes that represent Kansas City barbecue include ribs, hot and cold brisket, pork salad, and burnt ends.
Who makes Kansas City BBQ sauce?
Heinz teamed up with Kansas City natives and award-winning pitmasters, Joe & Mike Pearce, to create a mouthwatering blend of sweet and smoky flavors that embodies the famous Kansas City BBQ sauce.
What is the difference between St Louis and Kansas City BBQ sauce?
The difference between St. Louis and Kansas City BBQ sauce lies in their distinct characteristics. St. Louis BBQ sauce, which is ketchup-based, offers a tangier taste and a thinner texture compared to the Kansas City variety. It stands out with its pronounced tomato flavor and a definite tanginess derived from vinegar, making it a versatile choice for those seeking a more savory flavor for their barbecue.
Is KC Masterpiece BBQ sauce from Kansas City?
KC Masterpiece Barbeque Sauce, which was created in 1977 by Richard E. "Rich" Davis M.D., a child psychiatrist practicing in Kansas City, Missouri, who had earned his medical degree from the University of Kansas, originates from Kansas City. Davis, born in 1926 in Joplin, Missouri, passed away on October 6, 2015, at the age of 89 in Leawood, Kansas.
What barbeque sauce is Kansas City Championship?
The Kansas City Championship barbeque sauce is the Three Little Pigs Kansas City Competition BBQ Sauce, which has been incredibly successful in the competition circuit. Over the course of two decades, Chris Marks and the Three Little Pigs competition team have won eight (8) American Royal Championships using this sauce, consistently bringing home trophies.
Who makes Baby Ray's BBQ sauce?
Baby Ray's BBQ sauce is made by Ken's Foods, a Massachusetts-based company known for salad dressings, after being sold by the Raymond family in 2003 for $30 million.
What is Kansas City barbecue sauce made of?
Kansas City barbecue sauce is made by combining ketchup, tomato sauce, brown sugar, wine vinegar, molasses, butter, and liquid smoke in a large saucepan over medium heat. The mixture is then seasoned with salt, black pepper, paprika, garlic powder, onion powder, celery seed, cayenne, chili powder, and cinnamon.
What city is best known for their BBQ sauce?
The city that is most renowned for their BBQ sauce is Kansas City, Missouri. This beloved barbecue capital is widely recognized for its delectable sauce made from a combination of sweet tomatoes and molasses. It is generously poured over a variety of dishes including pulled pork sandwiches, beef and pork ribs, smoked chicken, and turkey. In Kansas City, restaurants take pride in smoking a diverse range of meats, typically using hickory wood for that distinct flavor.
What are the ingredients in Wegmans Kansas City BBQ sauce?
The ingredients in Wegmans Kansas City BBQ sauce include sugar, tomato paste, water, molasses, white distilled vinegar, salt, modified food starch, tamarind concentrate, natural flavors, garlic, black pepper, onions, red pepper, and cinnamon.
What company owns sweet Baby Ray's BBQ sauce?
Sweet Baby Ray's BBQ sauce is owned by Ken's Foods, Inc., a family-owned retail grocery producer of salad dressings, sauces, and marinades. Incorporated in 1958, Ken's Foods manufactures over 400 varieties under the Ken's Steak House name and various other brands. Their product line includes the award-winning Sweet Baby Ray's barbeque sauce.
Is Kansas City BBQ sauce mustard based?
Kansas City BBQ sauce is not mustard based. My Kansas City Style BBQ Sauce follows the traditional recipe, which is sweet with a brown sugar base. It is complemented by chili powder and black pepper, and simmered with molasses, yellow mustard, and other warm spices to create a balanced flavor.
How is Kansas City BBQ sauce different?
Kansas City BBQ sauce differs from other BBQ sauces in its thicker consistency and sweeter taste. It is typically prepared with a blend of onions, spices, ketchup, and molasses, and often includes additional ingredients like liquid smoke, Worcestershire sauce, or soy sauce to enhance its flavor profile.
What is the difference between Texas BBQ and Kansas City BBQ?
The difference between Texas BBQ and Kansas City BBQ lies in their distinct flavors and meat preferences. Texas BBQ is typically seasoned with a simple blend of salt and pepper, and it is traditionally focused on beef. On the other hand, Kansas City BBQ used to primarily feature beef, occasionally incorporating pork ribs. Additionally, Kansas City BBQ stands out with its use of a sweet tomato sauce to baste the meat.
What city is known for the best BBQ sauce?
The city known for the best BBQ sauce is Kansas City, Missouri. This renowned barbecue capital is celebrated for its sweet sauce made from tomatoes and molasses, which is generously poured over a variety of dishes such as pulled pork sandwiches, beef and pork ribs, smoked chicken, and turkey. In Kansas City, restaurants take pride in smoking a wide range of meats, often using hickory wood for that distinct flavor.