11+ Best Jamaican Beef Patty Brands for a Caribbean Taste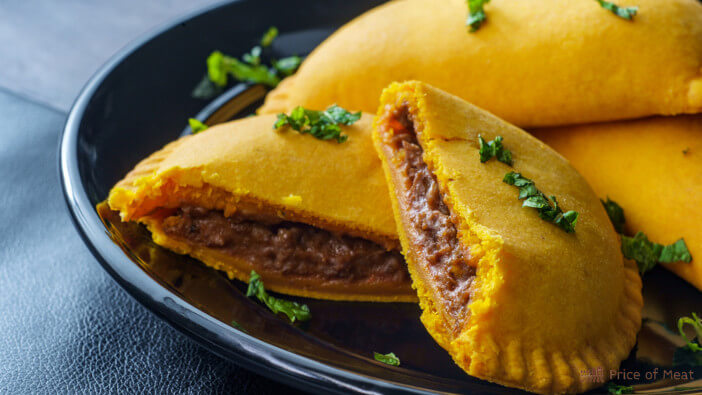 Jamaican Beef Patties are a fun and convenient food traditionally sold by vendors on the streets of Jamaica. Because of its simplicity, it has since been adopted by people worldwide.
Many immigrants brought their recipes to the United States and Canada, making them a staple.
Beef patties are a delicious snack consisting of dough, including egg yolk and turmeric, to give them their yellow flavor.
The dough then gets savory and spicy ground beef added, resulting in a delicious snack. However, some locations have adapted Jamaican beef patties by filling them with pork, shrimp, lobster, or cheese.
Quick Sidenote – check out our shop for a curated selection of the best meats, cuts, sausages, and more. Open our shop in a new tab and explore!
In recent years, the convenience of frozen foods has made a new market for these filled pastries. We've compiled a list of the best Jamaican beef patty brands you can purchase locally.
Disclosure: As an Amazon Associate, this site earns from qualifying purchases. Thank you!
Best Jamaican Beef Patty Brands
These days, if you want a Jamaican beef patty, you only have to go as far as your local supermarket. Many companies make tasty versions of this spicy treat.
And while none of them can compare with a fresh one straight from a street vendor, some beef patties are very popular and can satisfy your craving.
1. Grace Jamaican Patties
You cannot get simpler than a heat-and-serve version of this classic dish. Grace has made several flavors of Jamaican turnovers, such as beef and jerk chicken.
They have varying spice levels for those who like to feel the burn. These delicious and easy-to-make snacks are available all over the US.
2. Caribbean Food Delights
Caribbean Food Delights covers all the bases when making their Jamaican patties. They have beef and jerk flavored versions.
They also have plant-based versions made with vegetables or jackfruit and seasoned in curry or barbecue sauce. And if you want a snack-size turnover for a party, cocktail versions are available.
3. Golden Krust
Most people want Jamaican beef patty brands they can have for dinner or as a quick snack. Golden Krust has a pre-cooked patty that can be ready within two minutes in the microwave.
Individually wrapped so you can have as many, or as few, as you would like, these turnovers have 20 layers of flaky crust. They have beef and vegetarian versions made with Beyond Meat.
4. Patty King
Patty King makes their Jamaican beef patties hearty and stuffed with savory fillings and is among the most popular snack foods they offer. The four versions available at your local grocer are spicy beef, mild beef, curry chicken, and jerk chicken.
5. Tastee
Since 1966 Tastee has been a staple all over Jamaica. The restaurants have been making beef and chicken patties all that time.
Their Jamaican beef patty brand is available online, making it easy to get their delicious recipe on your table. You can order the famous Tastee patty frozen and shipped to your door.
6. Tower Isles
This Jamaican beef patty brand takes its roots from the tropics of Jamaica but adds a flavor distinct from street vendors and food trucks of Brooklyn.
Tower Isles allows city-dwelling New Yorkers to slip off to sandy beaches and crashing waves. Pour yourself a pina colada and enjoy.
7. Uncommonly Good
Gourmet foods from around the world have found a home in Roscommon, Michigan. Uncommonly Good prides itself on its wide and varying menu of eclectic tastes.
Now they are offering many of their foods to you through their website. Among those are their frozen spiced beef pies. The island favorite comes in a variety of flavors.
8. Goya
Goya's addition to Jamaican beef pies is perfectly seasoned beef wrapped in a buttery, flaky crust. Goya has transformed this spicy treat into a quick and easy meal that can be ready in minutes. Two come in a pack for you to make a meal out of them or have a quick snack.
9. Publix
If you want a delicious Jamaican beef patty brand that is quick and affordable, Publix supermarkets have a frozen version you will love.
These stuffed pastries come with two in a pack for less than $5 and are ready in a matter of minutes.
10. Panbury's
Get the island vibe with these beef patties inspired by Jamaican street food. Perfectly seasoned beef, onions, and peppers stuffed into a flaky crust get shipped to your home from Panbury's.
They are the premiere home of Caribbean foods in the US. They are out of the oven and serves to your crew in minutes.
11. Best in Town Chicken
Known for their chicken, Best in Town offers Jamaican beef patties stuffed full of flavor. This island snack will take you on vacation every time you take a bite. They have a variety of flavors, and they have a Halal version as well.
Frequently Asked Questions about Jamaican Patties
People tend to love all the Jamaican beef patty brands with one bite. Here are a few of the questions asked about them a lot.
Which are the best Jamaican Patties?
Without a doubt, the best Jamaican beef patties come from street vendors and restaurant kitchens all over the island of Jamaica.
You cannot deny that baked into every bite of delicious pastry is the very essence of the island. However, if you cannot get to Jamaica for lunch, there are several ways to get them here at home.
The best-tasting Jamaican beef patties would be ones you can get shipped directly to you from experts. Tower Isles and Tastee are two of the brands that have been making them the longest and have a proven record of quality.
What are Jamaican beef patties called?
In Jamaica, they still refer to this dish as a patty. Sometimes you can hear it referred to as a Jamaican Puff because the flaky crust is comparable to a puff pastry.
The name has become generic, however, even on the island. Much like a taco, it is a basic term used to describe something with a wide variety of options and choices. Each person who bakes patties makes them differently, and you will find many flavors across the Caribbean.
Are empanadas and Jamaican beef patties the same?
Empanadas, native to Spanish and Latin American areas, resemble Jamaican beef patty brands in many ways. They are both made by stuffing a pastry and frying or baking it.
However, beef patties almost always have meat or other savory fillings. Empanadas contain almost anything, such as meat, cheese, tomatoes, corn, or even fruit.
Why is it called a Jamaican beef patty?
This dish got its start as a staple for street vendors in Jamaica. The beef was plentiful and made a hearty, cheap filling to wrap in dough and sell as an inexpensive meal.
They caught on as beef-filled pastries and are often referred to as beef patties, even if they contain something different.
Conclusion
Jamaican beef patty brands strive to bring some flavor of the islands to homes across the United States and Canada. Going to your local supermarket and picking up a box of frozen beef patties cannot compare to the feel of getting a fresh one and eating it while smelling the salty ocean air.
But to satisfy your craving until the next time you are in Jamaica, this list of Jamaican beef patty brands is sure to hit the spot!