5+ Best Italian Cookware Brands for Designer Kitchens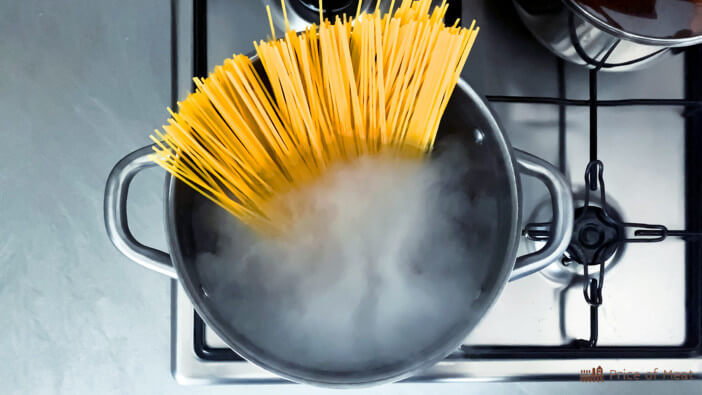 Italian chefs are famous for their cuisine. Their cooking techniques spread, and countless restaurants adopted their best practices.
However, an Italian chef and his or her kitchen are only as good as their cookware, and companies in Italy design and manufactures some of the best cookware.
We've compiled a list of the best Italian cookware brands for designer kitchens based on the best types of cookware and the essentials you'll need for your kitchen.
Disclosure: As an Amazon Associate, this site earns from qualifying purchases. Thank you!
Quick Sidenote – check out our shop for a curated selection of the best meats, cuts, sausages, and more. Open our shop in a new tab and explore!
Best Italian Cookware Brands
After extensive testing, we found the five best Italian cookware brands for your kitchen.
1. Ballarini
Ballarini is one of the world's oldest and most respected cookware lines. Paolo Ballarini began his journey in 1889 by crafting metal products, including birdcages and kitchen utensils. Ballarini is now a multi-national cookware empire that spans the globe.
Since 1967, Ballarini has been revolutionizing non-stick cooking materials. Their Kerastone professional black coating is suitable for all types of cooking. They also have a specialized granite coating that excels at low-temperature cooking and browning.
2. Ruffoni
From humble beginnings in 1931, Grandfather Antonio Ruffoni crafted his first copper pot to celebrate the birth of his son. By 1962, the Ruffoni family opened their first workshop with local blacksmiths in the Valstrona Valley.
Ruffoni Cookware continued to revolutionize its cookware with a commitment to tradition while adopting modernity.
Their product line serves a dual purpose. Ruffoni cookware has unmatched quality and durability, but their cookware is also beautiful. Chefs and homeowners display their Ruffoni Cookware in their kitchen and love its traditional charm and appearance.
Ruffoni uses the highest quality metals and ceramics in its products. Ruffoni offers cookware crafted from copper with tin lining, copper with stainless steel lining, and clad stainless steel.
3. Lagostina
Based in Omegna, Italy, Lagostina started crafting professional cookware in 1901. Still a family business, Lagostina produces premium cookware, flatware, and more.
Lagostina features an extensive array of cutting-edge cookware for your kitchen. They sell professional-grade cookware that works great for home chefs as well.
No matter what type of cookware you prefer, Lagostina has a product that will meet your needs. You can choose from stainless steel, anodized steel, ceramic cookware, and classical copper pots and pans.
While based in Italy, Lagostina produces some of its products in China. Italian-made products have the appropriate label, and you should look for them when shopping for Lagostina cookware.
4. Hestan
Since 1970, Hestan founder Stanley Cheng knew Italy was the best location for his premium cookware business. Hestan Culinary sought the best Italian blacksmiths in the Bergamo and Bologna regions to craft their legendary lines of cookware.
Hestan offers four distinct types of cookware for your home or restaurant.
Nanobond molecular titanium pans offer fast and consistent heating and damage resistance.
CopperBond induction copper cookware features timeless elegance and easy cleanup.
ProBond clad stainless steel cookware provides excellent heat conduction and optimized cooking surfaces.
The TITUM non-stick system is a resilient and effective non-stick cooking surface.
5. Inoxriv
Inoxriv began as a family business in the 1940s. After World War II, Inoxriv began innovating with stainless steel and crafted its first line of pots, pans, and flatware.
Inoxriv specializes in stainless steel cookware. Their design innovations ensure their products last a long life, require minimal maintenance, and offer a hygienic and safe cooking surface.
Choosing the Best Cookware
Professional chefs love Italian cookware because they use the best materials, and their pots and pans can withstand day-to-day use in busy kitchens.
Which cookware material is best for you? Below is a list of the most popular cookware materials used in professional kitchens.
Stainless Steel
Stainless steel is one of the most common cookware materials because it's indestructible and withstands high temperatures.
Stainless steel won't rust, is dishwasher safe, and it's easy to clean. Other reasons professional chefs choose stainless steel include:
It's a great choice for sauce prep and sauteing.
Thicker stainless steel pans prevent overheating and warping.
Some stainless steel pans feature copper or aluminum bases that withstand high heat.
Carbon Steel
Many cooks use carbon steel pans instead of coated non-stick pans. Carbon steel is non-reactive and is free of coatings; this means the pan won't affect the flavors of your meal.
If you enjoy the ease of use of non-stick pans but want to avoid the chemical coating, carbon steel is a great option.
Several other reasons carbon steel pans make a great choice for your kitchen include:
A carbon steel pan offers an even cooking surface that heats quickly.
Carbon steel pans are thin and light but durable and will last for decades.
You don't need special utensils to cook with carbon steel pans.
Cast Iron
Even if you prefer other cookware, every chef should own a cast iron skillet. Cast iron pans are extremely heavy compared to other materials but offer a unique cooking surface.
If properly cared for, a cast iron pan lasts forever. Over the years, the pan develops a natural coating called seasoning, creating a no-stick surface on the pan that lets you cook with minimal mess.
Other perks of cast iron pans include:
They are easy to clean (but cannot go in dishwashers).
Cast-iron pans maintain temperature.
You can use a cast iron pan on your stovetop or in your oven.
Cast-iron cookware is chemical-free.
Ceramic
Ceramic cookware is metal cookware that has a ceramic coating and finishes. The finish gives your pots and pans a non-stick surface without using harmful chemicals. Ceramic coatings are natural and environmentally friendly.
Due to their excellent conductivity, you can also use most ceramic cookware in the oven. Of course, if the cookware has rubber or plastic handles, you can't use it in the oven.
These materials melt, and you'll ruin your cookware or start a fire.
You may also choose to include ceramic cookware in your kitchen because:
Ceramic cookware is lighter than other cookware materials.
The non-stick surface is easy to clean.
While dishwasher safe, most manufacturers suggest you hand clean any ceramic cookware.
FAQs about Italian Cookware
Still have questions about Italian cookware brands? We've answered some of the most frequently asked questions below.
Which cookware is made in Italy?
Ballarini, Ruffoni, Lagostina, Hestan, and Inoxriv are the most popular brands of cookware made in Italy.
Is Ballarini cookware made in Italy?
Ballarini is one of the oldest cookware companies in Italy. Founded in 1889, Ballarini employs over 300 employees at their factory in Rivarolo Mantovano, Italy.
What brand is the best for cooking?
All the above Italian cookware brands offer premium cooking products designed for professional kitchens. You can't go wrong choosing any of these brands.
What cookware do most professional chefs use?
While most chefs have a favorite brand, you'll find the same types of pots and pans in many professional kitchens.
Professional chefs look for durable and high-quality pots and pans for their kitchens. They tend to prefer carbon steel, stainless steel, and cast iron pans. Many chefs prefer aluminum, copper, and ceramic cookware.
Professional kitchens rarely use nonstick pans. Even expensive nonstick pans can't handle the day-to-day abuse of a professional kitchen, so most chefs avoid using them.
Final Thoughts
Now that you know more about the best Italian cookware brands and materials, it's time to pick what pots and pans you need for your home.
Traditional cookware sets include frying pans, saucepans, and saute pans. Other optional cookware include a skillet, dutch oven, cast-iron pan, wok, casserole dish, and stockpot.
While you don't need every one of these pans for cooking, having access to a diverse selection of cookware makes cooking easy and more enjoyable.
This list of best Italian cookware brands for designer kitchens is sure to make your kitchen, and food, stand apart. Be sure to explore our companion post on Swiss cookware as well.
More FAQs
What is the best cookware from Italy?
The best cookware from Italy is the Inoxriv Io Bio Cookware Set, Hestan Nanobond Cookware Set, Lagostina Martellata Copper Cookware Set, and Ruffoni Symphonia Cupra Cookware Set.
Where are Zwilling pots made?
Zwilling pots are made in various countries including Italy, Belgium, Vietnam, and China, while Zwilling knives and accessories are manufactured in Germany, Spain, Vietnam, the Czech Republic, the United Kingdom, Japan, and China.
What type of cookware do Italians use?
Italians use enameled cast iron casseroles or Dutch ovens for various cooking purposes such as simmering, stewing, or baking. These versatile cookware options are essential in Italian cuisine, particularly for preparing popular dishes like pasta and lasagna.
What do Italians use to cook with?
Italians use a variety of ingredients for cooking, with olive oil being a fundamental component in most traditional Italian dishes. Following olive oil, vegetables play a significant role in Italian cuisine. While garlic and onion are commonly used, vibrant green vegetables often take center stage on the plate.
What does an Italian kitchen have?
An Italian kitchen typically includes a rustic and warm style, incorporating materials such as terra cotta and stone for the flooring to achieve a natural look. The color palette in the space often consists of rich tones, with a particular emphasis on oranges, golds, and yellows.
What is the best brand name for cookware?
The best brand name for cookware is Hestan for its durability, Cuisinart for its reliability, De Buyer for its food-specific design, Mauviel for its copper cookware, Staub for its baking cookware, FINEX for its cast iron cookware, and the best low and slow cookware, as well as the best enameled cast iron cookware.
What is the most non toxic cookware?
The most non-toxic cookware options include cast iron, stainless steel, ceramic, glass, and enamel-coated cast iron pans and pots. These alternatives are free from Teflon coating, ensuring their safety for use in cooking.
Who is the largest cookware manufacturer?
The largest cookware manufacturer is Meyer, known for their brand "Play with your Food."
What are 5 types of cookware?
There are five types of cookware: aluminum, carbon steel, cast iron, ceramic, and porcelain. Aluminum is widely popular due to its versatility, while carbon steel is found in both high-end and affordable cookware. Cast iron is known for its durability and weight. Additionally, there are different types of cast iron available. Ceramic and porcelain cookware are also commonly used. Finally, clad cookware combines different materials for enhanced performance.
What do professional chefs use at home?
Professional chefs use a variety of essential tools and equipment at home. These include three knives, which can range in price starting from $75, from brands like WÜSTHOF available on Amazon. They also utilize a knife sharpener, priced at $25, to ensure their knives remain sharp. Additionally, they rely on a cutting board, which costs around $35, to provide a stable surface for food preparation. For cooking, professional chefs use a nonstick pan, starting from $26, and a cast-iron pan, priced at $30, for their versatile cooking capabilities. They also invest in stainless steel pots and pans, which can cost around $130, for their durability and even heat distribution. Another essential item in their kitchen is a Rondeau pan or Dutch oven, starting from $38, which is ideal for slow cooking and braising. Lastly, professional chefs opt for a professional-quality blender, priced at $290, to create smooth sauces, soups, and purees.
What pans are used in professional kitchens?
The pans used in professional kitchens are cast iron, stainless steel, or carbon steel, as they are the only viable options that can withstand high temperatures and meet the demands of this environment.