9+ Best Gochujang Brands for Amazing Korean Meals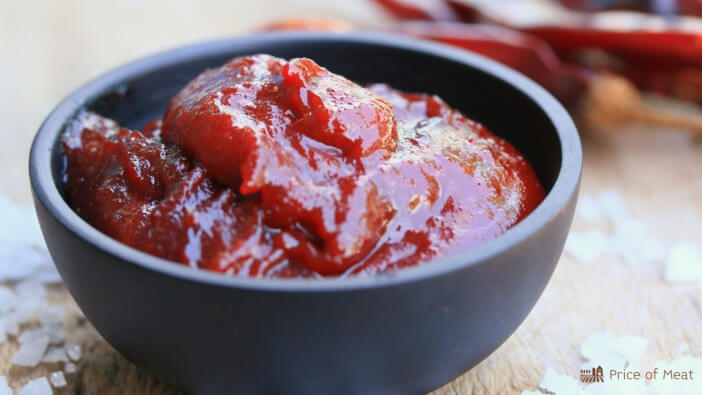 As the popularity of Korean dishes grows worldwide, many people have found the holy grail of Korean sauces, gochujang.
This spicy red paste consists of chili powder, glutinous rice, fermented soybean, and salt. The taste is spicy and sweet, so it's a frequent addition to authentic Korean cuisine.
Read on to find out the best gochujang brands available so you can create amazing Korean meals right at home. We will also cover some of the key components of this chili paste and answer some common questions.
Disclosure: As an Amazon Associate, this site earns from qualifying purchases. Thank you!
Quick Sidenote – check out our shop for a curated selection of the best meats, cuts, sausages, and more. Open our shop in a new tab and explore!
1. Chung Jung One Gochujang Korean Chili Sauce (Vegan & Gluten-Free
Chung Jung One is likely the most well-known gochujang brand in the world. This particular version of the brand's gochujang is both vegan and gluten-free, which is excellent for people on restricted diets or with allergies who still want to enjoy the spicy chili sauce. It has a serious claim to be the best gochujang sauce.
2. Chung Jung One O'Food Brown Rice Gochujang
Chung Jung One has a second entry on our list, which isn't surprising considering how prolific the brand is.
The O'Food brand is slightly different than the primary Chung Jung One brand, so it comes with different labeling, packaging, and ingredients. This gochujang uses brown rice for a healthier version of the classic paste.
3. Sempio Gochujang
Sempio is likely the second most well-known gochujang brand after Chung Jung One. Similar to the previous brand, Sempio offers a ton of options when it comes to their gochujang.
Among their options are gluten-free, vegan, non-GMO, organic, different spice levels, and gochujang with lemon.
4. Roland Foods' Gochujang Hot Chili Paste
Roland Foods' gochujang hot chili paste is on the sweeter side and is a bit less savory, though it still contains a ton of heat for spice lovers.
This product uses corn syrup, which is why it comes out a bit sweeter than some of the other pastes.
5. Q-Rapha Classic Korean Gochujang
Q-Rapha keeps it relatively simple with their gochujang. The ingredients are all-natural, and the list is pretty short, just soybean powder, chili powder, cane sugar, tomato, rice, brown rice syrup, salt, and alcohol (for the fermentation process).
Adding tomato to the ingredients helps keep the savory side fully present with this sauce, while the pure cane sugar brings some natural sweetness.
6. CJ Haechandle Vinegared Gochujang
CJ Haechandle is the most popular brand for gochujang in South Korea. The brand uses the traditional process for creating gochujang, which they claim creates a better umami flavor than their competitors.
Chili peppers are only added to the mixture after the rice and four are fully mixed. The brand also offers gochujang sauce that includes vinegar, which gives the sauce an extra bite and is ideal for dishes that include vegetables.
7. Bibigo Gochujang Sauce
The Bibigo gochujang sauce is one of the sweeter options for this traditional sweet and savory sauce. The ingredients include brown sugar and soy sauce, so you get the perfect mix of sweet and salty.
People have noted that the fermented flavor is a bit weaker, so if you don't love that fermented taste, this sauce is excellent for you.
8. Sunchang Gochujang
Sunchang's gochujang is a bit unique because the brand offers its product in the classic gochujang tub, but they also offer small tubes, similar to concentrated tomato paste.
The flavor is in line with classic gochujang, but the tube container is easy to store, doesn't allow air in, and is convenient to use.
9. KPOP Foods Gochujang Sauce
The KPOP Foods gochujang is unique due to its packaging. Most gochujang containers are small tubs, so you can easily scoop out the paste.
Instead, the KPOP Foods gochujang sauce comes in a convenient squeeze bottle. This makes it a perfect option for people who always want a little extra spice to pour on their meals.
What Makes Gochujang Good?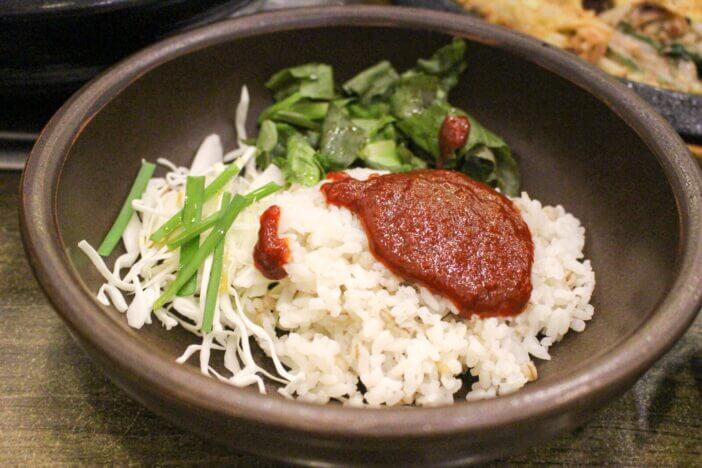 All of the brands we've listed make excellent-quality gochujang. But what exactly makes a good gochujang sauce? The three key components to good gochujan are:
quality ingredients
robust flavor
smooth texture
Quality Ingredients
Any good food product has to start with quality ingredients. The primary ingredients for gochujang are quite simple: chili powder, rice, fermented soybean, and salt.
Some brands add barley malt, but many decide to leave this out, so their product is gluten-free.
Chili powder and fermented soybean are the most critical ingredients in terms of quality.
The chili powder should be relatively fresh because any powdered seasoning loses potency over time. Steamed (rather than boiled) fermented soybeans are usually considered superior.
Robust Flavor
Gochujang may be used as a sauce, but you may also see it used as an ingredient in cooking Korean dishes. Because of this, the flavor of the gochujang must be robust and intense enough to shine through the other ingredients (similar to Korean BBQ Sauce).
Smooth Texture
Gochujang usually comes in the form of a paste, which is a bit thicker than other typical sauces like ketchup or barbecue sauce.
Because it is a paste, it's important that the gochujang has a smooth, even texture. This makes it easy to incorporate the paste into other dishes and sauces ideally.
Frequently Asked Questions About the Best Brands of Gochujang
Here are some of the frequently asked questioning regarding gochujang brands.
What is the most popular gochujang?
The most popular gochujang likely depends on where you are in the world. In South Korea and many other areas in Asia, CJ Haechandle is the most popular brand for gochujang.
In addition, the brand makes a few different types of gochujang (different spice levels and ingredients), so they are popular for their variety as well.
In the United States, the most popular brand of gochujang is a tie between Chung Jung One and Sempio. However, in the United States, the medium spice level gochujang options are more popular than in South Korea.
This is because authentic Korean food is generally spicier than Korean-American (and Korean-European) dishes. The extra-spicy variations are often the most popular in South Korea.
Is gochujang a brand?
No, gochujang is a spicy red chili paste often used in Korean dishes, not a specific brand name (similar to how ketchup isn't a specific brand, just a type of sauce).
Different types and recipes for gochujang exist worldwide, both homemade recipes and store-bought brands.
How many types of gochujang are there?
Different types of gochujang can be as plentiful as the number of brands that offer hot chili paste. In general, there are classic gochujang (basic, spicy red chili paste), gluten-free gochujang, vegan & gluten-free gochujang, and different spice-level gochujang options.
Many brands offer medium spice levels for people who shy away from spicy food and extra-spicy options for people who love the hottest sauce they can find.
Is gochujang the same as hot pepper paste?
The terms "gochujang" and "hot pepper paste" are interchangeably used and are generally the same. As long as the "hot pepper paste" you find mentions that it is fermented, made from red peppers, and spicy, you can be sure you're working with gochujang.
The word "gochujang" comes from the Korean words "gochu" (meaning chili pepper) and "jang" (meaning paste), so the direct translation is chili pepper paste.
What is the most popular gochujang?
The most popular gochujang among Koreans are Chungjungwon Sunchang gochujang by Daesang and Haechandle gochujang by CJ.
Is gochujang hotter than Sriracha?
Gochujang is not hotter than Sriracha. It has a deeper flavor profile with less vinegar and more sweetness, similar to sriracha. Additionally, gochujang is less spicy than sriracha, making it a perfect addition to your kitchen pantry if you enjoy sweet-spicy combinations.
What's the difference between Gochujang paste and Gochujang sauce?
The difference between Gochujang paste and Gochujang sauce is that they are not the same thing. Gochujang paste serves as the base for Gochujang sauce, but the sauce requires additional ingredients to "dilute" the potent paste. Gochujang paste transforms into a sauce when combined with vinegar, soy sauce, sesame oil, a sweetener, and potentially other desired ingredients.
Why does gochujang taste so good?
Gochujang tastes so good because its fermentation process, which lasts for several years, adds a gentle sweetness to it. During this process, the starches in the rice convert into sugars, creating a flavorful and addictive awesomeness that will knock your socks off.
Is gochujang healthy or not?
Gochujang can be considered healthy based on a study conducted by Pusan National University. The study focused on the effects of gochujang extract on fat cells and found that it can aid in weight loss by reducing fat accumulation. Additionally, gochujang's low cholesterol content can contribute to a decreased risk of developing coronary heart disease.
Does gochujang taste like Sriracha?
Gochujang does not taste like Sriracha. However, it is a delicious Korean sauce made from fermented red peppers, just like Sriracha. Gochujang has a unique and deep flavor that is more savory and salty compared to Sriracha. It is sure to please those who are fans of Sriracha.
What are the different types of gochujang?
The different types of gochujang include mild hot, slight hot, medium hot, very hot, and extreme hot. Gochujang paste, popular for making kimchee, is also used to add flavor to soups, stews, and marinated meat. Additionally, gochujang sauce can be used as a condiment similar to ketchup or BBQ sauce.
Is gochujang Chinese or Korean?
Gochujang is a Korean red chili paste that is commonly used in Korean cuisine. It is made from a combination of gochu-garu (chili powder), glutinous rice, and meju-garu (fermented soybean powder). Gochujang is not Chinese, but rather has its origins in Korea. It is an essential ingredient in many Korean dishes and is known for its unique spicy and savory flavor.
What is the best substitute for gochujang?
The best substitute for gochujang is Sriracha, a popular Thai hot sauce that shares a similar texture and level of spiciness as gochujang but lacks the sweetness found in the Korean condiment. Other alternatives include Chili Garlic Sauce, Hoisin Sauce, Harissa Paste, Korean Red Pepper Flakes (Gochugaru), Miso Paste, Tahini Paste and Soy Sauce Mixture, and Chimichurri Sauce and Honey Mixture.
Is gochujang sauce really spicy?
Gochujang sauce is not just spicy, it also offers a salty, almost meaty depth and a slight sweetness. Depending on the brand, it can be extremely spicy. Unlike a typical hot sauce, gochujang is not just a one-note addition to a dish. It is not accurate to compare it to Sriracha and doing so may not sit well with Korean chefs.
How spicy is Korean gochujang?
Korean gochujang can vary in spiciness, with most types ranging from mild to moderately hot. Some blends are classified as very hot, while a few are considered extremely hot. The packaging of gochujang often indicates its spice level, with a numeral 3 indicating moderate heat and a numeral 4 signaling that it is very hot.
Which Korean gochujang is best?
The best Korean gochujang can be determined by considering the following options: Chung Jung One Gochujang Korean Chili Sauce (Vegan & Gluten-Free), Chung Jung One O'Food Brown Rice Gochujang, Sempio Gochujang, Roland Foods' Gochujang Hot Chili Paste, Q-Rapha Classic Korean Gochujang, CJ Haechandle Vinegared Gochujang, and Bibigo Gochujang Sauce.
Is gochujang as spicy as Sriracha?
Gochujang is not as spicy as Sriracha, as explained by chef Lee. He mentioned that gochujang has a mild kick to it, similar to Sriracha, but it is not as intense as a jalapeno. Therefore, you can confidently use gochujang to add a spicy flavor to your dishes without overwhelming your taste buds, just like you would with Sriracha.
Does gochujang contain MSG?
Gochujang does not contain MSG, ensuring that the flavor you experience is the authentic and natural taste resulting from fermentation. As for the presence of tomato in gochujang, there is none.
Does gochujang taste like hot sauce?
Gochujang does not taste like hot sauce; it offers a unique flavor profile. Depending on the brand, gochujang can be exceptionally spicy, but it also has a savory, almost meaty richness and a subtle hint of sweetness. Unlike a typical hot sauce that is simply added to a dish for heat, gochujang provides a complex taste experience with its various dimensions of flavor.
What is similar to Korean gochujang?
Sriracha, a popular Thai hot sauce, is similar to Korean gochujang in terms of texture and heat level, but it lacks sweetness. Other alternatives that can be used as substitutes for gochujang include Chili Garlic Sauce, Hoisin Sauce, Harissa Paste, Korean Red Pepper Flakes (Gochugaru), Miso Paste, Tahini Paste and Soy Sauce Mixture, and Chimichurri Sauce and Honey Mixture.
How do you pick a good gochujang?
To pick a good gochujang, it is recommended to choose gochujang producers that prefer using gochugaru made from sun-dried chili peppers, as it provides a cleaner and fresher taste to the chili paste. Additionally, look for gochujang that includes barley malt as it serves as the base liquid for the fermentation process and adds a nutty flavor to the final product.
Are you supposed to refrigerate gochujang?
Gochujang needs to be refrigerated after opening the package, just like miso and other fermented products.
Do you keep opened gochujang in the fridge?
The opened gochujang should be kept in the fridge for storage. Similar to miso, it can be stored for a long time as long as it remains moist and retains its original color.
Can you eat gochujang straight?
No, it is not recommended to consume gochujang directly from the container. Gochujang is a fermented condiment made from chili powder, glutinous rice, meju (fermented soybean) powder, yeotgireum (barley malt powder), and salt, offering a savory, sweet, and spicy flavor.
What does Korean style gochujang taste like?
Gochujang has a taste that is a combination of spiciness, funkiness, saltiness, and deep savoriness. Additionally, its gentle sweetness is derived from the fermentation process, which occurs over several years and results in the conversion of rice starches into sugars.
Is gochujang better than sriracha?
Gochujang is not better than sriracha because sriracha's milder spiciness and subtle taste make it a versatile condiment that can enhance a wide range of dishes. While gochujang is excellent for marinating and glazing, its strong fermented soy flavors may overpower the flavors of certain foods, making it less suitable as a table condiment.
Should I get gochujang or gochugaru?
You should decide whether to get gochujang or gochugaru based on their different culinary uses. Gochujang is commonly used in sauces, marinades, and stews, while gochugaru is typically used in kimchi, soups, and sides. It's important to note that the heat levels of both ingredients can vary depending on the brand and recipe.
Is gochujang popular in Korea?
Gochujang is indeed popular in Korea, as it is widely utilized by both the general population and even the royal family.
How long does gochujang last once opened?
The gochujang paste can last for up to 3 months after opening, as long as it is refrigerated. If you don't use it frequently, it is recommended to tightly wrap the box with clingfilm to prevent drying out.
Is Sunchang gochujang good?
Sunchang gochujang is acknowledged as the best quality due to its historical, literary, and geographical aspects. It is one of the most frequently consumed foods by Koreans and can be used as a seasoning in kuk, banchan, or as a condiment itself.
Is gochujang worth buying?
Gochujang is definitely worth buying due to its essential role in Korean cuisine, delicious and versatile nature, unique flavor, and the added health benefits it brings to dishes.
What is Sunchang gochujang?
Sunchang gochujang is a popular hot pepper paste in Korea that has a rich and enhanced traditional flavor. It is made with a blend of ingredients including corn syrup, rice, water, red pepper mixed seasoning, red pepper powder, and soybean. The nutrition facts for this product are not available.
What is the Japanese equivalent of gochujang?
The Japanese equivalent of gochujang is miso paste, which shares a similar paste-like texture and flavor. Miso paste is made from fermented soybeans, just like gochujang, and can serve as a suitable substitute. Another option is doenjang, a Korean fermented bean paste.
What are the levels of gochujang?
The levels of gochujang range from Mild to Extreme Hot, with products assigned to one of these five spiciness levels: Mild, Slight Hot, Medium Hot, Very Hot, and Extreme Hot.
Is store bought gochujang healthy?
Store bought gochujang is generally not a significant source of vitamins, but it does contain some nutrients. While it may not be considered a superfood due to its lack of high concentrations of specific vitamins, gochujang does contain vitamin-rich ingredients such as chili peppers and soy protein.
What is the difference between gochujang and gochugaru?
The difference between gochujang and gochugaru lies in their texture and form. Gochujang is a thick, fermented paste, whereas gochugaru is a coarse or fine powder that is made from dried and crushed red chili peppers.
Final Thoughts
If you're wondering how to add Korean flavors to your meals at home, look no further than these gochujang brands for a spicy and sweet combination that makes a great addition to your meal. Most gochujang brands offer various spice levels, so you're guaranteed to find the sauce perfect for you.