As the popularity of Korean dishes grows worldwide, many people have found the holy grail of Korean sauces, gochujang.
This spicy red paste consists of chili powder, glutinous rice, fermented soybean, and salt. The taste is spicy and sweet, so it's a frequent addition to authentic Korean cuisine.
Read on to find out the best gochujang brands available so you can create amazing Korean meals right at home. We will also cover some of the key components of this chili paste and answer some common questions.
1. Chung Jung One Gochujang Korean Chili Sauce (Vegan & Gluten-Free
Chung Jung One is likely the most well-known gochujang brand in the world. This particular version of the brand's gochujang is both vegan and gluten-free, which is excellent for people on restricted diets or with allergies who still want to enjoy the spicy chili sauce.
2. Chung Jung One O'Food Brown Rice Gochujang
Chung Jung One has a second entry on our list, which isn't surprising considering how prolific the brand is.
The O'Food brand is slightly different than the primary Chung Jung One brand, so it comes with different labeling, packaging, and ingredients. This gochujang uses brown rice for a healthier version of the classic paste.
3. Sempio Gochujang
Sempio is likely the second most well-known gochujang brand after Chung Jung One. Similar to the previous brand, Sempio offers a ton of options when it comes to their gochujang.
Among their options are gluten-free, vegan, non-GMO, organic, different spice levels, and gochujang with lemon.
4. Roland Foods' Gochujang Hot Chili Paste
Roland Foods' gochujang hot chili paste is on the sweeter side and is a bit less savory, though it still contains a ton of heat for spice lovers.
This product uses corn syrup, which is why it comes out a bit sweeter than some of the other pastes.
5. Q-Rapha Classic Korean Gochujang
Q-Rapha keeps it relatively simple with their gochujang. The ingredients are all-natural, and the list is pretty short, just soybean powder, chili powder, cane sugar, tomato, rice, brown rice syrup, salt, and alcohol (for the fermentation process).
Adding tomato to the ingredients helps keep the savory side fully present with this sauce, while the pure cane sugar brings some natural sweetness.
6. CJ Haechandle Vinegared Gochujang
CJ Haechandle is the most popular brand for gochujang in South Korea. The brand uses the traditional process for creating gochujang, which they claim creates a better umami flavor than their competitors.
Chili peppers are only added to the mixture after the rice and four are fully mixed. The brand also offers gochujang sauce that includes vinegar, which gives the sauce an extra bite and is ideal for dishes that include vegetables.
7. Bibigo Gochujang Sauce
The Bibigo gochujang sauce is one of the sweeter options for this traditional sweet and savory sauce. The ingredients include brown sugar and soy sauce, so you get the perfect mix of sweet and salty.
People have noted that the fermented flavor is a bit weaker, so if you don't love that fermented taste, this sauce is excellent for you.
8. Sunchang Gochujang
Sunchang's gochujang is a bit unique because the brand offers its product in the classic gochujang tub, but they also offer small tubes, similar to concentrated tomato paste.
The flavor is in line with classic gochujang, but the tube container is easy to store, doesn't allow air in, and is convenient to use.
9. KPOP Foods Gochujang Sauce
The KPOP Foods gochujang is unique due to its packaging. Most gochujang containers are small tubs, so you can easily scoop out the paste.
Instead, the KPOP Foods gochujang sauce comes in a convenient squeeze bottle. This makes it a perfect option for people who always want a little extra spice to pour on their meals.
What Makes Gochujang Good?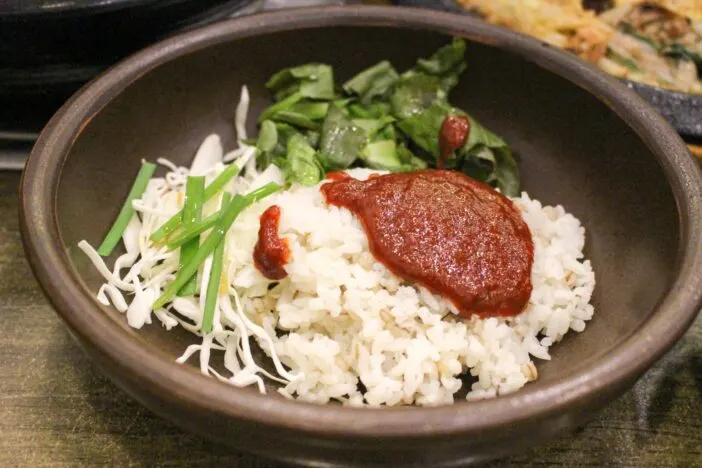 All of the brands we've listed make excellent-quality gochujang. But what exactly makes a good gochujang sauce? The three key components to good gochujan are:
quality ingredients
robust flavor
smooth texture
Quality Ingredients
Any good food product has to start with quality ingredients. The primary ingredients for gochujang are quite simple: chili powder, rice, fermented soybean, and salt.
Some brands add barley malt, but many decide to leave this out, so their product is gluten-free.
Chili powder and fermented soybean are the most critical ingredients in terms of quality.
The chili powder should be relatively fresh because any powdered seasoning loses potency over time. Steamed (rather than boiled) fermented soybeans are usually considered superior.
Robust Flavor
Gochujang may be used as a sauce, but you may also see it used as an ingredient in cooking Korean dishes. Because of this, the flavor of the gochujang must be robust and intense enough to shine through the other ingredients (similar to Korean BBQ Sauce).
Smooth Texture
Gochujang usually comes in the form of a paste, which is a bit thicker than other typical sauces like ketchup or barbecue sauce.
Because it is a paste, it's important that the gochujang has a smooth, even texture. This makes it easy to incorporate the paste into other dishes and sauces ideally.
Frequently Asked Questions About the Best Brands of Gochujang
Here are some of the frequently asked questioning regarding gochujang brands.
What is the most popular gochujang?
The most popular gochujang likely depends on where you are in the world. In South Korea and many other areas in Asia, CJ Haechandle is the most popular brand for gochujang.
In addition, the brand makes a few different types of gochujang (different spice levels and ingredients), so they are popular for their variety as well.
In the United States, the most popular brand of gochujang is a tie between Chung Jung One and Sempio. However, in the United States, the medium spice level gochujang options are more popular than in South Korea.
This is because authentic Korean food is generally spicier than Korean-American (and Korean-European) dishes. The extra-spicy variations are often the most popular in South Korea.
Is gochujang a brand?
No, gochujang is a spicy red chili paste often used in Korean dishes, not a specific brand name (similar to how ketchup isn't a specific brand, just a type of sauce).
Different types and recipes for gochujang exist worldwide, both homemade recipes and store-bought brands.
How many types of gochujang are there?
Different types of gochujang can be as plentiful as the number of brands that offer hot chili paste. In general, there are classic gochujang (basic, spicy red chili paste), gluten-free gochujang, vegan & gluten-free gochujang, and different spice-level gochujang options.
Many brands offer medium spice levels for people who shy away from spicy food and extra-spicy options for people who love the hottest sauce they can find.
Is gochujang the same as hot pepper paste?
The terms "gochujang" and "hot pepper paste" are interchangeably used and are generally the same. As long as the "hot pepper paste" you find mentions that it is fermented, made from red peppers, and spicy, you can be sure you're working with gochujang.
The word "gochujang" comes from the Korean words "gochu" (meaning chili pepper) and "jang" (meaning paste), so the direct translation is chili pepper paste.
Final Thoughts
If you're wondering how to add Korean flavors to your meals at home, look no further than these gochujang brands for a spicy and sweet combination that makes a great addition to your meal. Most gochujang brands offer various spice levels, so you're guaranteed to find the sauce perfect for you.