When people are on a gluten-free diet, they don't normally worry about eating lunch meat. If you are allergic to gluten, you want to be sure your lunch meat is gluten-free. Most lunch meat is gluten-free, but some can contain wheat-derived dextrin and modified food starch.
If you are allergic to gluten, these additives could cause a gluten reaction. Check out the eight best gluten-free lunch meat brands to make sure you are eating a gluten-free diet when you eat lunch meat!
Applegate Naturals
Applegate Naturals takes pride in offering meat products free of nitrates, nitrite, and antibiotics. They raise all of their animals humanely. All of their lunch meat products are gluten-free and casein-free.
Their lunch meat is whole-30 approved and sugar-free. Their Oven-Roasted Turkey Breast contains turkey breast, water, sea salt, potato starch, chicken broth, and rosemary extract. Each serving packs 11 grams of protein for a guilt-free meal.
Other lunch meat Applegate Naturals offers is Black Forest Ham, Genoa Salami, and Smoked Turkey Breast. All of these lunch meat options are gluten-free and casein-free. Applegate Naturals will make you feel good about the food you eat!
Bar-S
Bar-S is known for producing quality lunch meat full of flavor and variety. Whether you are into chicken or bologna, Bar-S has what you need. An easy lunch is waiting for you in your Bar-S lunch meat.
All of their lunch meat is gluten-free. They have poultry, ham, bologna, salami, and spiced luncheon loaf. None of their lunch meat has MSG or artificial flavors. Bar-S lunch meat is available in the premium deli, deli-style, deli shaved, and fresh pack.
Make a tasty gluten-free lunch with some gluten-free bread, some Bar-S lunch meat, mayonnaise, and mustard.
Armour Meats
Armour Meats offers frozen meatballs, pepperoni, LunchMakers, salami, summer sausage, and deli meats.
Their deli meat selections include sandwich-style pepperoni, Cotto salami, honey ham, cooked ham, 1877 Reduced Fat Hard Salami, Cooked Ham and Water Product, Virginia Ham, 1877 Hard Salami, Novara Hard Salami, Roast Beef, German Brand Bologna, 1877 Sandwich Style Pepperoni, and Browned Virginia Ham.
Armour Meats provides quality meat products that are gluten-free and diet-friendly. All of their deli meat options are perfect for a quick and easy lunch. Enjoy a gluten-free meal with tasty Armour Meats deli meat!
Buddig
Buddig lunch meats offer a large variety of packed-to-go and affordable lunch meat. They offer Buddig original, Buddig premium deli, Buddig Fix Quix, Old Wisconsin, and Kingsford BBQ. Eating Buddig lunch meat will leave you feeling good about what you eat because they use real spices and meat to make their products.
All of their products are gluten-free and have no MSG. Not only is their lunch meats packed full of flavor, but their smoked sausages and snack sticks also pack in the flavor and protein. They are great for a snack or a full meal.
Kingsford BBQ is an offshoot of Buddig and offers all of the BBQ essentials. Get ribs, pulled pork, or the BBQ platter. They offer tasty gluten-free meals!
Boar's Head
Boar's Head has been making quality meat products since 1905. Their lunch meat menu includes:
Smoked uncured ham
Applewood smoked turkey breast
Bologna
Boneless smoked uncured ham steak
Canadian style uncured bacon
Cooked uncured ham
Genoa Salami
Hard salami
Honey smoked turkey breast
Hot uncured capocollo
Oven-roasted turkey breast
Pepperoni
Prosciutto di Parma
Rotisserie chicken breast
All of their lunch meat options are high in protein and gluten-free. These products are great meals for gluten-free eaters because of their ease of access and tasty flavors.
Make a sandwich with some gluten-free bread or eat the lunch meat plain with some cheese!
Dietz & Watson
Dietz & Watson offers lunch meat, sausages, cheese, snacks, and condiments. Each of their cold cuts is carefully spiced, and slow-roasted for the tastiest lunch you'll eat. Their lunch meat is gluten-free with no artificial flavor, fillers, colors, or MSG.
Their lunch meat selection includes organic roasted chicken breast, pre-sliced black forest ham, and applewood smoked turkey breast. Dietz & Watson has other meat products like kielbasa, cheddar wurst, buffalo-style chicken sausage, bratwurst, cheddar beef franks, and more!
Dietz & Watson offers high-quality, great-tasting meat products that are safe for people with gluten allergies!
Jennie-O
Jennie-O is known as one of the biggest turkey product producers in the country. They specialize in offering turkey as bacon, deli meat, meatballs, burgers, and more! If you want turkey, Jennie-O is who you should go to
They offer a range of products in the lunch meat world. The original oven-roasted turkey breast is their best seller, but they like to spice things up with other products.
Tender browned turkey breast, turkey ham, and all-natural cracked pepper turkey breast are some of their options.
Feel good about the food you are eating when you have Jennie-O. They are dedicated to supplying their customers with gluten-free, high-quality products for those who keep their health a top priority.
Kunzler
Kunzler Meats offers a range of meat products and deli options. Multiple flavors and varieties of lunch meats make Kunzler a great choice for your gluten-free lunch needs.
Kunzler Meats' top-selling meat is their pre-sliced cooked Italian Deli Combo. This delicious deli meat brings Italy to your home!
Other options on their deli menu include smoked turkey ham, black forest honey turkey ham, cooked ham capicola, sweet bologna, an American-style meat combo, and smoked salami. All of their products are high-quality and are sure to leave you satisfied.
Go with Kunzler if you want bulk deli meats for a great price. Kunzler Meats will be your new favorite gluten-free lunch option!
Frequently Asked Questions about Gluten Free Lunch Meat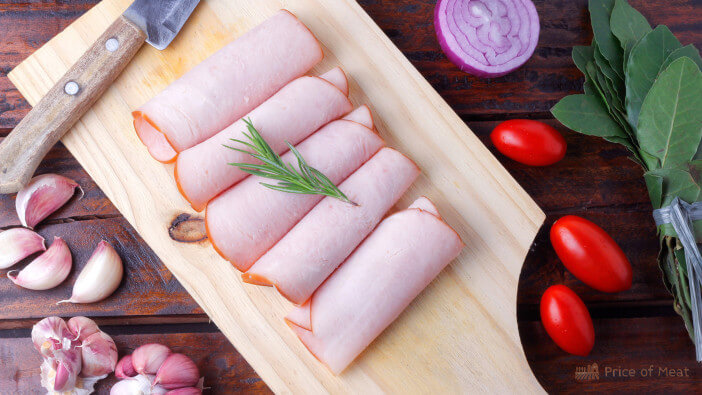 With the rise of people eating a gluten-free diet, there are many questions. If you are new to eating gluten-free, check out what other people are asking about brands of gluten-free lunch meat.
What brands of deli meat are gluten-free?
Some brands offer all of their products as gluten-free, while others, only some of their products are gluten-free. Some brands that are all gluten-free include Applegate Natural & Organic Meats, Bar-S, Boar's Head, Buddig Original, Gallo Salame, and Land O'Frost.
Some brands that offer mostly gluten-free meats are Butterball, Dietz & Watson, and Jennie-O.
Are all deli meats gluten-free?
No, not all deli meats are gluten-free. Most lunch meat is gluten-free, especially if you get it freshly cut. Most plain turkey, chicken, roast beef, and ham do not contain gluten. Some pre-packaged deli meat can contain gluten.
Is Hillshire lunch meat gluten-free?
No, Hillshire Farm oven-roasted turkey breast and their honey ham deli meat are not gluten-free. Some of the flavorings added to Hillshire Farms meats contain gluten in them,
Are Boar's Head meats gluten-free?
Yes, all of Boar's Head cheese, meats, and condiments are gluten-free. Boar's Head takes pride in providing gluten-free products to its customers. Boar's Head has always been gluten-free and will continue to be gluten-free.
Are cold-cut meats gluten-free?
Meat in its natural state is most likely gluten-free. For example, if you get out some burger and grill it, you are unlikely to run into gluten problems. The issue comes when you are buying pre-sliced, flavored meat products like deli meat. Some of the preservatives or flavorings could contain gluten, so always check the labels of the meat you are buying if you have a gluten allergy.