10+ Best Expensive Cookware Brands for Deluxe Kitchens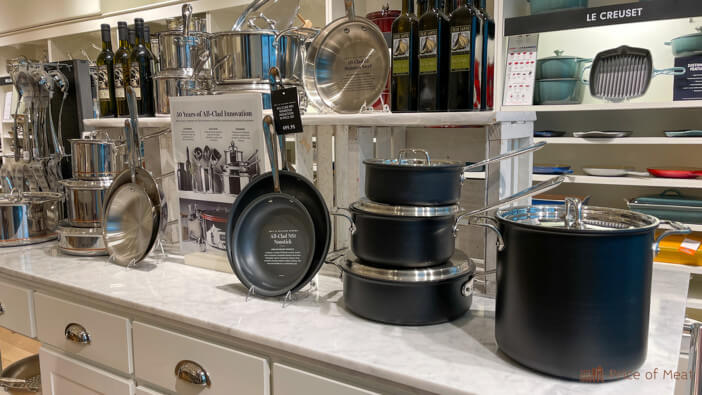 If you have a top-of-the-line oven, the most famous cookbooks, and a kitchen that could make anyone jealous, don't let it go to waste by using subpar cookware!
There are various factors to consider when buying cookware, such as durability, functionality, and safety.
Most of the time, you get what you pay for when it comes to kitchen cookware. So spending a little more on expensive cookware brands is more often than not worth it, as that way you can properly equip your kitchen.
Disclosure: As an Amazon Associate, this site earns from qualifying purchases. Thank you!
Quick Sidenote – check out our shop for a curated selection of the best meats, cuts, sausages, and more. Open our shop in a new tab and explore!
The Best Luxury Cookware Brands 
Any company can make low-quality cookware and slap a hefty price tag on it, but how do you know you're getting something more than just expensive pots and pans? 
Without further ado, below are the ten best expensive cookware brands to bring your deluxe kitchen to the next level.
Demeyere
One of the highest quality and most expensive cookware brands is Demeyere, specifically its Atlantis cookware collection. They craft top-notch stainless steel and nonstick pots and pans that can stand the test of time.
While the stainless steel collection is the most popular, the nonstick Demeyere collections are also excellent choices for a deluxe kitchen.
Ruffoni
Ruffoni is one of the best cookware brands when you're curating a lavish kitchen. The company makes handcrafted Italian cookware that is not only beautiful but amazingly functional.
The products combine only the best materials and cooking technology, and the Italian craftsmanship is unmatched.
The bonded construction ensures the cookware will last decades of consistent use. Ruffoni is the ideal expensive cookware brand if the elegance and appearance of your cookware are just as important as how well they make food.
Matfer Bourgeat
While some expensive cookware brands stick to tradition, Matfer Bourgeat combines conventional construction methods with new and innovative styles.
On their website, you can find everything from salad spinners to cast irons. Some of their most popular products are from their copper cookware line, offering a rustic but sleek design.
Le Creuset
Le Creuset is a well-known cookware brand in America. Not only do they craft their cookware to be durable and high-performing, but they offer their products in a range of stunning colors so you can match your equipment to your lovely kitchen.
This cookware company is ideal for people who love colored enamel and sturdy cast iron pots and pans. Many home cooks are willing to splurge on this highly reputable brand, even if they don't have a deluxe kitchen.
Hestan
For people who swear by stainless steel, Hestan makes premium pots and pans with the highest quality steel. Major food and cooking magazines recognize Hestan as a top brand in the industry, including Bon Appetit, Food & Wine, Saveur, and Robb Report.
Hestan products also focus on ergonomics, making maneuvering pots and pans easier. You can feel the quality Italian craftsmanship in every item, enhancing your kitchen to feel even more decadent than before.
ScanPan
If you want the cookware that the pros use, buy ScanPan products. ScanPan makes high-performance cookware sets that only use the best materials. All the cookware is made in Denmark and crafted with ceramic, steel, or cast iron.
While these are high-quality products, they can go in the dishwasher without becoming worn. Almost all the products from ScanPan are non-stick, making cooking and cleanup a breeze. The products don't come cheap, but compared with other expensive cookware brands, they're reasonably priced.
Calphalon
Another well-known cookware brand is Calphalon. The company crafts each piece of cookware to help home chefs create the best meals possible. There is a wide array of Calphalon products and they use many materials, such as ceramic, non-stick, stainless steel, and cast iron.
They aim to make the home chef's life easier, so they kick their products up a notch by pre-seasoning cats iron, hard-anodizing non-stick pans, and oil-infused ceramic. Believe it or not, Calphalon products can make every dish you prepare taste even better!
Lodge
Lodge exclusively makes and sells cast iron cookware. If you love well-seasoned, hefty cast iron pots and pans, there is no better manufacturer than Lodge. Cast irons may be a bit more tricky to care for, the extra effort is worth it for the impeccable food you can create with them.
You can find super unique cookware products on the website, like cast iron pans imprinted with the American flag or cast irons shaped like guitars. Curate your kitchen with unusual and high-quality cast irons for a truly deluxe atmosphere.
Mauviel
You can find a specific piece of cookware for every possible recipe on Mauviel's website. They offer premium curved splayed pans, stainless steel roasters, and paella pans. Whether you like steel or copper pans or glass or metal lids, Mauviel will have the perfect product for you.
The products are chic, so you can proudly display them in your gorgeous kitchen. Every piece is handcrafted in France and comes with a lifetime guarantee.
All-Clad
All-Clad is a top brand in the cookware arena and continues to expand its line of products. They now offer forged knives made with the highest quality materials.
But the number one products on their site are still pans, skillets, cookie sheets, and other standard cookware every kitchen should have.
With ergonomic handles, enhanced construction, and premium materials, the products are designed to function impeccably and last forever. The bonded cookware sets will fit fabulously into the most lavish kitchens.
Why Is Cookware So Expensive?
Even if you're willing and able to buy the priciest cookware on the market, you're probably still wondering why the price tags are so high, and there are a few reasons!
Materials
The more expensive the materials are, the more expensive the cookware will be. Premium stainless steel, copper, and cast iron will always be more expensive than non-stick or aluminum.
Construction
Hand-crafted cookware is more expensive than factory-made products. Also, some cookware uses multiple layers of bonded metal to make them sturdier and allow them to conduct heat more efficiently. Any products hand-crafted or with multiple bonds will be far more expensive.
Manufacturing Location
Cookware made in Europe or America is more expensive due to labor costs, regulations, and available materials. Any brands that say they're made in Switzerland, Italy, Denmark, France, or the US will be more expensive.
Brand Reputation
As you can see, all the brands on this list are highly respected, even by professionals. Brands with impeccable reputations can charge more for their product.
FAQs about Expensive Cookware
Refer to the commonly asked questions below if you're still wondering about expensive cookware brands.
What is a good brand of cookware?
Every brand on this list makes outstanding cookware. But some of the most reliable and reputable brands are Le Creuset, Lodge, and Calphalon.
What cookware do most professional chefs use?
Most professional chefs use ScanPan, but many also use All-Clad or Lodge.
Which is the most expensive pan?
Many factors play into the price of a pan, such as materials, brand reputation, and construction. The most expensive pan from the brands on this list is the All-Clad Copper Core Depp Saute Pan, which costs just under $300.
What type of pans does Gordon Ramsay use?
Gordon Ramsay uses ScanPan, like many other professional chefs. Many people consider ScanPan ideal for commercial use because they're so durable and high-performing.
What is the best brand name for cookware?
The best brand name for cookware is Hestan, known for its durability. Cuisinart is the most reliable cookware brand. De Buyer offers the best food-specific cookware. Mauviel is the top choice for copper cookware. Staub is renowned for its baking cookware. FINEX is the best brand for cast iron cookware. For low and slow cooking, the best option is available. The best enameled cast iron cookware can be found.
What is the most durable brand of cookware?
The most durable brand of cookware is Abbio. Abbio showcases its durability through its pan, which is constructed with a combination of stainless steel and aluminum, ensuring a fully-clad design. Additionally, Abbio offers a nonstick coating with four layers, guaranteeing fast and even heating, as well as effortless food release.
What pans does Gordon Ramsay use?
Gordon Ramsay uses a variety of pans in his cooking endeavors. In his cooking series MasterClass, he utilizes the ScanPan brand, while in the FOX TV series Hell's Kitchen, he relies on the All-Clad brand. Both of these pans are renowned for their exceptional quality and feature thick, heavy bases that ensure even heat distribution. However, when cooking at home, Gordon opts for HexClad cookware.
Is Le Creuset a good brand?
Le Creuset is indeed a good brand, having been in existence for nearly a century. Throughout their long history, they have maintained a reputation for manufacturing top-notch cookware. Their product range includes cast iron skillets, Dutch ovens, and various other high-performance items. This cookware is highly regarded for its exceptional performance, long-lasting durability, convenient features, and numerous other benefits.
What pans last a lifetime?
Stainless steel pans are the type of cookware that can last a lifetime, unlike aluminum or Teflon options. If you choose to invest in a high-quality set of stainless steel cookware, you won't need to constantly replace worn-out pots and pans.
What type of pan to avoid?
You should avoid cookware coated in Teflon (typically non-stick pans) due to the use of a specific type of Perfluorocarbon (PFC) in its production, which provides a non-stick surface to prevent food from sticking.
What is the best metal pan to cook with?
The best metal pan to cook with is stainless steel, which is commonly used in professional kitchens and performs effectively for various cooking techniques. It provides excellent heat conduction compared to heavier materials such as cast iron or carbon steel. Additionally, unlike nonstick cookware, stainless steel can withstand higher temperatures and the use of metal utensils.
What pans do most professional chefs use?
Most professional chefs use carbon steel frying pans because they are highly favored in commercial kitchens for their ability to withstand the rigorous demands of hospitality environments. Pro chefs are well aware that carbon steel pans are an excellent choice due to their exceptional durability, affordability, and quick heating capabilities.
What brand do most chefs use?
Most chefs and advanced amateurs commonly use All-Clad and its various sub-brands of high-quality cookware. Typically, these cookware sets consist of two layers of stainless steel enclosing a single layer of aluminum (or sometimes copper), resulting in excellent heat conductivity and distribution.
What is the healthiest pan to cook with?
The healthiest pan to cook with is one that does not have any Teflon coating, such as non-stick pans and pots made of cast iron, stainless steel, ceramic, glass, and enamel-coated cast iron. These options are considered the least toxic and safe to use.
What kind of pans do French chefs use?
French chefs use carbon steel pans because they offer the best of both worlds – they are similar in weight to stainless steel, but food doesn't stick to the pan, making them easier to clean. Unlike cast iron, which is heavy and slow to heat, carbon steel pans provide a balance between weight and heat conductivity, making them a preferred choice among French chefs.
What cookware does Alton Brown use?
Alton Brown uses a variety of cookware, including a collection of old cast iron pieces that are no longer in production. His favorite is a Griswold from the 1940s, although he acknowledges that it is not readily available anymore. From a metallurgical perspective, Brown considers Lodge to be the top choice in terms of quality.
Is high-end cookware worth it?
High-end cookware may be worth the investment as it tends to be of higher quality and more durable compared to cheaper alternatives. However, it is important to note that the care given to these pots and pans plays a significant role in their performance. It is essential to treat them differently from the pans you are accustomed to, as each type of pot or pan requires specific care and maintenance.
What is considered a luxury kitchen?
A luxury kitchen is characterized by its inclusion of top-notch appliances, particularly if you have a passion for cooking and hosting gatherings. These high-end kitchen appliances seamlessly blend style, functionality, and durability. Moreover, many of them are designed to be energy efficient and incorporate cutting-edge smart features, enhancing the overall luxurious experience.
What goes in a luxury kitchen?
In a luxury kitchen, you will find a refrigerator seamlessly built into the design, an open layout that is perfect for cooking and entertaining, hidden trash and recycling bins, cabinets that are truly impressive, durable flooring, high-performance appliances, stunning countertops, and smart-home features for easy use.
What is the oldest kitchen brand in the world?
The world's oldest kitchen brand is Poggenpohl, which allows you to create a luxurious kitchen – CNA Luxury.
Who makes the most expensive kitchens?
The most expensive kitchens are made by Fiore di Cristallo, with their renowned designer Claudio Celiberti. Clients interested in their kitchens have to wait for eight months due to high demand. The Fiore Di Cristallo kitchen features a crystal worktop, solid copper walls, and a Swarovski crystal chandelier worth $42,000. It is priced at $1.6 million.
What is the most expensive appliance in the kitchen?
The most expensive appliance in the kitchen is the Sveid Custom-Made Corkscrew, which costs $70,000. The Meneghini Arredamenti Refrigerator follows at $41,000, followed by the Venus Century Espresso Machine at $20,000. The La Cornue Rotisserie costs $10,000, while the Hammacher Juicer is priced at $9,900. Lastly, the Mugnaini Wood-Fired Pizza Oven comes in at $8,500.