Italian salami is likely the most well-known type of salami. But if you went to try something a little different, check out the top Dominican salami brands. Dominican salami has a unique flavor that salami lovers will be excited about.
8 Best Best Dominican Salami Brands
Use one of these yummy Dominican salami brands to liven up your breakfast, meals, or create a delicious sandwich. You'll be blown away by the vibrancy of the flavors!
Induveca
Induveca is the leading Dominican salami brand and has been around since the 1960s. It offers a unique flavor that Dominicans love to have with their breakfast! You can choose from several options, all with a distinct and delicious taste.
They offer salami with extra vegetables, made from Beyond Meat, or Creole seasoned, to name a few. Induveca is probably the largest and most well-known brand of Dominican salami, so you can look for it in most major grocery stores.
If you're trying Dominican salami for the first time, Induveca will give you an authentic flavor experience.
El Latino
Like Induveca, El Latino is a well-known Dominican salami brand that shouldn't be too hard to find. The brand produces genuine Dominican salami or "salchichon," which is delicious and versatile.
While the brand's salami is phenomenal and a wonderful introduction to Dominican salami, if you've never had it, you can buy a wide variety of other Dominican meat products from El Latino!
Try their yummy salami, and if you fall head over heels for it, you'll likely love the many other products they offer, like sausage, chorizo, Cuban fries, and longaniza.
Sosua
If you love meat with a super smoky flavor, try the Sosua Dominican salami brand that uses different seasonings and added smoke to enhance the taste. It has a distinct umami flavor, ideal for a hearty breakfast or meaty sandwich.
Like all Dominican salami, it comes pre-cooked, so you can eat it as is or sear it in a pan for a crispy exterior.
It uses premium beef and pork and is a thicker variety compared to other Dominican salami brands on this list. Sosua should also be relatively easy to find in local stores that have international aisles!
Palenque Provisions
While all Dominican salami has a robust and distinct flavor, Palenque Provisions kicks it up a notch by making one of the most flavorful salamis you'll ever have the pleasure of trying.
The taste is vibrant and warm, with peppery punctuation that leaves you wanting more.
The Palenque Provisions' salami is slightly more sausage-like, with a soft, squishy texture. The salami is also smaller, only a bit bigger than the size of a standard sausage.
The company prides itself on using the most authentic Dominican spices and high-quality beef and pork to give customers the best product possible.
Higureal
The Dominican salami brand Higureal is lesser-known, so you may have trouble finding it. But it's worth the hunt if you want to taste this phenomenal meat product.
Higureal salami has a prominent beefy flavor but consists of beef and pork, like all Dominican salamis.
The salami is also unique because it has a bouncy texture that you won't find in most salamis. This texture is due to the yeast in the recipe, giving the salami a less dense consistency without sacrificing any of the spicy flavors.
Higureal salami comes in all shapes and sizes, from tiny palm-sized products to baguette-length salami that should last you a while.
Tropical
It's not the most authentic Dominican Sausage, but it still delivers the unique flavor you want. The Tropical company is a cheese company, but they also make salami, so you have something to pair with their cheese!
The Tropical salami is more lightly-seasoned, so it doesn't have the strong punch other Dominican salami brands do, but it still captures the flavor.
The most notable difference with Tropical's salami product is it uses chicken in place of beef, which dulls the savory flavor slightly.
If you've tried Dominican salami and don't enjoy the hardy flavor and all the seasonings, you may appreciate Tropical's salami with a slightly muted flavor.
Jamoneta
Jamoneta brand salami has the distinct taste of Dominican salami and has a delicious smoky flavor. This Hispanic-style salami is ideal for sandwiches or charcuterie but works in a classic Dominican breakfast!
Jamoneta doesn't diverge much from the unique taste one expects from Dominican salami brands. This salami is very dense, so it has a memorable meaty texture that elevates any recipe.
You can find this brand at most major grocery stores, and if you want to try Dominican salami for the first time, Jamoneta is a great brand to start with.
Mamita's
Unfortunately, Mamita's is another Dominican salami brand that can be tricky to get your hands on. But it's one of the most authentic Dominican salami brands. The quality of the salami is unmatched, so you can cook a genuine Dominican breakfast with Mamita's.
You can use this salami in many recipes, like spaghetti, stews, tacos, and more. Don't hesitate to buy it if you find Mamita's salami in a store. You'll love the savory flavor and impeccable texture, no matter how you decide to use it.
What Is Dominican Salami?
Dominican salami or salchichon Dominicano is a meat product consisting of beef and pork. Like all salami, it is technically a large pre-cooked sausage you can slice or dice to enjoy. It's similar to Spanish and Italian products but has a more distinct flavor.
Ingredients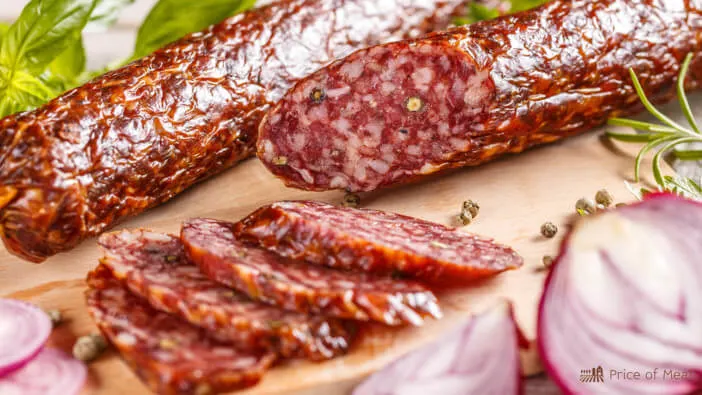 The ingredients in the product will differ between brands, but most Dominican salami brands make the meat product using beef, pork, garlic, salt, pepper, soy, smoke flavoring, and a mixture of herbs, like cilantro and oregano.
Smoke and salt are typically the most important, and spicier varieties will have red pepper chili flakes. Some brands will use more or less smoke flavoring, use different proteins, or adjust the spices to achieve a new taste.
Taste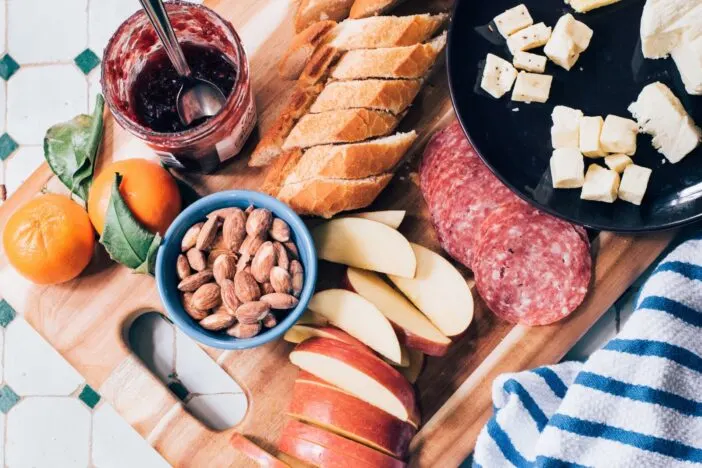 The taste of Dominican salami isn't surprising. It has a wonderful smokiness and saltiness that pairs well with vegetables or starches.
Dominican salami seems to have more depth than Italian salamis, thanks to the added smoke flavoring and excess salt, pepper, and garlic.
Uses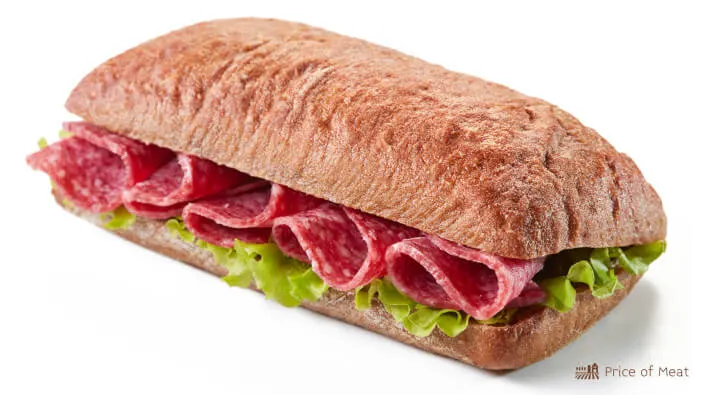 As mentioned, Dominicans typically use salami as a breakfast meat, but it is a versatile meat product that can work in many recipes. Use it in pasta, gumbo, sandwiches, casseroles, or on a charcuterie board!
FAQs about Dominican Salami
Read the commonly asked questions and answers below for more information on Dominican salami.
What type of salami is Dominican salami?
Dominican salami traditionally combines uses a combination of beef and pork with salt and other species to give it a bit of heat and a lot of flavors.
What can I use in place of Dominican salami?
You can substitute almost any kind of salami for Dominican salami. But the best options to achieve the same flavor profile are Turkish salamis, Spanish salamis, or Italian salamis.
What kind of salami is Induveca?
Induveca is one of the most popular Dominican salami brands and consists of pork and beef with several spices and plenty of salt.
Is Dominican salami cooked?
Yes, all Dominican salami is precooked before being sold. If you find an uncooked variety, it is likely not authentically Dominican.
Final Thoughts
If you're looking for authentic Dominican salami brands that pack both taste and unique flavor, the good news is you won't need to travel further than your local grocery store for some of these delicious Dominican salami brands. Dominican salami is full of robust flavor and packs powerful taste in every bite; you won't regret including some in tomorrow's meal.