Top 12 Corn Dog Brands to Satisfy Your Summer Cravings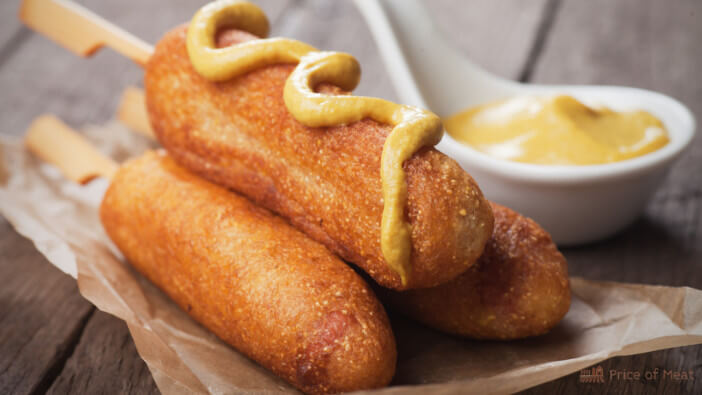 Corn dogs make a hot summer meal because they're easy to heat up in the oven, microwave, or air fryer. This food is convenient because it's on a stick, making cleanup a breeze. Kids and adults love the tasty food from these top corn dog brands.
Disclosure: As an Amazon Associate, this site earns from qualifying purchases. Thank you!
Best Corn Dog Brands
The best corn dog brands all offer something different. Read on to find out why these corn dogs taste so great.
1. Foster Farms Honey Crunchy Corn Dogs
Quick Sidenote – check out our shop for a curated selection of the best meats, cuts, sausages, and more. Open our shop in a new tab and explore!
Foster Farms Honey Crunchy corn dogs tell you precisely what you'll get in the name alone. These corn dogs top the list because Foster Farms is a quality brand.
They use juicy chicken hot dogs battered in a slightly sweet cornmeal coating to create their standout corn dog.
You can have dinner ready in less than twenty minutes by heating them in the oven. Deep fry them for ten minutes to deliver that signature crunch with each bite.
2. State Fair 100% Beef Corn Dogs
Like Foster Farms, State Fair is well-known for its corn dogs. The 100% beef option provides a good source of protein.
The honey batter adds a hint of sweetness to counteract the saltiness of the beef. You can also check out their classic corn dogs, made with turkey, chicken, and pork.
State Fair corn dogs come in different sizes based on how quickly your family eats them. You can buy them in quantities ranging from a two-pack to a box containing 22 corn dogs.
3. Bar S Classic Corn Dogs
Bar S is a brand known for its meat products, including:
Bacon
Bologna
Ham
Hot dogs
Sausages
Corn dogs from Bar S have a chicken and pork center coated in honey batter. Bar S also offers a unique breakfast option, donut dogs. They dip their signature chicken and pork hot dog in cake donut-flavored batter.
4. Great Value Classic Corn Dogs
Some people think brand-name products are always better than store brands, but that's not the case here. Great Value is Walmart's store brand, and its corn dogs are among the best.
Its classic corn dogs use chicken hot dogs dipped in batter that contains honey and onion powder, giving them a unique savory taste.
You can buy Great Value corn dogs in a box of six or try the snack-size version in packs of 40 mini corn dogs.
5. Morning Star Veggie Corn Dogs
Vegetarians and vegans can still enjoy the delight of tasty food on a stick with Morning Star Veggie Corn Dogs. They taste like the real thing, so all families will love this brand.
The meatless hot dog and coating contain delicious spices, onion, and garlic, with a hint of brown sugar for some sweetness. However, avoid them if you're watching your sugar intake.
6. Applegate Naturals Uncured Beef Corn Dogs
The Applegate Naturals Uncured Beef Corn Dogs will be a hit summer meal with parents who try to serve their children healthy foods. These gluten-free corn dogs use uncured beef hot dogs.
The meat comes from grass-fed, pasture-raised beef. Applegate treats its animals humanely, and this care extends to its quality food.
The corn dogs are also dairy- and casein-free, making these the best choice for people with various allergies and dietary restrictions (though definitely not low carb).
7. Johnsonville Corn Dogs
Johnsonville is a big name in breakfast sausage, rope sausage, and brats. It offers a few different versions of corn dogs, like smoked pork corn dogs and Beddar Cheddar corn dogs.
f you've ever had meat from Johnsonville, you know these will be top-notch. They're so popular it can be tough to find them in stores. If you do, be sure to stock up.
8. Oscar Mayer Corn Dogs
Oscar Mayer is well-known for its lunch meats, bacon, and hot dogs. It also makes corn dogs with its turkey and pork hot dogs, but they can be hard to find unless you order them in bulk.
People who live in the Southeast can often find Oscar Mayer corn dog nuggets in Publix stores.
If you can't find the corn dogs in your local grocery store, grab a pack of Oscar Mayer hot dogs and cornbread mix and use the company's corn dog maker.
9. Nathan's Famous Corn Dog Nuggets
Nathan's Famous corn dog nuggets are another treat you'll need to order in bulk. However, if you've ever had a Nathan's Famous hot dog, you know these nuggets won't last long.
Nathan's Famous isn't just the brand name – it's the truth. These hot dogs are well-known and drooled over worldwide.
10. Kroger Corn Dogs
Kroger is a grocery store with locations in 35 states. You'll love the Kroger brand corn dogs if you're lucky enough to have one of the stores nearby. The store has a chicken and pork option and a 100% beef choice.
Regardless of which version you buy, you'll taste a juicy hot dog surrounded by fluffy cornmeal coating. You'll get a good crunch by heating them in the oven.
11. Field Roast Mini Vegan Corn Dogs
Field Roast is a plant-based meat and cheese company. Their meatless hot dogs have a smoked flavor that pairs nicely with the cornbread coating to create a delicious miniature snack.
Keep your summer meal healthy by pairing the vegan corn dogs with a flavorful salsa instead of plain ketchup or mustard.
12. Jimmy Dean's Pancakes and Sausage on a Stick
Bar S has a donut dog, but that's not the only breakfast corn dog option. Jimmy Dean's Pancakes and Sausage on a Stick are filling and delicious, providing a healthy breakfast on the go.
You can warm them in the oven or microwave and dip them in maple syrup. If you're eating during your commute, you'll love the hint of sweetness in the batter that stands in for syrup.
What Makes a Corn Dog Taste Good?
Corn dogs taste good because the salty hot dog has a slightly-sweet coating. The corn dog batter usually has a hint of honey that perfectly complements the meat.
Corn dog coating is close to cornbread but fluffier and softer. These corn dog brands figured out the perfect way to make their food stand out from the competition.
Frequently Asked Questions
You've learned the best corn dog brands, but these frequently asked questions will give you more information about this hit summer meal.
Are corn dogs chicken or beef?
You can find chicken or beef corn dogs, depending on the brand. Many brands on this list use beef hot dogs, while Foster Farms offers a chicken option.
What state has the best corn dogs?
Thanks to the above brands offering frozen corn dogs for purchase in grocery stores, you can find the best summer meals anywhere you live. Some stores don't have locations in every state, but you'll always find a quality corn dog brand in the freezer section.
Are frozen corn dogs already cooked?
Yes, frozen corn dogs come cooked and deep-fried, then frozen until you're ready to eat them. While you could technically eat the defrosted corn dogs, warming them up in the microwave, oven, or air fryer makes them taste much better.
What are Foster Farms corn dogs made out of?
Foster Farms uses chicken for its corn dogs. The batter uses corn flour, corn meal, and honey.
More FAQs
Which is the best corn dog?
The best corn dog is Foster Farms Corn Dogs. Moreover, Foster Farms is recognized as an American Humane Association Certified company that values the well-being of its chickens and treats them as living beings rather than mere food sources. Foster Farms not only offers mouthwatering chicken nuggets but also provides delightful corn dogs.
Does Nathan's make corn dogs?
Nathan's Famous Coney Island Original Corn Dogs are made and available in a 13.35 oz. Box. These corn dogs are smoked and can be found at Foodtown.
Is there a recall on Foster Farms corn dogs?
There is a recall on Foster Farms corn dogs. The recalled product has lot codes 123114 or 223114, plant number "P-9136", and a "Best If Used By" date of April 23, 2024 printed on the package. These products were shipped to retail locations nationwide, as stated by FSIS.
Are corn dogs recalled?
Corn dogs are being recalled due to possible spoilage. Specifically, a 1.83-pound resealable bag of Foster Farms Mini Corn Dogs Bite-Sized Chicken Franks Dipped In Batter Honey Crunchy Flavor is being recalled by the USDA.
Where was the original corn dog made?
The original corn dog was made at the Oregon Coast, specifically in Rockaway Beach along Highway 101. It is an American classic and may surprise you that this beloved fried food on a stick was invented there. A notable roadside attraction in Rockaway Beach features a giant corn dog on the roof, which often catches the attention of passing drivers.
What are Foster Farms corn dogs made out of?
Foster Farms corn dogs are made out of a batter that includes water, enriched flour, sugar, yellow corn flour, enriched degermed yellow corn meal, soy flour, and less than 2% of leavening.
What is the meat in a corn dog called?
The meat in a corn dog is called a sausage, typically a hot dog, which is skewered, coated in a cornmeal batter, and deep-fried.
What are Fletcher's corn dogs made of?
Fletcher's corn dogs are made of a delectable blend of beef, pork, cheddar cheese, jalapeno peppers, and a unique combination of spices, creating the irresistible Jalapeno & Cheese Corny Dog.
What is the bread around a corn dog made of?
The bread around a corn dog is made of a mixture of 1 cup of all-purpose flour and 3 cups of stoneground cornmeal (or regular yellow cornmeal can be used). It is important to note that self-rising cornmeal should not be used in this recipe. Additionally, 1-1/2 teaspoons of baking soda are included in the ingredients.
Is a Pluto pup a corn dog?
A Pluto pup is a corn dog, which is a popular choice among children, consisting of battered sausages.
Who invented the corn dog Oregon?
The corn dog in Oregon was invented by George and Versa Boyington, a husband and wife team, in the late 1930s. They operated a small hot dog stand on Rockaway Beach, selling these delicious treats to both tourists and locals.