7+ Best Chinese Sausage Brands for Trying Something New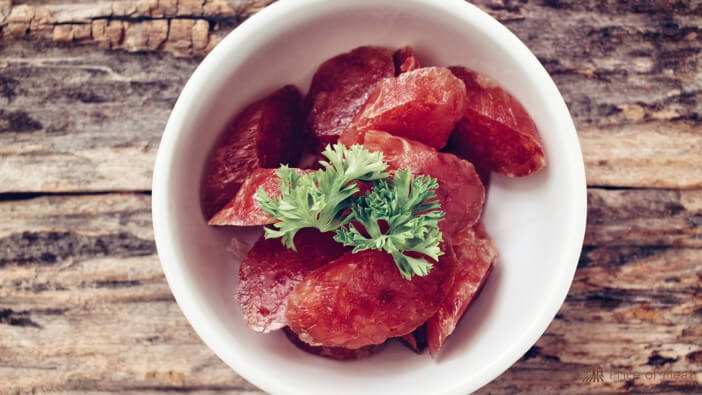 The most popular food trend today lies in the various delicious cuisines of Asia. Chinese food may have been the first Asian food culture to take hold in the United States, but there are still so many fascinating ingredients to explore!
Sausages feature heavily in North American celebrations and comfort meals. Think of digging into a hot dog at a cookout or enjoying a savory sausage-embedded stuffing on Thanksgiving Day. In China, sausages are often used in the same way.
Try something new and exciting by cooking with Chinese sausages! Learn more about this dynamic and useful ingredient by exploring the seven best Chinese sausage brands available today.
Disclosure: As an Amazon Associate, this site earns from qualifying purchases. Thank you!
Quick Sidenote – check out our shop for a curated selection of the best meats, cuts, sausages, and more. Open our shop in a new tab and explore!
1. Kam Yen Jan
The most ubiquitous Chinese sausage brand is Kam Yen Jan. This manufacturer is the leader in providing Chinese cured meat products to a North American audience.
However, you may not always see the term "Chinese sausage" on the label, so search for the Cantonese words 'lap cheong' instead.
If you are looking for Chinese sausage in the United States, you will most likely come across Kam Yen Jan. Keep an eye out for this brand in big box stores, wholesale retailers, and most mainstream grocery stores.
Check out a line-up of authentic flavors to experience this fascinating culture's customs and food traditions. Kam Yen Jan now comes in flavors like traditional, sweet, spicy, and rose-wine-flavored Chinese sausages.
2. Wing Wing
Wing Wing uses a century-old South Chinese family recipe for its popular brand of Chinese sausages.
Now manufactured in Vancouver, Wing Wing sausages span around the world, appearing in grocery stores in Europe, Africa, the Caribbean, and New Zealand.
This Chinese sausage brand produces two types of Chinese sausages: lap Cheung and guan Cheung. The lap Cheung recipe typically features only pork.
Gran Cheung blends both pork and liver sausages for a strong, distinct flavor and intense red color.
Try Wing Wing Chinese sausage in fried rice or lettuce wraps for an Asian-inspired dish. Or diversify your next charcuterie plate or homemade pizza with this flavorful brand of Chinese sausage.
3. Mai Quoi
This California brand of Chinese sausages uses an authentic recipe to deliver this bold and nostalgic flavor to an American audience.
Mai Quoi offers thick and succulent sausages that resemble those familiar to Americans instead of the skinnier version common in China.
Mai Quoi offers several different types of proteins in its delicious line-up of Chinese sausage flavors. Try chicken, pork, and beef sausages, pork and chicken blend, and a robust pork-beef blend.
Rice wine features heavily in this recipe. Mai Quoi effectively delivers the authentic sweet and briny flavor that so many people love about Chinese sausages. Look for Mai Quoi sausages available from large online retailers.
4. Quang Tran
This niche brand of Chinese sausage enjoys a devoted following. Try all proteins available from the Quang Tran line-up, including pork, chicken, and an assertive liver flavor.
While some brands of Chinese sausage can seem sweet, Quang Tran achieves a delicious balance between salt and sugar.
Chinese sausages contain an explosion of flavor. That's why it's so easy to cook with this versatile ingredient! Steam, grill, or stir-fry these sausages as a hearty accompaniment to soups or egg dishes.
Many Chinese sausage aficionados claim this meat is so flavorful; no other ingredients are needed for a great meal! Simply steam your Chinese sausage alongside white rice for a complete, simple, and tasty dinner.
5. Wing Wah
Hong Kong manufacturer Wing Wah offers a premium Chinese sausage product featuring authentic and exciting ingredients. This brand's website offers both local products and some available for online orders.
Rose-flavored cooking wine, high-quality pork, and natural casings make this Chinese sausage brand unique. If you are looking for the bold flavors of duck liver sausage, Wing Wah can hook you up.
Popular offerings from Wing Wah include their Preserved Meat Sausages for a snack similar to beef jerky or beef snack sticks.
According to Wing Wah, this Chinese sausage brand has cracked the code on mixing the correct proportions of fatty and lean meats.
6. Shen Dacheng
Sold in 1875, Shen Dacheng has become an indelible part of Chinese culture with its authentic brand of Chinese sausages.
Think of Shen Dacheng as similar to Nestle in the United States, which manufactures bottled water, cereals, and baby food in addition to chocolate.
Shen Dacheng offers a huge variety of Chinese sausages and other types of authentic Chinese foods. Scallion pancakes, dumplings, and noodles are also all manufactured by Shen Dacheng.
Shen Dacheng holds the honor of being a "China Time-Honored Brand." The label "time-honored" represents a business successfully operating before 1956 and which represents a significant cultural contribution to the people of China.
These items are similar to those selected for the Library of Congress in America. Clothing manufacturers, Peking Ducks, and traditional Chinese medicine are all considered China Time-Honored brands.
7. Chan & Chan
If you are new to the world of Chinese sausage brands, check out the Chan & Chan website. This welcoming site provides an easy-to-understand menu of products and helpful recipe suggestions.
A Pennsylvania-based food producer, Chan & Chan is widely available in grocery stores on the East Coast.
This Chinese sausage brand offers a wide variety of creative flavors. Chan & Chan features wine-flavored, liver blend, and extra-lean versions of this bright-red sausage, along with many others.
There's no need to be intimidated by this ingredient when it comes in Chan & Chan's signature cheery and colorful packaging.
Chan & Chan makes other iconic Chinese food favorites commonly found in the frozen food section. Grab their tasty dumplings, sticky pork buns, and flavorful dim sum options.
Frequently Asked Questions
Want to know more? Read on to learn the answers to some of the most puzzling questions about Chinese sausage.
What is Chinese sausage called?
In Chinese and Cantonese dialects, sausage is called 'lap cheong.' This name translates into "wax sausage" and is the most popular form of sausage in China.
Is there a Chinese sausage?
Yes! Chinese sausage looks and tastes different from Western varieties but is used in similar applications like breakfasts and stirred into savory and filling dinners.
Is Chinese sausage different from regular sausage?
Yes! Chinese sausages use different ingredients to make this product unique. A waxy exterior and its vivid red color help differentiate Chinese sausage from Westernized varieties.
Why is Chinese sausage so red?
A distinct curing process of marinating, salting, and smoking the meat helps Chinese sausage turn its signature bright red color. Some varieties include duck or pork liver which also intensifies the red hues of Chinese sausage (and it's definitely not low sodium).
Conclusion
Chinese sausages provide a quick way to add a boost of flavor to any dish. As Asian food cultures become more and more mainstream, niche ingredients like Chinese sausage brands become commonplace.
While soy sauce and chow mein noodles are ubiquitous at any grocery store, locating authentic Chinese sausages takes a little more work.
Check specialty grocery stores and big box wholesalers for these best Chinese sausage brands. Or shop large online retailers to get a taste of Chinese sausages.
Try something new for dinner tonight with this easily-accessible and authentic Chinese product. These best Chinese sausage brands deliver authenticity and fantastic flavor.