Top 8 Bratwurst Brands for a Flavorful Sausage Experience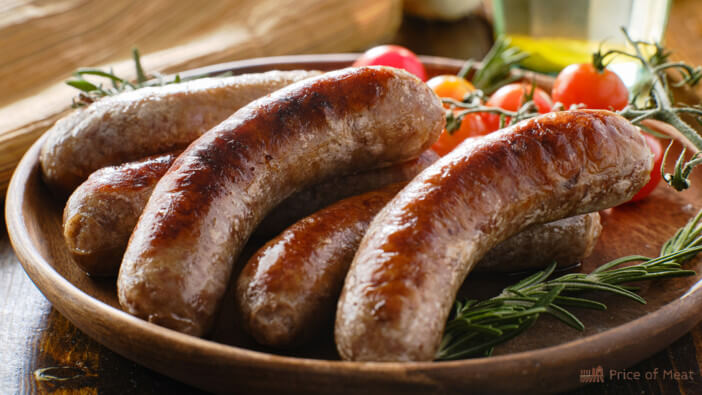 The first bratwurst recipe appears in the first century B.C. Apicius, an Ancient Roman who devoted his life to collecting recipes of his time, includes the ingredients and process to make these sausages.
Bratwurst has come a long way from these humble beginnings. Today bratwursts appear in a huge variety of flavors. Some bratwurst manufacturers strive for a high quality of meat in these sausages, which were once thought of as peasant food.
Whether you are someone who grew up eating bratwurst year-round to someone new to this zesty form of sausage, these best bratwurst brands are worth a taste. Take a deep dive into the eight top bratwurst brands available today.
Disclosure: As an Amazon Associate, this site earns from qualifying purchases. Thank you!
Quick Sidenote – check out our shop for a curated selection of the best meats, cuts, sausages, and more. Open our shop in a new tab and explore!
Louie's Finer Meats
Wisconsin serves as the American headquarters for high-quality bratwurst in the United States. German immigrants settled widely in Wisconsin, bringing recipes for their signature sausages from their homelands.
Even today, German food traditions are maintained and celebrated in this north-central state in the Midwest United States.
Louie's Finer Meats in Cumberland, WI, offers more than 100 bratwurst flavors from this family-owned butcher shop.
Try brats with the flavors of a Reuben sandwich, maple martini cocktail, or even Thanksgiving dinner. Operating since the 1970s, guests get a dose of small-town charm along with their high-quality meats.
RJ's Meats & Groceries
RJ's Meats & Groceries also hails from Wisconsin, offering a full-service grocery store filled with specialty products.
RJ's bratwurst stands apart for its dedication to using a premium breed of pork for its sausages. Only Berkshire pork, a succulent, heritage breed of pig, is used for RJ's family recipe.
These homemade bratwursts come in traditional flavors like beer, cheese, and onion. Other creative mixes dreamed up by the RJ's staff round out their bratwurst line-up.
Try innovative recipes like blueberry wild rice, bacon cheeseburger, and Cajun-inspired "dirty bird" chicken bratwurst.
Johnsonville
If you are looking to start your bratwurst journey with a household name, reach for Johnsonville brats.
This bratwurst brand sponsors national commercials and even sporting events like the American Cornhole League. Johnsonville brats are usually one of the only bratwurst brands you can count on finding at any grocery store.
Because Johnsonville brats must appeal to a large audience, some of the zestier features of brats may be missing. The prevailing flavor with these mass-produced brats is salty, but there are still signature brat spices inside.
Usinger's
Usinger's Deli Store offers a reputable online resource for deli meats, hams, cured meats, and sausages. Usinger's makes 13 different varieties of bratwurst in largely traditional flavors.
Find beer and onion, Oktoberfest, and Cajun recipes available to order in individual packages and bulk cartons.
This bratwurst brand features a unique product in its coarse ground bratwurst variety. Usinger's offers coarse ground bratwurst as a signature product.
The name refers to the larger chunks of pork sausage contained within the brat's casing. Coarse ground bratwurst delivers a unique texture some people prefer.
Klement's
Another widely-available bratwurst brand is Klement's. This brand is manufactured in Wisconsin to bring the loved flavors of Midwestern bratwurst to a large audience.
Klement's sausages are available in grocery stores throughout the United States but are most commonly found in the Upper Midwest and surrounding states.
Klement's suggests grilling their bratwurst in the traditional way they are enjoyed during Wisconsin cookouts. This brand offers only beer brats and their signature "hometown" brats, as this bratwurst brand prioritizes classic bratwurst goodness.
Niman Ranch
Niman Ranch leads the way in providing high-quality and ethically-raised meat in the United States.
Whole cuts from heritage pork breeds make up the majority of these subtly-flavored bratwursts. Niman Ranch bratwursts are gluten, nightshade, and nitrate free.
These bratwursts are sold exclusively at specialty grocery stores. There are no creative flavors contained in these sausages.
Instead, traditional German spices like onion powder, marjoram, nutmeg, and lemon are used. A simple recipe allows pasture-raised, antibiotic-free, and non-GMO meat to take center stage.
The Original Brat Hans
Another specialty store favorite, this bratwurst brand offers pre-cooked bratwursts ready to cook into delicious family meals (or corn dogs!). All-natural, antibiotic-free meats are the only proteins used in The Original Brat Hans products.
Fans rave about the unique texture and signature color of this bratwurst brand. The Original Brat Hans bratwursts appear white instead of the traditional pinkish color that turns brown when cooked.
The interior is softer and more like a mousse than the firm ground sausage texture of traditional bratwursts.
Black Forest Bratwurst Co.
This New Jersey-based bratwurst company specializes in crafting small batches of authentic European family recipes.
The signature German bratwurst from Black Forest Bratwurst Co. represents the traditional Thuringer bratwurst, first identified in the 15th century. Savor ground caraway, nutmeg, ginger, and white pepper flavors of this ancient bratwurst variety.
Black Forest Bratwurst Co. is sold only online and is not found in grocery stores.
Sausage aficionados looking for the most obscure varieties of bratwurst should take notice of this niche bratwurst brand. Black Forest bratwursts are shipped anywhere in the contiguous United States.
What Is a Good Brat?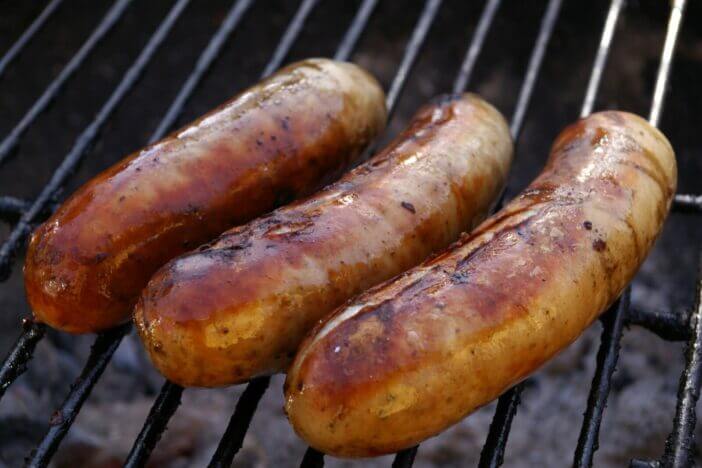 Bratwurst is the name for German sausage, just like kielbasa is the name for Polish sausage. A quality brat considers four key elements: high-quality ground meat, fat content, premium spices, and a natural casing with an irresistible snap.
Ground Meat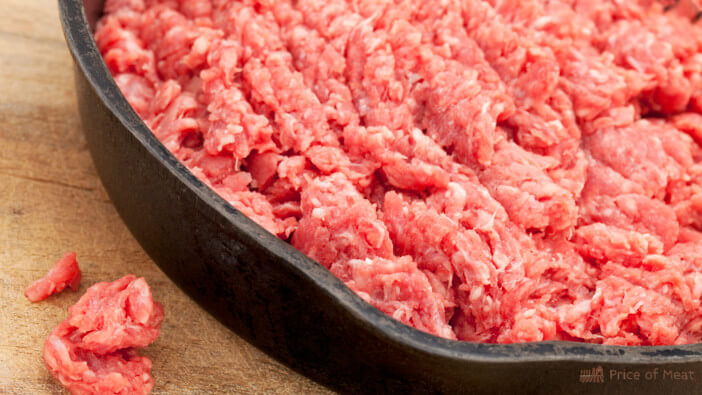 Choose a bratwurst made from sustainably-raised ground pork, veal, or beef. Check for labels like antibiotic-free or pasture-raised as helpful indicators. In addition to being an environmentally-friendly and humane choice, meat grown this way contains a deep, delicious flavor.
Fat Content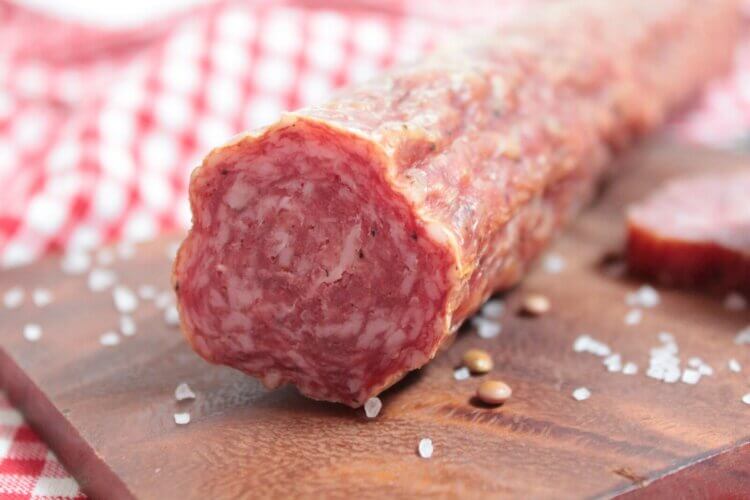 A satisfying bratwurst balances protein and fat to make a chewy and mouth-watering bite. Traditional wisdom suggests a 70% protein to 30% fat balance. Leaner cuts of meat may opt to add more fat, commonly pork fat.
Premium Spices
Freshly-ground spices and organic herbs add that additional depth of flavor to the best bratwurst brands. Herbs like marjoram and spices like nutmeg make up the traditional bouquet of seasonings for the most delicious bratwursts.
Natural Casing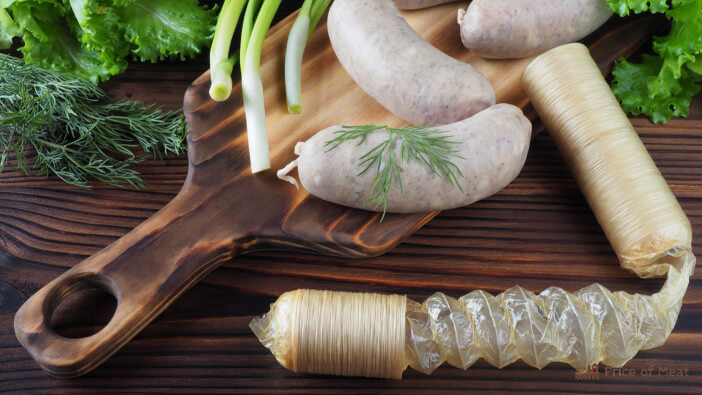 Once the protein and fat mixture is blended and properly seasoned, it all must go into a proper casing.
The best bratwurst brands use a natural casing that is easy to bite into and chew. The best casings are the ones you forget. You know, because of what sausage casings are made of.
Frequently Asked Questions about Bratwursts
Learn more about bratwurst brands with our frequently asked questions.
What brand is the best bratwurst?
As the most popular and widely-eaten brand of bratwurst, Johnsonville receives the consensus vote for the best brand of bratwurst.
What company makes bratwurst?
The most famous and recognizable brand of bratwurst is sold nationally in the United States in Johnsonville. More than 60 million Americans eat bratwurst each year.
What kind of brats are there?
Like buffalo wings and beef jerky, there are as many flavors of brats as there is a cook's imagination! The traditional flavor is just meat and beer. Today sausage lovers experiment with spicy, sweet, salty, and whimsical flavors.
Conclusion
Hot dogs are great, but when you want to take your cookout to a new level – try grilling bratwurst. This hearty sausage delivers a satisfying snap with an intoxicating mix of seasonings. Bratwurst is widely available in mainstream and specialty grocery stores.
Whether you go for a creative and artisanal bratwurst brand or old reliable, versatile bratwursts are delicious for breakfast, lunch, and dinner.