7+ Best Brands of Liverwurst To Try Next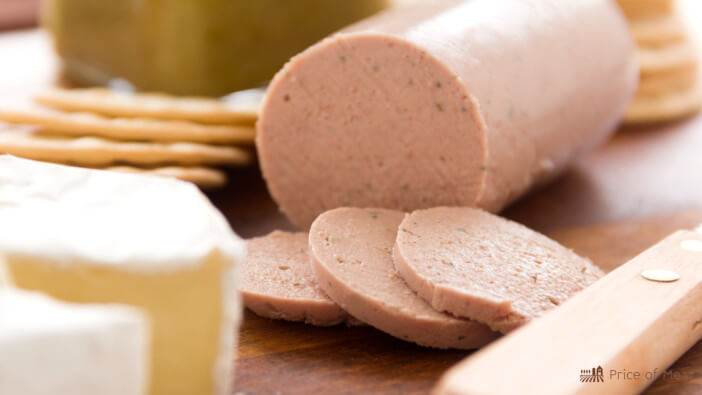 Liverwurst isn't very popular in the United States, but this tasty meat is widely eaten across Europe, especially in Croatia, Austria, Germany, and other Eastern European countries.
Made from the liver of cows or pigs, this type of liver sausage is spreadable but also comes in smoked versions.
Many people eat liverwurst spread on a cracker with cheese, sandwiches, or other ways. Not all liverwurst tastes the same, and several brands are worth trying.
Disclosure: As an Amazon Associate, this site earns from qualifying purchases. Thank you!
Quick Sidenote – check out our shop for a curated selection of the best meats, cuts, sausages, and more. Open our shop in a new tab and explore!
The Best Brands of Liverwurst
If you're on the hunt for a great brand of liverwurst, these are seven of the best brands of liverwurst to try next.
Habbersett is one of the best brands of meats out there, including liverwurst. Since the company's founding in 1863 in Pennsylvania, they've been a top option for liverwurst throughout the United States.
Habbersett's liverwurst is one of the best brands to try because they offer the product in two forms. You can choose from the tub of liverwurst or the pre-sliced version.
Most people opt for the slices if you're putting them on sandwiches, but the tube is easier to use a knife and spread.
Both options are made with a traditional Braunschweiger recipe, including pork, pork liver, and bacon. It's slightly lower in calories than other leading brands.
Bakalar is a newer meat company on our list, founded in 1937, and you don't want to write off this liverwurst brand simply due to being newer.
When looking on their website or for this product in stores, it often goes by the name Summer Sausage or liver sausage on the packaging.
This liverwurst comes in ring packaging in a casing that you'll need to remove before cooking. You can purchase it in two or four links per package that are reasonably long enough for a meal.
The company uses a variety of spices, pork, pork liver, pork snouts, and beef to create this delightful liverwurst.
Another delicious liverwurst brand you need to try next is from Gaiser. Their Mother Goose liverwurst is one of the most spreadable options, works well on a charcuterie board, and is the perfect appetizer for hosting a party…as long as people like liverwurst.
Each package comes with a pound of liverwurst that should be more than enough for one sitting unless you're serving a larger group of people. You can easily squeeze the product from the tube into a bowl and spread it on crackers.
This creamy liverwurst is different from the others because they use veal liver, chicken, and pork. Most don't use chicken, so this addition is a nice touch in combination with the several spices they use. 
You need to try Farmer John's product for one of the best fully cooked liverwurst brands available. This smooth liverwurst comes in a tube that's easy to open, and you don't need to worry about cooking the product before consuming it, making it a great spread at a party or get-together.
Much like other liverwurst products, the serving size of Farmer John liverwurst is two ounces and is roughly 180 calories per serving. Some say this option is a little saltier, so you'll want to avoid it if you watch your sodium intake.
As for the ingredients, they're pretty standard. This liverwurst is made with pork, pork snouts, pork liver, and bacon. Plus, a combination of seasonings.
While traditional liverwurst is made with pork liver, beef liver, or a combination of the two, many brands stand out by adding other main ingredients. Calves liver pate or liverwurst's main liver component is the veal liver.
It's entirely pork-free and a popular choice in Germany for those who prefer the taste or don't consume pork. The other ingredients that make this product worth trying include the milk, honey, sugar, and savory spice mixture.
Calves' liver pate is a great addition to any party board because it's unique and a product that is one of the easiest to spread on crackers and cheese.
John Morrell isn't new to the meat industry. They've been selling bacon, ham, sausages, and liver sausage since opening in 1827. Based in Ohio, you can get their products at almost all major grocery stores in the United States.
This brand doesn't have a wide selection of liverwurst, but their braunschweiger liverwurst is definitely one you should be adding to your list to try. Unlike other liverwurst, it has a slightly smoky flavor that isn't nearly as authentic but still tasty.
Each package of John Morrell's braunschweiger liverwurst has roughly 16 ounces, and the serving size is two ounces. For every two ounces, it's 180 calories.
Since 1905, Boar's Head has been a go-to brand for sliced meats, cheeses, dips, and spreads. If you're interested in great liverwurst, you need to try Boar's Head Strassburger liverwurst.
The company only uses the finest cuts of beef and pork to create delicious liverwurst.
To create authentic liverwurst, Boar's Head uses a recipe from Austria that provides the liver sausage with a rich flavor and smooth texture.
This liverwurst has only 170 calories per two ounces, most of which comes from saturated fats. This product comes in a casing, is dairy-free, gluten-free, and never has any MSG added to the meat.
What Makes Liverwurst Good?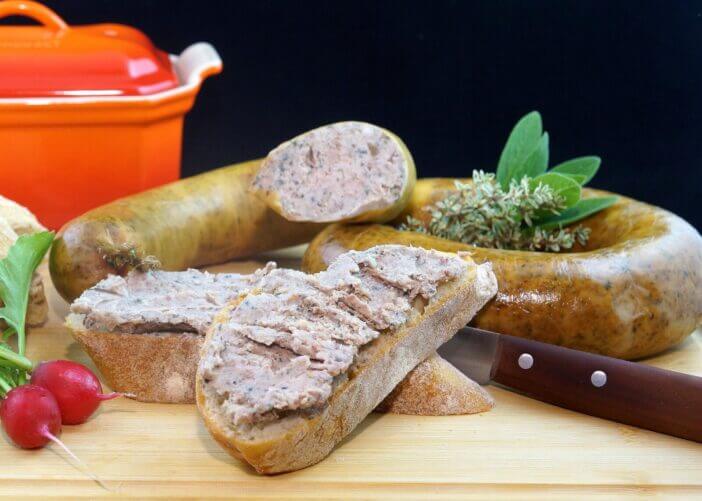 Liverwurst is an acquired taste, but what most people agree on that makes it taste good is the creamy texture and meaty flavor that's truly unique.
Frequently Asked Questions about Liverwurst
Not everyone knows what liverwurst is or any nutritional information about it. Here are some of the people's most burning questions about liverwurst.
What is the healthiest liverwurst?
Not one brand is considered the healthiest liverwurst, but if you're on the hunt for a healthy option, there are some characteristics to consider. The healthiest liverwurst will come from grass-finished and grass-fed sources. This is healthier for the animal and has natural nutrients that some liverworts don't have.
What is the difference between Braunschweiger and liverwurst?
The main difference between Braunschweiger and liverwurst is that liverwurst is a more generic term for any liver sausage, while Braunschweiger is smoked.
It's tougher than liverwurst, and you can spread liverwurst quickly usually. There is some braunschweiger liverwurst that is worth trying, though.
Is liverwurst good for your liver?
Moderation is vital for almost everything you eat, but overall, liverwurst is okay for you and your liver.
Depending on where you get it from, it can be a great source of amino acids, vitamins, minerals, and healthy fats. Consuming too much can be unhealthy, though.
Is Boar's Head liverwurst healthy?
Boar's Head liverwurst isn't necessarily healthier than other liverwurst brands. It's still a good source of vitamins, minerals, and healthy fats, but you won't want to eat a large quantity of it every day.
Final Thoughts
Next time you're in the mood to try liverwurst, you can't go wrong with the seven best brands mentioned above. Each one has something unique to bring to the table, but overall, it still encompasses everything people love about liverwurst.