11+ Best Store Bought Chimichurri Sauce for Your Next Meal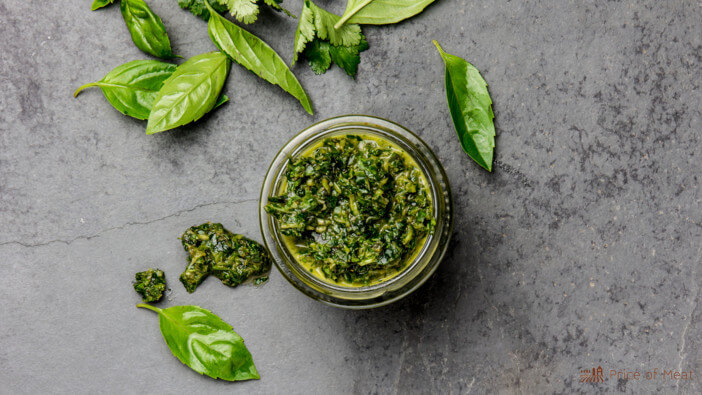 Chimichurri is a marinade and a traditional sauce used on grilled meat in Uruguayan and Argentine cuisine. Chimichurri consists of minced garlic, chopped parsley, pepper, dried oregano, paprika with olive oil, and onion.
If you want an extra zing, you can add red wine vinegar. Chimichurri is typically used as the only seasoning for chorizo and steak sausages in Argentine asados (or milanesas). It also works well as a marinade for grilled meat.
Disclosure: As an Amazon Associate, this site earns from qualifying purchases. Thank you!
Best Store Bought Chimichurri Sauces
When you're trying to figure out the best chimichurri sauce, there are many variables that you have to assess to determine which brand is best for you.
Quick Sidenote – check out our shop for a curated selection of the best meats, cuts, sausages, and more. Open our shop in a new tab and explore!
1. Gardel's
Gardel's endeavors to make the most authentic Argentine chimichurri; these sauces are handcrafted, and all the ingredients that are sourced are ingredients used in Argentina.
They include artisan vinegar and oils, Italian flat-leaf parsley, black pepper, red pepper flakes, and Mediterranean oregano.
Gardel's handcrafted sauces are all-natural & preservative free with organic, non-GMO ingredients. Gardel's chimichurri sauce pairs well with poultry, fish, red meat, bread, savories, wild game, and offals.
2. Gaucho Ranch
Chimichurri sauce stays in touch with its roots with Gaucho Ranch. Specifically, Gaucho Ranch makes a delicious blend of parsley, vegetable oil, vinegar, and spices.
Gaucho Ranch is an excellent choice for poultry, fish, and steaks. If you like an extra kick to the chimichurri sauce, then Gaucho Ranch Hot Chimichurri is the sauce for you.
t's imported from Argentina for the most authentic taste!
3. La Parmesana
La Parmesana has made a name for itself over the last 50 years, and now they are synonymous with quality sweet and sour sauces, herbs, spices, and condiments in Argentina.
La Parmesana supplies sauces and spices for all supermarket chains in Argentina as well as overseas.
You can find this popular brand in all stores across Argentina. La Parmesana is a trusted brand that provides consistent quality and exquisite flavors each and every time.
You can enjoy a delicate blend of parsley, red bell pepper, oregano, garlic, and paprika.
4. Mr. Chimi's Churri Sauce
Mr. Chimi's Churri Sauce is the perfect complement to any of your favorite meals; this sauce is available in both original and spicy. Mr. Chimi's Churri Sauce is a Hispanic-owned business based in the USA.
You can enjoy yummier meals without any added preservatives. Here are the all-natural food spices and seasonings used as base ingredients for their sauce – lime juice, coriander, olive oil, cilantro, garlic, apple cider vinegar, onions, sunflower oil, and more.
You can get a fiery kick with japones chiles and chiltepin chiles.
5. Badia Spices
Badia Spices is a family-owned Hispanic food company that's one of the leaders in this particular industry. This company manufactures, packages, and distributes marinades, sauces, seasoning blends, and more to more than 70 countries worldwide.
This sauce is made from parsley, olive oil, herbs, vinegar, and garlic. Badia is traditionally served with the Argentinean Asado and is terrific with sausages and grilled meats.
Additionally, you can use the sauce as a spread with bread or add it to soups, salads, and vegetables. The ingredients consist of olive oil, herbs, vinegar, and garlic.
6. June Moon Spice Company
June Moon Spice Company delivers an exquisite blend of extra virgin olive oil, oregano, parsley with red pepper flakes, a dab of nutty garlic, and a hint of chili pepper vinegar.
Their chimichurri sauce is made with fresh farm ingredients for zest and optimal flavors. Even a double freshness seal is used to lock in the freshness of the ingredients right after they've blended ingredients.
7. Axel
Axel brings quality and a tangy, slightly acidic flavor with hints of garlic. There are also bold spices and herbs to take your grilled meats and vegetables to the next level.
They create their chimichurri sauce with healthy extra virgin olive oil; all ingredients are non-GMO.
Axel's sauce includes bay leaf, sea salt, ají pepper, oregano, garlic, water, extra virgin olive oil, and red wine vinegar to get as close to the authentic Argentinian classic as possible.
There are no preservatives or sugar in the recipe, and it's gluten, keto, paleo, and vegan-friendly.
8. Garland Food
Garland Food, is one of the best store-bought chimichurri sauce brands you can find. This company has gained a loyal following for its signature chimichurri recipe.
The product pairs perfectly with pork sausages, roasted beef, grilled steak, and roasted chicken.
In an extra virgin olive oil base, you'll taste a distinct blend of vinegar, salt and pepper, garlic, dried oregano, and parsley.
You can even use this delicious condiment as a dipping sauce for tortilla chips, bread, and more.
9. Ricante
Ricante brings the Guanabana Chimichurri sauce, just like the original, but with a twist. Their chimichurri is a sweeter, slightly spicier version of the standard recipe with red pepper, garlic, olive oil, and parsley.
The Ricante sauce incorporates habanero pepper, apple cider vinegar instead of red wine vinegar, soursop fruit, and orange in addition to the traditional ingredients.
Ricante's keto-friendly, gluten-free, non-GMO recipe is created in Costa Rica and is a versatile alternative. You can use it for pizza, salads, burritos, tortilla chips, and more, in addition to grilled meats and vegetables. The sauce also comes in various levels of spice.
10. Mama Kicks!
Mama Kicks! is a less-recognized brand that deserves more attention for a brilliant blend of original spices and herbs, plus a few secret ingredients that make for a yummy chimichurri.
You'll appreciate this gluten-free, vegan recipe with olive oil, parsley, red wine vinegar, salt, garlic, cilantro, and a unique mix of spices.
If you make a good grilled steak or lamb chops, head to your nearest grocery store to see if they carry Mama Kicks! chimichurri sauce.
11. Goya Foods
Goya Foods is well-known throughout the United States, Spain, and the Dominican Republic as a producer of top-quality Mexican, Hispanic, and Spanish food products.
The chimichurri sauce from this company is often used as a dipping sauce or for grilled meats. It's a green sauce with extra chopped parsley, extra virgin olive oil, minced garlic, and other traditional ingredients. Goya has the tagline, "If it's Goya, it has to be good!".
12. Havens Kitchen
Haven's Kitchen kicks it up a notch because their herbaceous chimichurri sauce is heavenly. It consists of organic parsley, extra virgin olive oil, organic champagne vinegar, canola oil, and a few other secret spices.
This sauce is one of the top gluten-free and vegan-friendly options on the shelves today. You can even use it as a marinade to impart bold flavors to your meats and fish.
The green chimichurri sauce does not contain any added sugar.
Frequently Asked Questions
Here are the responses to the most commonly asked questions regarding the best store-bought chimichurri sauce:
Where is chimichurri in a grocery store?
You'll probably find the chimichurri sauce in the aisle for condiments if the restaurant has an international food section or a section that highlights Mexican and Spanish cuisines.
What goes with chimichurri sauce?
You can serve chimichurri with various dishes, including pork chops, grilled steak, and roasted veggies. This sauce pairs wonderfully with poached salmon, roasted chicken, shrimp, and more.
What is chimichurri sauce supposed to taste like?
Chimichurri is reminiscent of pesto in color and smells; it has a slightly acidic flavor, somewhat spicy depending on the manufacturer, and a fresh taste also.
How does Gordon Ramsay make chimichurri?
Gordon Ramsay's chimichurri recipe is simple but adds a blast of flavor. His version instead has garlic, salt, cilantro, sugar, parsley, lemon zest and juice, dill, and mint. Gordon Ramsay uses mortar and pestle to make the sauce.