7+ Best Japanese Knife Brands for Better Knifework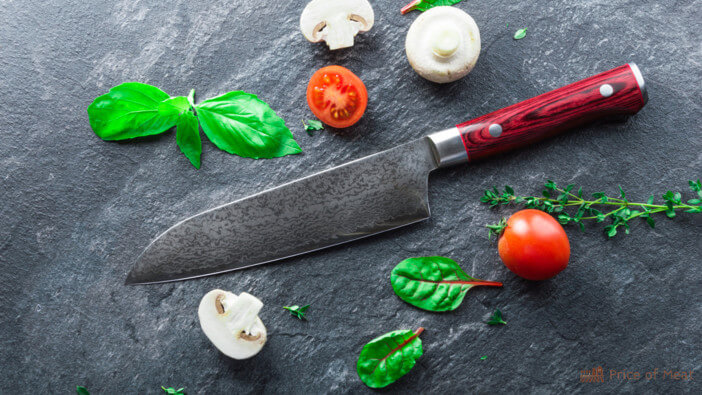 Whether you are a professional chef or amateur, you may have heard someone say how great Japanese knives are. Professional chefs praise the quality, sharpness, and beauty of Japanese knives.
Unfortunately, many manufacturers claim their knives are of Japanese quality but use poor materials or mass manufacturing.
If you're having a hard time choosing a Japanese knife collection for your kitchen, we're here to help. Read on as we cover seven of the best Japanese knife brands on the market.
Disclosure: As an Amazon Associate, this site earns from qualifying purchases. Thank you!
Quick Sidenote – check out our shop for a curated selection of the best meats, cuts, sausages, and more. Open our shop in a new tab and explore!
Best Japanese Knife Brands
All the brands below are one-hundred percent Japanese-based knife manufacturers. They use ancient smithing knowledge combined with modern manufacturing techniques to create some of the sharpest and best-looking knives on the planet.
1. Hokiyama
Hokiyama employs 800-year-old forging methods with modern manufacturing. Founded in 1919, Hokiyma was instrumental in developing manufacturing techniques for modern knives, like roll forging and ceramic blades.
These beautiful knives are works of art but are functional as well. Hokiyama offers a variety of stainless steel, carbon steel, and ceramic knives. If you are looking for a knife that melds classic techniques and cutting-edge tech, you should check out the latest knives from Hokiyama.
2. Fujimoto Nashiji
Based in Sanjo, Japan, the master craftsman at Fujimoto Nashiji has perfected their knife-making skills.
Fujimoto Nashiji blades feature a carbon steel core wrapped in stainless steel. Finally, carbon steel forms the edge of the blade. This gives the knife added durability while maintaining its sharpness. It also means the blade stays sharper for longer.
3. Tojiro
Tojiro released its first fruit knife in 1955. The company has grown and offers a diverse line of Japanese, Chinese, and western-style knives.
During manufacturing, Tojiro smiths use ancient clad steel techniques and modern, highly efficient manufacturing techniques. This lets Tojiro craft masterful knives at an affordable price.
Along with carbon steel, Tojiro uses modern materials like cobalt-alloy steel and molybdenum vanadium steel. These newer materials provide the same sharpness and ease of use as a traditional Japanese blade but are rust and wear-resistant.
4. Global Cutlery
While Global Cutlery is a relatively new company, its knife design includes thousands of years of Japanese steel smithing knowledge.
Designed by Komin Yamada, Global Cutlery knives are perfectly balanced and have an extremely sharp edge. The knives are also known to stay sharper much longer than other knives. This is due to molybdenum and vanadium added to the steel blade.
5. Hattori
No, Hattori Hanzo from Kill Bill is not behind Hattori knives. Credit for these amazing knives goes to the master knife smith, Ichiro Hattori.
Hattori began his career at 18 at his father's knife shop. By 1971, Hattori began producing knives for export. Today, they are some of the most sought-after knives thanks to their durability, sharpness, and beauty.
Along with kitchen knives, Hattori is known for his line of professional hunting knives.
6. Kikuichi
Established in the 13th century, the bladesmiths have perfected knife smithing. The smiths at Kikuichi use samurai sword-making techniques that have been handed down from generation to generation for over 700 years.
Kikuchi blades are carbon steel that is hard and holds its edge longer than many other competitors. This means less sharpening in between cooking.
7. Masamoto
For over six generations, the family at Masamoto has mastered the craft of knife making. Started in 1884 by master blacksmith Minosuke Matsuzawa, Masamoto knives now offer some of the most high-end Japanese knives on the market.
Today, Masamoto offers a diverse collection of Japanese and Western-style knives that perform well in a home or professional kitchens.
What Makes Japanese Knives So Special?
Japanese knives are known to be some of the best knives on the market. But what makes Japanese knife brands the best?
Hardness
Japanese blacksmiths are known for creating blades from hard steel. This creates a strong and durable blade. The hardness of the blade lets the blacksmith create an extremely sharp blade.
Unfortunately, hard steel does not hold its edge as long as softer steel. This means you need to sharpen a Japanese blade more often than German or western style blades. Still, if you need the sharpest blade possible, Japanese steel is the way to go.
Lightness
Japanese knives tend to be much lighter than their western counterparts. The blades are often thin and taper inside the handle. The lightness of the blade makes it easier to slice and dice quickly.
The lightness of the blade encourages chefs to use a draw-cutting technique. Instead of chopping through produce, you'll slice the food towards you while using a Japanese-style knife.
Blade Angle
Japanese knives are angled to create smoother cuts in meat, fish, and vegetables. Most Japanese blacksmiths use an angle of approximately 15 degrees on their knives.
Along with the sharpness and lightness, the angle lets you easily slice through food. The angle is essential when preparing sushi and sashimi since it allows the chef to perform smooth slices and cuts.
FAQs About Japanese Knife Brands
To answer any other potential inquiries you may have, we've compiled a list of some of the most frequently asked questions about Japanese knife brands.
What Japanese knives do professional chefs use?
Chefs always have their favorite brands. You'll find professional chefs using many of the brands we highlighted above. While the brands may differ, you'll find most chefs own these four types of Japanese knives.
Do the Japanese make the best knives?
Best is subjective. However, Japanese knives are some of the best knives on the market. For centuries, Japanese knives have been known for their strength, sharpness, and design.
German knives are the closest competitor to Japanese knife craftmanship. German knives are known for their durability and ease of use. They also need less sharpening compared to a Japanese knife.
What brand knife does Gordon Ramsay use?
As one of the most famous chefs in the world, Gordon Ramsay knows plenty about knives. On Hell's Kitchen, the contestants use Henckels knives. For Ramsay's online cooking course, he uses Wüsthof knives.
Both companies offer excellent and affordable products for home and professional kitchens.
What Japanese chef knife should I buy?
Choosing your first Japanese knife can be confusing. For beginners, a gyuto or santoku are great starter knives. These knives can handle almost all day-to-day cutting. From tough bones to vegetables, both these knife styles work great.
Where are the best Japanese knives made?
Be warned, not all Japaned Knives are made in Japan. Due to their popularity, many inferior knife companies brand their knives as Japanese Knives. Any Japanese-style knife not made in Japan may have poor production standards, and you may end up with an inferior product.
High-end Japanese knife blacksmiths are found throughout Japan. Takefu is famous for its long knife crafting history. You can also find master blacksmiths in Tokyo, Sakai City, and Seki City.