Bratwurst is by far Germany's most famous sausage with a distinct flavor and juicy plumpness sausage fans know and love.
There's nothing quite like the delicious aroma of brats cooking on the grill; it's a sausage everyone eagerly awaits, and there's nothing like that first bite to send your tastebuds into overdrive!
But what exactly is bratwurst, and why is it such a popular sausage? Below, we'll answer that question and many more.
Bratwurst: Germany's #1 Sausage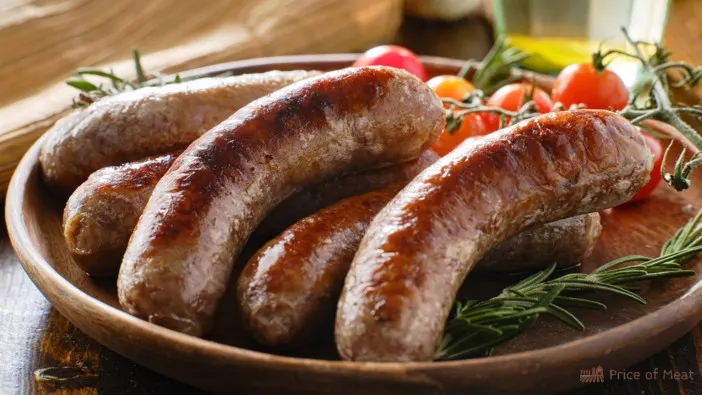 Bratwurst, also called "brats," is a kind of German sausage. Interestingly, "bratwurst," is used as a catch-all term in Germany, referring to all sausages. The word breaks down as "Brat" (for ground beef) and "Wurst" (for sausage).
Ingredients
Traditional German bratwurst is made with veal and pork, but variations such as veal and beef or different meats are also out there. What makes German bratwurst unique is the combination of seasonings — most notably the marjoram.
Common spices in bratwurst include paprika, pepper, cumin, ginger, celery seeds, sage, cardamom, coriander, caraway, and nutmeg, among other regional ingredients.
Unlike cured sausages, bratwurst is sold fresh and raw, encased in a natural casing that usually consists of animal intestines.
However, there are varieties sold that are pre-cooked and sometimes sold in cans or packs. But, most sausage fans agree that these types of brats don't compare to the flavor and texture of raw brats cooked from raw.
How brats taste
Bratwurst is a bold and flavorful sausage that can be very spicy, depending on the blend. It has a bit of a chunky texture compared to other sausages, such as hot dogs.
How Brats are cooked
Brats can be prepared in a wide variety of ways. They can be smoked, grilled, baked, boiled in water, simmered in beer, pan-fried, roasted, and air-fried, to name a few methods.
How are brats eaten
The most common way people eat brats is similar to hotdogs. They are usually eaten in soft split rolls with toppings such as cheese, chili, onions, and relish. However, the number one topping in Germany is Sauerkraut, made with shredded fermented cabbage.
However, bratwurst is also great in stews, soups, casseroles, pizza, and pasta.
Bratwurst Recipe Ideas
Here are just a few delicious recipe ideas using bratwurst.
If you want to cut back on carbs but still enjoy the savory flavors of bratwurst, this recipe for cabbage sausage wraps is right up your alley!
It's an excellent substitute for bread that is very filling and super-easy to put together. The main thing is blanching your cabbage leaves.
The ingredients for this recipe include olive oil, onion, kosher salt, bratwurst, beer, cabbage leaves, dijon mustard, and Sauerkraut.
If you're looking to shake things up on gameday with appetizers that will knock your guests' socks off, try this juicy, delicious Brat Ruben Sliders recipe.
They have all the ingredients we love, such as bratwurst links, Spanish onion, Sauerkraut, 1000 island dressing, and Wisconsin Swiss cheese, all on Pretzel slider buns!
You can also impart more flavor to your brats by cooking them 24 hours early and letting the stay warm in beer in your slow cooker.
Another way to enjoy bratwurst is to create delicious bratwurst burger patties. You can use any toppings you like on these juicy sausage burgers; this recipe uses feta cheese and Greek yogurt-cucumber sauce.
Now you can make homemade brat patties using this recipe or buy store bought.
This dish contains unique Greek flavors such as homemade Greek Yogurt, Tzatziki sauce, cucumbers, and tomatoes.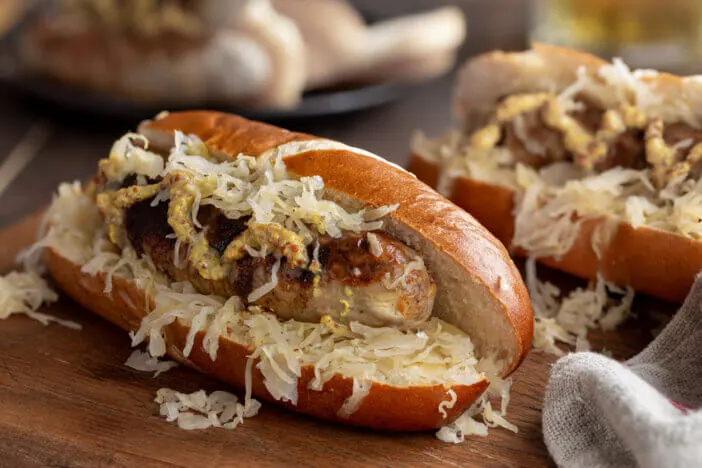 If you're looking for the perfect sandwich to go with your favorite Oktoberfest beer, then you've got to try this Bratwurst sandwich.
It features juicy beer-cooked bratwurst links, soft pretzel buns, beer-braised onions, and beer-cheese sauce.
This sandwich is messy, but you won't care about stains after one bite!
This one-pan skillet recipe is perfect for those weeknights when you want something quick and straightforward.
It features juice bits of brats, broccoli, and potatoes, all swimming in a savory cheese sauce that will make you flip!
If by some miracle, you have leftover grilled brats or want to try something new, this recipe for bratwurst pasta is super-easy and can be on your plate in 30 minutes.
You can add extras such as mushrooms, fresh herbs, diced veggies, onion, and grated parmesan or mozzarella cheese.
FAQs about Bratwurst
How is a bratwurst different than a sausage?
Bratwurst is a type of sausage. However, not every sausage is bratwurst. A few things separate bratwurst from other links. First, bratwurst is usually sold raw and fresh, while many sausages, such as smoked sausage, are pre-cooked. And bratwurst casings are natural, not artificial.
What is bratwurst made of?
Bratwursts are made using ingredients such as herbs, ground meat, and spices stuffed into a natural casing—Marjoramone of the most prominent spices in this sausage.
What is bratwurst taste like?
Brats have a rich and robust flavor that's a bit spicy, depending on the sausage blend. It has strong notes of garlic, cloves, pimentos, marjoram, and a smoky flavor. The meat also has a very subtle sweetness dancing between the other flavors.
Is a bratwurst a hot dog?
No. Hotdogs are pre-cooked and use a different blend of spices. They are made of a meat paste and formed, whereas bratwurst's ingredients are raw and stuffed into a natural casing. The tastes are dramatically different, with Brats having a much more complex flavor profile than bratwurst.