Best Crackers for a Perfect Charcuterie Spread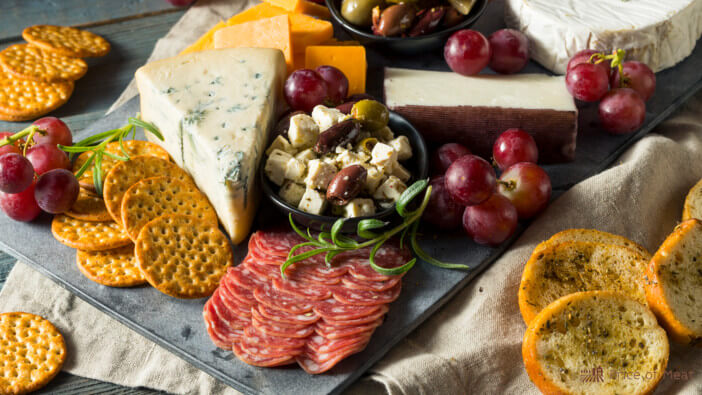 Charcuterie boards are more popular than ever, and the ideas for building out your own appetizer board are endless. A beautiful charcuterie board is easy to pull together, and it will wow your guests.
While elegant, a charcuterie board is also perfect for pulling together a quick appetizer for wine tastings or cocktail parties.
What are the best crackers for a charcuterie board? It depends on what types of cheese you're using. Let's explore some of the best charcuterie board crackers and what types to serve with specific cheeses.
Disclosure: As an Amazon Associate, this site earns from qualifying purchases. Thank you!
Quick Sidenote – check out our shop for a curated selection of the best meats, cuts, sausages, and more. Open our shop in a new tab and explore!
The Best Cracker Brands for Charcuterie Boards
These are some of the best cracker brands for charcuterie boards.
1. Ritz Crackers
Let's just start this list with the king of crackers: Ritz. Sure, Ritz crackers aren't as elegant as some of the artisan favorites on this list of the best crackers for a charcuterie board. However, you can be sure they'll be gobbled up quickly.
Ritz crackers are hearty, so you don't have to worry about them crumbling. For a super buttery cracker, you can count on Ritz.
2. Breton Original
Made with wheat germ and whole wheat flour, these round crackers are crispy with a nutty mild flavor.
Breton Original crackers are thinner than many other whole wheat crackers, and they don't have a sweet taste.
3. Potter's Crackers
Potter's Crackers have a cult following and with good reason. There are several different flavors, and because they're organic, they have added value for many customers.
Consider the caramelized onion crisps or cranberry hazelnut crackers for something different. Another unique flavor offering is Wisconsin rye.
4. Grissini Breadsticks
Breadsticks are an excellent way to add interest and drama to your charcuterie board. Grissini's breadsticks are made with olive oil and they're crisped to perfection.
With breadsticks, you can add a rustic look to your meat and cheese boards, and they look great when you stand them upright in tall glasses. Another option if you're doing a Mediterranean spread is to wrap them with prosciutto and serve them with aged Italian cheese or olives.
5. Carr's Table Water Crackers
For a classic cracker, you can't go wrong with the traditional Carr's Table Water crackers. These crackers have a neutral flavor with an undertone that's just slightly toasty.
These crackers go well with most types of cheese, and they're perfect when you want the cheese to be the star of the show.
6. Trader Joe's Red Chili Scalloped Crackers
At Trader Joe's, you can choose from dozens of different cracker varieties. One that we keep going back to is the red chili scalloped crackers.
Although they have a chili flavor, they're not overly spicy. These crackers are perfect with spreadable cheeses.
7. Lesley Stowe's Raincoast Crisps
Artisan crackers come in all flavors, and Lesley Stowe's Raincoast Crisps look like little pieces of nut bread and fruit slices.
These crackers are studded with nuts, seeds, and pieces of dried fruit, so they're as gorgeous as they are delicious. Serve these crackers with all types of cheeses, but these are especially nice with sweet and creamy cheese.
8. Carr's Whole Wheat Crackers
Having a whole grain cracker on your charcuterie board is a good idea. Some guests will appreciate the option.
Carr's Whole Wheat crackers are substantial and offer a thickness that some other crackers lack. Also, these crackers have a natural honey-type sweetness that will remind you of graham crackers.
9. Rip Rap Bakery Seeded Crackers
These crackers from Rip Rap Bakery are sprinkled with paprika, sesame seeds, and poppy seeds. If you're looking for a cracker that will make your cheese board or charcuterie board pop, you can count on these crackers to do the job.
These crackers are pretty strips, and they hold up well with aged cheeses. Best of all, they're made in Central Pennsylvania.
10. Stonewall Kitchen Sea Salt Crackers
Stonewall Kitchen's Sea Salt Crackers have just a subtle hint of salty flavor, so you're not getting a mouthful of salt with your cheese or salami.
You'll get two bites out of every cracker, so they're perfect for filling out the nooks of your charcuterie board.
11. Triscuit Original
Don't sleep on a simple Triscuit. When it comes to classic crackers, Triscuits have been a long-time favorite.
Triscuits are woven crackers, so they're super hearty. If you're spreading cheese, having some Triscuits on your charcuterie board is an excellent idea.
12. Crunchmaster Multi-Grain Sea Salt Gluten Free Crackers
Do you need a good gluten-free cracker? Try Crunchmaster Multi-Grain Sea Salt Crackers. These crunchy crackers are made with corn, rice flour, and a blend of four seeds.
Even if your guests aren't concerned about gluten, you can expect these crackers to disappear quickly.
13. Castleton Multi-Seeded Rye Crackers
Rye crackers add a lot of interest to charcuterie boards, and one of the best brands is Castleton Multi-Seeded Rye Crackers.
You'll enjoy the flaky texture of these Vermont-made crackers. They're perfect for holding up to cheesy dips, too.
Types of Crackers for Charcuterie Boards
These are the most common types of crackers to use on a charcuterie board.
Multigrain crackers: Made from multi-grains and/or whole wheat
Wafer crackers: Super thin crackers with a crispy texture
Crostini: Made by slicing a baguette very thin, then brushing the sliced with olive oil and toasting
Artisan crackers: Available in all types of different flavors
Sea Salt crackers: Made with sea salt and usually crispy
Classic Italian breadsticks: An excellent addition to add interest to your charcuterie board
Dried fruit crackers: With added dried fruit
Water crackers: Crumbly crackers with a salty flavor
Herb crackers: Sometimes have a cheesy flavor and are usually made with poppy seeds or sesame seeds
Buttery crackers: Hearty for creamy cheeses
What Crackers Go Best with Cheese?
What type of crackers goes best with cheese? It depends largely on the type of cheese you're serving. Below, we list some specific cheese types and the crackers that go best with them.
Aged cheese (Gouda, Reggiano, and Manchego): Whole wheat crackers, multigrain crackers, flatbreads, seeded crackers, olive oil crackers
Sharp cheese (cheddar): buttery crackers such as Ritz crackers or Club crackers
Herbed cheeses (Havarti dill, Boursin): wafer crackers, flatbreads, olive oil crackers
Soft rind and triple cream cheese (camembert, brie, Comté): Fruited crackers, water crackers, crostini
Sheep and goat cheeses (Humboldt Fog, chevre, Roquefort): herb crackers, fruited crackers
Cheeses with strong odors (Limburger, blue cheese): Wafer crackers, fruited or sweet crackers, croccantini
FAQs about Crackers & Charcuterie Boards
Below, we answer some of the most frequently asked questions about the best crackers for charcuterie board.
What crackers are best for charcuterie boards?
We recommend using a variety of crackers depending on which types of cheese you have on your charcuterie boards. Consider several different types of crackers, including artisan crackers, crostini, Italian breadsticks, water crackers, buttery crackers, and herb crackers.
What crackers are good with salami?
For salami and similar meats, grain crackers like Triscuits are ideal. We also love salami with water crackers and flaky, buttery crackers (Ritz crackers are one example).
Do you put crackers on a charcuterie board?
Crackers are perfect for your charcuterie board. They serve as a crispy bread that goes perfectly with your charcuterie board meats and cheeses.