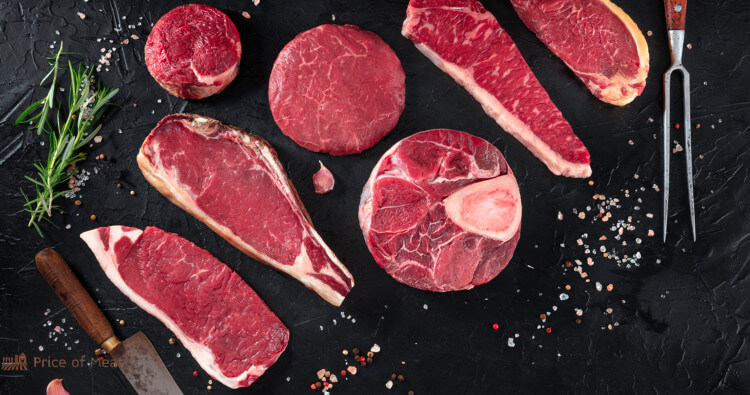 Also known as a sirloin tip steak or petite sirloin, the ball tip steak is an economical cut of beef. But if you want to get the best flavor and texture out of it, you'll need a great recipe and a little culinary finesse.
Before we get into that, though, let's take a closer look at just what a ball tip steak is. It's a part of the sirloin, one of the juiciest and most flavorful cuts for steaks. But instead of being taken from the top of the sirloin, a ball tip steak is taken from the bottom — right around the hip. This makes it an exceptionally lean, boneless cut that can be tough if it's not properly prepared.
If the fat is not trimmed from it, you'll hear this cut referred to as round tip steak. But this fat doesn't yield much tenderness or flavor, so the ball tip steak is an easier cut to work with.
And with that in mind, lets explore the best ways to cook a ball tip steak!
What Does Ball Tip Steak Taste Like?
Ball tip steak has a similar taste to top sirloin, but with much less fat. The main difference — and why ball tip steak is always cheaper than top sirloin steak — is in the texture of the meat.
Because it comes from a muscular and often-used part of the cow, a ball tip steak will be lean but intensely flavorful. This makes it a prime candidate for marinating, since the added salt and liquids will help to tenderize it.
Additionally, ball tip steak has a noticeable grain to its meat. To avoid getting a big and overly chewy mouthful of steak, it's best to cut this steak into thin slices.
Overall, ball tip steak shouldn't be your first choice for grilling and serving with mashed potatoes. But if you're willing to spend some time marinating it and slicing it thin, it's an affordable cut that's great for tacos or roast beef sandwiches.
How to Cook Ball Tip Steak
Two cooking methods will let you get the best out of your ball tip steak: Marinating before grilling, or roasting with plenty of oil and salt. Let's use each of these methods in a quick and easy recipe that's great for a weekday meal.
Simple Fajitas
Fajitas might be my favorite "no recipe recipe". You don't have to measure ingredients carefully or make intricate cuts to get tons of flavor, and they're quick to put together for lunch or dinner. And since they're designed to be made with tougher cuts of meat, using ball tip steak means that fajitas are an affordable anytime meal, too.
For the Marinade
1/4 cup olive oil
1/4 cup orange juice
Juice of 1 lime
1 teaspoon garlic powder
2 teaspoons cumin
2 teaspoons mild chili powder
1 teaspoon salt
Combine all ingredients in a resealable plastic bag or bowl. Then, submerge your ball tip steak in the marinade, and refrigerate for 2 to 8 hours. Avoid going any longer than this, as the acid from the juice will start to change the meat's texture in an unpleasant way.
To Serve
Sliced Onions
Sliced bell peppers
Tortillas
Rice, refried beans, shredded cheese, and/or tomatoes
Remove your steaks from the marinade, and pat them dry with a paper towel. Heat your grill, skillet, or a pan with a splash of olive oil, to a high heat. Cook the steaks for 3 to 5 minutes per side, depending on how thick your steak is. At the same time, sauté your sliced onions and bell peppers until tender.
After removing your steak from the heat, let it rest for 5 minutes. Then, use your sharpest knife to slice it into thin strips. To serve your fajitas, simply top tortillas with the grilled steak, onions, peppers, and your choice of Tex-Mex condiments.
Ball Tip Steak Roast
Roast beef is a fine set-it-and-forget-it meal that makes a lot of leftovers. In my mind, that makes it a perfect choice for Monday night dinners. That way, you'll have roast beef sandwiches ready for lunch the rest of the week!
Ingredients
1 (3 pound) ball tip steak
3 tablespoons butter
1 onion, peeled and cut into rounds
2 carrots, roughly chopped
1 celery rib, chopped
3 cups beef stock
Salt and pepper, to taste
The day before cooking your roast, rub your ball tip steak with 2 teaspoons of salt, wrap it in plastic wrap, and refrigerate. This starts to tenderize the steak, making for a more tender and delicious roast the next day.
Preparation
Preheat your oven to 250 degrees F.
In a sauté pan, melt butter over medium high heat.
Add carrots, onion, and celery, and sauté until soft. Transfer to a roasting pan.
Place the ball tip steak on top of the vegetables, pour in beef stock, then cover with aluminum foil.
Roast for 2.5 to 3.5 hours. You're looking for an internal temperature of 130 degrees F.
After the roast is cooked through, remove it from the oven and let rest for 30 minutes.
Transfer the roast to a cutting board, and cut into 1/2 inch thick slices.
Serve with vegetables and mashed potatoes, or roughly chop and serve as sandwiches.
Where to Buy Ball Tip Steak
If you're interested in trying your hand at cooking ball tip steak, talk to the butcher at your local grocery. If they don't have any on hand, they'll be able to set some aside for you the next time they're butchering a whole cow. It's not a commonly asked for cut of meat, so if you enjoy it, your butcher will be happy to make it available to you!
If you are looking to save money on premium sirloin – be sure to check out Nebraska Star's online steak collection.