Also known as a chuck arm roast or arm pot roast, the beef arm roast is an ideal candidate for slow cooking among all the types of beef cuts.
It combines the best of the shoulder section's beefy flavor with an affordable price. So break out your crock pots, because it's time to get roasting!
What Does Beef Arm Roast Taste Like?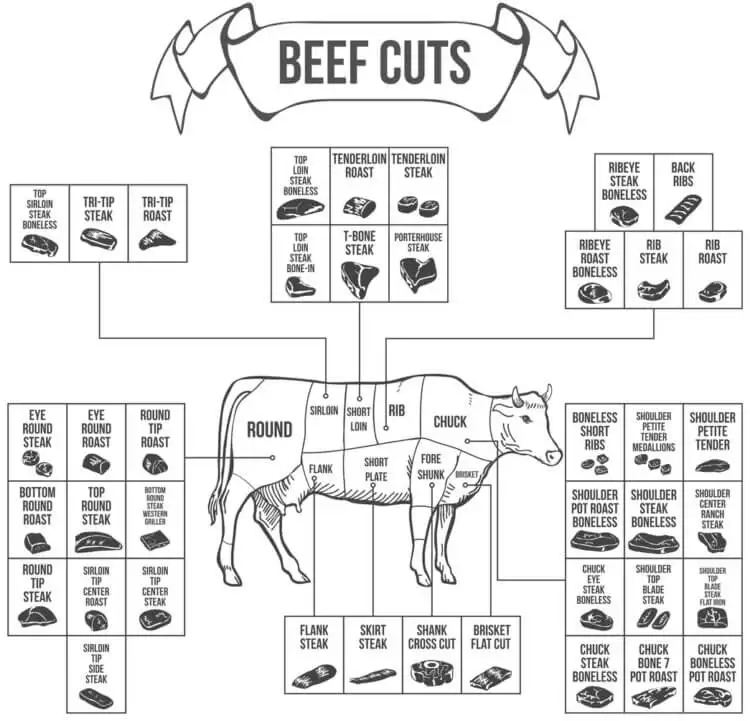 Beef arm roast comes from the chuck primal, the front shoulder area of the cow. This gives it an intensely beefy flavor, with cuts from this area most often used for slow cooking.
Beef arm roasts are also known as "seven bone roast", since your arm looks like a seven when bent.
If you're having trouble finding this cut of meat at your local grocery store, ask the butcher if they can order it in for you. You can marinate the meat before cooking it, or you can season it with a dry rub.
The lower and slower you cook a beef arm roast, the better it tastes. And since it's such an economical cut (though not as tough as other roasts), you can afford to spend some extra time preparing it.
A beef arm roast, served with mashed potatoes and gravy, makes for an excellent Monday night dinner.
After you're done roasting it, think about shredding those slices of roast beef and making roast beef lunch sandwiches with great condiments for the rest of the week.
Both bone-in and bone-out cuts of beef arm roast have a similar flavor. Bone-in cuts will add a slightly stronger texture and flavor to pot roast preparations, but bone-out cuts are easier to slice and trim before serving.
What Is a Beef Arm Roast Good For?
A beef arm roast is a great cut of meat for when you have lots of people around and want to feed them all in one shot.
It can be made in a variety of ways, but our favorite way is by braising the roast in red wine for five hours so it's tender and moist on the inside, while also giving it a delicious crispy crust on the outside.
This versatile cut has less fat than other cuts like brisket (notably a flat cut) or chuck, which make it an ideal choice for dieters too. If you're wondering what to do with your leftovers you can make pot pies or stroganoff later!
This type of beef does need to be cooked low and slow (either cooked over low heat on the stovetop or baked in an oven for several hours), so it's perfect for winter meals.
How to Cook Beef Arm Roast
Whether you go for a bone in or bone out beef arm roast, it's key to cook it low and slow in plenty of liquid. Start with a base of sautéed vegetables, add salt, spices, and beef stock, and you've got all the basics of a perfect roast.
If you have a slow cooker like a Crock Pot, this will make the preparation quick and easy. But even if you only have an oven and a deep pan, I'll teach you how to perfectly cook a beef arm roast.
And after explaining those roasting methods, I'll give you three different ways to add unique flavor and textures to your roast.
Slow Cooking an Arm Roast
Slow cookers are the ultimate set-it-and-forget-it method for weeknight cooking. Take half an hour in the morning, and you can have a delicious pot roast waiting for you when you get home.
Here's how I cook beef arm roast in my slow cooker:
Give your vegetables a quick saute on the stovetop, then add them to the bottom of your slow cooker.
Rub your beef arm roast with a few teaspoons of salt and pepper, then add it to the slow cooker too.
Cover the roast halfway with beef stock, set your slow cooker to low heat, and cover.
Cook for 8 to 12 hours. You're looking for a tender, fall-apart texture.
It really is as simple as that! Once your roast is cooked, transfer it to a cutting board and trim off a few thick slices. Then pull a few vegetables out of the cooking liquid to serve alongside the roast beef.
If you'd like, you can take an extra step and use some of the cooking juices to make a simple brown gravy, too. Just add plenty of butter to the reduced juices, and then whisk in a few tablespoons of flour to thicken.
Oven Cooking an Arm Roast
Though a slow cooker really simplifies your prep for roast beef, an oven is a quicker way of preparing roasts on the weekend.
Because your oven will always start at a higher temperature than a slow cooker, getting a truly tender roast requires a few adjustments.
The main thing you can do to achieve a pleasant texture is add extra fat, usually in the form of a generous portion of olive oil.
Here's how I cook beef arm roast in the oven:
Preheat your oven to 300 degrees F.
In a large Dutch oven, sauté diced onion, carrot, and celery until browned, about 10 to 15 minutes. Remove and set aside.
Add a little oil to your Dutch oven, then sear your beef arm roast on all sides.
Return your veggies to the Dutch oven, and add stock to cover the roast about halfway.
Cover your Dutch oven and transfer it to your preheated oven. Cook for 5 to 6 hours, until the liquid is reduced and the meat is fall-apart tender.
Pot roast cooked this way is especially good served over egg noodles. The shredded meat is excellent for making Shepherd's Pie later in the week, too.
Three Ways to Spice Up Your Roast Beef
Add red wine to the stock, change up your vegetable choices, or add bacon
Now that you have the general idea for how to cook a beef arm roast, let's get to the fun part: Adding tons of flavor to your pot roast. Here are my three favorite ways to turn an ordinary roast into a dinnertime show stopper:
1. Go French With Your Stock
Adding a generous portion of red wine to your stock will result in a tender, flavorful roast and brightly colored vegetables.
Use about one part of red wine for every four parts of beef stock, and go for a mild variety like Merlot or Pinot Noir. Then serve the roast and vegetables with a crusty loaf of bread, and glasses of the same type of wine used in the stock.
2. Get Creative With Your Vegetables
Carrots and onions are always a safe place to start when you're cooking a pot roast. They add a sweet, pungent flavor and aroma that pair very well with the savory beef roast.
But I'd encourage you to think of carrots and onions as a great base — and one that you can build on to create stellar meals.
Celery is a wonderful addition to a pot roast, as it will caramelize down and further emphasize the roast's savory aspects. Green or red bell peppers will give a fresh, sweet, and zesty finish to the stock. And you can always throw in baby potatoes, to make it a real one pot meal.
Basically, if you have a vegetable in the house, you can throw it in with a pot roast to great effect.
3. Make it Better With Bacon
It's hard to find any dinner that wouldn't be better with a little bit of bacon — but pot roasts especially benefit from bacon's smoky, fatty, savory flavor.
Try sautéing small pieces of bacon with your carrots and onions to start the base, then searing your roast in the bacon grease that's left over. The result will be a flavorful, aromatic, and absolutely delicious dinner.
Beef Arm Roast FAQs
Here are some common questions we get about Beef Arm Roasts.
What is beef arm roast good for?
This is a great dish for stews, pot roast, grilled dishes, and more. You can and should try it out if you plan on serving any of these types of dishes to your family and/or friends. It is the type of steak that you want for this purpose.
What is an arm roast and how do you cook it?
This is the best slow-roasting beef that you can get on the market. It is savory and delicious, and you know that you will get a lot of value out of it as well. You should serve arm roast to a crowd when it is not a big deal if they have to wait a little bit of time in order to get their food. It is indeed a slow roast, but it is still delicious and something that your family will love.
Are arm roasts tough?
Arm roasts come in at a medium on toughness. They are certainly tougher than some meats on the market, but they are not so tough that they can't be enjoyed by virtually everyone. You should get them to hit that nice even spot of toughness.
Where to Buy Beef Arm Roast
Beef arm roast is an economical cut that's not often specially requested. So ask your local butcher or grocer to set some aside for you, and you'll have an affordable weeknight meal any time you want.
Bestseller No. 1
Chuck Roast (3lb) by Nebraska Star Beef - Prestige-Hand Cut and Trimmed, Includes Signature Seasoning
Sunday Dinner Done Right; Perfect on the grill, slow roasted in the crock pot or in the oven, add your favorite sides for a rich and flavorful dinner the whole family is excited to eat
Expertly Cut Roast; This roast is cut cross grain by butchers who have made the art of butchery their life work
Your Corner Store Butcher; Think of our family as your personal connection to premium meat that is packaged up and set for delivery directly to your doorstep so you can spend more time with your loved ones and less time in line
Delivered to Your Doorstep; Skip the restaurant and grocery line and get this beef roast sent directly to your house so you can spend more time with family and less time shopping for groceries
Steak Seasoning; The seasoning that started it all for NSB. This is a classic steak house flavor that is bright and vibrant. It adds a new dimension to all meats but it particularly good on steak
Bestseller No. 2
Chuck Roast by Nebraska Star Beef - Prestige-Hand Cut and Trimmed, Includes Signature Seasoning
Sunday Dinner Done Right; Perfect on the grill, slow roasted in the crock pot or in the oven, add your favorite sides for a rich and flavorful dinner the whole family is excited to eat
Expertly Cut Roast; This roast is cut cross grain by butchers who have made the art of butchery thier lifes work
Your Corner Store Butcher; Think of our family as your personal connection to premium meat that is packaged up and set for delivery directly to your doorstep so you can spend more time with your loved ones and less time in line
Delivered to Your Doorstep; Skip the restaurant and grocery line and get this beef roast sent directly to your house so you can spend more time with family and less time shopping for groceries
Steak Seasoning; The seasoning that started it all for NSB. This is a classic steak house flavor that is bright and vibrant. It adds a new dimension to all meats but it particularly good on steak
Bestseller No. 3
Premium Angus Tri-Tip by Nebraska Star Beef - All Natural Hand Cut and Trimmed Tritip Steak Gift Packages
Steaks for Delivery; Skip the grocery line and have your dinner delivered to your home
Gift Package Specials; Great for friends who love wine or cheese and meat gift baskets as tri-tips from our family are the perfect choice for a small gathering of friends or a nice family dinner
Master Chef or Top Chef; No matter your skill our tritips can be enjoyed grilled or fajitas along with being so tender it can be thin sliced for stir fry
100 Percent Premium Angus Beef; Our tritip comes from the sirloin region of the beef so it is much more like a steak than a roast in terms of tenderness and texture
We believe in providing healthy products that are antibiotic and hormone free for families. We believe in modern technology and conveniences such as online ordering with steaks arriving at your door
Bestseller No. 4
Brisket Flat by Nebraska Star Beef - Prestige -Smoker Ready, BBQ Beef Perfection
Pitmaster's Specialty; A healthy marble throughout the meat resulting in a tender and juicy cut of beef ready for the smoker
he Ultimate Brisket for your BBQ; a large cut of beef at a reasonable price sure to be a family favorite or go to choice for competetive barbecue
Crowd Pleaser; Great for large crowds and an excellent party food for get-togethers, picnics, holidays, and celebrations
Delivered to Your Doorstep; Skip the restaurant and grocery line and get this whole brisket sent directly to your house so you can spend more time with family and less time shopping for groceries