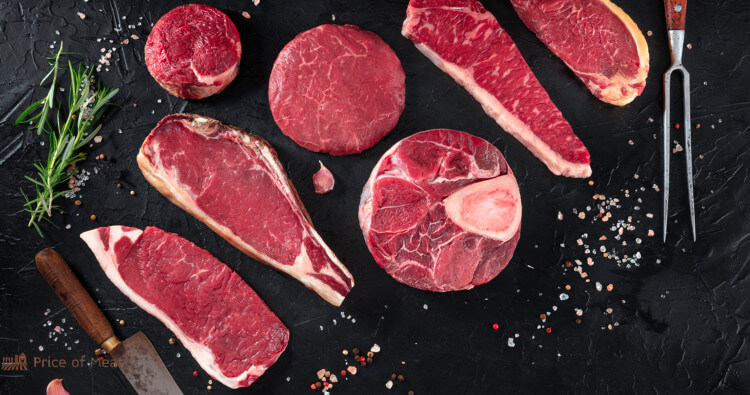 If you're consistently buying the most common steak cuts, you're missing out. While T-Bones and New York Strips are delicious in their own right, they're also some of the most expensive cuts you'll find at your local butcher. But by branching out into less common cuts, you can get the best of both worlds: A great price, and unforgettable flavor.
Case in point: The coulotte steak. Also known as the sirloin strip, sirloin butt cap, or top sirloin cap steak, this flavorful steak can be prepared in a versatile range of recipes. Once you get to know it well, you might never go back to your usual steak cuts! So please, allow me to share what I know about the coulotte steak with you — including how it tastes, the best ways to cook it, and the best way to order it either online or from your local butcher.
What Does Coulotte Steak Taste Like?
Because it's taken from the loin primal cut, coulotte steak will have a pronounced "beefy" flavor. It often has excellent marbling, with a texture that's close to a strip steak. They're not quite as strongly flavored as a ribeye, since there's a fair bit of connective tissue that doesn't contribute to the flavor.
Even without a marinade, a coulotte steak will be quite tender — but with just a little bit of salt, pepper, oil, and vinegar, its flavor and texture will really shine.
How to Cook Coulotte Steak
As one of the most tender cuts from the sirloin, the coulotte steak is an extremely versatile piece of meat. Really, there's almost no wrong way to cook it! But in my experience, three preparations really make a coulotte steak stand out: Grilling, stir frying, and marinating (with a sauté afterwards). Let's take a closer look at each!
Method 1: Grilling
Coulotte steak is flavorful and tender enough to prepare it in every backyard barbecue enthusiast's favorite way: On the grill! Look for a steak that has good marbling and not much visible connective tissue, with a deep red color that indicates its beefy flavor. Rub that steak with salt and pepper, get your grill going as hot as you'd like, and sear it for a few minutes on each side. Let it rest for five minutes, then slice it thinly across the grain.
I wouldn't take a coulotte steak much past medium, as it will lose a lot of tenderness if you overcook it. If you prefer your steaks medium-well or well done, consider using a marinade beforehand; more on that in a moment.
Also, Korean cuisine has a treasure trove of beef recipes for anyone willing to branch out and try something new. Maybe you've even seen the awesome Korean barbecue restaurants, where you grill your own steak in the center of the table? If not, you'll definitely want to check it out in this video from Eater:
Method 2: Stir Frying
Taking another cue from Asian cuisine, using a stir frying method with your coulotte steak will let you cook it to tender perfection in no time. Served over rice with a simple soy sauce dressing, this can make a fast and filling meal any night of the week.
There are three tricks to succeeding with stir fried beef:
Cut your steak into thin, evenly sized strips. I aim for 3 inches long, an inch wide, and about a half inch thick.
Make sure your pan is extremely hot before throwing the beef in. This will create a quick sear, sealing in the juices of each piece.
Keep your beef moving constantly from the time you throw it in the pan, and take it out just before it looks done; it will continue to cook a little after it's off the heat source.
Of course, a wok is the traditional way of stir frying ingredients. Its tall, sloped walls and thin metal allow you to reposition what you're cooking, either dropping it into the hottest part of the pan or moving it up to the cooler sides. If you don't have a wok, don't worry: A simple sauté pan will work quite well, too.
Method 3: Marinating
Our third and final method is best reserved for anyone who likes their steak fully cooked (medium well to well done). If you try to cook an unseasoned coulotte steak this way, you'll likely end up with an overly chewy steak — and nobody wants that. That's why I always recommend marinating your coulotte steak if you'd like to cook it to well done.
For a simple but delicious marinade, you can use a bottle of dark beer and season it with salt, pepper, onion powder, and garlic powder. Pack your steak away with the beer mix in a resealable plastic bag, and leave it in the fridge for 6 to 8 hours. Then grill or stir fry it up however you'd like! It will be extra flavorful, and stay nice and tender.
Where to Buy Coulotte Steak
When you're looking for any cut of beef, your local grocer or butcher is a great place to start. Ask for a coulotte steak by name, but keep in mind that they may know it better as a sirloin strip. And if you're having trouble finding a coulotte steak in your area, you can always order a sirloin cut online; the grass-fed top sirloin from Nebraska Star would definitely do the trick!
Bestseller No. 1
Aged Hanger Steak by Nebraska Star Beef - Prestige- Hand Cut and Trimmed- Gourmet Meats Delivered to Your Home
Flavorful and Versitile; Multi-use Steak for your Family Meals and Cooking,This steak is melt in your mouth delicous seared in a cast iron skillet and served up with sides, grilled, or made into sandwiches, salads, fajitas, or stir fry
Your Corner Store Butcher; Think of our family as your personal connection to premium meat that is packaged up and set for delivery directly to your doorstep so you can spend more time with your loved ones and less time in line
Delivered to Your Doorstep; Skip the restaurant and grocery line and get this steak pack sent directly to your house so you can spend more time with family and less time shopping for groceries
We believe in providing healthy products for families. We believe in modern technology and conveniences such as online ordering with steaks arriving at your door
Bestseller No. 2
Aged Angus Petite Ribeye Steaks by Nebraska Star Beef -Prestige- Hand Cut and Trimmed with Signature Seasoning - Gourmet Steak Delivery to Your Home, 6 pack bundle
Petite Cut Ribeyes; Our 10 ounce cuts come from the same cut that prime rib does but are designed for grilling and can be done justice cooked in the oven as well for a delicious meal
Your Corner Store Butcher; Think of our family as your personal connection to premium meat that is packaged up and set for delivery directly to your doorstep so you can spend more time with your loved ones and less time in line
Rich and Tender Steak Aged to Perfection; This is the most well marbled of all beef cuts aged on the hanger and then at least another 35 days of wet aging
Steaks fit for Celebrations; Birthday and Fathers Day gifts, summer grilling at its best these ribeye steaks are the perfect gift for the meat lover in your life
Steak Seasoning; The seasoning that started it all for NSB. This is a classic steak house flavor that is bright and vibrant. It adds a new dimension to all meats but it particularly good on steak
Bestseller No. 3
Aged Angus Ribeye, NY Strip, Filet Mignon, Top Sirloin by Nebraska Star Beef - Prestige - Hand Cut and Trimmed Steaks Gift Packages - Gourmet Steak Delivered to Your Home, Includes Signature Seasoning
Gifts of Gourmet Steaks Abound; This box is stuffed full of two each of our premium petite cut steaks along with our Signature Seasoning
Aged to Perfection; Aging is an absolutely critical element to overall meat quality and is why each of our steaks are first aged on the hanger and then at least another 35 days of wet aging
Enjoy Grilled Meat Without the Hassle; If convenience is important to you then skip getting groceries and setup delivery directly to your home
Fill Your Freezer; Our frozen meat is more consistent by giving us the ability to age every steak exactly the same every time and then cut and flash freeze until the customer thaws it for cooking
Birthday and Fathers Day Gifts; This package of delicious meat is the perfect gift basket for dad or the whole list of special someones and comes with ten so you can throw a party
Bestseller No. 4
Signature Seasoning, 5oz by Nebraska Star Beef - Steak and Meat Seasoning, Rub, Summer Grilling
Signature Seasoning; Developed in house as the ultimate steak and meat seasoning
All Purpose Grilling Season Perfection; Specialty blend of spices designed to unlock the natural flavor of beef not cover it up, great on pork chicken wild game and eggs
Gifts for Men Women the Cook in Your Life; Add NSB Seasonings to gift baskets or any celebration, great for birthdays, summer grilling, holiday cooking, all occasion
Bestseller No. 5
Bestseller No. 6
Aged Angus Petite Ribeye Steaks by Nebraska Star Beef -Prestige- Hand Cut and Trimmed with Signature Seasoning - Gourmet Steak Delivery to Your Home, 12 pack steak bundle
Petite Cut Ribeyes; Our 10 ounce cuts come from the same cut that prime rib does but are designed for grilling and can be done justice cooked in the oven as well for a delicious meal
Your Corner Store Butcher; Think of our family as your personal connection to premium meat that is packaged up and set for delivery directly to your doorstep so you can spend more time with your loved ones and less time in line
Rich and Tender Steak Aged to Perfection; This is the most well marbled of all beef cuts aged on the hanger and then at least another 35 days of wet aging
Steaks fit for Celebrations; Birthday and Fathers Day gifts, summer grilling at its best these ribeye steaks are the perfect gift for the meat lover in your life
Steak Seasoning; The seasoning that started it all for NSB. This is a classic steak house flavor that is bright and vibrant. It adds a new dimension to all meats but it particularly good on steak
Bestseller No. 7
Aged Premium Angus Ribeye and NY Strip and Filet Mignon by Nebraska Star Beef - All Natural Hand Cut and Trimmed Steaks Gift Packages - Gourmet Steak Delivered to Your Home
Grilling Gift Basket Package; Treat your special somebody to the best meats including a choice of Ribeyes and New York Strips as well as Petite Cut Filet Mignon and our Signature Seasoning
Grilled celebration; Perfect for the griller in your family these selections can also be done justice cooked in the oven as well and either way don't forget the sides such as potatoes and stuffed jalapeno poppers
Your Corner Store Butcher; Think of our family as your personal connection to premium meat that is packaged up and set for delivery directly to your doorstep so you can spend more time with your loved ones and less time in line
Birthday Gifts Done Right; Forget the tie and go big this year with a pack of thick and delicious steaks that your entire bday list can enjoy especially with a combo of apple pies and chocolate cake for dessert afterwards
Holiday Celebrations; From Thanksgiving to Christmas to Father's Day this Petite Excellence box will bring a smile to everyone especially dad
Bestseller No. 8
Bestseller No. 9
Aged Angus Filet Mignon, Top Sirloin, NY Strip, Ribeye, and Premium Ground Beef by Nebraska Star Beef - Prestige - Hand Cut and Trimmed - Steak Gift Package, Includes Signature Seasoning
Gifts of Gourmet Steaks Abound; This box is stuffed full of two each of our premium classic cut steaks and a package of our Angus ground beef patties along with our Signature Seasoning
Aged to Perfection; Aging is an absolutely critical element to overall meat quality and is why each of our steaks are first aged on the hanger and then at least another 35 days of wet aging
Enjoy Grilled Meat Without the Hassle; If convenience is important to you then skip getting groceries and setup delivery directly to your home
Fill Your Freezer; Our frozen meat is more consistent by giving us the ability to age every steak exactly the same every time and then cut and flash freeze until the customer thaws it for cooking
Birthday and Fathers Day Gifts; This package of delicious meat is the perfect gift basket for dad or the whole list of special someones and comes with ten so you can throw a party
Bestseller No. 10
Prestige 6oz Chuck Tender, Steak by Nebraska Star Beef - Hand Cut and Trimmed, Butcher Cut, Includes Signature Seasoning
Grill, Pan Sear, Braise, or Broil; Too flavorful for the meat grinder, this cut of beef resembles a Filet Mignon in appearance, but eats more like a Top Sirloin
Your Corner Store Butcher; Think of our family as your personal connection to premium meat that is packaged up and set for delivery directly to your doorstep so you can spend more time with your loved ones and less time in line
Delivered to Your Doorstep; Skip the restaurant and grocery line and get this beef sent directly to your house so you can spend more time with family and less time shopping for groceries
Steak Seasoning; The seasoning that started it all for NSB. This is a classic steak house flavor that is bright and vibrant. It adds a new dimension to all meats but it particularly good on steak
We believe in providing healthy products for families. We believe in modern technology and conveniences such as online ordering with steaks arriving at your door