What Is An Oven Safe Skillet? What Is It Used For?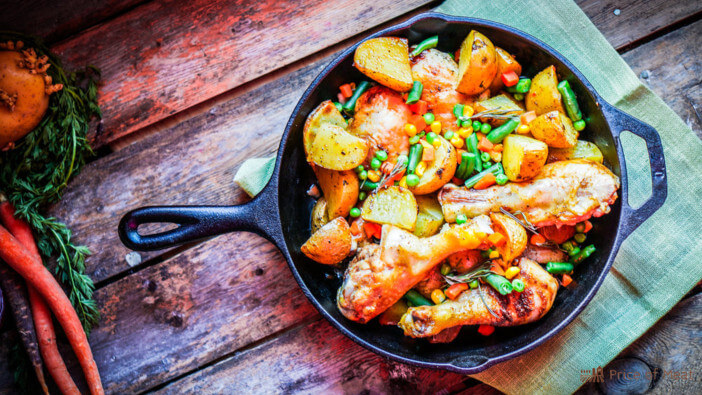 What is an oven safe skillet? And what is it used for? Those are the questions we're going to answer in this article.
When our grandmothers were cooking for their families, most cookware was suitable for all modes of cooking: stovetop, oven, and even outdoors over a fire.
In most cases, generations in the past were cooking with cast iron cookware, so they knew that it was safe to put these heavy-duty skillets in the oven.
Today, the options for cookware seem to be unlimited, and there's something for everyone. However, not all cookware is oven safe. Let's dive in and learn more.
Quick Sidenote – check out our shop for a curated selection of the best meats, cuts, sausages, and more. Open our shop in a new tab and explore!
Disclosure: As an Amazon Associate, this site earns from qualifying purchases. Thank you!
What Is an Oven Safe Skillet?
An oven-proof skillet is precisely what you would imagine. It's a skillet that's safe for use not just on the stovetop but also in the oven. Unfortunately, it's not always easy to know if your skillet is oven-safe.
With stovetop cooking, you're working with direct heat, which is ideal for many purposes. For example, browning or searing meat is best done on the stovetop.
However, with excessive direct heat, the food's outside cooks more quickly than the inside. This can lead to meats that are undercooked.
For many recipes, you're going to get the best results by finishing them in the oven. For example, the old-school way of cooking roast beef with vegetables is browning the roast in a heavy skillet, then moving it to a roasting pan.
In short, an oven-proof skillet allows you to cook meals in your oven without damage to the skillet.
The key is to read the labels, customer reviews, and manufacturer documentation to ensure that the skillet you buy is oven-proof.
Types of Oven Safe Skillets
When you think of an oven-proof skillet, you probably envision a cast-iron skillet. However, there are other types of skillets that are safe for use in the oven.
Cast-iron skillets
Cast-iron skillets are the original OG when it comes to oven-proof skillets. Many of us have cast-iron cookware that we've inherited from family members, and still more of us have built our own collections.
If you don't a cast-iron skillet, the time is right to buy one. The best reason of all is that these skillets will last you a lifetime, and they'll survive far into the lifetimes of your own children and grandchildren.
Pros
Safe to any temperature
Versatile for cooking outside
Usually broiler safe
Non-toxic
Extremely durable
More affordable than most other oven-safe skillets
Cons
Heavy to work with
Seasoning required
Prone to rust if they sit in water
A bit of a hassle to clean and deal with (but totally worth the time investment)
The good thing about cast-iron cookware is that it's impossible to destroy.
We have seen stories about cast-iron skillets found buried in dirt and later restored. All you have to do is get it back down to the cast iron and re-season it.
Clad stainless steel skillets
Another option for an oven-safe skillet is a clad stainless steel skillet. Make sure your stainless steel skillets are 100% stainless steel without silicone or plastic parts.
Some brands are lower quality and aren't safe in the oven at higher temperatures.
Stick with brands such as All-Clad, Heritage Steel, Made In Cookware, 360 Cookware, and Viking.
Pros
Lightweight
Generally safe for temperatures up to 500°F
Usually broiler safe
Non-toxic
Cons
More expensive than some other options
Cheaper skillets may not be safe at higher temperatures (check the labels carefully).
May warp at high heat
Glass lids only oven safe up to 350°F
Enameled cast iron skillets
With enameled cast-iron skillets, you can do anything that you can do with a regular cast-iron skillet with one exception: They are only oven-safe for up to 500°F.
Pros
Gorgeous in the kitchen
Several colors to choose from
Doesn't require seasoning
Broiler safe
Extremely durable
Non-stick enamel
Cons
Much pricier than traditional cast-iron skillets
Heavy for kitchen use
More maintenance than other skillets
Carbon steel skillets
Carbon steel skillets have some of the same drawbacks as cast iron, but these skillets are typically much lighter.
As with the stainless steel skillets, make sure your carbon steel skillets are 100% carbon steel with no plastic or silicone parts.
Pros
Safe for up to 500°F
Perfect for high-heat searing
Not as heavy as cast iron
Broiler safe
Non-toxic
Durable
More affordable than some of the other options
Cons
Lighter than cast iron but heavier than other types of oven-proof skillets
Requires seasoning
Copper skillets
Without a doubt, copper skillets are beautiful in the kitchen, and some brands offer oven-safe copper skillets.
Pros
Oven safe to 500°F (with stainless steel lining)
Non-toxic
Durable
Broiler safe
Cons
Expensive
Can melt at about 400°F with a tin liner
Can be heavy for some people
Easy to confuse fake copper cookware with genuine copper cookware (the fake stuff isn't oven-safe)
Needs polishing to keep its gorgeous shine
What Is an Oven Safe Skillet Used For?
Have you ever seen a pan of cornbread cooking in a cast-iron skillet in the oven? If so, you have a good idea of what an oven-proof skillet is good for.
But the uses of an oven-proof skillet go far beyond a pan of buttery cornbread.
Homemade biscuits (or store-bought canned or frozen biscuits)
Cinnamon rolls
Frittatas
Breakfast skillets
Baked pasta dishes
Casseroles
Stew (with a lid)
Also, keep in mind that an oven-proof skillet is also great for stovetop cooking.
For that reason, anything you would normally cook in a skillet, you can certainly cook in your oven-proof skillet.
How to Know if Your Skillet Is Oven Safe
If you've got a heavy-duty skillet, does that mean it's oven-safe? Not necessarily.
Here are some tips for determining if your skillet is oven-safe or not.
Cast iron is always oven-safe.
Look at the bottom of the cookware. You may see the words "oven safe," or you may see a marking that shows a symbol of a pot in an oven.
Examine the handles and the lids. If any part of the handle or lid knobs has plastic or silicone, the skillet is not oven-safe.
Don't use pans made with PTFE. These chemicals can release toxic fumes that are lethal to birds and harmful to people.
If a pan is sold for baking, you can rest assured that it's oven-safe.
FAQs about Oven Safe Skillets
What is an oven safe skillet? Below, we answer the most frequently asked questions.
What can I use if I don't have an oven safe skillet?
If you don't have an oven-safe skillet, you can use any of these pans.
Roasting pan
Baking pan
Some Dutch ovens (make sure they're oven-safe)
Triple-ply stainless steel skillets
Pyrex casserole dishes
Nickel-plated skillets
Is a non stick skillet oven safe?
The best oven-safe non-stick skillet is a ceramic non-stick skillet. However, not all non-stick cookware is safe for use in the oven. Check the packaging material or the manufacturer's website to make sure your non-stick skillet is oven-safe.
Is a cast iron skillet oven safe?
Absolutely! Home chefs have been using cast iron for cooking in the oven for generations.