What Is a Loose Meat Sandwich In Iowa? A Strange Tradition Explained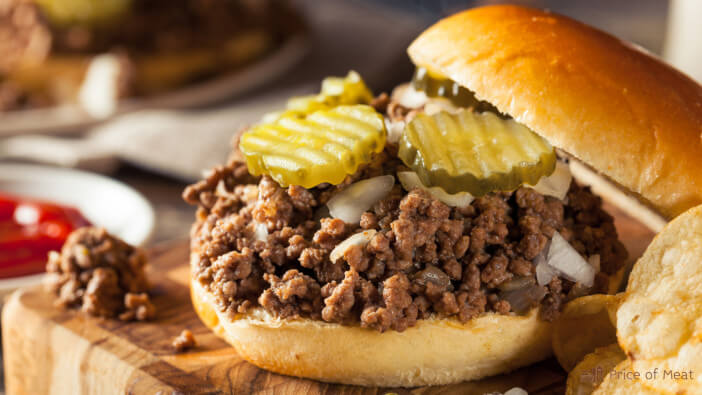 Sandwiches are a culinary treat that many Americans enjoy for lunch; however, with the creation of unique, more substantial sub sandwiches, there has been an increase in people enjoying sandwiches for dinner too.
According to the University of Washington, more than 300 million sandwiches are consumed daily by Americans, a considerable amount since there are slightly more than 300 million Americans.
Every region of the country has its specialty sandwich, and Iowa is one of those states with a unique sandwich. In addition, many Iowans regularly enjoy a loose meat sandwich. So what is a loose meat sandwich? Continue reading to learn more:
Disclosure: As an Amazon Associate, this site earns from qualifying purchases. Thank you!
Quick Sidenote – check out our shop for a curated selection of the best meats, cuts, sausages, and more. Open our shop in a new tab and explore!
What is considered a loose meat sandwich?
A loose meat sandwich, also known as a tavern sandwich, is made using a mixture of sauteed onions and ground beef on a bun and topped with pickles, mustard, ketchup, and cheese.
FAQs about Loose Meat Sandwich
What sandwich is Iowa famous for?
One of the things Iowa is famous for is the loose meat sandwiches, which are very flavorful and a diner's classic menu item. Though many restaurants claim to serve a loose meat sandwich, there is nothing better than enjoying this sandwich at an old-fashioned diner in Iowa.
What is the state sandwich in Iowa?
Since the loose meat sandwich is famous in Iowa, it has been made the official state sandwich.
What state is famous for loose meat sandwiches?
Many states are known for their regional-specific sandwiches; for example, Philadelphia has the cheese steak, New Orleans has the Po-Boy, and New York has the pastrami on rye. Iowa is no different and is known for its loose meat sandwiches. This sandwich has also been called the Maid-Rite sandwich because of its association with the 85-year-old Maid-Rite chain.
What are the most popular sandwiches in the United States?
With millions of sandwiches consumed in the United States daily, several sandwiches are more popular than others. Everyone loves a sandwich, and some of the most popular sandwiches in the United States include:
Peanut butter and jelly
BLT
Club sandwich
French dip
Reuben
Meatball
Tuna
Egg Salad
Pulled pork
Ham and cheese
Grilled cheese
Do people in Iowa like other sandwiches?
People in Iowa do enjoy other sandwiches. Some of the top sandwiches consumed by residents include:
Cuban sandwich
Chuckwagon Burger
Turkey, Brie, and Cranberry Panini
Pulled Pork Sandwich
Grilled Cheese
How to make a loose meat sandwich?
A loose meat sandwich is chopped burger meat seasoned with Worcestershire sauce and onion and topped with dill pickles. Below are the directions to make your own loose meat sandwich:
Sear beef with onions and break apart the beef into large chunks
Add Worcestershire sauce, and if desired, salt and pepper
Scoop cooked meat onto a burger bun
Top the meat with pickles
Serve and enjoy
What are some loose meat sandwich variations?
With the popularity of loose meat sandwiches, several restaurants have created their own version of the sandwich. Below are unique variations of loose meat sandwiches:
Loose Coney: Made with Coney Sauce and loose meat.
Seasonings: Beef broth or soy sauce can be substituted for Worcestershire sauce; some people have even used garlic powder and taco seasoning to help add additional flavor.
Toppings: Instead of pickles, changing up the toppings can make for interesting loose meat sandwiches, including adding barbecue sauce, bacon, and cheese.
Meat: Ditch the ground beef and opt for ground chicken, bison, or turkey, or go meatless using veggie meat crumbles.
Can I make loose meat sandwiches in a slow cooker?
It is possible to make a loose meat sandwich using a slow cooker. Below are instructions on how to make the loose meat sandwich using a slow cooker:
Use a skillet to lightly brown the ground beef and onions.
Place the meat and onion mixture in the slow cooker.
Add Worcestershire sauce, salt, and pepper to the slow cooker and simmer on low for two to three hours.
When done, scoop out onto hamburger numbers and top with dill pickles or your favorite toppings.
What is the difference between a loose meat sandwich and sloppy Joes?
Though both are made from ground beef, there are significant differences between a loose meat sandwich and sloppy Joes. The most significant difference between sloppy Joes and loose meat sandwiches is the absence of a tomato-based sauce on loose meat sandwiches.
Loose meat sandwiches do not have any sauce in the mixture or are used as a topping. A sloppy Joe is swimming in a seasoned sauce, while open meat sandwiches have dry crumbles of flavored ground beef.
What is tavern meat?
Tavern meat is another common name used for loose meat sandwiches. It refers to the idea that many taverns throughout Iowa serve this type of sandwich. Sometimes, tavern meat sandwiches are served as open-faced over hamburger buns.