15+ Breads That Pair With Beef Stew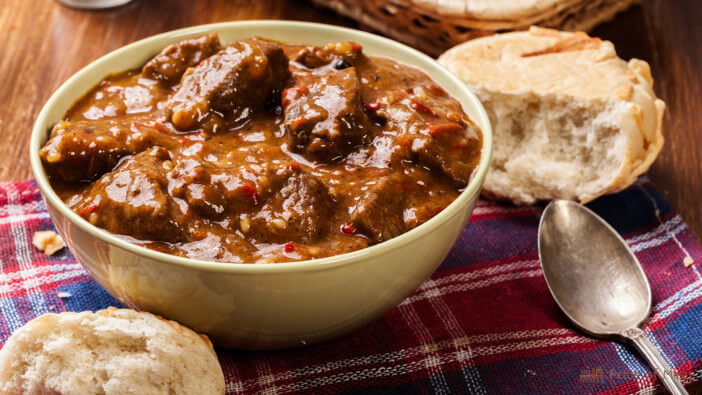 Beef stew is a beloved tradition in homes around the world. While beef stew is a full meal by itself, finding delicious bread that pairs with beef stew can make your dinner even more filling.
Technically, you can serve any type of bread with beef stew. Some of us even grew up eating saltine crackers with stew. However, why not elevate your bowl of humble beef stew to a whole new level?
Disclosure: As an Amazon Associate, this site earns from qualifying purchases. Thank you!
1. Sweet Hawaiian Rolls
Quick Sidenote – check out our shop for a curated selection of the best meats, cuts, sausages, and more. Open our shop in a new tab and explore!
King's Hawaiian sweet rolls are incredibly popular, and for good reason. You can buy this bread in loaves or rolls. The rolls are perfect for dipping into the stew.
If you want to try making them yourself, it's not too difficult. The secret to these rolls is pineapple juice and vanilla.
2. Challah
Traditional challah has a flavor that's slightly sweet, and the shiny gold crust is absolutely perfect. Inside, the bread is soft and pillowy.
The thing that makes challah special is the distinctive braiding pattern. This looks like a difficult bread to make, but it's easier than you'd imagine. For sweetness, use honey.
3. Sourdough Bread
Making artisan sourdough bread is challenging, but who doesn't love a good challenge? It takes just 10 minutes to make the bread, but you have to have a sourdough starter.
If the idea of making sourdough bread from scratch is daunting, there are some excellent store-bought options in the bakery section of most large supermarkets.
4. Jalapeno Cornbread
Cornbread is perfect with beef stew, and Mexican cornbread (or jalapeno cornbread) adds a nice spicy kick to your meal. This cornbread gets some sweetness from pure maple syrup.
For this recipe, you need almond milk (or regular whole milk), olive oil, cheddar cheese, and scallions. Serve this Mexican cornbread with honey butter for extra sweetness.
5. Breadsticks
Breadsticks are perfect when you need a quick and easy bread for your beef stew. You can buy frozen ones at the grocery store, but you can also easily make breadsticks yourself.
These are yeast breadsticks, so you will need to knead the dough and let it rise twice. However, it's worth the wait!
6. Rosemary Focaccia
When it comes to homemade bread, focaccia is one of the easiest to make. While it does use yeast, you can have this focaccia whipped up in minutes.
Also, focaccia is vegan, so this is a great bead to make if you're serving a group of people with different dietary needs.
7. Honey Cornbread Muffins
It's easy to use a product such as Jiffy Mix to whip up some cornbread muffins. All you need is the mix, an egg, and a little milk.
However, you can make cornbread muffins from scratch with not much more trouble. This recipe calls for a combination of flour and cornmeal. The sweet flavor comes from honey.
8. Brioche Bread
Generally, brioche bread is perfect for making French toast and sandwiches. However, this bread also goes great with beef stew.
Brioche is a classic French bread, and some people describe it as a cross between bread and pastry, because the bread has both eggs and butter. You can make either savory or sweet brioche.
9. Ciabatta Rolls
You can make ciabatta rolls in a day, and they take about four hours from beginning to end. Of course, this includes time for the dough to rise, so you're not actually slaving in the kitchen for four hours.
Ciabatta rolls are perfect for people who are just starting to learn how to make bread.
10. Naan Bread
You can find naan bread at most supermarkets, and it's also fairly easy to make it at home. Traditionally, naan bread is served with saucy Indian dishes such as curry, so you know it's delicious with beef stew.
While naan bread is similar to pita bread, naan is made with yogurt, so it's much softer than pita.
11. Homemade Easy Buttermilk Biscuits
Are there any meals that aren't well-suited for buttermilk biscuits? This recipe will give you flaky, tall, soft, buttery biscuits.
Biscuits are quick bread because they're not made with yeast. The secret to the perfect biscuits is to make sure you're cutting in cold butter and cold buttermilk.
12. Steakhouse Pumpernickel Rye Bread
Have you ever visited a steakhouse and been served luscious brown rye bread? Well, the good news is that you can make amazing pumpernickel bread at home.
To make homemade pumpernickel bread, you need powdered cocoa, rye flour, molasses, and all-purpose flour. Sugar also adds to the bread's signature sweetness.
13. Flour Tortillas
When it comes to the best bread for beef stew, don't sleep on flour tortillas. Flour tortillas are especially nice when you're cooking a beef stew with Mexican flavors.
You can buy delicious store-bought flour tortillas, but if you're feeling adventurous, consider making them homemade. Tortillas are quick bread because they're made without yeast.
14. Irish Soda Bread
If you're making Irish stew, you're almost obligated to serve it with Irish soda bread. Also, if you're one of the millions of Americans who are descended from Irish immigrants, your ancestors will thank you.
Best of all, Irish soda bread is super easy to make because no kneading or proofing is required. The texture is similar to that of biscuits.
15. Homemade Whole Wheat Dinner Rolls
Who doesn't love homemade dinner rolls? If you make your dinner rolls with whole wheat flour, you're getting healthier bread.
For this recipe, you can use either milk or buttermilk. Also, this recipe works with either instant yeast or active dry yeast. Honey adds the perfect touch of sweetness.
FAQs: Breads That Pair With Beef Stew
Below, we answer some of the most frequently asked questions about side dishes and bread for beef stew.
What side goes best with beef stew?
Ideally, beef stew is made with root vegetables such as carrots, onions, and potatoes. The veggies make the beef stew a full meal in itself. However, you can add a side dish of green vegetables such as green beans or a side salad.
Beef stew also goes great with starchy side dishes such as rice or egg noodles. If you want a whole grain option, go for whole grain noodles or brown rice.
What do you eat with Irish stew?
If you've made Irish stew, why not keep the rest of the menu in the Irish theme? To do this, you can serve your Irish stew with Irish soda bread and mashed potatoes.
If you want something slightly different, consider a quick green salad, buttered pasta, and homemade rolls.
What is stew eaten with?
Because stew is a one-pot meal, you have all you need right there in the pot. However, most people enjoy a meal more fully if there are side dishes or bread.
You can serve beef stew with any of the bread options on this list. For other side dishes, consider a green salad, roasted asparagus or green beans, and rice or noodles.
What is a good bread to serve with beef stew?
For your beef stew dinner, you can serve a simple quickbread such as cornbread. Consider sourdough bread or homemade dinner rolls if you're inclined to make more advanced bread recipes.