What Are Krystal Burgers Made Of? Famous Square Patties Explained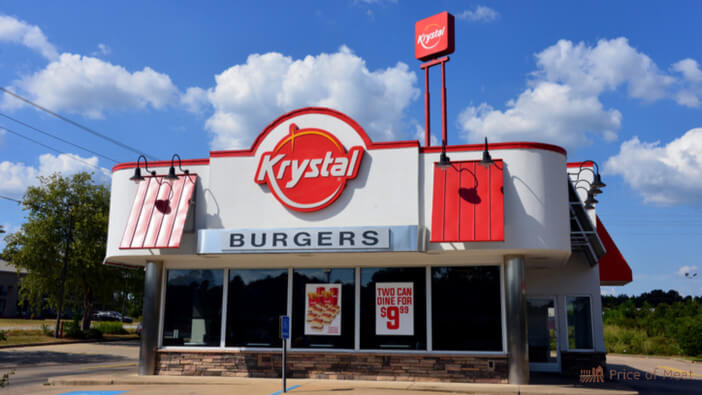 Krystal was founded during the Great Depression in Chattanooga, Tennessee, by Rody Davenport Jr. and his partner J. Glenn Sherill. Mary, Davenport's wife, came up with the name Krystal because the founders were sticklers for cleanliness and used the term "crystal clean." The original restaurant only cost $5,000 and was set in a 25-by-10 foot building that is now a nationwide chain.
So what are Krystal burgers made of? Continue reading to learn more about these famous square patties:
Disclosure: As an Amazon Associate, this site earns from qualifying purchases. Thank you!
What Are Krystal Burgers Made Of?
Krystal burgers are made using beef, and the onions may be tiny but full of beef flavor. When the dehydrated onions are reconstituted, beef broth is used, which helps add to the natural beef flavor of the tiny burger patties.
Quick Sidenote – check out our shop for a curated selection of the best meats, cuts, sausages, and more. Open our shop in a new tab and explore!
Are Krystal hot dogs beef or pork?
Krystal also serves hot dogs, known as Pups, made from beef. These hot dogs are served on a soft, steamy bun with your choice of toppings, including the restaurant's famous all-beef chili.
How does Krystal make their burgers?
Krystal makes their hamburger patty sliders by placing the square patty on a steamed bun, then topping it off with diced onions, mustard, and a pickle. This item is often referred to as the "Krystal."
The main ingredients in Krystal burgers include:
Square beef patty
Onions
Water
Salt
Pepper
Yellow mustard
Dill pickle chips
Brioche dinner rolls or a slider bun
American cheese slices
Are Krystal burgers steamed?
Krystal burgers are not steamed like those at White Castle. Instead, these burgers are miniature versions of traditional burgers, making them less soggy than their competition's burgers.
What kind of cheese does Krystal use on their burgers?
The Cheese Krystal is one of the best items available at this restaurant, mainly because cheese makes everything better. Krystal uses American cheese on their burgers, which compliments the diced onions, mustard, and dill pickle.
FAQs about Krystal Burgers
What is the difference between Krystal burgers and White Castle burgers?
White castle burgers are sweet, while Krystal burgers are tangy and savory. Also, the Krystal buns are fuller and more expensive than White Castle's burgers.
Are Krystal burgers healthy for you?
As with any fast food option, Krystal burgers are not considered healthy food, but they are not as unhealthy as other fast food restaurant options. Krystal burgers contain 130 calories and have 330 mg of sodium, which increases when topping the burger with chili and cheese.
Are the onions on Krystal burgers originally dehydrated?
Krystal burgers have onions that are tiny but full of beef flavor. The secret behind these flavorful onions is Krystal uses dehydrated onions that are reconstituted using beef broth.
Why does Krystal use dehydrated onions?
Dehydrated onions are a cost-effective way to add onions to Krystal burgers. Dehydrated onions save restaurant employees time from mincing the onions and reduce the cost of spoilage due to excessive amounts of unused onions.
What is the weight of a Krystal hamburger patty?
On average, Krystal hamburger patties weigh 65 grams.
What states are Krystal restaurants located in?
Franchised and company-owned Krystal restaurants are located in Alabama, Florida, Georgia, Kentucky, Louisiana, Mississippi, South Carolina, and Tennessee. In addition, some Krystal restaurants are starting to pop up in other states, such as Texas, Nevada, Arizona, and the Midwest, but they are not as prevalent in those states as they are in the southeast.
Which burgers are better: Krystal or White Castle?
Deciding which burger is better is a matter of your personal preference. If you prefer a spicy and savory burger, Krystal has the best burgers; however, White Castle may be your favorite if you like sweet burgers.
What is Krystal's most popular menu item?
The most popular item from Krystal's menu is their loaded fries, followed closely by their famous cheese Krystal slider. Other popular menu items include the chili cheese pup, loaded tots, Krystal Sackful, and Spicy Wings Sackful.
Does Krystal serve breakfast?
If you are hungry for breakfast, stop by your local Krystal restaurant to enjoy some of their unique breakfast items. Popular breakfast items available at Krystal include:
Pimento Cheese Chik Biscuit
Original Scrambler Bowl
Three-Egg Breakfast Plate
Bacon, Egg, & Cheese Biscuit
Glaze Bombs
Can I make Krystal burgers at home?
Making Krystal-like burgers at home is easy and affordable, providing a hot and delicious slider without heading to a Krystal restaurant. You will need ground beef, chopped onions, brioche slider buns, mustard, and cheese (optional).
To make homemade Krystal burgers, you will need to:
Preheat the oven to 375 °F.
Spray cooking spray on an 11 x 17-inch baking sheet and cover with chopped onions.
Mix ground beef, ¼ cup of water, and ½ tsp in a bowl. Black pepper, and 2 tsp. Kosher salt.
Drop dollops of ground beef on the onions and press down, creating a layer of patties about ¼-inch thick.
Use a pizza cutter and cut the burger meat into squares (about 16 per baking sheet).
Bake the ground beef and onions in the preheated oven for about 12 to 15 minutes.
Remove burgers, place on slider buns, and top with pickles and mustard (or preferred condiments).
Serve and enjoy.
What types of burgers does Krystal offer?
Krystal restaurants offer various types of burgers, providing their famous burgers to consumers with all of their favorite fixings. The three main Krystal burgers are the Original Krystal, the Cheese Krystal, the Double Krystal, and the Bacon Cheese Krystal.
Can I order flash frozen Krystal burgers and have them shipped to me?
Krystal restaurants have partnered with Grubhub, Uber Eats, and DoorDash, allowing consumers to have their favorite Krystal burgers delivered to them. These delivery services' availability varies based on each restaurant's operational procedures.
Regarding having Krystal burgers shipped to you, there is nothing on the company's website about having the burgers flash frozen and shipped.
Can I buy Krystal burgers at the grocery store?
Unlike its competitor White Castle, Krystal burgers are unavailable at local grocery stores. Upon an Internet search of stores, such as Walmart, Sam's Club, Publix, and Amazon, there were no listings for available products from the Krystal restaurants.