What are some sides that go well with ahi tuna? We're going to give you lots of ideas for ahi tuna side dishes. But first, what is ahi tuna?
Ahi tuna isn't the same as tuna fish in a can. We definitely do not recommend chopping up an ahi tuna steak and blending it up with mayonnaise and pickle relish. Rather, ahi tuna is a delicacy that is unrivaled in the world of seafood.
Ahi tuna can be used to make sushi, and you can also sear, grill, or broil an ahi tuna steak. Now, about those side dishes for ahi tuna. Let's dive in!
1. Roasted Balsamic Brussel Sprouts
Brussels sprouts have been having a moment for a few years now, and we're here for it. Back in the day, many people didn't enjoy these tiny little cabbage-like veggies because our grandmothers and mothers boiled them.
Now, you can use all sorts of different flavors to season your Brussels sprouts. Best of all, cooking them in the air fryer or oven makes them nice and crispy.
2. Salad with Italian Vinaigrette Dressing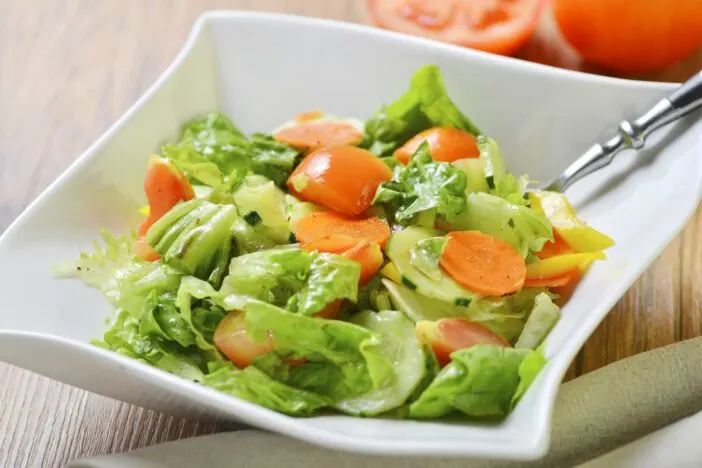 It doesn't get much simpler than a green salad, but we love this salad with an incredible homemade vinaigrette dressing. What makes this dressing unique is that whole fresh herbs are blended in a food processor with red wine, olive oil, honey, sea salt, and black pepper.
The herbs used are oregano, parsley, and basil. Toss the salad with the dressing and add some kalamata olives. With your ahi tuna steak and some crusty bread, you have the perfect meal.
3. Cheesy and Creamy Cavatappi Pasta
If you love macaroni and cheese (and who doesn't?), creamy cavatappi pasta is like mac 'n cheese for grownups. Cavatappi is shaped like a corkscrew, so it is perfect for creamy sauces.
This pasta side dish is loaded with flavor. The seasonings are garlic powder, oregano, parmesan cheese, and red pepper flakes. This dish doubles as a veggie side dish, too, because it has spinach, cauliflower (for the sauce), and sundried tomatoes.
4. Easy Moroccan Couscous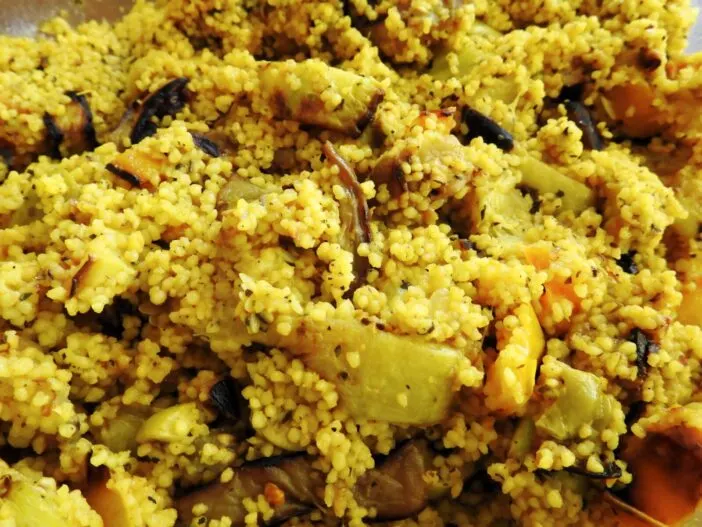 Moroccan couscous is a great side dish for ahi tuna, and this version is vegan and dairy-free. This couscous contains wonderful ingredients, such as crunchy almonds and sweet raisins, giving it a different feel from traditional couscous.
Since it's a vegan recipe, this dish calls for vegetable broth. Other ingredients include cumin, garlic, onion, cinnamon, and salt.
5. Air Fryer Asparagus Spears
How did we ever live without the air fryer? It has changed the way so many of us cook, and foods that were out-of-reach before are suddenly everyday staples.
This air fryer asparagus is incredibly easy to make, and the ingredients list is short and simple. All you need is asparagus, garlic salt, parsley, olive oil, and parmesan cheese.
6. Boiled New Potatoes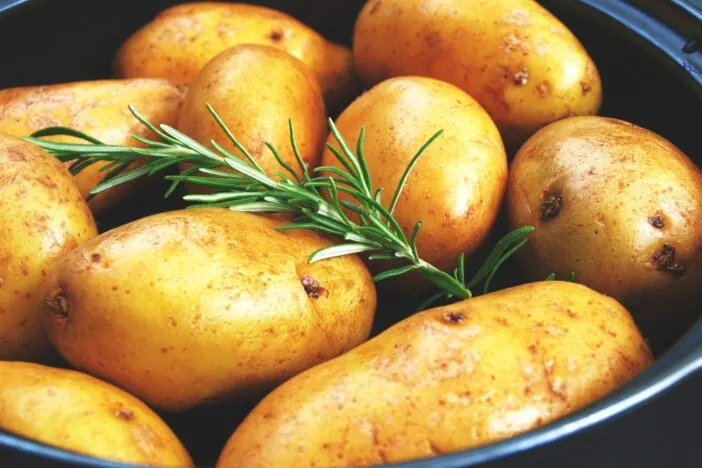 Boiled new potatoes are a classic side dish for hearty main-dish meat dinners. Best of all, they're super easy to make.
You don't need to peel the potatoes if you don't want to. The skins add tons of extra nutrients and color. The only ingredients you need are salt, butter, olive oil, black pepper, and chopped parsley.
7. Stuffed Mushrooms
Because they're a little extra work, we don't cook stuffed mushrooms as often as we should. If you're making a thick ahi tuna steak, it's worth going to a little extra trouble for the perfect side dish.
For these stuffed mushrooms, you need baby bella mushrooms. Other ingredients include garlic cloves, cilantro, cream cheese, parmesan cheese, and bread crumbs.
8. Oven-Roasted Parsnips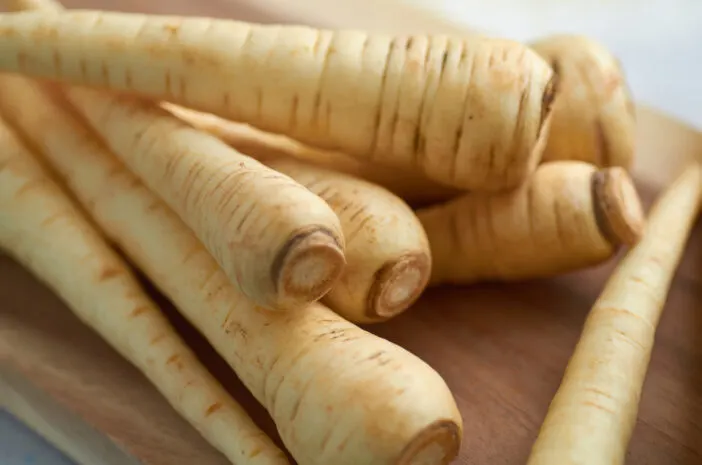 Parsnips deserve more love than we give them. And if you want a quick and easy side dish that will wow your guests, these oven-roasted parsnips will get you there.
To make these roasted parsnips, all you need is fresh rosemary, olive oil, garlic, and salt and pepper. You'll need to peel the parsnips, but it's worth the extra effort.
9. Herbed Brown Rice
For a starchy side, why not try something unique like this herbed brown rice? It's a one-pot side dish that will go beautifully with ahi tuna steak.
Since brown rice is healthier, it's also a guilt-free carb side dish. To make this recipe, you need onions, garlic, oregano, rosemary, and red chili flakes.
10. Broccoli Salad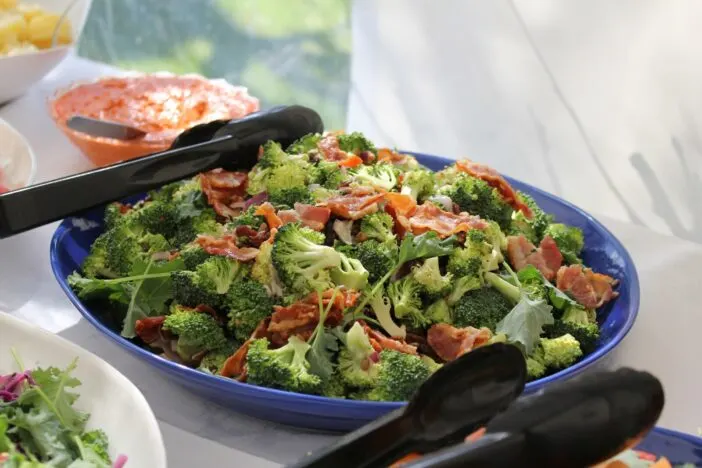 Maybe you want a side dish you can make in advance. If you have this broccoli salad prepared, it's easy to come home and grill your ahi tuna steaks.
For this broccoli salad, you need red onion, dried cranberries, sunflower seeds, crispy bacon bits, and dressing. You can use a store bought coleslaw dressing or you can make the homemade version in the recipe. For that, you need sugar, mayonnaise, and apple cider vinegar.
11. Grilled Mediterranean Veggie Kabobs
If you're grilling an ahi tuna steak, why not serve grilled veggies as a side dish? These vegetable kabobs have a bold Mediterranean flavor because of the delicious marinade.
For the marinade, you need red pepper flakes, olive oil, fresh lemon juice, garlic cloves, salt, and oregano. Use whatever type of veggies you like.
12. Grilled Pineapple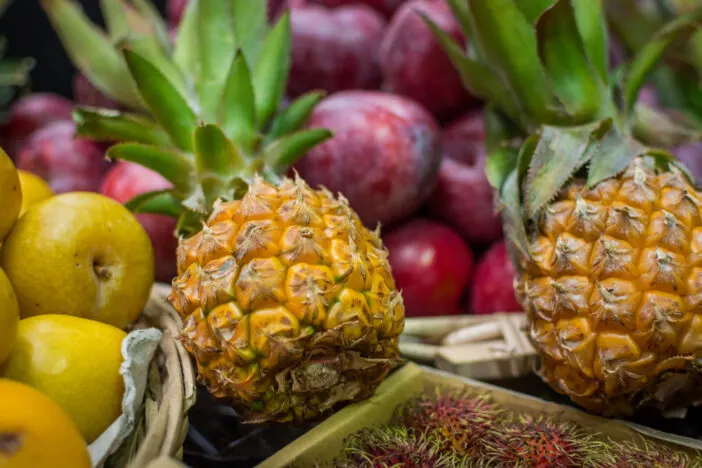 Ahi tuna is a beloved Hawaiian tradition, and serving your tuna steak with some grilled pineapple brings a delightful Polynesian flair to your dinner.
This recipe for grilled pineapple calls for light brown sugar, butter, and cinnamon. While your grill is hot from cooking your tuna steak hot, coat the grates with cooking spray. These sweet little pineapple slices are done in just six minutes.
FAQs about Sides That Go Well With Ahi Tuna
Below, we answer some of the most frequently asked questions about sides that go well with ahi tuna.
What is a good side dish for ahi tuna?
Anything you would serve as a side dish for a beef steak works equally well as an ahi tuna steak side dish. Consider simple sides such as baked potato and green salad.
If you're trying to watch calories but still want a satisfying meal, consider a steamed or air-fried vegetable and a sweet potato.
What vegetables go well with tuna?
We recommend keeping the vegetable side dishes light when you serve ahi tuna. You can serve any type of vegetable salad. Other great options include veggies cooked in the air fryer or steamer.
What goes good with tuna fish?
A good rule of thumb when planning a meal is to plan with this formula.
Meat (ahi tuna)
Carbohydrate side dish (potato or pasta)
Vegetables (one or two veggie sides)
With this formula, you can consider a meal such as your grilled ahi tuna steak, mashed potatoes, and sauteed green beans.
What is a good side for tuna steak?
If you're not a fan of potatoes, consider pasta side dishes. You can serve a Greek pasta salad with your ahi tuna steak or make a decadent macaroni and cheese side dish.
Don't sleep on fruit side dishes. While the grill is fired up, you can make some grilled pineapple for an authentic Polynesian meal.
What vegetable goes well with tuna steak?
All vegetables are excellent when served with an ahi tuna steak. You can serve grilled vegetables, steamed vegetables, or you can whip out your air fryer and serve up some crispy veggies.