What is Beef Milanesa used for? Known as the unofficial national dish of Argentina, Milanesa is a delicious down-home meal similar to the chicken-fried steak you would find in Texas or Austria's Wiener Schnitzel.
Below we'll explore the fascinating history of the South American classic. Once we learn more about beef Milanesa, we'll dive into some delicious recipes and meal ideas.
What Is Beef Milanesa?
Beef Milanesa is made using thin top-round steak cutlets that are breaded and fried in hot oil. The beef curls while cooking since it's from a cut that generally has less sinew and fat. The cutlets are then pounded.
The History Behind Beef Milanesa
Despite being considered a South American dish, Milanesa's roots trace back to Milan, Italy. It's the cousin of a dish called cotoletta alla Milanese. The first mention of that dish was part of a banquet in Saint Ambrose Basilica in 1134.
However, Austria takes some issue with this account, claiming that their Wiener Schnitzel came first and is the actual ancestor of Milanesa. However, food historians found the Italian recipe was what inspired Wiener Schnitzel after it spread to Austria when the Italians occupied Lombardy during the 19th century.
When it comes to Argentina, the dish is believed to have been brought into the country by Italian immigrants between 1880 and 1930 during the Italian diaspora.
The Italian immigrants brought much of their culture and tremendously influenced Argentina's cuisine. Pizza is a long-held Argentine tradition, even before most Americans ever heard of the dish. And Argentine's language Castellano is sprinkled with lots of Italian pronunciation and slang.
8 Beef Milanesa Meal Ideas
We'll start our list of delicious Milanesa meals with the classic Argentinian Milanesa. However, there are lots of other ways to cook this traditional meat.
1. Argentinian Milanesa
Traditional Argentinian Milanesa is a dish people love chicken fried steak, and Wiener Schnitzel can get behind. The beef is tender and juicy on the inside, with a crispy, golden crust.
Each slice of thinly sliced beef, veal, pork, or poultry is then dipped in beaten eggs before being seasoned using ingredients such as parsley, salt, garlic, and Oregano.
Finally, every slice is generously coated with breadcrumbs or flour before being lightly fried in a vegetable oil bath.
2. Oven-Baked Milanesa
Oven-baked Milanesa is a variation of the original Milanesa recipe that contains less grease while maintaining its crunchy, golden crust and tender, meaty inside.
This recipe also works with meats such as fish, chicken, pork, and veal. Your milanesas can be ready to serve out of the oven after 15-20 minutes.
3. Eggplant Milanesa (Milanesa de Berenjenas a la Parmesana)
For vegetarians looking to enjoy the Milanesa experience, there's good news. You can enjoy the Argentine classic's flavors without the meat using eggplant.
This tasty recipe is super easy to make and tastes fantastic with the homemade chimichurri mayo.
For a vegan recipe, mix Yolanda flour, chopped garlic cloves, salt, water, finely chopped parsley, and pepper to dip your meat before breading.
4. Milanesa a La Napolitana
An interesting story behind this dish. Many people believe the dish that features cheese, ham, and tomato sauce, has something to do with the Neapolitans of Naples, Italy.
However, this dish is the invention of an Argentine chef and restaurant owner in Buenos Aires named José Napoli, and the dish should be called the Milanesa alla Napoli.
Napoli's restaurant was close to a famous boxing stadium, and spectators made up most of their regular clientele. One such patron was a massive fan of their Milanesas, and the meal was the only thing he would order.
One night, when the restaurant was just about to close for the day, the man came in and ordered his usual. It was a fortunate thing that Napoli had one Milanesa left. However, he accidentally overcooked the meat!
In a panic, he had to think of something quick to hide his mistake from the customer. And that's when he came up with an idea inspired by an old recipe for Costoletta alla Valdostana he'd gotten from Aosta valley, Italy.
He added ham and cheese to the meat and topped it with tomato sauce to give the meat extra moisture.
Of course, his customer loved it and was honored to try his "newest" menu item. Since then, the dish became a sensation and soon spread throughout Argentina.
5. Milanesa a Caballo
Also known as Argentina Milasena on Horseback, Milanesa a Caballo tops crispy fried pieces of beef with two fried eggs to give the dish new delicious dimensions of flavor.
It makes for a great dinner when served with french fries or steak and eggs breakfast meal when served with grits or hashbrowns. And if you only have or want one egg, then the dish is called "Medio Caballo," which means "half horse."
6. Milanesa Steak Without Breading
If you're not a big fan of breadcrumbs or want to try a different take on Milanesa, this recipe will show you how to make amazingly tender Milanesa without the breadcrumbs.
You have to marinate your steak and cook it until it reaches delicious perfection. And since the steak cutlets are thin, it won't take very long to cook your meat. The best liquids to use as a marinade are milk, buttermilk, or yogurt.
7. Pan Con Milanesa
Pan con Milanesa, also called Sanguche de Milanga, Sánguche de Milanesa, Carlitos, and Milanesa al Pan, is a famous Argentine sandwich that's also beloved in Uruguay and Paraguay.
This sandwich features thinly pounded veal cutlets that are breaded and fried before being baked and served on rolls with lettuce, tomatoes, mustard, and mayo. Ciabatta bread is the traditional roll for this recipe, but you can also use French bread.
8. Milanesa de Peceto
Milanesa de Peceto is made using the eye of round steak, a very lean cut, and many believe it's best when it's roasted rare. But, for this dish, the eye of round (Peceto) is prepared the same as in most Milanesa recipes, dipped in beaten eggs with parsley and chopped garlic, then coated in breadcrumbs before being fried in hot oil.
FAQs about Beef Milanesa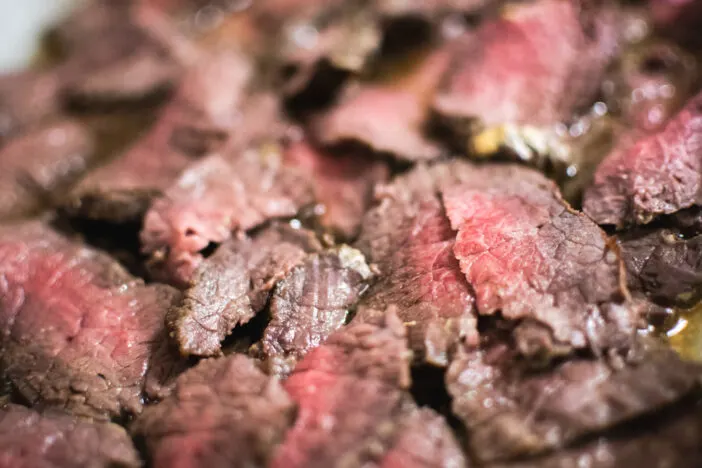 Below, we answer some of the top questions about beef Milanesa.
What is Milanesa meat in English?
Milanesa represents the South American version of the Austrian Wiener schnitzel or the Lombard veal Milanesa. The word describes breaded top round cutlets that are thinly sliced.
How do you eat Milanesa?
This meal is usually served with the choices of refried beans, rice, french fries, mashed potatoes, or a salad with a wedge of lime or lemon. Many also enjoy Milanesa with hot sauce. It's also eaten as a sandwich.
What meat is similar to Milanesa?
Milanesa is usually made with top-round steak cutlets, but you can also make Milanesa using pork, veal, chicken, or fish.
Where is Milanesa meat from?
Traditional Milanesa is made using beef from a cow.