14+ Sides That Go Well With Chicken Kabobs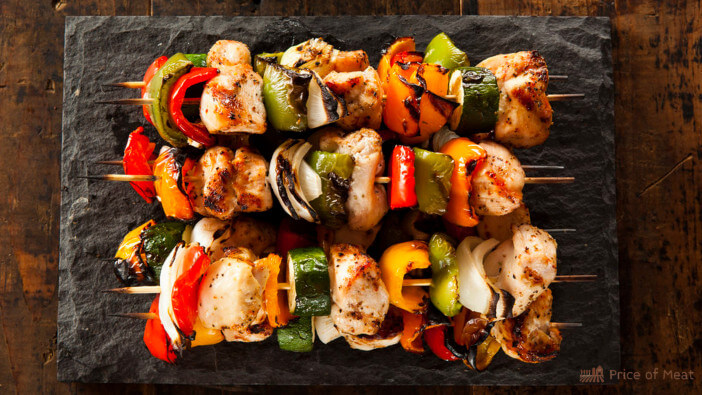 Are you looking for sides that go well with chicken kabobs? We've got you covered. When you're grilling, kabobs cook up quickly, so you can get dinner on the table sooner.
Besides being delicious and easy to cook, chicken kabobs are also colorful, fun to eat, and super healthy. Best of all, the chicken pieces are cooked until they're golden brown on all sides. The crispy exterior makes them scrumptious.
Ready for dinner? Let's check out these delicious chicken kabob side dishes.
Disclosure: As an Amazon Associate, this site earns from qualifying purchases. Thank you!
Quick Sidenote – check out our shop for a curated selection of the best meats, cuts, sausages, and more. Open our shop in a new tab and explore!
1. Lebanese Rice with Vermicelli
While Lebanese rice is simple in terms of ingredients, there is nothing simple about the complex flavors of this delicious side dish. The secret to the perfect Lebanese rice is toasted pine nuts.
The only other ingredients you need for this classic Mediterranean recipe is long-grain rice, broken vermicelli pasta, water, olive oil, and salt.
2. Toasted Orzo
Anytime we can add sun-dried tomatoes to a recipe, we know we're in for a huge treat. Sun-dried tomatoes just bring in so much brightness and flavor.
For this recipe, the orzo is toasted to perfection. Red pepper flakes add a delightful and unexpected kick. With parmesan cheese, you get a lot of complex flavors. Herbs are chopped dill and parsley.
3. Mediterranean Potato Salad with Feta Cheese
Who doesn't love potato salad? Move over, mustard potato salad. This Mediterranean potato salad will be the perfect chicken kabobs side dish.
We recommend Yukon gold potatoes for this potato salad. Also, this is a potato salad recipe that calls for eggs, but you can omit them if you prefer. This salad is loaded with feta cheese and kalamata olives. The dressing gets tons of flavor from Dijon mustard, mayo, and lemon juice.
4. Traditional Greek Horiatiki Salad
Kabobs have a Mediterranean feel, so why not pair your chicken kabob dinner with a classic Greek salad? Horiatiki is colorful and refreshing, and it can be made the day before.
Best of all, this Greek salad doesn't have a lot of exotic ingredients. All you need are cucumber slices, red onion, tomatoes, green pepper, olives, red wine vinegar, olive oil, oregano, and feta cheese.
5. Lemon Couscous
Lemon adds tons of bright flavor to this delicious couscous recipe. In fact, you may find yourself making extra the next time you cook it because it's so perfect for a light lunch the next day.
This couscous has both fresh lemon juice and lemon zest. Other ingredients include chicken broth, olive oil, minced garlic, and fresh parsley.
6. Spiced Rice With Crunchy Chickpeas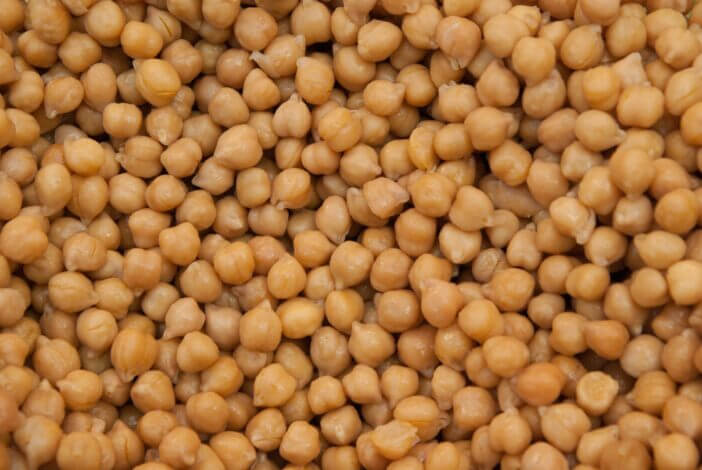 You can use food from your pantry to make this unique side dish, including canned chickpeas. We recommend fragrant basmati rice for this dish because it cooks up so perfectly.
Other ingredients include shallots, Medjool dates, and garam masala. Roasted pistachios add even more crunchiness, and turmeric adds both flavor and color. Serve your finished dish with plain Greek yogurt and chopped fresh cilantro.
7. Greek Pasta Salad
You can use a store-bought Italian dressing for this pasta salad, but it's also easy to make the included homemade dressing. The salad is made with penne pasta, chopped cucumber, halved grape tomatoes, bell pepper, kalamata olives, red onions, and crumbed feta cheese.
For the dressing, you need olive oil, red wine vinegar, fresh lemon juice, garlic powder, fresh oregano, sea salt, and black pepper.
8. Pluot Tabbouleh
How does the combination of flavors from mint and lemon juice sound? This is a side dish that goes perfectly with chicken kabobs.
The bulgur adds tons of delicious bulk, and the chopped English cucumber adds cool crispness.
9. Red Cabbage Coleslaw
This colorful red cabbage coleslaw is as gorgeous as it is delicious. The cabbage adds some welcome bulk to your meal, and the dressing is divine.
You can use a store-bought salad dressing to make this coleslaw. If you make the homemade dressing, you need apple cider vinegar, maple syrup, dried dill, mayonnaise, red onion, celery seeds, and black pepper.
10. Turkish Shepherd Salad
Also called Coban salad, Turkish shepherd salad is made with cucumbers, sweet onions, and fresh summer tomatoes. Complex flavors come from lemon juice and sumac.
Another idea is to add some chopped bell pepper to this salad. You'll have even more color, nutrition, and flavor. The dressing is made with lemon juice, vinegar, olive oil, red pepper flakes, and pomegranate molasses.
11. Tzatziki (Cucumber Yogurt Dip)
Cool, creamy tzatziki is perfect for dinner on a hot summer day, and it's easier than you think to make it. Best of all, you can make a double batch and enjoy it the next day with grilled vegetables and sandwiches.
For the tzatziki, you need to grate your cucumber and garlic. Other ingredients include Greek yogurt, fresh lemon juice, chopped fresh dill, chopped fresh mint, and sea salt.
12. Grilled Artichokes with Aioli
Artichokes are perfect with chicken kabobs, and you can grill them after you make your main dish. These grilled artichokes have a delightful smoky flavor and they're served with lemon aioli sauce.
The aioli is made with lemon juice, mayonnaise, minced garlic, and fresh parsley.
13. Mediterranean Brown Rice Salad
Mediterranean eating is all about wholesome goodness, including rich whole grains such as brown rice. The salad is made with cooked brown rice, diced tomatoes, diced cucumbers, red onion, arugula leaves, chopped cilantro, and fresh dill.
The dressing for this salad is made with fresh lemon juice, Dijon mustard, olive oil, garlic, and black pepper. You can dress up this simple salad with yogurt, flaked toasted almonds, pepitas, and even a can of salmon.
14. Grilled Fruit Kabobs
While you've got the grill fired up, why not go ahead and cook a delicious and healthy side dish dessert? Grilled fresh fruit is perfect as a side dish for chicken kabobs.
You can get creative with your fruit. Consider strawberries, cantaloupe, and pineapple. A tablespoon of maple syrup adds tons of sweetness and helps to caramelize the fruit. You can serve this fruit with vanilla yogurt if you have it for dessert.
FAQs about Sides That Go Well With Chicken Kabobs
Below, we answer some of the most frequently asked questions about sides that go well with chicken kabobs.
What marinade is best for chicken kabobs?
The best marinade for chicken kabobs is one that has a lot of texture and layered flavors that are sweet, tangy, and salty. Look for a chicken kabob marinade with these ingredients.
Lemon juice
Honey or brown sugar
Garlic
Black pepper
Soy sauce
Worcestershire sauce
Olive oil
Italian seasoning
How long do you grill chicken kabobs?
Grill chicken kabobs for between 10-15 minutes (about 7.5 minutes on each side), depending on the size of your chicken pieces.
What salad goes with chicken kabobs?
Any type of salad works beautifully with chicken kabobs. To keep with the Mediterranean theme, try Greek pasta salad or Caprese salad. A plain green salad or Caesar salad is a delicious chicken kabobs side dish.