If you've avoided buying a London broil because of its reputation for not being tender, you're missing out on some exceptional flavor that comes at great value. For a tender London broil, it's all about how you cook it and prepare it in advance.
According to James Beard in his book "Beard on Food: a Feast of Gastronomic Inspirations, Cooking Ideas, and Irresistible New Recipes," London broil was originally made with flank steak, but over time, the name has also been used to describe other thick cuts of beef that are extra lean.
This can include rump steak, sirloin steak, and top-round steak. A London broil will be anywhere from 1-inch to 4-inches thick.
Are you ready to learn all about what meals to serve with London broil? Let's dive in!
1. Classic London Broil
A classic London broil is easy to prepare, and you can serve it with delicious herb butter. The secret to getting this steak super tender is the marinade. For the marinade, you need beef broth, fresh lemon juice, soy sauce, olive oil, Worcestershire sauce, kosher salt, and black pepper.
Allow the beef to marinate for at least six hours, turning to coat halfway through the marinating time. Broil the steak for 27-29 minutes, turning after 15 minutes.
2. Teriyaki Marinated London Broil
For delicious Asian flavors, there's nothing better than a tangy teriyaki marinade. This recipe calls for sherry, but you can use Mirin instead if you prefer. For extra zing, add a dash of red pepper flakes.
Other ingredients for this recipe include soy sauce, finely grated fresh ginger, crushed garlic, and brown sugar.
3. Gluten-Free Java London Broil
Anytime we can use coffee in a dinner recipe, we know it's going to be a good day. With this recipe, you get the perfect combination of spicy and sweet. Best of all, you can make this entree with a cheaper cut of beef.
You're not going to make coffee to use in this recipe. Instead, use fresh ground coffee. Other ingredients include oregano, coriander, black pepper, and brown sugar.
4. Smoked London Broil
One secret to making tougher cuts of beef more tender is cooking them slowly. In this case, smoking gives you an excellent finished London broil.
For this recipe, choose a flank steak or top round roast. The marinade is made with soy sauce, Chablis wine, Worcestershire sauce, white vinegar, and olive oil. Seasoning ingredients include onion granules, paprika, celery salt, black pepper, and a pinch of cayenne pepper.
5. Air Fryer Top Round London Broil
Air fryers have changed the way the world cooks, and using one to cook up tender London broil is easier than ever. For this London broil recipe, the steak is coated with canola oil and then coated with a spice and sugar rub.
The rub is made with turbinado sugar, granulated garlic, granulated onion, paprika, kosher salt, and black pepper. This London broil is ready to eat after just nine minutes in the air fryer.
6. Pan-Fried Zucchini Noodles (Zoodles) with Balsamic Marinated London Broil Steak
A pasta dish is always a welcome treat, but if you're watching carbs, you can make this delicious meal with zoodles (zucchini noodles). The zoodles are seasoned with garlic, salt and pepper, and red chili pepper flakes.
For the London broil marinade, use balsamic vinegar, garlic, olive oil, kosher salt, and black pepper.
7. Sous Vide London Broil with Soy Dijon Glaze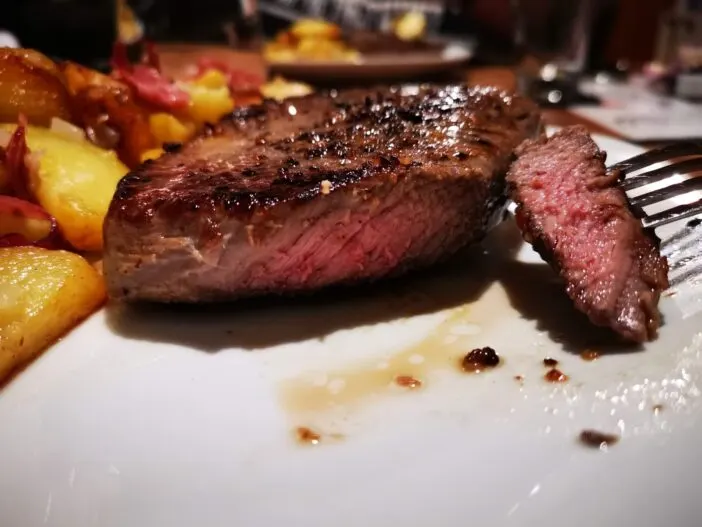 Sous vide is an excellent cooking technique for tenderizing tougher cuts of meat. For this recipe, the beef cooks to medium rare, and it's super tender.
The delicious Dijon soy glaze is made with smashed garlic, brown sugar, Dijon mustard, rice vinegar, sea salt, and Worcestershire sauce.
8. Slow Cooker Beef Fajitas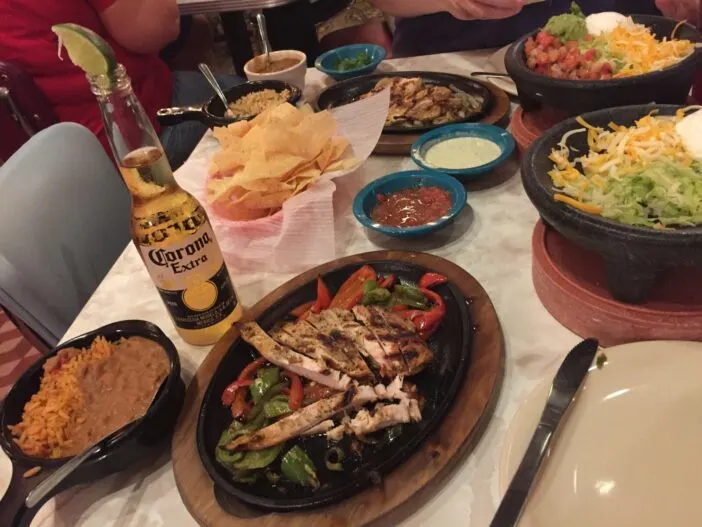 Who doesn't love a good fajita dinner? With your slow cooker, tender beef fajitas can be ready to eat as soon as you get home from a busy day at work.
Cooking London broil cuts in the slow cooker helps them get super tender. For these beef fajitas, you can use either sirloin steak or flank steak. Buy different colored bell peppers to make your meal more colorful. A can of Rotel tomatoes adds tons of flavor.
9. Jack Daniels Marinated London Broil
If you need a good excuse for enjoying some Jack Daniels Honey Whiskey, we've got you covered. This London broil recipe calls for an apple cider vinegar marinade, so you know it's super tender.
To make this London broil, you need to allow the beef to marinate for at least four hours, and if you can let it sit in the fridge overnight, that's even better. You can cook this steak on the grill or in the broiler.
10. Italian Herb Steak Pinwheels
If your family loves finger food, these Italian herb steak pinwheels will hit the spot. What we love about this recipe is its versatility. You can use whatever herbs you happen to have.
As it's written, this recipe calls for minced or grated garlic, sea salt, black pepper, freshly chopped parsley, freshly chopped oregano, and a dash of red pepper flakes. Baby spinach leaves make this a complete meal.
11. Horseradish Crusted London Broil
For a busy weeknight, you can easily whip up this horseradish-crusted London broil. When shopping for this meal, be sure to buy prepared horseradish instead of horseradish sauce.
Allow the London broil to marinate in Dijon mustard, horseradish, salt, and black pepper for at least six hours. Cook the meat in your broiler on a cookie rack for 20 minutes, turning halfway through cooking time.
FAQs about Meals To Serve with London Broil
Below, we answer some of the most frequently asked questions about meals to serve with London Broil.
What is best served with London Broil?
For London broil side dishes, serve whatever side dishes you would typically serve with any steak. This can include baked or mashed potatoes, grilled asparagus, and a green salad.
What else can I do with a London Broil?
Keeping in mind that London broil is more a cooking technique than an actual cut of meat, you can make any beef recipe you would normally use to cook tougher cuts of meat. This can include any of these meals:
Beef stew
Stir-fry (be sure to marinade the beef first)
Roast with root vegetables
For cooking methods, you can prepare London broil in the slow cooker, smoker, oven, sous vide, Instant Pot, air fryer, or on the stovetop.
How do you cook London Broil so it's not tough?
London broil doesn't have to be tough or tasteless. The secret to getting the most flavor and tenderness out of your London broil steak is what you do to it before you cook it. Follow these steps for tender London broil.
Generously season your London broil steak with salt and black pepper.
Allow it to sit on the counter at room temperature for about an hour to tenderize.
After the London broil has tenderized for about an hour, grill it for about 12-15 minutes at medium-high heat, turning after 4-5 minutes. The internal temperature should be 125°F.
You can also use a marinade to tenderize your London broil. For cooking, you can broil it in the oven instead of grilling.
Is London Broil an expensive cut of meat?
Because London broil comes from a part of the animal that tends to be tougher, it's an inexpensive cut of beef.