16+ Best Restaurants That Sell Crab Legs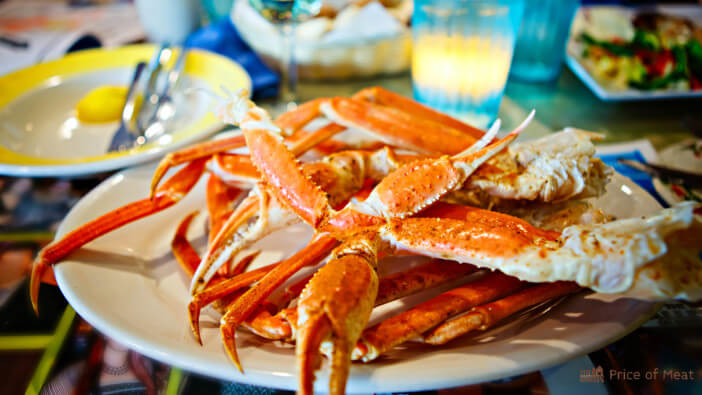 One fun thing about traveling is trying delicious food made by local restaurants you can't find anywhere else. And crab lovers asking, "What restaurants sell crab legs" can attest that some seafood joints are better than others.
This is why we've compiled a comprehensive list of the 16 best restaurants offering crab legs. In this guide, you'll find everything from swanky dining establishments to down-home cooking shacks with no shortage of local personality and flavor.
Disclosure: As an Amazon Associate, this site earns from qualifying purchases. Thank you!
1. The Crab Hut: San Diego
In the beautiful coastal city of San Diego, the residents know a thing or two about good seafood. And one of their favorite destinations for savory crab legs is the Crab Hut, a local chain that's been around for years.
Quick Sidenote – check out our shop for a curated selection of the best meats, cuts, sausages, and more. Open our shop in a new tab and explore!
Here you'll find snow crab, king crab, and many delicious side dishes such as corn, potatoes, and Andouille sausage.
2. Hemenway's: Providence, Rhode Island
When it comes to crab legs, the Atlantic coast area is known for having some of the best in the world. One hot spot people flock to is Hemenway's, located in Rhode Island.
Here you'll find fresh Alaskan king crab. But you better bring your appetite because these giant crabs have legs that can weigh between 1.5 and 2 pounds.
3. George Inlet Lodge: Ketchikan, Alaska
Often some of the best restaurants are an adventure just to locate, as they are off the beaten track. One such establishment is George Inlet Lodge in Alaska, located in remote Ketchikan.
However, fans of their famous crab legs will readily attest that finding the lodge is well worth the effort. Along with Dungeness crab, they offer a mind-blowing cheesecake with a delicious blueberry topping.
4. The Crab Shack: Tybee Island, Georgia
Located in historic Savannah, Georgia, folks vacationing in the scenic southern paradise love its sandy beaches and dining at a local favorite called The Crab Shack.
Not to be confused with Joe's Crab Shack, this restaurant has a style and personality all its own. Here you'll find that crab is the main attraction featured on the menu. They've got Alaskan King, Dungeness, snow, and blue crab legs.
5. Charlie Horse Restaurant: Ormond Beach, Florida
Every day is great to visit Charlie Horse restaurant, a family-owned establishment in beautiful Ormond Beach, Florida. Here you'll find all-you-can-eat offered for their savory snow crab legs.
They also offer a fantastic selection of beverages, cocktails, and other seafood favorites like coconut shrimp. Plus, the portions are very generous, and prices are more than reasonable.
6. The Angry Crab: Chicago, Illinois
For those living in or visiting the Windy City, you've got many fantastic fresh seafood options. But, you must stop by a local favorite known as the Angry Crab when in town. Here you'll find delicious selections of snow crab legs, king crab legs, and Dungeness crab legs.
The Angry Crab also offers a wide selection of sauces and spices. Your seafood arrives hot and fresh at your table inside a boiled bag.
7. The Crab Bag: Ocean City, MD
Located in Ocean City, a unique township comprising a thin peninsula just south of the Delaware and Maryland state line, you'll find the seafood haven known as The Crab Bag. If you're looking for fresh-caught Atlantic crab, you've come to the right place.
The Crab Bag is the perfect locale to enjoy incredible ocean views and dishes such as steamed crab legs, baby back ribs, fried chicken, and much more.
8. The Barking Crab: Boston, Massachusetts
In Boston, they take their seafood seriously, especially their crabs. This seafood town has plenty of restaurants serving up crab legs, but one of the best is a local favorite called the Barking Crab.
The establishment has over 2,000 reviews on Trip Advisor alone, averaging four out of five stars.
9. Clemente's Crab House: Brooklyn, NY
While New York City may be better known for its outstanding Italian food, and especially pizza, you'll also find no shortage of incredibly fresh seafood in the Big Apple.
And when you're in Brooklyn, you must stop by Clemente's Crab House. It features a lively atmosphere, friendly service, and some of the tastiest crab legs in town.
10. The Darling Oyster Bar: Charleston, South Carolina
Down in South Carolina, folks love their seafood, and in the sleepy seaside city of Charleston, the local spot with some of the best crab legs is located in the historic Charleston Harbor.
The restaurant is in an area filled with waterways where lots of folks enjoy crabbing. This means there's no shortage of fresh crab and the Darling Oyster Bar also features a world-famous Bloody Mary seafood cocktail that will knock your socks off.
11. Crab House at Pier 39: San Francisco, California
Across the Golden Gate Bridge in San Francisco is the famous Crab House at Pier 39, where the crab legs never stop flowing. This local favorite features Dungeness crab, which is commercially caught in the bay every crabbing season.
When ordering, try your crab legs with some fresh sourdough bread, another famous San Francisco dish.
12. Berry's Seafood and Catfish House: Florence, Mississippi
If you're ever in Florence, Mississippi, on a Thursday, Friday, or Saturday night, drop by Berry's Seafood and Catfish House for their famous all-you-can-eat crab leg buffet. The buffet also features fried oysters, fried and boiled shrimp, and seafood pasta.
At Berry's, you can also enjoy home-cooked Southern comfort favorites like turnip greens, macaroni and cheese, and freshly baked cornbread.
13. Shaking Crab: Newton, Massachusetts
When you're in New England, you know the folks there don't mess around regarding their crab legs. And one of the diamonds in a sea full of New England seafood restaurants is the Shaking Crab, located in Newton, Massachusetts.
While the chain has eateries in New Jersey, New York, Connecticut, Rhode Island, and other states, this location is where the legend started. With one taste of their fantastic food, you'll understand why they've been so successful.
14. Six Feet Under Pub and Fish House: Atlanta, Georgia
The Six Feet Under Pub and Fish House is the next best thing to dying and going to seafood heaven. This Atlanta-based chain features Canadian snow crabs.
While there, try their Six Feet Under Steamer platter featuring mussels, crab legs, oysters, and shrimp, a feast that easily feeds two-four people.
15. Cajun Seafood: New Orleans, Lousiana
When it comes to that one-of-a-kind Cajun seafood taste, you can't beat the food at New Orleans's Cajun Seafood, a restaurant known for its world-famous seafood boil, which they serve in a plastic bag.
Serving a seafood boil in a plastic bag is a common practice. The reason is that it keeps the crab legs in fat and seasoning, so they are always juicy and flavorful. A bag can feature either snow, blue, or Dungeness crabs.
16. Salty's: Seattle, Washington
When in Seattle, a coastal city that's just crazy for fresh seafood, you've got to visit Iconic Salty's, which features insatiable seafood every day of the week. Here you can stuff your belly full of delicious Alaskan and Dungeness crab legs until your heart's content.
They also have amazing oysters, clam chowder, mussels, and shrimp. Plus, from their terrace, you can see some gorgeous harbor views.
FAQs about Restaurants That Sell Crab Legs
Below, we answer some of the most frequently asked questions about restaurants that sell crab legs.
How much is king crab legs per person?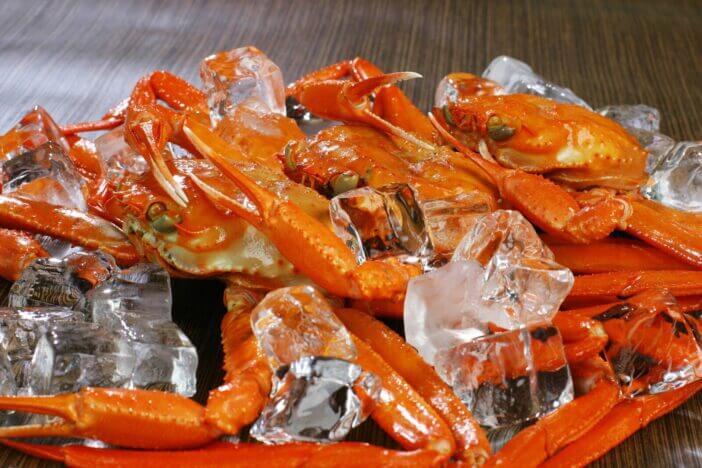 The price of king crab legs can vary depending on the location and the season. For Alaskan king crab, the average serving size is roughly 3/4 of a pound. However, those with healthy appetites can easily enjoy up to 1.5 pounds of crab legs, while super-eaters can put down between 2 and 2.5 pounds.
How much does a pound of king crab legs cost?
Regarding price, 3/4 to one pound can cost between $40 and $90 per pound, depending on if you're buying the crab legs in or out of season and if enough workers are harvesting the crabs. However, these prices are known to swing wildly depending on conditions like those mentioned above.